Okayplayer, Okayafrica & Fela.net present a TIDAL Fela Kuti playlist from Questlove, Erykah Badu, Ziggy Marley, Talib Kweli & more.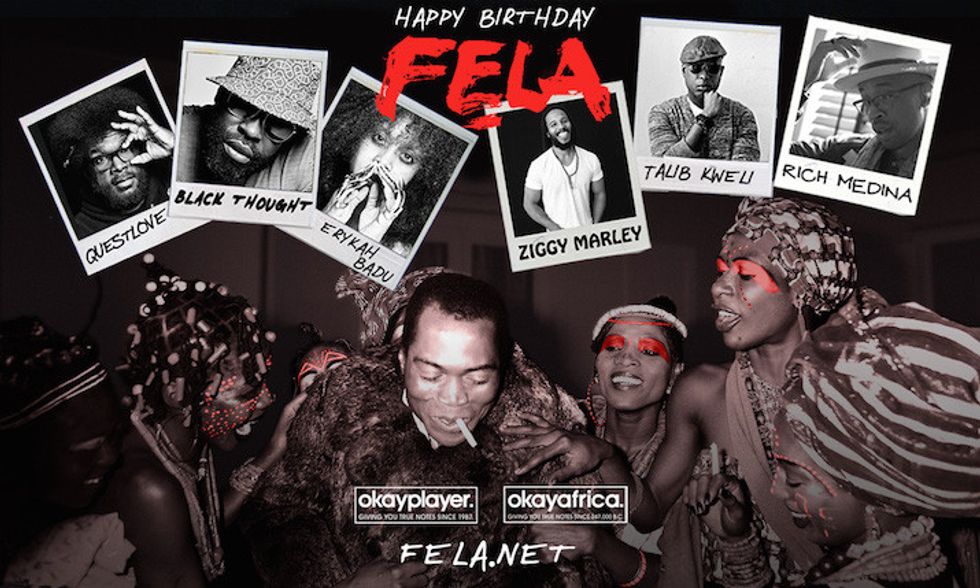 To mark what would've been Fela Kuti's 77th birthday, Okayplayer, Okayafrica & Fela.net present a 30-track playlist of highlights from the afrobeat legend's discography compiled by Questlove, Erykah Badu, Black Thought, Ziggy Marley, Talib Kweli, and Rich Medina. The co-curated Happy Birthday Fela playlist, hosted by TIDAL, runs through several classics and rare cuts from Fela's catalog which were originally published in Fela.net's artists playlist series. Read some of the curating artists' thoughts on Fela below and stream the full playlist on TIDAL underneath.
"[Fela's music is] not microwave music, it's souffle. It's a slow burn that just sizzles, and gets hotter… He clearly had the ear and the adoration of the people. To use this time & time again, and to get thrown in jail every time a single comes out. I mean, I have 16 records and can't imagine that I might have to go to jail for every time my album comes out. Not many people are willing to suffer for their craft." Questlove
"Fela is one of my biggest influences in a very spiritual sense. His music is spirit and so is Fela. Fela is an overall influence, it's not just music it's everything else too." Ziggy Marley
"I was introduced to the music of Fela Kuti in 1994 by my good friend Santi Gold. I accompanied her to a record store in Philly to purchase some of her dad's favorite music as a birthday gift for him. I decided to purchase the album Original Suffer Head for myself and the rest is history. I identified with the Nigerian Afrobeat sound in a way that I had never identified with any other music before and the spirit and feel of Fela's music became the soundtrack for the best part of my life." Black Thought
"Fela Kuti shows us that the music of the oppressed must always be connected to the struggle. It is never made just for the sake of making something beautiful, it has purpose that goes far beyond entertainment. Fela taught us how to be exactly who we are and to be unapologetic about it." Talib Kweli
Keep reading...
Show less