Any religious sentiments from an artist known for his overtly sexual lyrics was always going to raise eyebrows. Regardless, a conceptually-driven album guarantees a spin over here, ever more so when you take into account South Africa's Tellaman's impressive roster of collaborations including DJ Speedsta ("Mayo"), Kwesta ("Act Like") and frequent work with Nasty ("Don't B.A.B.").
God Decides is a nod to Tellaman's journey, as well as the trajectory of his personal relationships. The new album serves as the Durban native's latest opportunity to exhibit a body of work after Lucid Dream and Mind vs Heart. The 27-year-old singer, producer and songwriter, born Thulumusa Samuel Owen, breaks down the album's concept via an e-mail to OkayAfrica: "God Decides is about Tellaman meeting a girl he loves while trying to make it as a musician, and trying to make both work. But at some point, she fails to understand that the industry gets the best of me. Being in a relationship and trying to make it as a musician is a very hard thing to pull off, and as a matter of fact I haven't figured it out yet."
---
Accordingly, the album is based on a previous relationship and incorporates skits from different vantage points, lending it a balanced perspective. What Tellaman achieves throughout this listen is maintaining an uptempo vibe despite exploring varied subject matter. Tracks like "Extra," "Calm Down," "Contemplating" and "Own Up," for example, tackle the hardships faced in young relationships. These songs still manage to be bops while addressing infidelity, feuding, temptation and accountability.
Tellaman's sonic touch, meanwhile, is pretty clear on the ditty "Cross My Heart," which shares its tropical orientation with the opening half of "No Sharing (The Distance)." The radio friendliness continues on the compelling "Whipped," which features Nasty C and Shekhinah. That sunny disposition is traded for the dim lights of the club as the bass-heavy "Hit Me Up" sees Tellaman croon the risqué lyrics; "Thinking 'bout excuses for your daddy and your mum/ I will touch you so good they'll see it in your strut."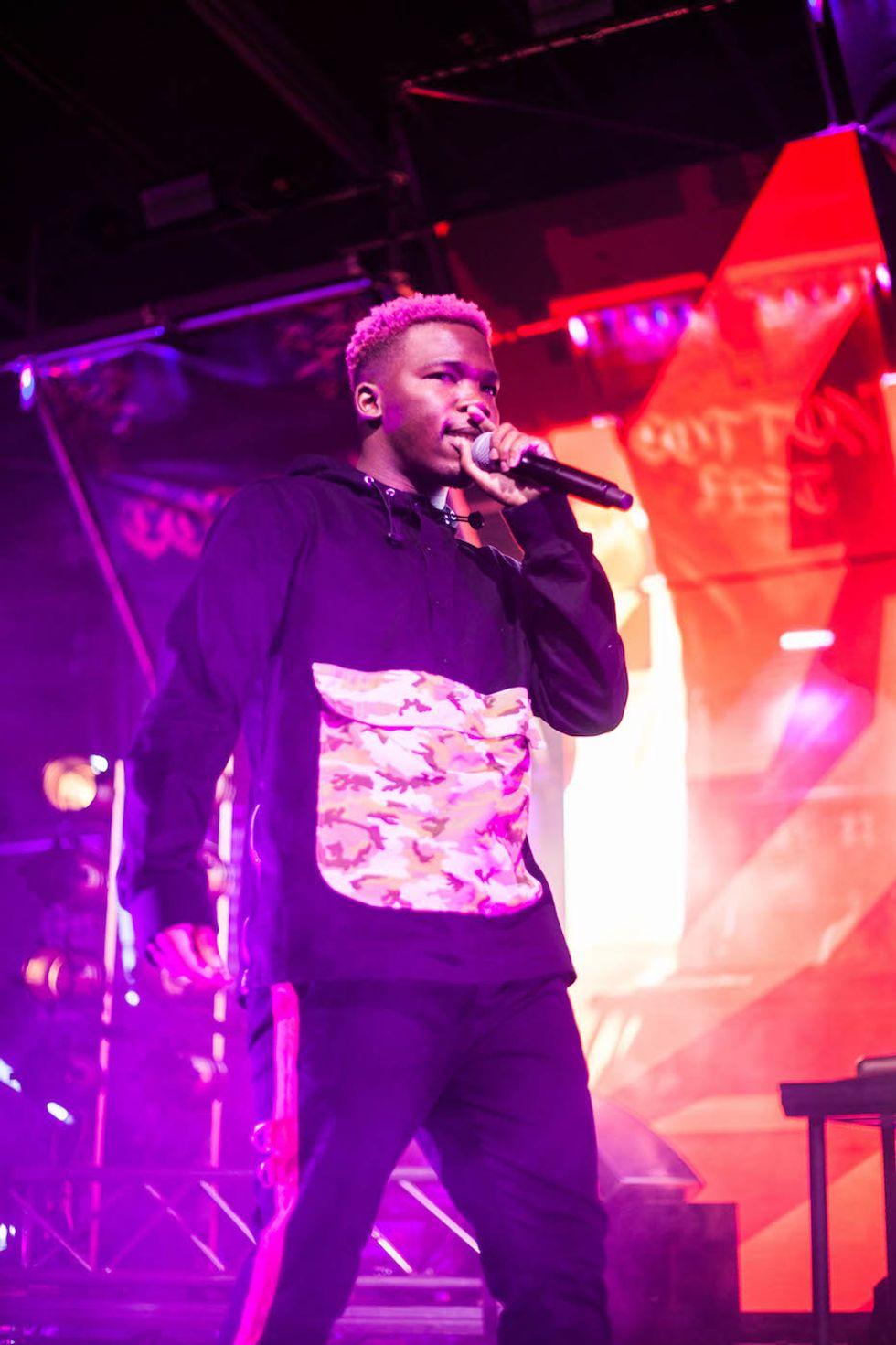 Photo by Sabelo Mkhabela.
That sexually charged energy is matched on "If I Had A Type," another visceral banger. In keeping with his influences—Kehlani, London, Young Thug and Future, among others—Tellaman evokes emotion by not shying away from any topics, explicit or not. It's something he believes is central to R&B and a trait espoused by older artists he admires like T-Pain and producer Darkchild. At many moments of God Decides Tellaman gets introspective and ties the album's undertone of pre-destiny together.

"Note To Self (UDI)" is a self-reflexive ballad featuring Rowlene. It's perhaps the song most emblematic of the album; expressing views on life and love in the same breath. It also lets us into the personal nature of God Decides. "I talk about a lot of different things in my music, good and bad. Those things are what's going on or what has been going on in my life," Tellaman reveals. On "Perfect Ain't Coming," the artist addresses the translucence of fame with the lyrics: "No halos above me, just my bros beside me and these flaws I got."

These lines are symbolic of Tellaman's self awareness, but more especially, display the rhythmic flows he employs throughout the project. This is where Tellaman's versatility shines through, informed by his exposure to multiple genres. "My sound is R&B," Tellaman says. "I just love exploring and trying to find and learn new things, so I feel like if you put a specific style or genre to your music, that's when you start being in a box. This is just the way I feel about me and my music." It's definitely R&B with a smidgeon of house, Afropop and hip-hop. "Are You With It" makes a solid case for the album's standout record. The sample of Keith Sweat's "Twisted" is simultaneously current and nostalgic.
Perhaps that's the best thing about God Decides: it's sonically-varied yet conceptually tight and draws from tradition while remaining atypical. And although no one can control every aspect of their lives and God ultimately does Decide, this project proves that Tellaman has a firm grasp of his musical talents. Now let the church say, "Amen!"
Download God Decides here.
Follow Tellman on Twitter.