The growth of African footballers over the years has been an impressive sight to witness. From seeing the etched footprints left by greats like George Weah, Abedi Pele, Emmanuel Adebayor, Yaya Toure, Samuel Eto'o, and many more, we have seen the baton passed on to the next crop of African players, who are following in these footsteps yet forging their own great paths in different locations around the world.
This particular generation has broken certain glass ceilings in football and that in itself is enough inspiration for younger players on the continent to latch on and be amongst the best. With an opulent array of footballing talents of African descent spread across the globe, there is hope yet for the development of the sport.
OkayAfrica has closely been monitoring African players making incredulous strides and has ranked them according to their performances, and their contributions to their clubs and national teams.
9

.

Cassius Mailula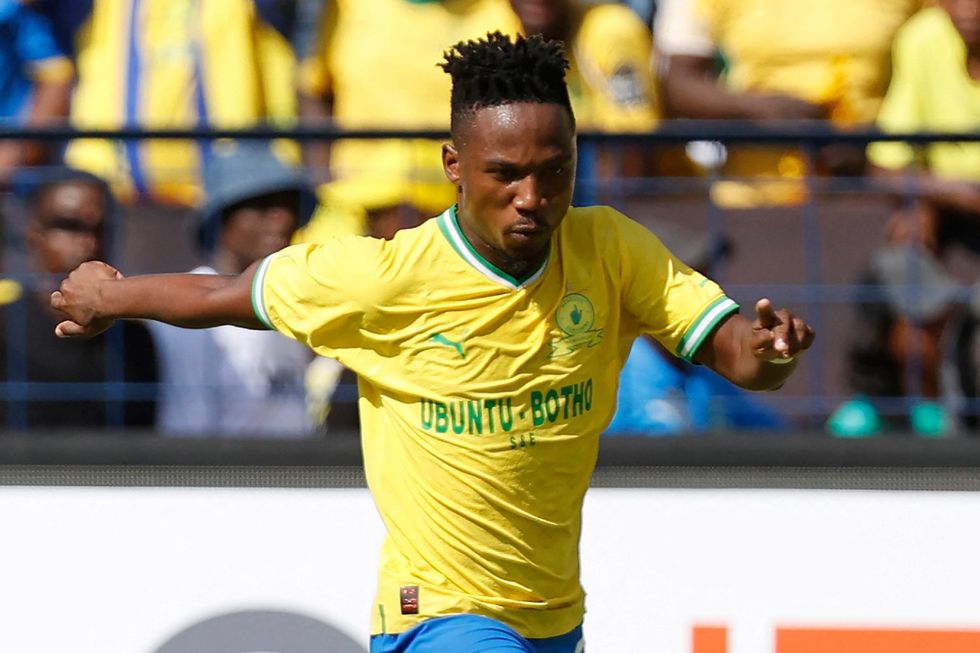 Sundowns' midfielder Cassius Mailula controls the ball during the CAF Champions League group B match between South Africas Mamelodi Sundowns and Egypt's al-Ahly at Loftus Versfeld in Pretoria on March 11, 2023.
Photo by PHILL MAGAKOE/AFP via Getty Images.
The 21-year-old South African is sizzling hot in the South African Premier Division (PSL) for Mamelodi Sundowns and in the CAF Champions League (CAFCL). Hailing from the province of Limpopo, Cassius was made the footballer he is when he joined the Mamelodi Sundowns Academy at age 15.
He quickly rose through the ranks and earned his first senior call-up in 2022 and has since been a lethal shooter. In 18 games for the South African giants, Mailula has netted 9 goals already and is a fan favorite on the streets of Pretoria. His industriousness has earned him a nomination for the PSL Young Player of the 2022-2023 season after pushing his team to their 13th PSL title.
Over in the CAF Champions League, the attacking midfielder is one of three joint top-scorers with 7 goals under his belt in 10 games. Mamelodi, however, were unable to progress to the CAFCL final after losing to Wydad. Being this young and already showing great potential on the continent, fans just hope he continues with his form. He dreams of playing for Chelsea one day as well.
8

.

Terem Moffi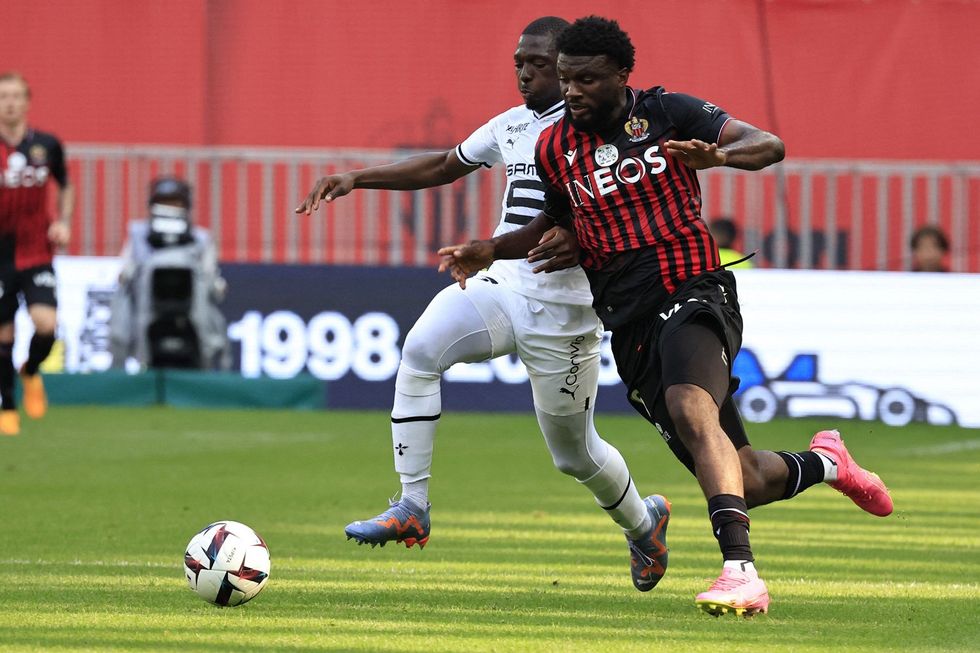 Nice's Nigerian forward Terem Moffi (R) fights for the ball with Rennes' Malian defender Hamari Traore (L) during the French L1 football match between OGC Nice and FC Rennes at the Allianz Riviera Stadium in Nice, south-eastern France, on May 6, 2023.
Photo by VALERY HACHE/AFP via Getty Images.
Terem Moffi is another gem of a footballer from Nigeria. The 24-year-old is one of the most in-form players in the French Ligue 1. His agility and industrious ability to score goals make him an easy fit in any squad he plays for. He plays for FC Lorient but is on loan at fellow French club, FC Nice.
Moreffi netted 12 goals in 18 matches for Lorient before being loaned out to Nice in the January window for 30 million euros. A clause in the agreement states that FC Nice will be mandated to buy him after his loan spell.
There, he fit in properly with the squad as is his memo already and has since scored 5 goals and assisted two in 14 games. Moffi hails from Calabar in Nigeria and earned his first Nigerian National call-up in 2021.
He attributed this feat to FC Lorient for giving him the chance to shine and be caught under the radar of the National team. His performance on the pitch has only gotten better and better, making him a force to reckon with in the French Ligue 1.
7

.

Inaki Williams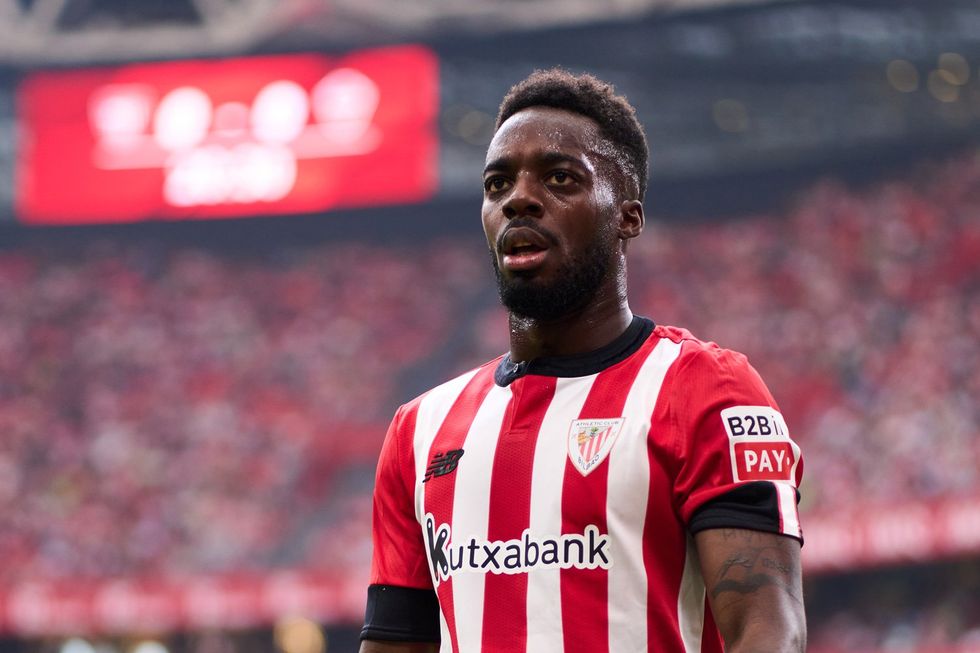 Inaki Williams of Athletic Club looks on during the LaLiga Santander match between Athletic Club and Elche CF at San Mames Stadium on May 28, 2023 in Bilbao, Spain.
Photo by Juan Manuel Serrano Arce/Getty Images.
His video swearing allegiance to Ghana, when most expected him to play for Spain, came as a surprise. His performance for Athletic Bilbao has been very impressive. This season, Williams has netted 10 goals this season out of 33 games for the La Liga club. His speed is what makes him stand out, a regular starter in the Enerste Valverde's side.
Becoming a regular starter for the club did not come off a whim. The 28-year-old earned it from training in Bilbao's academy, before rising through the ranks to where he currently is. Over in Ghana, he helped the Black Stars secure a much-needed win against Angola in the ongoing AFCON qualifiers.
Williams acknowledges his Spanish roots but believes a part of him has always been African and that influenced his decision to play for Ghana.
6

.

Eduoard Mendy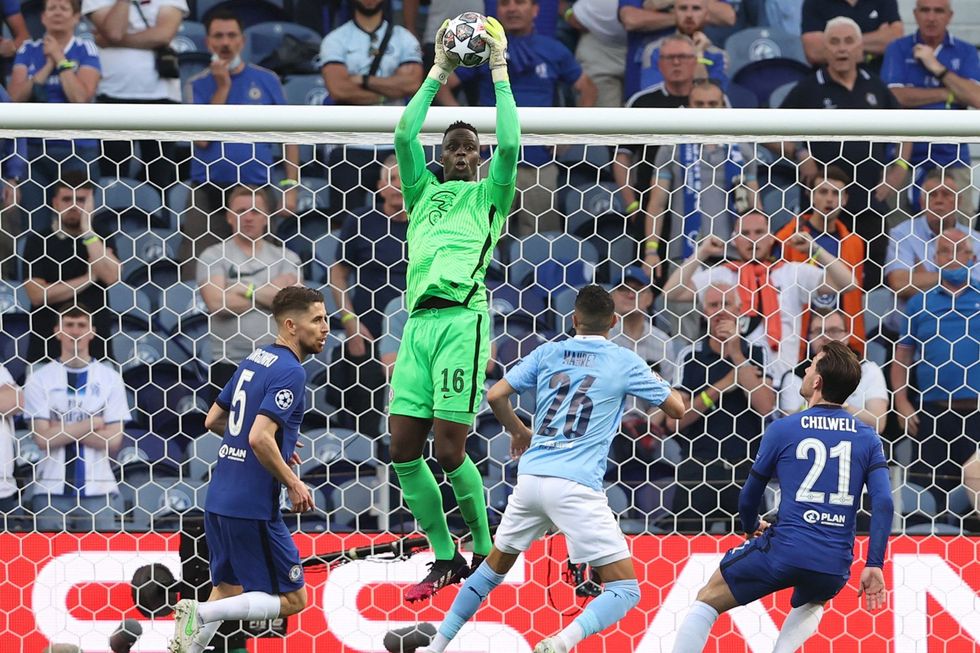 Chelsea goalkeeper Eduard Mendy claims the cross during the UEFA Champions League Final between Manchester City and Chelsea FC at Estadio do Dragao on May 29, 2021 in Porto, Portugal.
Photo by MB Media/Getty Images.
If there is one palpable feature you notice in Mendy, then it has to be his white towel. Born and bred on the shores of Montevilliers in France, Mendy's story is one children and adults alike are amazed by. He made huge headlines after signing for London-based club, Chelsea in the 2020-2021 season.
Under his firm and safe gloves, the Blues went on to win the 2021 UEFA Champions League, The UEFA Super League, and the FIFA Club World Cup. One would call it sheer luck to be found in the squad of Chelsea at the moment, but he worked hard to achieve these laurels with the club.
When he first arrived at Chelsea, he had stern competition from Spaniard goalkeeper Kepa. He earned his place in the starting lineup under Frank Lampard and then Tuchel later. In his 75 total appearances for Chelsea, he has managed to keep 31 clean sheets.
Prior to winning the UCL with Chelsea in 2021, the Senegal international shone under the lights of the 2021 African Cup of Nations where he propelled the Teranga Lions to their first AFCON Trophy against favorites, Egypt. This sealed his status as one of the most brilliant goalkeepers to come out of the continent.
He won AFCON's Best Goalkeeper that year and was enlisted in the AFCON team of the tournament. For the UEFA Champions League, he won the Best Goalkeeper of the Tournament and Best FIFA Men's Goalkeeper of the Year 2021.
The 2022-2023 season has been a tough season for the Senegalese as he managed to keep only one clean sheet. It still doesn't change the fact that he continues to be one of the best players of African descent currently.
5

.

Mohammed Kudus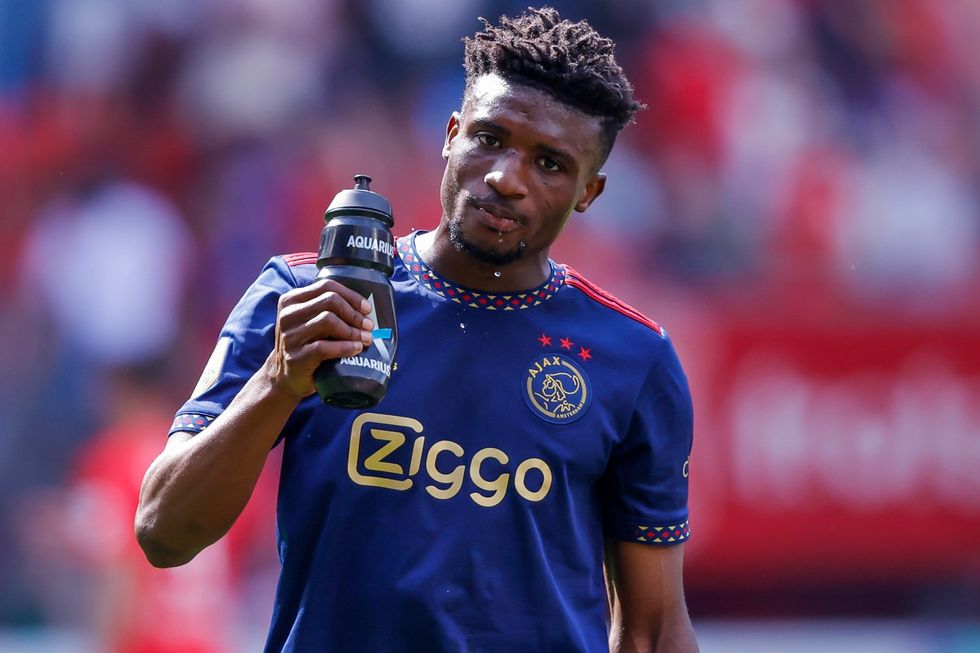 Mohammed Kudus of AFC Ajax look dejected after the Dutch Eredivisie match between FC Twente and AFC Ajax at De Grolsch Veste Stadium on May 28, 2023 in Enschede, Netherlands.
Photo by Nesimages/Michael Bulder/DeFodi Images via Getty Images.
An art mural is situated in Accra, Ghana to remember Mohammed Kudus' incredible World Cup run in 2022, which highlights how much of a brilliant footballer he is. The Ghanaian midfielder has been slaying teams in the Netherlands and is Ghana's favorite poster boy in Europe currently.
For a midfielder in Ajax, bagging 11 goals in 29 matches is impressive and he has plans of outdoing himself going forward. He vehemently said in Ajax's Ask Pro Series that one day, he believes he can win the African Player of the Year award.
From the sketchy streets of Nima, a town in Accra, to being at his zenith in the Eredivisie, Kudus has shown that the youths are more than the stereotype society plays against them.
Now they look up to him and hope they can follow in his footsteps. Collectively, he has scored 20 goals for both club and country and was a crucial figure in Ghana's 1-0 win over Angola in Group E of the AFCON qualifier.
Kudus is one of the success stories of the Right to Dream Academy, one of Africa's noted football academies in Ghana.
4

.

Riyad Mahrez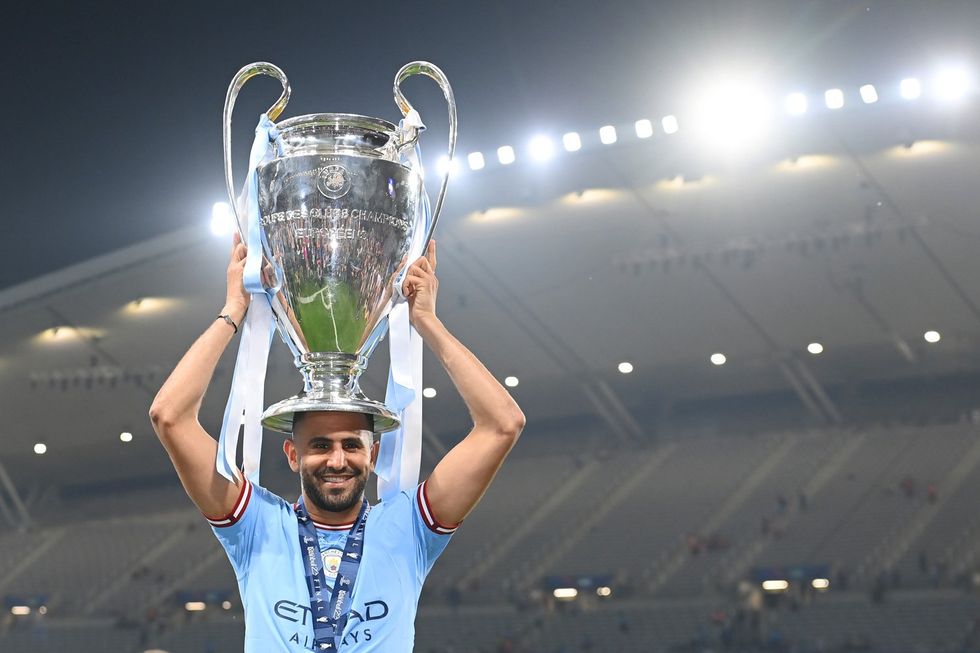 Riyad Mahrez of Manchester City poses with the trophy after the UEFA Champions League 2022/23 final match between FC Internazionale and Manchester City FC at Atatuerk Olympic Stadium on June 10, 2023 in Istanbul, Turkey.
Photo by Michael Regan - UEFA/UEFA via Getty Images.
The captain of the Algerian National team has had quite the season with Premier League title-defending champions, Manchester City. Born in Sarcelles, a small town in Algeria, Mahrez's rise throughout Europe has been exciting. His consistency, darting runs in crucial positions, and lethal assists on the field have made him a favorite on Pep Guardiola's starting lineup list.
Mahrez was pivotal in Man City's Premier League title contention and that of the UEFA Champions League, which he has now won to complete the club's treble. His clutch penalty kick in a 5-0 victory against Compahegen was enough to keep Man City in the running for their most desired trophy, the Champions League.
He assisted 10 goals in the Premier League and scored 5. He also bagged 3 more in the Champions League and is currently the sixth top-scorer for Manchester City in this year's Premier League.
In Africa, he led his National team to victory against Niger. His assist to Baghdad Bounedjeh's lone goal was enough to keep Algeria's hopes alive for an AFCON qualification.
3

.

Asisat Oshoala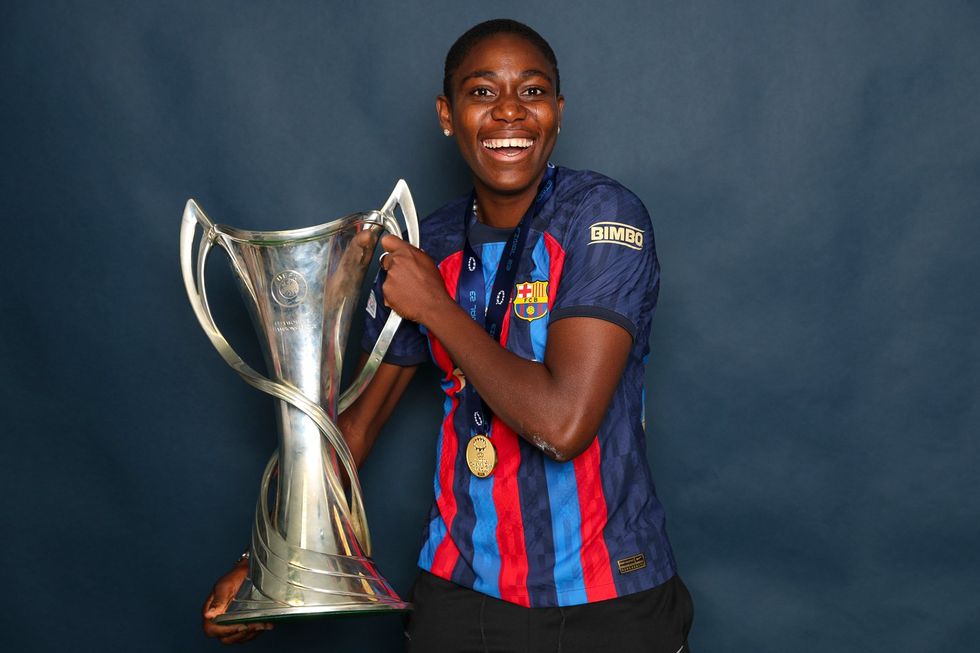 Asisat Oshoala of FC Barcelona poses for a photograph with the UEFA Women's Champions League trophy after the UEFA Women's Champions League final match between FC Barcelona and VfL Wolfsburg at PSV Stadion on June 03, 2023 in Eindhoven, Netherlands.
Photo by Catherine Ivill - UEFA/UEFA via Getty Images.
Another gem of a football star situated in the Nigerian camp is Asisat Oshoala, a beacon of hope for African Women footballers. Oshoala is writing history and conquering European terrain with her football prowess. Her strides in Europe's top-flight leagues have gained a great amount of attention and the ripple effects can be felt in the heartbeats of young African girls who look up to her.
Oshoala is a Nigerian International who plays forward for FC Barcelona Femeni (The women's team for FC Barcelona). Her historic nomination in the 2022 Ballon d'Or sent shockwaves through Nigeria and the rest of Africa.
You would think that pinnacle will slow her down but far from that. She is still netting pivotal goals for Barca and has played a key role in leading them to their UEFA Women's Champions League (UWCL) final for the third successive time. She finished the season with 21 goals under her belt in the Spanish Women's League and has netted 5 goals in the UWCL.
Oshoala's darting runs in the boxes of rivals are a nightmare for defenders and she always finds the back of the net. Barca successfully defended their League title from last year and that added to the long list of accolades she has achieved in her career. She is definitely in the African Hall of Fame for football and will go down in history as one of the greatest to ever do it.
She was stripped of her captaincy in 2022 for underperforming in the Nigerian team, but that didn't faze her. Nigeria has played five friendly matches this year and won three.
She is expected to feature for the team in the upcoming Women's World Cup in July jointly hosted by Australia and New Zealand. Who would have thought a girl from Ikorudu-Nigeria with a bag of dreams would realize them in the wildest way possible?
2

.

Mohamed Salah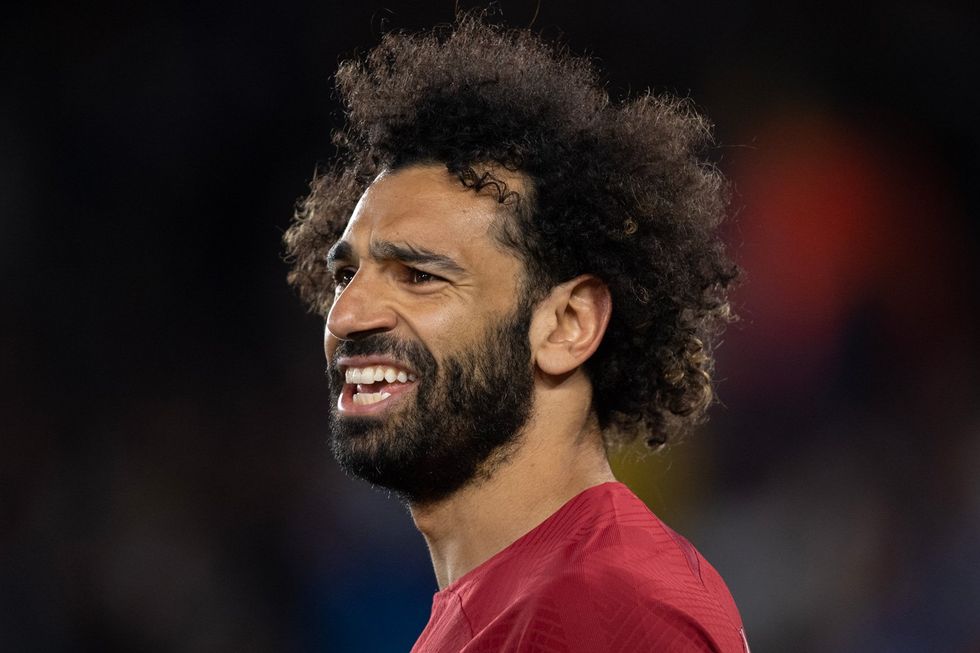 Mohamed Salah of Liverpool during the Premier League match between Leicester City and Liverpool FC at The King Power Stadium on May 15, 2023 in Leicester, United Kingdom.
Photo by Joe Prior/Visionhaus via Getty Images.
His longevity as an African and Arab in one of the most influential clubs in the UK is nothing short of admirable, incredible, and mind-blowing. Liverpool saw a slump in their performance this season but if there is one thing you can trust Salah to do, that is his innate ability to score goals.
This ability has made him a fan favorite for Fantasy Premier League amongst Africans and those in the diaspora. Though this time, he was a far cry from achieving his favorite award, the Premier League Golden Boot. He bagged 29 goals in the just-ended 2022/ 2023 Season. 19 of those goals were from the Premier League.
That made him the African with the most goals in the League for this season. He was sizzling hot in the Champions League and was in prime contention for the golden boot before Liverpool got ousted in the Round of 16 by Real Madrid.
Over in the AFCON Qualifiers, he scored in both Egypt's first and second leg against Malawi and has been pivotal in keeping Egypt in the run for an AFCON qualification. They currently sit atop the Group D table.
1

.

Victor Osimhen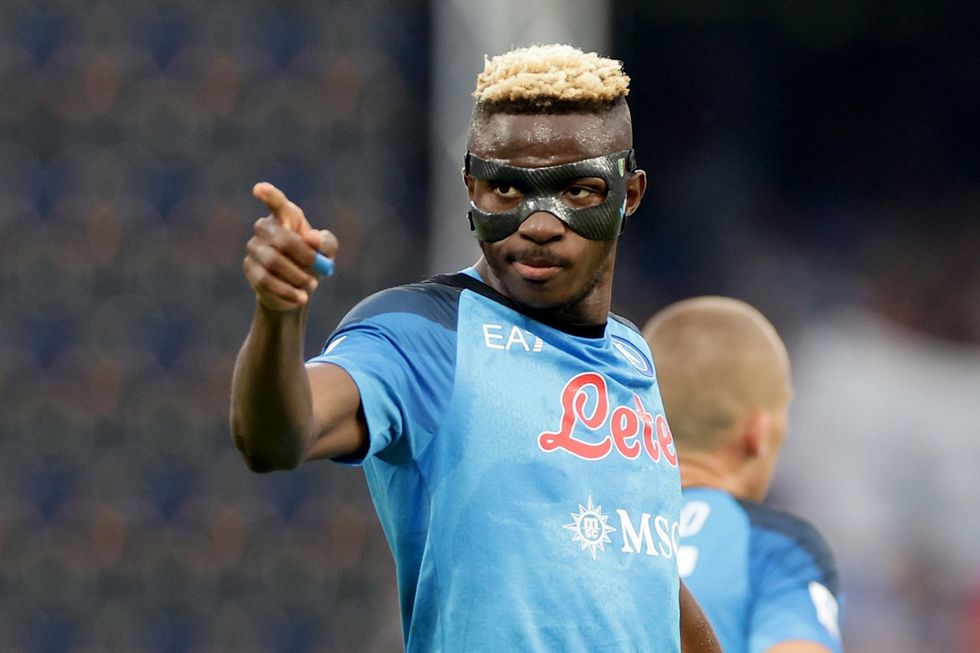 Victor Osimhen of SSC Napoli celebrates after scoring the goal of 1-0 during the Serie A football match between SSC Napoli and US Sampdoria at Diego Armando Maradona stadium. Naples (Italy), June 4th, 2023
Photo by Cesare Purini/Mondadori Portfolio via Getty Images.
​He has sent Nigerian Twitter and the rest of social media raving and cheering for their country like never before. The waves he has made so far are reminiscent of Mikel Obi and Kanu Nwako when they played for Chelsea and Arsenal respectively, and to some extent, the 2021 Kelechi Iheanacho of Leicester City.
At only 24, he is already stomping over Italian football giants in the Serie A. He has netted 28 goals out of 37 matches for Napoli, and is now a favorite headline in sports newspapers and sites across Europe. Oshimen's takeover this season is like a lightning bolt and it looks like nothing is stifling the streak he's currently on.
His lethal eye for goal is why he has been a regular starter in the Nigerian National team since 2017. People do argue that the momentum he has in Napoli is a stark difference from what Nigerians expect of him in the National team. However, African football fans in general have been duly impressed by the 2015 CAF Youth Player of the Year's performance.
His performance this recent past season propelled Napoli to their first Serie A title in 33 years with 86 points. Oshimen becomes the third Nigerian to win the Scudetto after Obafemi Martins and Victor Obinna Nsofor, who both won the Scudetto with Inter Milan in 2006 and 2009 respectively.
He was late to the UEFA Champions League party for his team this season, yet made a statement in the knockout stages netting 5 goals before bowing out to AC Milan in the quarter-final stages.