Tim Lyre is part and parcel of Nigeria's alternative music scene.
Nigeria's alte renaissance began circa 2016, unearthing a fresh crop of music and artists which saw the previously underground movement bubble and burst into nationwide attention. The movement birthed fresh stars and sounds who introduced a new perspective of music to the pop-centric country. The likes of Odunsi "The Engine", Nonso Amadi, Lady Donli, Prettyboy D-O, Fasina, Santi, Tomi Thomas, and many more all championed the alte movement. Singer Tim Lyre is a core member of that cohort.
For years, Tim has been active as a singer-songwriter, producer, and multi-instrumentalist, also making contributions to the projects of his peers as a producer and as a guest artist. His debut album, Worry Less (stylized as Worry <) arrived this year to show that alternative music in Nigeria is very much alive and well.
Tim Lyre started working on Worry < in 2019. According to him it took about 2-3 years to record, mix, and master the entire project. "The name of the album is Worry Less, so I wanted the album to feel exactly how it sounds," he tells OkayAfrica. "We had to make sure all the features were right, the transitions and everything was right. I really wanted to take my time to make sure the project was as good as it possibly could be and to represent what the project is about," offering his explanation as to why the album took so much time to create.
---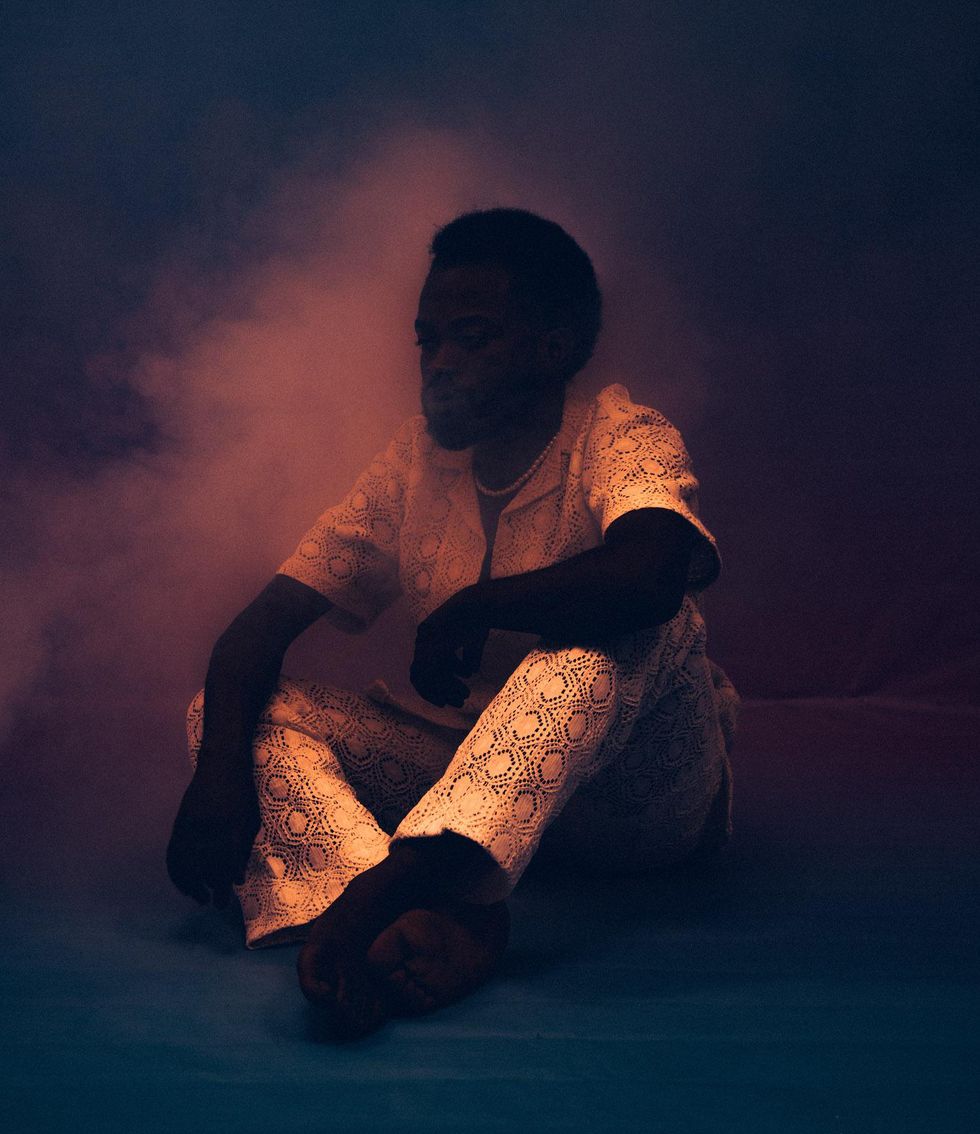 Image courtesy of Tim Lyre.
Even though Tim makes alternative music it isn't what one may think of when they hear the word "alternative." His sound is very eclectic, a psychedelic soundscape that houses impassioned blends of R&B, neo-soul, and afrobeats. So what drives the direction of his sound? "It's just from being a student of music," he tells us. "My whole life I've just been surrounded by so much music. I've been playing instruments since I was like ten years old, I learned music theory and all those things. I always had a curious mind, I always wanted to find out why certain things work, why certain parts of the world do things the way they do, especially when it comes to music. I'm always finding ways to blend these influences into my own thing." In other words, his sound is what you get as a result of a mix of curiosity and experience.
While Nigeria's alte scene has its core followers with undying loyalty, there are also skeptics with an opposing perspective, that the movement was short-lived and has reached its inevitable conclusion. Tim debunks the idea that the alte movement has fallen off. "I don't necessarily agree. I would say the biggest problem I would say we have now is that things are so open and now there's so many platforms for people to express themselves and put themselves out there. So at times it might seem like the scene is saturated with so many people and it's hard for people to sift out what makes sense from what doesn't make sense," he mentions.
"At the end of the day I feel like there's people who have decided to condemn the whole movement without actually listening to the artists who are actually pushing boundaries and actually trying to change the way music is perceived in this part of the world. For those people who think it has fallen off I think it's a very wrong impression to have. If anything I think it is way bigger than it has ever been because there's artists like Santi and Tems and BOJ, and others who are doing big things all over the world. There's no getting rid of this movement now. Eventually people will come around."
Lady Donli, July Drama, Kobla Jnr, Prettyboy D-O, DAP The Contract, and MOJO AF all make appearances on the album, which starts with the melancholic guitar chords of album opener "Organic" and closes with the dreamy backdrop of "Spanish Lime," running through eight tracks of varying genres, each one almost the exact antithesis of the previous.
The contrasting soundscape of the album is intentional from the singer. This is what makes his music what it is. This is what makes him Tim Lyre. "I want people to think of me as a musician who is obviously different from the norm. It's deliberate that my music sounds a certain way. I want it to stand out. I feel like I have the capabilities to make music differently from most of my peers. I'm not even saying that in a malicious way. I'm making a conscious effort to do so. So I feel like when people hear my name or my music, I want them to be like this is different, but in a good way. This is a breath of fresh air."