In OkayAfrica's latest Travel Diary, Haitian-American indie filmmaker Rachelle Salnave shares the gift she gave her daughters of traveling to Ghana, West Africa for the first time during The Year of Return.
Staying at Agoo Hostel in Nima was a page out of the 1980's American TV series, The Love Boat—except the characters were Ghanaian!
"Akwaaba! Welcome home my sistahs," is a phrase we were told not just at Agoo, but throughout our entire Ghana girls trip. Akwabba is not just this country's motto—it's the vibe in Ghana.
This girls trip was a graduation gift for my daughters, Kiara and Nadine. Having traveled to Morocco to connect with my Moroccan stepmom and sister, Africa was not unfamiliar to them—but I knew Ghana would be different. My DNA had been traced to Ghana and Benin, it's neighboring country. I immediately saw a taste of Haiti, my parents' country and the girls felt the kinship. I prayed this trip would change our relationship with Africa and bond us closer together as women. Ghana did just that!
---
After choosing Ghana as our vacation destination, I discovered that it was the "Year of the Return"—a tourist and investment initiative designed to attract the African Diaspora as 2019 marks the 400th anniversary of the Trans-Atlantic Slave Trade. I asked myself, "Was this a coincidence or a real calling for us to return this year?"
When we arrived in Cape Coast, which once served as the first capital of the Gold Coast colony for European slave traders, we were asked "my sistahs, are you here for 'The Year of Return?'" In the touristy areas visited, we encountered many African Diaspora tourists soaking up the culture—which was really refreshing.
Nima was our headquarters for the trip. A neighborhood in Accra rich in character, it was never a dull moment. Agoo Hostel sits behind President Nana Akufo-Addo's private house. BBnZ—a music studio-turned-nightclub—sits parallel to a kente cloth factory with workers singing under a luscious mango tree. Some mornings, we would walk a few blocks to get fresh coconut water from the bustling street market.
We partied at club Onyx, owned by Ghanaian Hip Hop Artist, D Black. We were treated like queens as we were offered complimentary hookah puffs and ginger bitters, a delicious home-grown rum. We frequently ended up at FireFly Lounge, owned by Houssam, a Lebanese entrepreneur who opened his doors in 2011. This funky bar sits in the heart of Osu, an interesting cosmopolitan area in Accra known for its nightlife and pubs.
Ghanaians have three names. The tradition of African day naming dates back centuries used by the Akan people to keep track of time. Depending on the day you were born, each name has a meaning. Since Kiara and I were born on Thursday, we were both called Yaa, which is associated with the earth. To distinguish our ages, she was called Yaa Yaa. Nadine was born on Tuesday, affiliated with the ocean. She was called Abena.
The sounds of Ghana hit our veins with every beat of the drum. It was a soundtrack to our journey navigating from one scenic city to the next. Our African names flowed from our lips at every introduction. No one questioned us. With a warm smile, they would just say, "Akwaaba! Welcome home my Sistahs!"
No one had to tell us—we felt at home!
Our pictures are just a snapshot of our amazing journey. Check it out below.
Photo courtesy of Rachelle Salnave.
After about a 45 minute drive outside of Cape Coast, we enjoyed a 7 canopy and nature walk at Kakum National Park. Home of the butterflies and 270 mammal species and exotic plant life, Kakum is humanity's treasure.
Photo courtesy of Rachelle Salnave.
On any given day, locals offer libations and other offerings to the ancestors who experienced the Trans-Atlantic Slave Trade at Cape Coast Castle. Pictured is a local Vodun priest offering libations and telling the ancestors that their descendants have returned.
Photo courtesy of Rachelle Salnave.
Adjacent to Cape Coast Castle is a fishing community. As the sun begins to set, fishermen gather around enjoying the breeze from the strong waves from the Atlantic Ocean.
Photo courtesy of Rachelle Salnave.
Real-life Kings and Queens from the Central Region visit the Center for National Culture in Accra during an end of the year school celebration. During summer break, the art center serves as a meeting place for educators to provide programs to teach children traditional values and stories of the past so they will not forget their original culture.
Photo courtesy of Rachelle Salnave.
Abena Nadine and Yaa Yaa Kiara enjoying Onyx Nightclub—owned by Ghanaian Hip Hop Artist, D Black.
Photo courtesy of Rachelle Salnave.
View of Sekondi on a small mountaintop. Sekondi and Takarodi are twin cities in the Southwest region of Ghana. It's the third largest region in Ghana.
Photo courtesy of Rachelle Salnave.
Abena Nadine, embracing her name and its meaning. Mami Wata loves the ocean and is fully connecting to Ghana.
Photo courtesy of Rachelle Salnave.
Views from Lou Moon Resort in Axim, Ghana. Axim is the largest coastal town west of Takoradi.
Photo courtesy of Rachelle Salnave.
Shai Hills is a reserve located outside of Accra. We encountered baboons, antelopes and various bird species. It is preserved by Ghana's National Parks division.
This is Wakanda!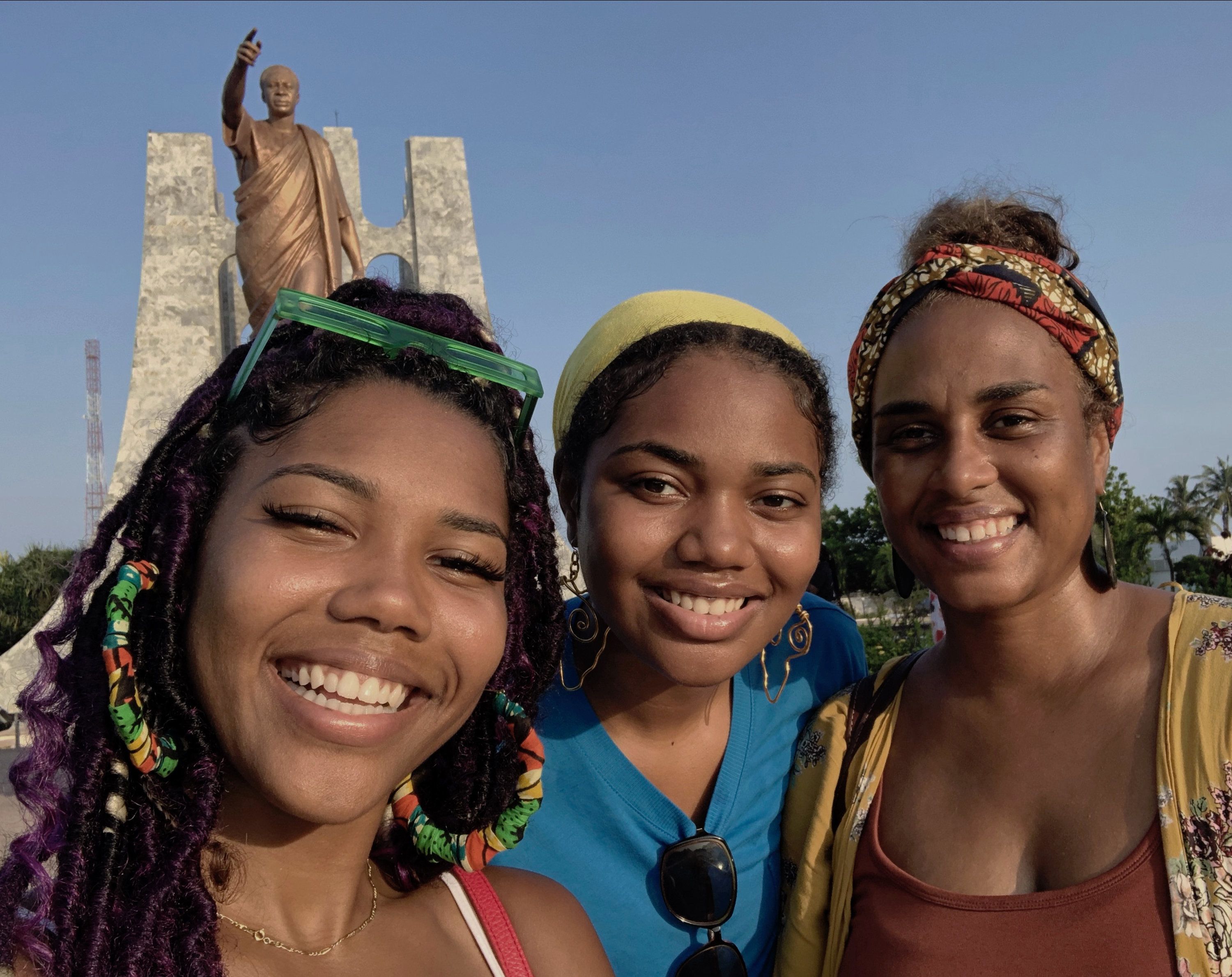 Photo courtesy of Rachelle Salnave.
A selfie at Kwame Nkrumah Memorial Park. President Kwame Nkrumah led Ghana to being the first country on the African continent to free itself from colonialism and served as the first president of Ghana from 1960 to 1966. He was a Pan-Africanist and has welcomed many African Americans to Ghana as a place to call home.
Photo courtesy of Rachelle Salnave.
The Ghanaian Love Boat. The staff at Agoo Hostel in Nima send us off with a huge "see you soon" moment.
Photo courtesy of Rachelle Salnave.
At Tumi Hostel in Kumasi, women learn how to sew and make a profit creating clothes and home goods for the hostel's store.
*
Rachelle Salnave is a Haitian-American indie filmmaker and founder of Ayiti Images and Black Lounge Film Series—a series that explores the African Diaspora and Haitian culture through cinema. She is currently based in Miami, FL.