Photos
Dec. 18, 2014 03:28PM EST
Return of the King: Tumi Molekane Reflects On 10 Years In Hip-Hop
In the lead-up to his third studio album, 'Return of the King,' Tumi Molekane reflects on 10 years in hip-hop.
---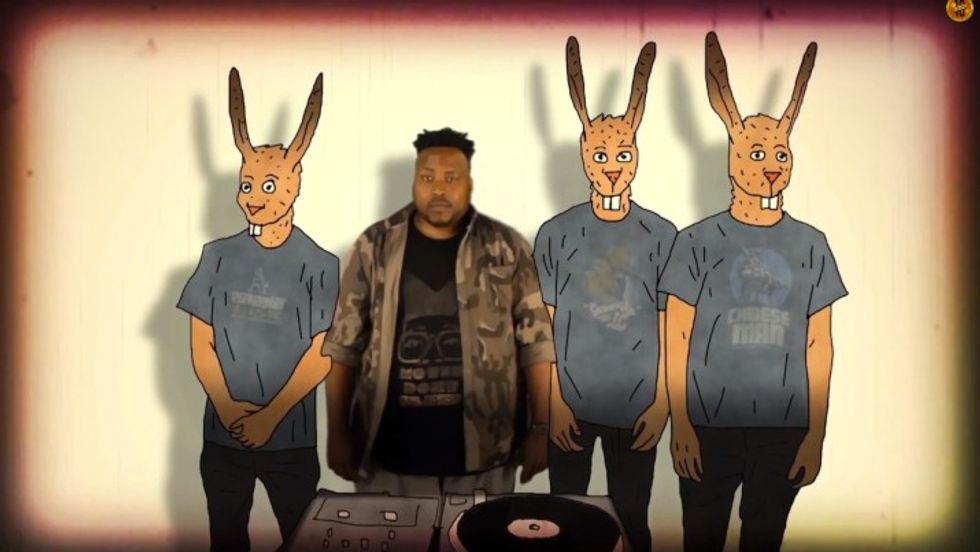 Still from Tumi & Chinese Man's "Once Upon A Time" video
OKA: This year has been a good one it seems. You've attended the biggest poetry festival in the country; sold out a show at the legendary Apollo Theater in New York; you've toured Europe and shot a film… so what's next on the list of world domination?
Tumi: You didn't mention I battle rapped in the first international battle in South Africa. That doesn't seem to matter to too many people in the industry but I tell you, battle rapping is theatre is to an actor. To be truly fearless and raw and free to use your hammer to smash someone's head in and still make the crowd roar in approval. It's the kind of experience that can't usually be replicated without you losing a limb. It's also unheard of for an active artist in the mainstream of the music industry to be in a field with rappers who seemingly only care about dexterity. I think it's not so much domination, when I present these things that I have done it's also to try and illustrate that a rapper, an African rapper from South Africa with the odds stacked against him can ascend to various heights and not from kiss assing, you're playing music that's popular but through expressing his own truths. They don't care to tell about this kind of courage, trust me, history is on my side.
OKA: You seem to be a liker of lists. Do you have a new one just for us?
Tumi: Yeah, 5 questions a king gets asked.
1. Is your chair a throne?
2. Is you cap a crown?
3. Is your girl or boy a queen?
4. Do you serve your people?
5. Do they serve you?
Depending on how you answer that you either a clown or the King.
OKA: Why call the album Return of the King? Where did he go?
Tumi: Nowhere. He was young and the land is clearly desperate for leadership.
OKA: What can we expect in light of your sound expanding into the new year? Is there a specific direction you intend to go with the rest of the tracks?
Tumi: Yes and no. I think this year is done. Next year feels like a new world to me. We have heard people create subgenres and sounds for their brand of music, it's interesting, but next year feels like it's all going to go to shit. The clowns are coming, the line is going to be clearly drawn.
OKA: On the Motif website there is a galvanizing statement that ushered in 2014. How do you feel about the shift in the global spotlight toward Africa, and what would you say is the next step toward finding the new leaders?
"Seldom does a new year actually announce a new era. The sky still hovers blue, the trees still shed green, the roads exhale grey and we still compliment a season that is but a minute new. What is the difference between 23:59 December 2013 and0:00 January 2014?

You!

South Africa has buried its last tallest giant, and with that mammoth, an era of legends has passed. No mahatma, no mother, no Nesta, no princess, no pop king, no Makeba, no dictator and no Pac. It would appear we are alone. Alone to seek legend, alone to be great, to be the watered seeds of an old forest. The shrubs under dead bark."
Tumi: Well this spotlight has included a kind of exoticizing of African music and culture, to the rise of young descent, the othering of Africans as diseased creatures we show die on primetime to the world. Not much has changed in that regard. We on our own. Fuck the rules, Mugabe makes the rules like Bush made the rules like Gaddafi made the rules like Obama make the rules, TB Joshua make the rules. This is the world we in people. Fuck fair! Go get yours and hopefully you got an army with you or get Blaise Compaoré'd, but do you. That seems to be the message I am hearing. That gap for greatness I was talking about has been filled by fuck boys who make shit up as they go. Well, THE KING IS BACK. *hops off the ship with a thousand ghost mercenaries* Ref ; LORD OF THE RINGS.
>>>On the following pages Tumi reflects on his decade-long career in 10 photos