Most times, when we think of sports industry personalities, especially in Africa, the first name that springs to mind is usually that of a male. Women, however, are increasingly breaking barriers and taking up their rightful positions everywhere in society. And it's so inspiring to watch!


Usher Komugisha continues to defy the odds, and she is rising to become a household name in the sports industry in Africa. If you followed the inaugural Basketball Africa League (BAL) competition that kicked off on May 16, 2021 in Kigali, Rwanda, then you definitely know who we are talking about. With great power, control and a unique voice, Usher commanded the attention of basketball lovers in the 215 countries it was broadcasted to.

Usher's bubbly personality, which shone through when I first contacted her telephonically, brought warmth, a sense of comfort and for a minute it felt like we'd been friends for eternity. Below, she fills us in on her sports career and (near) future plans...
---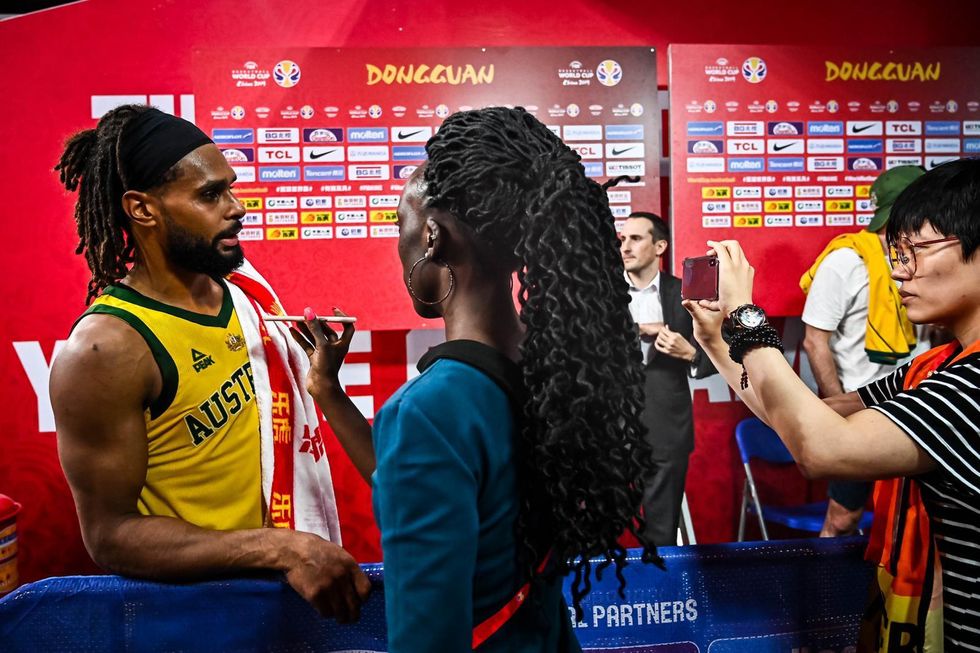 Usher Komugisha in action, interviewing Australian basketball player Patty Mills, at the inaugural BAL held at the Kigali Arena, Rwanda from May 16 to 30, 2021. Supplied
Talk us through your background.

I was born in Kilembe, Kasese District in the western part of Uganda. Kilembe is a small copper mining town on the foothills of Mount Rwenzori, the second highest mountain in Africa. I have two siblings; an older brother Campbell Nagaba and sister Mellisa Fiona. I am the last born.
How and when did your career in sports commence?
When I look back at my childhood, I can comfortably say that I was raised to excel as a sports journalist — even though many people thought that I was cut out to be a lawyer because I used to question everything around me. I used to ask questions to understand whatever didn't make sense, while also being an apologist just to spice things up. Throughout my schooling, I actively played numerous games including dodge ball, volleyball, netball, lawn tennis, cycling, golf and I excelled at track. While at university playing for Makerere Sparks, I met John Kusolo, the host of Touchdown – a sports show on Power FM, a Christian radio station attached to Watoto Church. He thought my voice would be great for radio, and later invited me to join him on the show. At first, it was nerve-racking but I eventually found the courage to shake off the feeling. I have never looked back! Since then, I regularly appear on several BBC platforms — radio and television — as an African sports analyst. I also started contributing to Al Jazeera, first as an analyst and now as a freelance correspondent on African sport.
Who are you outside of work?

I am a globetrotter. I love traveling and seeing new places in Africa, experiencing new cultures, learning new languages, making friends and telling stories about Africa in a unique way. Good food and wine is a place for me. I treasure food and that is why I eat for a longer period than most people. I always feel like I need to smell, taste and feel the food. I can't just eat and be done in seven minutes. That is disrespectful to the chef who has spent his precious time preparing the food.
"I have always tried to be ahead of the pack, and like to set myself apart so that no one can ever say that I am unworthy."
Did you ever encounter any cultural, societal or gender limitations — and how did you overcome them?
As mentioned earlier, I played all sorts of sports growing up and honestly never felt that I was being sidelined because I was a girl. If anything, I was raised to always be the best — whether I am up against fellow girls and/or boys it didn't matter. However, when I was starting out in my career, I encountered men who did not think that a woman had a place in sports journalism. I went back to the basics — work hard, learn new things daily, take constructive criticism and make corrections. And repeat! I have always tried to be ahead of the pack, and like to set myself apart so that no one can ever say that I am unworthy. For instance, I am a linguist. I speak 18 languages. That alone helps me better handle conversations with different people because I meet them at their point of comfort.
What was the BAL like? What lessons did a tournament of this magnitude teach you?
The BAL, more or less, felt like the way we all probably felt when we watched Black Panther. We entered this mode where we felt that Africa was capable of doing anything and everything. I think that five to 10 years from now, we will look back and think to ourselves, 'Wow! This really was a life-changing moment!' because the BAL has changed the face of African Basketball and sport in general, forever.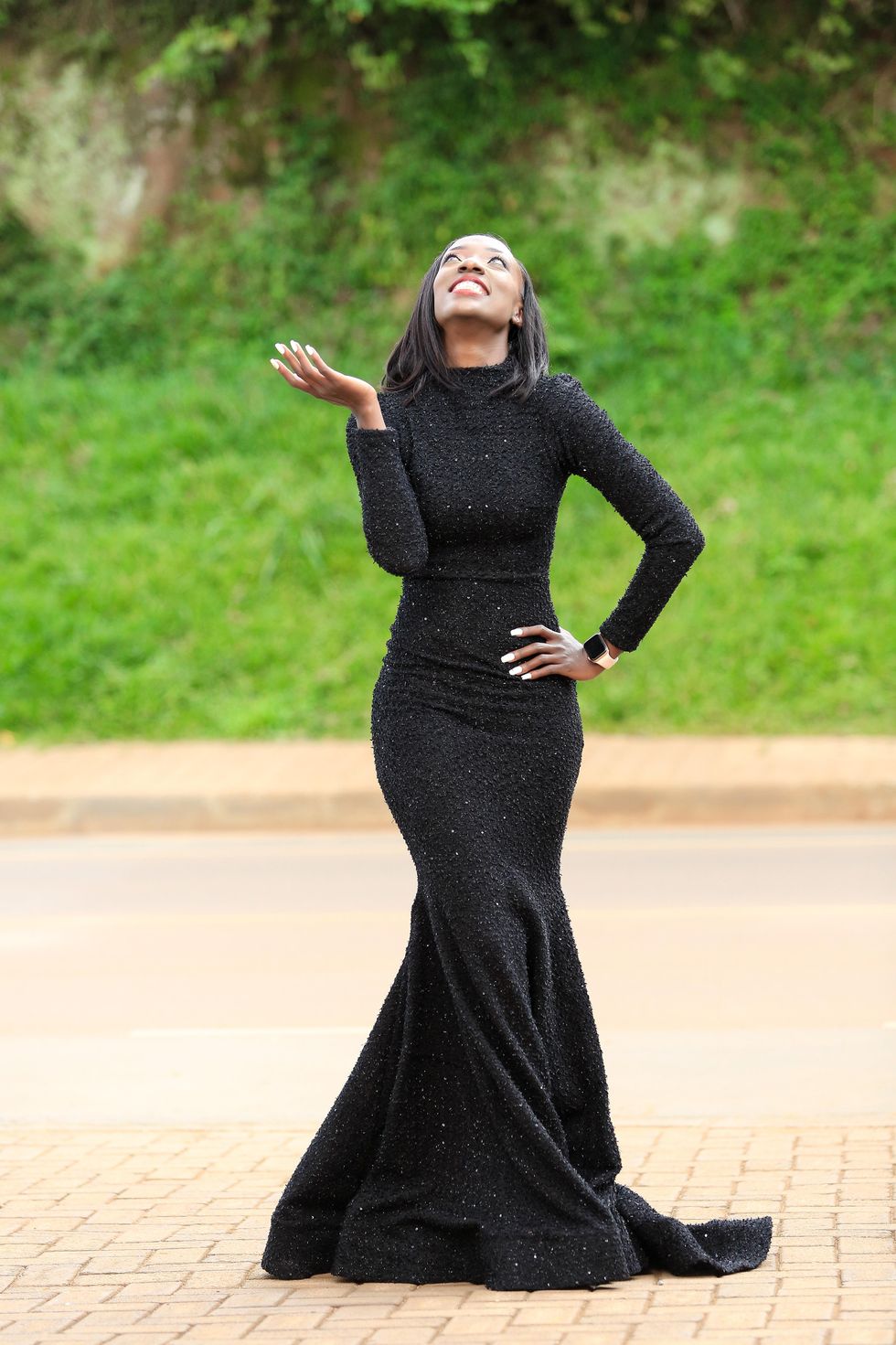 "I feel that I am ready to embrace commentating," says Usher Komugisha following her successful stint at the BAL. Supplied
What lessons did you learn from working at the BAL?

That one has to always be prepared. Great opportunities will always look for you so long as you are in the right place, at the right time. It also taught me the power of relationships and friendships.

Do you have plans to advance your career?
After commentating at the inaugural Basketball Africa League, which was my first time doing so on global television, especially on a world feed, I feel that I am ready to embrace commentating. I have done everything from analysis on radio to writing, producing and reporting on television. I am ready for a new challenge – to commentate. Hosting the first ever BAL Medal Ceremony remains one of my biggest career highlights and I would love to host more international sports events.
What advice would you give to young people who would love to model their careers around yours?
They should be LIMITLESS and relentless in pursuing that which sets their souls on fire. They must also be consistent, daring and committed to their dreams.
"Hosting the first ever BAL Medal Ceremony remains one of my biggest career highlights..."
In your opinion, what has been the success of a tournament like the BAL on the African continent?
The BAL has opened up the continent to the world for starters. Commentating the game between Patriots of Rwanda and Ferroviario de Maputo from Mozambique that had two Presidents in attendance – Paul Kagame and Emmanuel Macron was absolutely humbling. That the BAL was broadcast in 215 nations and territories, in 15 languages, is a marvel. This has never happened for African basketball. It was historic to see that and you could see that the players also understood that that was the kind of platform that they had been waiting for all their lives. J. Cole playing for the Patriots brought more attention to the BAL and that got the world even more interested in what was happening in Kigali. From a financial point of view, because of the BAL, the NBA created an entity and a number of sons of the soil including Luol Deng have decided to invest up to $1 billion into the game on the continent, and the BAL will be part of this entity.
What tried-and-tested life motto do you swear by — and why?

Impossible is nothing. I believe in the Almighty God. I have seen His favour and ability to turn a situation around. Just when things seem a certain way, there will be a 360-degree turnaround and all of a sudden, things are working in my favour.
Off The Cuff

What are we likely to find you doing on the weekend? Exploring the city that I am in at that particular time, going to the market place downtown, trying out a local delicacy, enjoying the sun and if there is a beach, fantastic.
Which five artists are inspiring you right now? Brenda Fassie, Bob Marley, Esther Nabaasa, Luther Vandross and Alicia Keys.
What was the last African series that you watched?Queen Sono directed by my friend Tebogo Malope, whom I met recently and had the honour and privilege to work with during the BAL in Kigali.
What did you miss the most in the weeks that you were living in a hotel, during the BAL? Honestly, it was my fourth bubble since October last year so I was mentally prepared for it and knew what to expect. Plus, I am an introvert, so staying indoors, isolating and spending time with myself is a lot of fun [chuckles].
What can you not live without? Talking to God, an incredible perfume, AirPods, my iPhone, Apple Watch, laptop and a good book.
Africa is...beautiful, exciting, unique, multicultural, filled with amazing people and great food.