Uncle Waffles is a superstar.
The DJ and producer born Lungelihle Zwane is often discussed as one of Amapiano's front runners right now. Since 2020, she has dominated the international consciousness, initially off a viral video that won her the likes of Kelly Rowland and Drake as fans. The Swazi-born, South African based DJ has since repurposed her career, widely touring the world, introducing Amapiano to new audiences, and releasing three projects, the latest being SOLACE.
When Uncle Waffles got on a Zoom call with OkayAfrica a few days ago, she was in faraway Budapest to play a festival. Over the unpromising connectivity of the Internet, we discussed her music career and how she has turned a viral moment on its head by becoming a legitimate star.
In the beginning, Unce Waffles had simpler ambitions: to express her creativity. She grew up in Eswatini, a country which shares borders with South Africa and Mozambique, and was exposed to a lot of local sounds.
"I've always liked music," she says, "I didn't know it was something I wanted to pursue as a career, but when I started learning how to DJ, I discovered that I loved it more than I thought. Initially, I started playing Afro Tech music, and then Amapiano to go with it. The more I played 'Piano, the more I realized that this is the sound I related to the most." Amapiano was a natural extension of her early sonic interests, which included house and kwaito.
"The more I played 'Piano, the more I realized that this is the sound I related to the most."
Born at the turn of a new century in 2000, music was the most natural expression for Waffles. She eventually landed on a name that came from a scene in the DC Comics cartoon Teen Titans, which her friends in high school always sang. In 2020, while Uncle Waffles interned at a local Eswatini TV station, she chanced upon some DJ decks and a professional who frequented the studio taught her to play. At the same time she was learning to produce and create her own sounds.
---
Her big break came later that year, ironically from something that wasn't planned. The DJ who was supposed to play the prime slot at the Soweto-based Zone 6 Venue wasn't available and Waffles stepped in. A clip posted from that performance, featuring Waffles whining to Young Stunna's "Adiwele" became an internet sensation.
Waffles has since played at the Coachella, Afro Nation, the Roots Picnic, and last fall she held a six-date U.S. tour — confirming her as one of the hottest names in African music. She's now occupying the same spaces as titans like Black Coffee, Wizkid, Burna Boy, DJ Lag, and many others who are minting culturally-aware records and turning them into globally-acclaimed masterpieces.
Uncle Waffles' performances are an immersion into dance and visual storytelling. "Traveling around the world," she says, "I realized that people consume music differently, especially music they don't understand. So you're not only introducing a new genre to people but you're also introducing a genre in a language they don't completely understand. How do you express to them, so they experience the music the same way you hear it? As you know 'Piano has so many dances and people know 'Piano through the dances, so it encouraged me to want to perform more."
"Traveling around the world, I realized that people consume music differently, especially music they don't understand."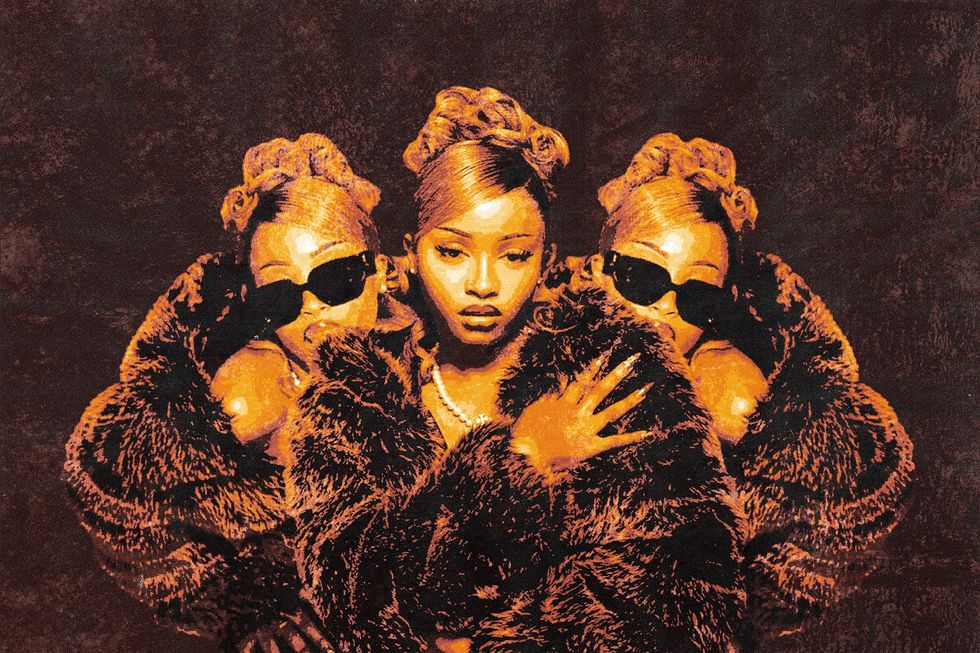 Uncle Waffles.
Uncle Waffles' progression from a viral star to a premier tastemaker in Amapiano was deliberate. "We wanted to ensure that I always stay visible," says Waffles, "Because the issue with viral moments is that you go viral, and then you step back and you kind of disappear in the midst of people who's gone viral, so you need to make sure that you are still very visible."
One of the ways that was achieved was to make sure there was always content about Uncle Waffles going out each day on social media. "We made sure you knew it wasn't just a viral video, it was a person who could DJ and produce," she says.
Waffles only released her first song "Tanzania" in March 2022 and followed-up with her debut project Red Dragon only a fortnight later. Bearing Waffles' fiery sensibilities, the four-track EP screamed for the dance floor through its energetic percussions and inspired vocals.
Earlier this year, Waffles released ASYLUM, whose soundscape was markedly different from her debut. Showcasing a renewed approach, the songs incorporated more features while exploring the motions of everyday life. With SOLACE, she extended the concerns about finding joy and fulfillment that she has reflected throughout her career, although the execution in sound is markedly different this time.
"When you release a project, you get to tell a story through it," she says. "From Red Dragon, which was my first ever project, to ASYLUM, that's what has allowed me to put meaning into the music. ASYLUM is meant to represent the chaos of my journey, because you know, waking one day and going viral and having to run with it was quite a lot. There's been a lot of things that have happened and I want to reflect that in music."
Creating projects emboldens Waffles to "tell stories that allow the people who support you to feel close to you, to understand you," she says. Her third project, SOLACE, "represents the part of the journey where it's beautiful and I'm at rest." The sound evolves to carry the tranquility of this present moment. Whereas her two initial projects overtly expressed her DJ tendencies, on the third she wants to "show that you can do hard music, but it can still be super soft, actually."
She describes ASYLUM as the "Side B" to SOLACE, and she was conscious of that multi-dimensional continuity while she was creating the latter. To utilize her global stature within the Southern African scene, she reached out to artists that an international crowd wouldn't be quite familiar with. On "Echoes," her favorite song on the project, Waffles features frequent collaborator Tony Duardo, along with Mananaand Lusanda, whose videos on TikTok she'd been familiar with for a while.
Artists like Shakes & Les, 2Kultured, Ice Beats Slide, Murumba Pitch and several more contribute to SOLACE's seven songs, which have an Amapiano core but also incorporate soulful elements from jazz and deep house. "Peacock Revisit" applies a modern twist to the 1986 hit "Peacock" from the bubblegum group Splash. And, while she goes the self-affirmative path on "Waffles Anthem," the project closes with the titular "Solace," whose dreamy atmosphere is amplified by sharp, stuffed basslines and ominous notes.
This new project signifies a graceful run towards global domination for Uncle Waffles. Still deep into her creative process, she wants to explore more pockets within Amapiano, and she's returning to house music, which she affirms as one of the first genres South Africans championed globally. House music has platformed a lot of acts, especially DJs like herself. "Up till now, DJs were never stars," she opines, "but now, they are becoming them."
Uncle Waffles is surely a star. She constantly reiterates her forward-facing vision throughout our conversation towards its endm she lays down the ethos of SOLACE. "This album is meant to represent the actual happiness I feel," she says. Hearing her speak, there's no doubt that Waffles is in a good place. She's earned this peace and happiness, and being a serious creative, she's gone back into the sound, seeking to extend her three-year grasp on the pulse of global pop culture.