In September 2019, Ugandan artist Martin Senkubuge was showcasing artwork at a group exhibition in Kampala when a woman approached him. She was drawn to a painting of his titled Melanin Tattoo. Ready to pay, she asked him if there was a particular story behind the painting. Senkubuge said the painting, which confronted issues around skin whitening, was inspired by Michael Jackson and how he bleached his skin.
"Artists should do research before presenting their work," she said, disappointed, and less motivated to purchase the piece. The woman was a Michael Jackson fan and she knew that the late pop star had suffered from vitiligo, a skin disorder that causes loss of skin color in blotches and patches. From that moment, Senkubuge was inspired to learn about the pop star's relationship with vitiligo.
He would find out that the star had received criticism from the public, on the assumption that he had chose to bleach his skin. If a man of such international acclaim was treated this way, how were those who were poorer treated? In other parts of the world — in remote places where public ignorance thrives — those living with the condition are seen as a bad omen or cursed.
Senkubuge wanted to change that. He soon founded the Part of Us initiative. The main objectives of the initiative are to visually amplify vitiligo voices, fight against stereotypes and stigma, and embrace vitiligo as a natural skin condition using visual art.
In his small studio in the outskirts of Kampala, the 25-year-old artist draws hyper-realistic charcoal portraits of persons with vitiligo. Between April and May, 2022, Sunkubugbe conducted an online survey where respondents revealed that they faced stigma, trauma, emotional stress and social injustice as a result of vitiligo. In his campaign along the way, he has been the recipient of a slew of recognition and external support. In 2020, he won a project grant of 2 million Ushs ($559) from Goethe Zentrum, Kampala (GZK).
Together, with a team of volunteers, he organized a solo show in the premises of GZK throughout April, 2021. Under Part of Us, the exhibition advocated for inclusivity of people living with vitiligo. Recent data from Global Vitiligo Foundation indicates that about 70-100 million people are affected by vitiligo in the world. In Africa, people living with vitiligo are stigmatized for the entirety of their lives. In this interview with OkayAfrica, Senkubuge talks about combating stereotypes around vitiligo and challenges faced by his initiative.
Photo courtesy of Martin Senkubuge
What was your turning point in your art career?
October 2021 was a game changer. It was during this time that my lost hope was restored. At first, it was when my artworks were featured in a Guardian article by John Agaba. Then a journalist from BBC World Service contacted me after reading the same article. This was a dream come true and, for the first time, my dad believed that his son would make it as an artist. Additionally, this international recognition and attention towards my drawings became a strong affirmation that my artwork is relevant. I cannot afford to reconsider being a visual artist; I firmly believe that I will die one.
\u201c\ud83c\udf0d\nhttps://t.co/DIH7uS0784\n\nUgandan Artist:\nMartin Senkubuge\nTalks to BBC World News; Focus on Africa\n@BBCWorld\n#vitiligo #drawing #martinsenkubuge\u201d

— Martin Senkubuge (@Martin Senkubuge) 1634756119
What motivated you to launch your Part of Us visual campaign and how has been the journey?

When my work went viral on the internet and media, a number of people living with vitiligo reached out to me with interest in working with me. I then decided to create a lifetime campaign that would allow me to work with more people living with the condition. Following this global publicity and attention, the Part of Us Initiative has since embraced and focused on the New Art Movement of Vitiligo Art and creativity, with an aim of dissipating stigma, trauma and psychological stress amongst people living with this skin condition. Later on many creative minds and artists, mostly fellow youths, reached out asking how they could take part in the campaign.
We then decided to establish Part of Us as a Nonprofit Organization, a foundation made up of creative people, people living with vitiligo and humanitarians who don't live with the skin condition. In addition to creating awareness through visual arts and creativity, the Initiative gives us a chance to directly impact many more people living with vitiligo who may not be interested in appearing in artworks due to various personal reasons.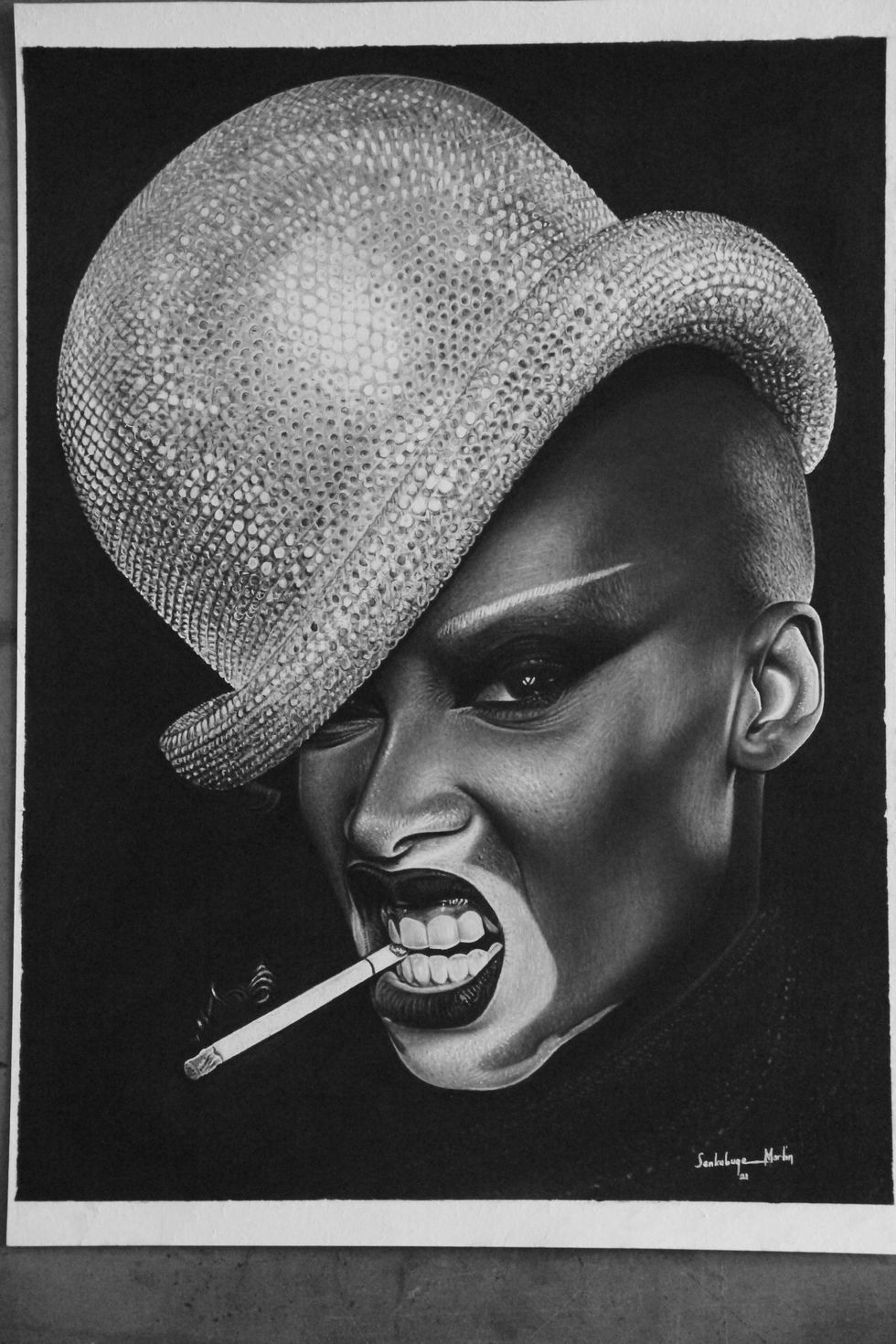 Photo courtesy of Martin Senkubuge
With the stigma surrounding vitiligo not only in Uganda but on the continent, how do you find and approach models for your portraits?
At the beginning, in 2019 and 2020, I would post on my social media platforms asking for contacts of people with vitiligo. After talking to about 60 over the phone — since it was during the lockdown period — only three gave me the benefit of trust. It was challenging then to convince many, since opportunists have taken advantage of their condition and left them more emotionally damaged. Currently, the fact that more writers and journalists have continued to document and cover my work and stories of the models [helps.] Most of the new models already have hints about my clear vision and they are more than willing to contribute to this vision.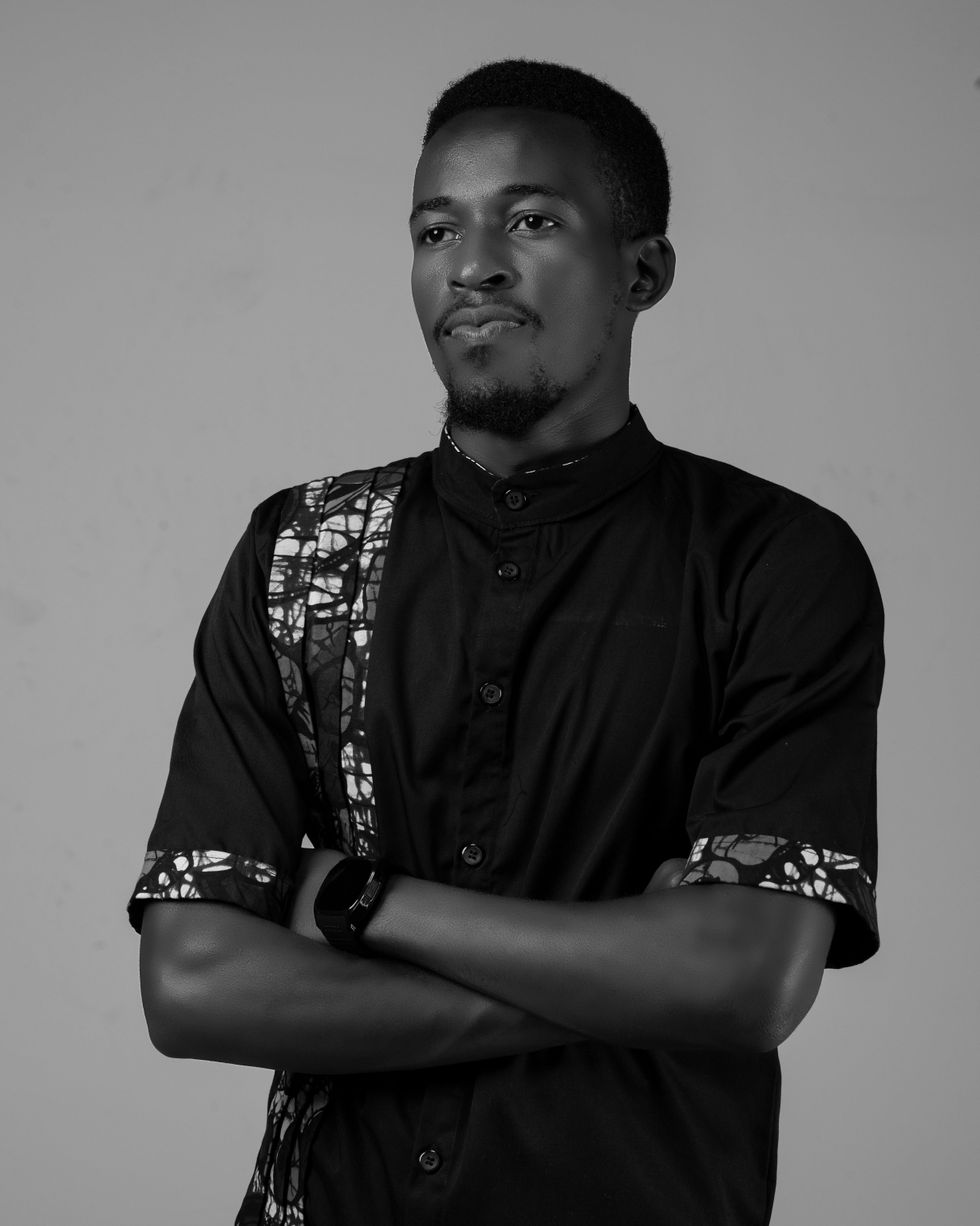 Photo courtesy of Martin Senkubuge
How has your initiative impacted the people living with vitiligo? Any success stories?
Keeping in mind that our ultimate goal is to create awareness, end stigma and transform lives, we have a number of successful stories. For the first time we celebrated World Vitiligo Day in Uganda on the 25th of June this year. It was a successful photo-shoot event accompanied by indoor games, eats and drinks, networking and sharing about life experiences. We have been able to receive more local media coverage which wasn't the case the first two years when we were always turned down due to the intensity of myths surrounding vitiligo.
One of my pioneer models, Eva Atukunda, stopped covering her blotches with make-up after seeing her face all over the internet and on big screens. Waking up every morning had become a lifelong responsibility to her and her two young children who she had trained to apply makeup so that they could finish fast and go to school. When she posted her face on Facebook for the first time without makeup, many were shocked by her courage. One gentleman, who had never looked at himself in a mirror for about 23 years, directly messaged Eva and he never remained the same. Isaac is the other person in my drawings. He is a model and vixen who has been identified by many more videographers and modeling agencies to work with him. There are many more individual stories but most importantly our initiative continues to receive and register more people living with vitiligo.
Do you believe that art can reduce stigma and myths surrounding vitiligo in Uganda and Africa at large?
I believe that art can reduce stigma and myths. Looking back in the old times of Caravaggio, [Claude] Monet, Rembrandt and Leonardo Da Vinci times, artists were mirrors to their societies. They would capture moments and events which greatly and diversely informed our present times in terms of medical, health, technology, education, life trends, fashion, and politics. I believe that, as artists, we have a high sense of imagination which we can use to either build or destroy the world through our executions in fine arts, films, animations, musical lyrics and videos, designs, content on the internet. One of my philosophies as a researcher and a visual artist is that the more we paint, draw, and showcase a challenge based on research, to the public with consistency, vision and reason, we can positively influence transformations in various societal perceptions.
What are your future plans?
Through social media, many people living with vitiligo have reached out to me from different continents to be drawn. I am now looking forward to a global project which will be extremely unique. We have our second edition of the Part of Us Art Exhibition in June, 2023. I am glad that more artists, both male and female, have joined me to make this exhibition more relevant. We shall always hold biannual Art Exhibitions with purely artwork creation inspired by vitiligo skin condition. I plan to go for further studies, with my research focusing on Vitiligo and the myths, stigma, beliefs surrounding it.