It's a true gift to be able to go back and see how a revered artist started out; to trace, while walking around the physical manifestations of their mind at work, the path they took towards becoming who we know them to be today. In surveying the art created by Wangechi Mutu, it's clear, right from the start, just how much certain themes and subjects have stayed with her, morphing and expanding in shape and form, but always with a provocative intensity that calls the viewer to do more than just marvel at what lies before them.
---
The New Museum's exhibition of Mutu's work – at more than 100 pieces, it's the largest to date – provides an opportunity to engage with one of Africa's most respected artists in an aptly dedicated space. For the first time ever, the museum has used its entire space to stage the exhibition, encompassing all floors of the building in Lower Manhattan, as well as its façade. In doing so, it has created a homecoming of sorts for Mutu, who first showed here in 2003.
"Wangechi Mutu: Intertwined" connects the Kenyan artist's work in Nairobi and New York through its various shapes and forms.
Photo: Cynthia Edor
From the entrance, vinyl applications, pulled from her Sick Planets series in 2007, cover the walls of the museum and its glass façade – making it known you're about to go deep into the celestial and the cellular; deep into the post-human world of Mutu's art. So begins the loose chronology of her career, as the exhibition charts the various forms her practice has taken over the decades of her exploring the legacies of colonialism and globalization, and what she has shared of African and diasporic cultural traditions.
Intertwined highlights the links between Mutu's practice in her home country Kenya and her adopted home in the U.S. "This exhibition really brings to light the importance of New York, especially to her practice," says curator Vivian Crockett, "thinking about her connection to several institutions in the area, including her early commissions at the New Museum, the Studio Museum in Harlem, and the former Museum for African Art, all the way to her historic 2019 façade for the Metropolitan Museum of Art, and more recently, her exhibition at Storm King Art Center."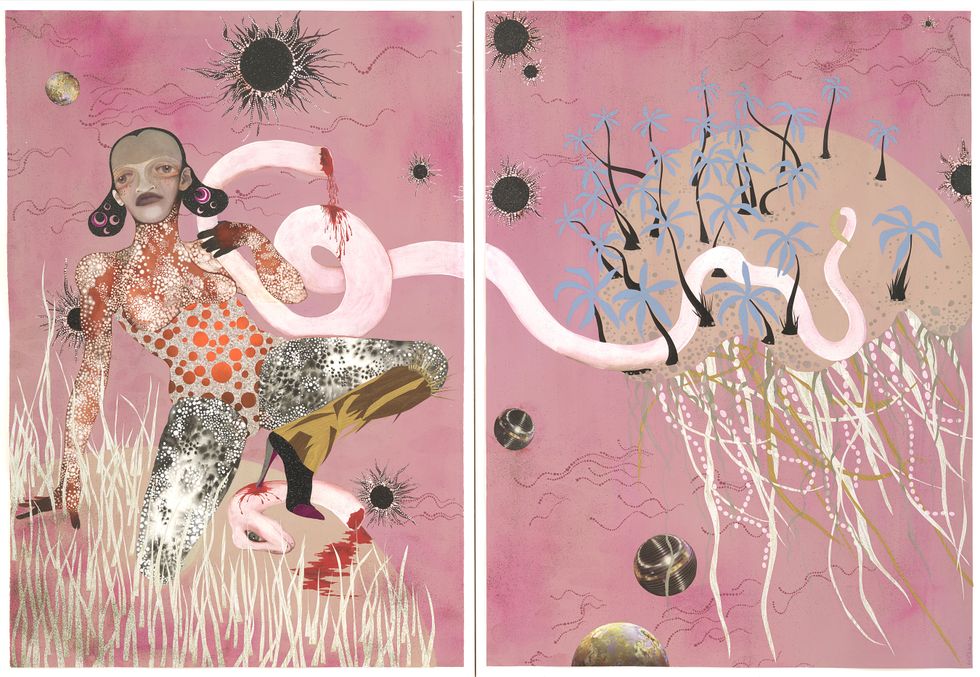 Wangechi Mutu's Yo Mama, which was shown in 2003 at the New Museum, can be found on the second floor of the "Intertwined" exhibition.
Photo: Robert Edemeyer. Courtesy the artist and Vielmetter Los Angeles.
Pieces that were once shown at these venues are gathered together across the museum's space, in conversation with each other, speaking to Mutu's development as an artist. Born and raised in Nairobi, it's in New York where she first made a home for herself as an artist; where she studied at the Cooper Union, before going on to Yale, and where she began making the collage-based work that first gained her attention in the 2000s.
On the second floor, you'll find some of these earlier collages and sculptures – works that haven't been shown since she was a student in the 1990s. As you walk past the pieces on this floor, you gain an immediate understanding of how her collage-based practice grew in scale and complexity, as it sought to overturn stereotypes about Black women. Included in this section are works from her 2003 residency at the Studio in Harlem, and the more recent examples of her large-scale experimental collages on Mylar. A particular standout is Moth Collection, 2010, in which she transforms the fantastical creatures from her collages into 75 human-insect hybrids in 3D form.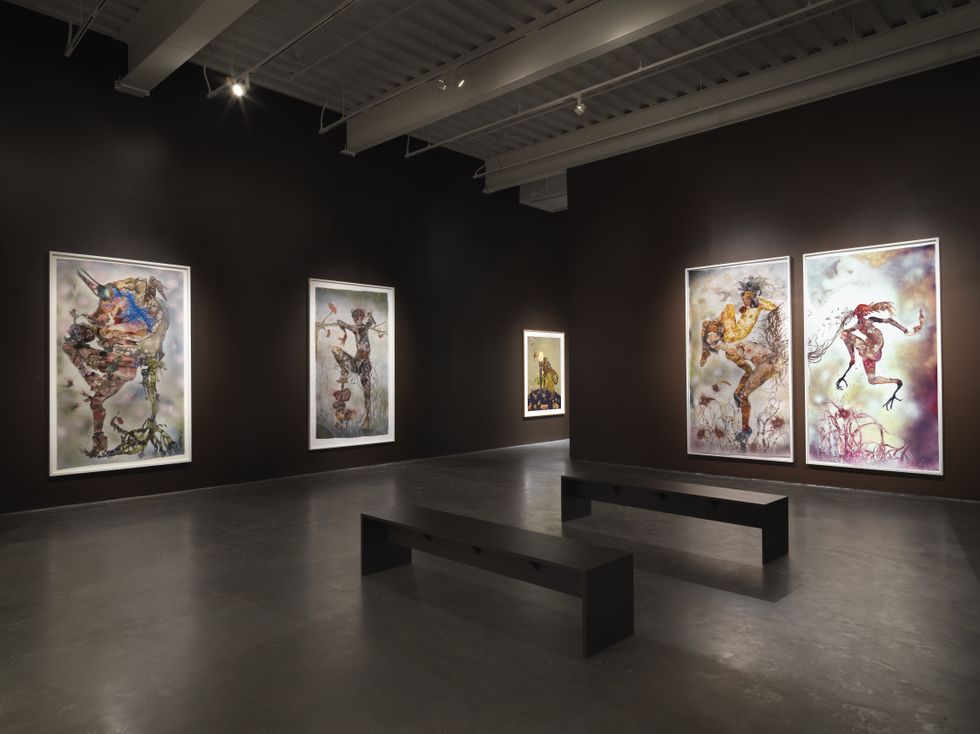 "Wangechi Mutu: Intertwined" brings together the Kenyan artist's earlier collage-based works, like those above, with her more recent ones.
Courtesy New Museum. Photo: Dario Lasagni.
Far from just reminding us of her origin story, Intertwined also speaks to the impact returning home to Kenya had on Mutu. A decade ago, the Brooklyn Museum housed Wangechi Mutu: A Fantastic Journey, which, at the time, presented the largest review of the artist's career, with more than 50 works from the mid-1990s up until then. In an interview with OkayAfrica on the occasion of that exhibition, Mutu knew there was another chapter coming and shared her dream to "make and think and create and communicate and talk, and be in cahoots with people from within my home country."
In 2015, she left her adopted home of Brooklyn and returned to Nairobi, and the work she created there finds its place within the New Museum, too, particularly on the third floor, which is dedicated to the evolution of Mutu's sculptural practice.
"With her emphasis on, and use of, natural materials, and the elemental themes of water and earth, Mutu's return to Nairobi in 2015 marked a shift in her practice, where she created these majestic sculptures out of natural material, such as wood, soil, and stone, sourced from the areas surrounding her home and studio in Nairobi," says Margot Norton, the New Museum's Allen and Lola Goldring Senior Curator.
"Mutu's work presciently addresses some of today's most vital questions concerning inextricable ties to one another, our ecosystems, and all life forms with which we share our planet," adds Norton. And she does so in a way that can be quite grand and yet intimate at the same time, as is evident on the fourth floor, which holds the Subterranea series.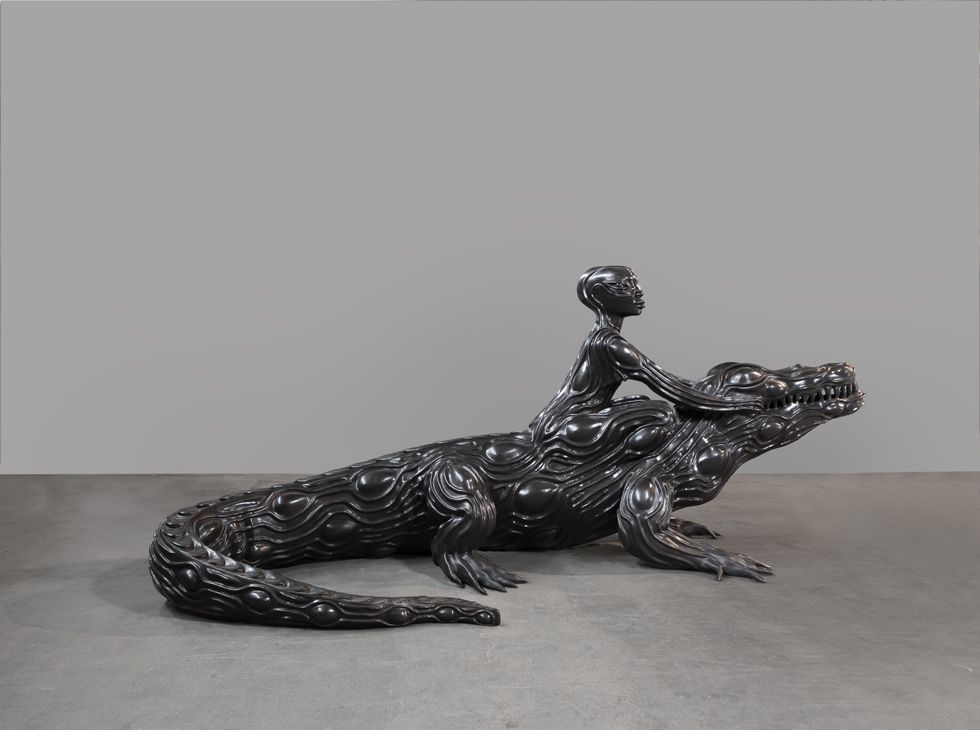 Crocodylus is one of the over 100 pieces that form the New Museum's expansive survey of Wangechi Mutu's work.
Courtesy the artist and Gladstone Gallery.

"This is a selection of her large-scale works in bronze, which were completed over the last 5 years," says Crockett. Most impressive among them is the Crocodylus, a large human-animal hybrid that calls to mind themes of Afrofuturism and chimera seen in so much of Mutu's work.
No visit to the New Museum would be complete without a visit to the seventh floor – if only to see the view of New York City's ever-changing skyline. But for this exhibition, it provides a lingering look at one of Mutu's most striking pieces: a figure flat on her back in what would be yoga's famous savasana pose, but she's covered by the rug, with Mutu's trademark motif of high heels, red in color, ominously poking out. It's a lasting provocation by an artist who will continue to pick away at all that is accepted as the norm in society.