When the credits rolled and the lights came up at the end of her film's premiere in the Palais des Festival, director Wanuri Kahiu stood next to her lead actresses Samantha Mugatsia and Sheila Munyiva, all dressed in off-white outfits, taking in the acclaim of a standing ovation. Someone in the audience shouted, 'Thank you!' and Kahiu put her hand over her heart. Festival director Thierry Fremaux motioned for them to look up and see just how many people were clapping in the theatre's balcony seats too, lauding the first Kenyan film to ever debut at the Cannes Film Festival.
"What's incredible about the response is that people are so excited about watching 'happy Africa,' Kahiu tells me the next day, with the Cote d'Azur shimmering in the sun behind her. "That's been the most curious thing. I haven't been reading reviews because I tend not to, good or bad, but somebody said there is a French journalist who wrote an article which said, 'How do Kenyans fall in love? The exact same way we do.' And that was exactly what I was trying to communicate with this film. It doesn't matter where in the world you are, we all kind of fall in love in the same way. We all kind of have joy in the same way."

---
Reaction to Rafiki at the various screenings it's had here at Cannes have been centered on the idea of how important it is—and how refreshing—to see the kinds of stories like the one the film portrays, up on a big screen. Rafiki is the coming of age tale of two young women in Nairobi who fall in love, much to the chagrin of those around them, who live in a country with a homophobic government.
The film's banning too, by the Kenyan Film Commission, has been well-publicized, making the response it has been receiving at the festival even more poignant. Kahiu believes the film is connecting with people because it shows Africans in a different way to the poverty and political conflict so often shown on cinema. "People are so anxious to watch a joyful African film—and a modern African film at that," she says. "Because that was the other thing; there were many people who told us they love the idea of seeing urban Africa on the screen. 'We love that it was shot in a city, that it's playful and fun.' And that's been the biggest, most extraordinary reaction," she continues.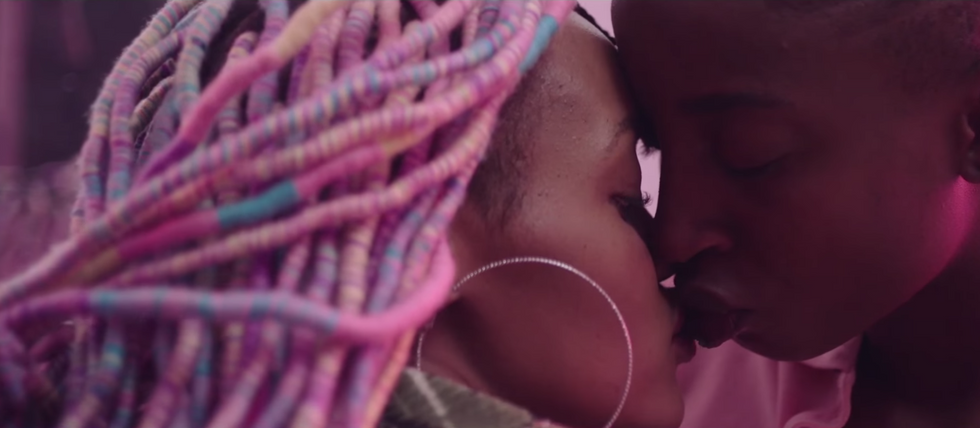 Video still via Youtube.
That Rafiki made it to the grande dame of film festivals at all is a testimony to the tenacity Kahiu and her co-producers had in seeing the film get made. She and South African producer Steven Markowitz initially began working on it seven years ago, after meeting at the Sundance Film Festival, where Kahiu had shown her short film, Pumzi. Overcoming the obstacles it took to get the movie made—not least of which, the banning by the Kenyan Film Commission, for 'seeking to normalize homosexuality'—marks the moment with greater significance too. The filmmakers didn't receive any funding from either South Africa or Kenya and had to go to four co-production markets and send in over 50 funding applications to find the 30 financiers that would support the film to being made.

During that time, 36-year-old Kahiu gave birth to two children, all the while hanging onto the dream of seeing her movie become a reality. "I remember coming to pitch at LaFabrique (Cannes' program to help develop talented young filmmakers) the first time, with my 5-month-old, who was throwing up at producer's tables. It was fantastic!" she laughs.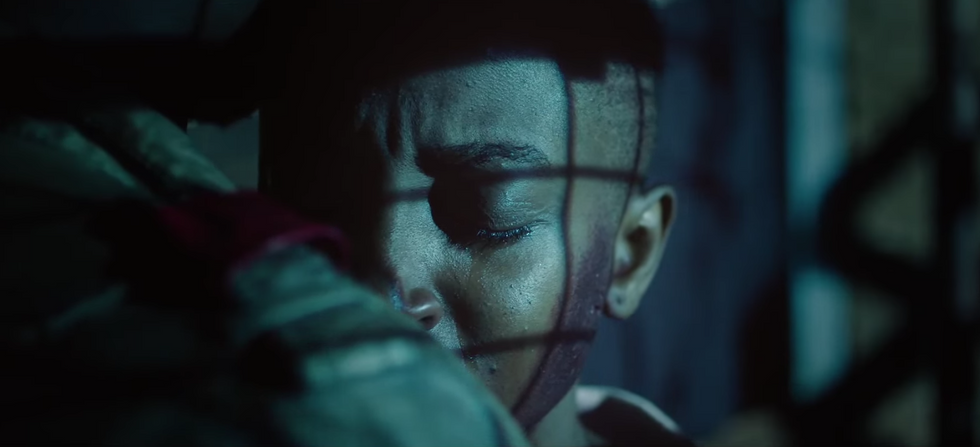 Video still via Youtube.
Returning to Cannes five years later, with her movie in the Un Certain Regard portion of the festival has been a welcome outcome after the years of uncertainty. She says she relied on her relationships with Markowitz and fellow co-producer Tamsin Ranger to get her through the tough times. "We would have many many Skype calls," says Kahiu. "Talking and transparency helped a lot: 'Okay, we got rejected again!' and then moving on," she says.

This trip to Cannes has just further stoked her flame – for the love she's received, and the knowledge gained. "I want to come back with more films. And I want to be in the main competition," she says. "And I definitely want to perfect my craft. There's beem lots of good feedback for me on how to improve my craft." She also says she'd like to see more African countries coming together to produce films – the way that Kenya, South Africa and Uganda, where the story Rafiki is based on comes from, did.
As for the ban on her movie in Kenya, Kahiu lives in optimism. "We really hope that the ban will reverse," she says. "At some point it will play in Kenya. We just don't know when."