With 30 mixtapes under his belt and several EPs and collaborative albums, it could seem that YoungstaCPT has shared every detail of his life he wishes to and expressed all of his thoughts on his surroundings.
But with the release of his solo debut album, 3T, the prolific Cape Town lyricist extends on the stories he's told before and gives a screenshot of, as he said in his "Own 2015" single, "the real Kaapstad, none of that 7 de Laan kak."
---
While 3T is autobiographical, it manages to be about more than the protagonist's life. In the album's intro "Pavement Special," the rapper speaks to unnamed men who admit that Coloured people in Cape Town face serious challenges, but exhibit an optimism: "We can change the surroundings, man," one of them says. "We got very few tools to utilize, use those tools with immediate effect."
The conversation the MC has with the two men summarizes 3T. YoungstaCPT is passionate about his race and his city, but isn't shy to speak on its demerits, both from the authorities' negligence of people of color and the crime that is rife in the Western Cape and Cape Town. But, unlike an outsider, YoungstaCPT understands the complexities behind the suffering faced by his people.
"All my laaities, they wanna be like you," one of the men adds during the conversation as it becomes about positive examples for the young people of Cape Town.
YoungstaCPT is an important figure and voice among Coloured people, a race that hasn't been afforded the luxury of controlling their own narrative. Coloured people are stereotypically portrayed as gangsters, criminals and caricatures with missing front teeth on mainstream TV. YoungstaCPT knows this, and he has been deliberately countering this narrative with his music videos which show you Coloured people in a different light to what mainstream usually shows.
So, it's not an empty assertion when he declares himself as the voice of the Cape in the song "VOC." This assertion isn't just an act of bravado, but a necessity—Cape Town has long needed a voice that could be listened to beyond Cape Town. A majority of Cape Town artists' reach hardly ever expands beyond their hoods. But with a Best Lyricist trophy from the South African Hip Hop Awards in 2017, appearances on records by South Africa's most respected hip-hop artists such Da L.E.S, Solo, Stogie T and a lot more (a collaboration with AKA is underway), a few European tours and a buzz you can't deny even if you want to, YoungstaCPT is a ray of hope for Cape Town artists and people in general—representation is important.
It's been close to 30 years after apartheid was abolished in 1994 when South Africa had its first democratically elected and black president, the late Nelson Mandela. But the institution that is apartheid is still largely in place. Yes, all of the apartheid laws and government are gone, but those who were on the wrong side of the cities when the country achieved democracy, are, well, still on the wrong side.
YoungstaCPT - VOC (Voice Of The Cape)www.youtube.com
Affirmative action has been tricky for South Africa. Apart from the corruption that unfortunately has come with it, race groups who were in the middle of the hierarchy created by apartheid find themselves in the middle once again, and feel forgotten. Black people (categorized as African under apartheid) suffered the most oppression, followed by Coloured and Indian people.

In present day, Coloured people feel overlooked by the black government and South Africa as a whole. "We are going lower and lower," said one of the subjects on the Cape Town gangs episode of the mid-2000s documentary series Ross Kemp on Gangs. Another of the subjects added: "You get affirmative action. I go for a job, the black man gets the first privilege."
Coloured apartheid activists such as Ashley Kriel aren't celebrated beyond the Western Cape. YoungstaCPT, probably aware that his album will reach more ears than he ever has, shines a light on Kriel and a few other Coloured figures. On "The Cape of Good Hope," he raps, "Salute to Marc Lottering, but this isn't a comedy/ Sorry if it's harsh but we all have an opinion/ I'm being aggressive for Ashley Kriel and Taliep Petersen." In the same verse and the rest of the album, his wordplay and references are based on Cape Town places and figures, spitting brilliant lines like: "Welcome to the Cape of Good Hope, call it Skolliewood/ Riyadh Roberts robbing from the rich, call him Robin Hood/ Colonialism shook us, we got off to a rocky start/ Now we building empires and calling it Grassy Park/ I've never seen democracy, Skaap Kraal to Ottery," and later, "Preaching ghetto gospel you can call me Bishop Lavis."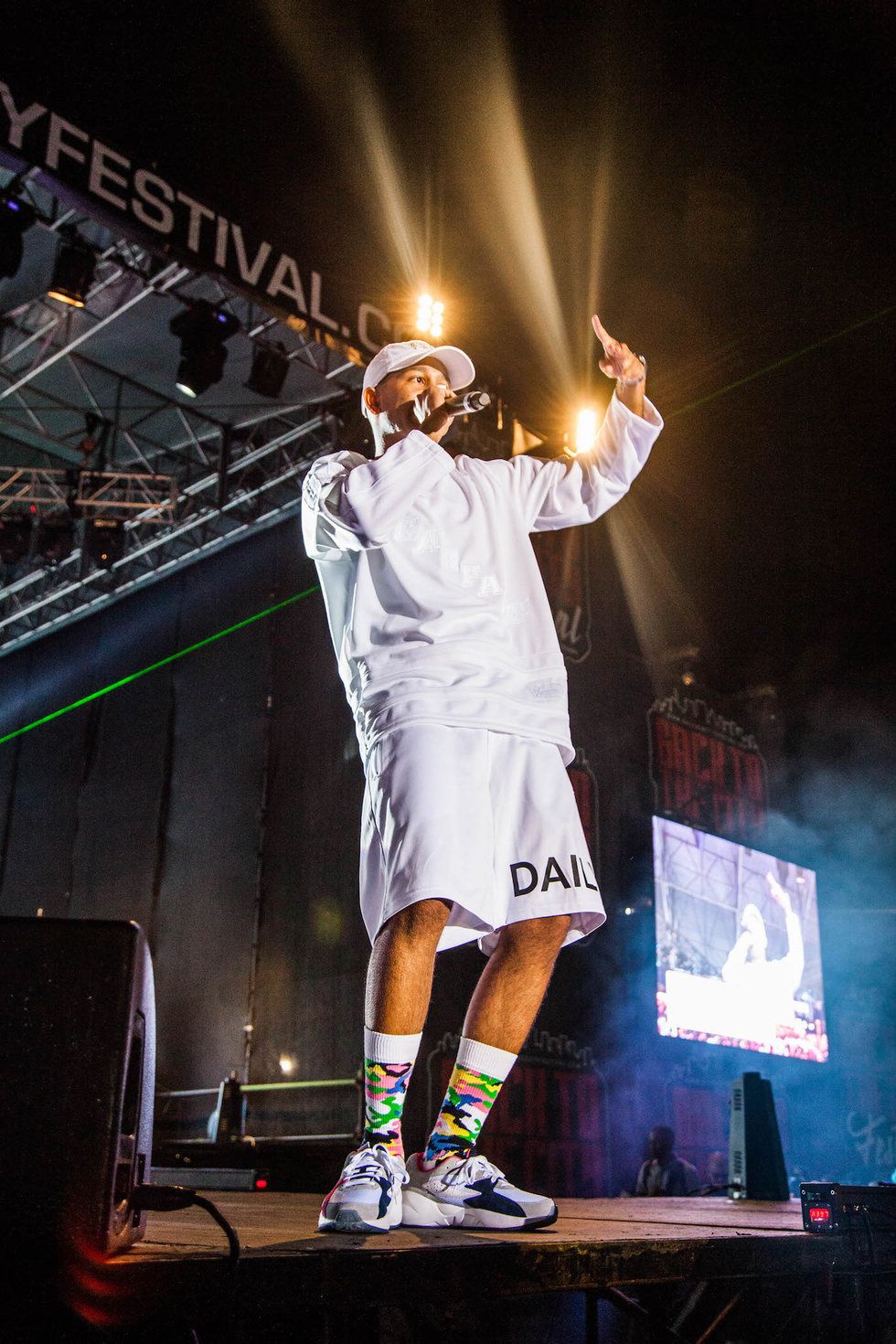 YoungstaCPT at Back To The City in 2018. Photo by Sabelo Mkhabela.
The song "VOC" plays around with the acronym of Jan Van Reibeeck's company Vereenigde Oostindische Compagnie (VOC)—which marked the beginning of colonization of South Africa when they setup a pitstop for sailors for their expeditions in 1652.

YoungstaCPT is a representative of the oppressed people of Cape Town, who suffered apartheid's injustices. In the song "YVR," he calls himself Young Van Reibeeck, again a play on words—as the voice of the Cape, leader of the VOC, the MC is using the same aggression as the colonizer, but to represent his race and, well, take over the game.
YoungstaCPT's rise has been telling. The rapper has broken many barriers for Cape Town hip-hop and his race. In 2015, the rapper told fans at a show that his music video for his hit single "Salutas" was rejected by MTV Base. Their reason, "It's too Cape Town," they said, according to the MC.
When your identity is used against you, it usually instils a sense of pride in you. This has been evident in YoungstaCPT's case—his music has been blatantly representative of Coloured people, through his use of Cape Coloured slang and telling Coloured stories embedded in his own.
For instance, his song "Takkies" sounded like a rehash of an earlier track "Fresh Prince in Nike Airs." The latter was a song that was purely about his love for sneakers. But on "Takkies," he used sneakers to tell his life story and paint a picture of what it's like growing up in the hood in Cape Town. He rapped about crime and the police's slow response in Coloured neighborhoods, but also touched on the importance of looking fly when you are growing up poor.
On 3T, all these stories that the MC has told in the aforementioned songs and others such as "Strange Place," "Better Than Money" and several others, come together to create a holistic picture of what it means to be a Cape Coloured in present day South Africa. 3T takes you to Cape Town the same way Good Kid, m.A.A.d City takes you to Compton and Illmatic to the projects of Queensbridge.
From 3T, the song "YAATIE" takes you back to YoungstaCPT growing up in Wittebome. He gives you his childhood nickname, shares what hairstyle he used to rock, how the corner store owner was murdered, and that his house was robbed a few times. It's a personal song, accompanied by a fitting music video that was shot in Wittebome.
YoungstaCPT - YAATIEwww.youtube.com
The title 3T, which stands for Things Take Time, could also be symbolic of the fact that the album gives you three eras of Cape Town—the past, present and a perceived future. The rapper's grandfather, on skits between songs, gives a history of Cape Town and Coloured people, and expresses his thoughts on present day Cape Town and South Africa, and what the future could look like. He believes that a lot of the wrongs can still be fixed.

YoungstaCPT, who didn't experience apartheid (but still suffers its repercussions, like all people of color in South Africa), gives the story of present-day Cape Town from his own perspective. His opinions and stories are honest, visceral and disruptive—he doesn't play it safe, never tries to be politically correct.
3T is an album that's made for the ordinary person on the street. For instance, the use of the word "Coloured," which is an apartheid construct, has been questioned by some scholars. The general notion is that we are all black, and using the term "coloured" is counter revolutionary or anything similar. Which makes sense on paper, but plays out differently in these here skreets.
But it's this unadulterated honesty that makes 3T a breath of fresh air in South Africa's new wave of rappers, where heavy issues are hardly ever addressed by rappers. It's also the fact that he didn't censor any of his grandfather's notions, as some of them are cringeworthy and problematic. For instance, in one skit, the old man blames the influx of drugs in the Western Cape on "foreigners."
***
Songs like the anthemic "Kleurling," "For Coloured Girls," "GHAM" and "Kaapstad Naaier" celebrate Colouredness, while songs like "To Live and Die In CA," "The Cape of Good Hope," "Old Kaapie," "Tik Generation," "Pallet Gun" highlight some of the ills faced by Capetonians—drug abuse and trafficking, gangsterism and self-hate, among others. On "To Live And Die In CA," he raps:
"Every place has its pros and cons, and obviously we got ours/But the mental slavery amongst Coloureds must stop now/I be doing everything and yet it's like they're not proud/I'm always in the line of fire always getting shot down/Look at how far I came by spitting these raw poems/Detailing the battlefield my dairy is a warzone/DMX told me that it's dark there and hell is hot/The funny thing is Kaapstad has its own melting pot/Smokkel house for the druggie, let's call it the candy shop/Upper class families, tennis courts and they have a yacht/What? No wonder my brasse kicked down doors/Just look at the place that they were born."
The MC draws parallels between the gangs of Cape Town and those of the West Coast. In the same song, he raps:
"I'm coming from the Wes-Kaap, West Coast/It's like Cape Town and Compton are step bros/If you don't understand our slang keep your bek closed/I grew up around 2pac's they were all on death row/Yes my brasse ran from the police and the metros/And if there's a little shoot out do like John and get low/ No East Side Boyz here, bra, the Western Cape is very colourful/Wittebome and Wynberg I'm throwing up the Ws/Home of the brave, living space of the innocent/Gangs in LA and CA, that's no coincidence/Stray bullets flying but the others are deliberate/Tourists going home wishing that they never visited"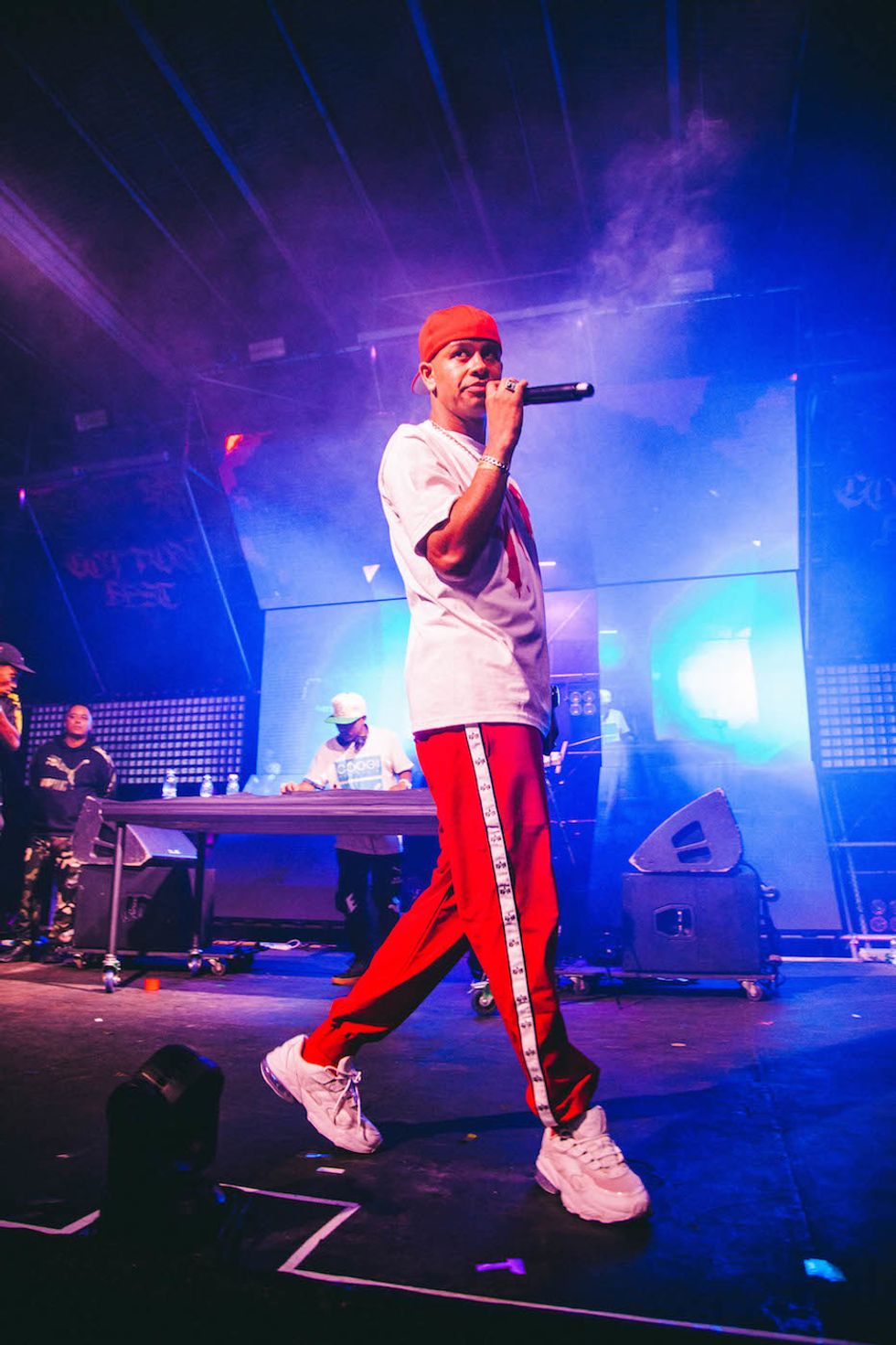 YoungstaCPT at Cotton Fest earlier this year. Photo by Sabelo Mkhabela.
3T is littered with plenty of West Coast rap references. Apart from the G funk-influenced production that begs for a Crip Walk on songs like "VOC," "To Live And Die In CA," "Old Kaapie" and "For Coloured Girls" among others, he appropriates Nate Dogg's hook to Pharoahe Monch's "Oh No" on "The Cape of Good Hope," uses the phrase "rose that grew from concrete" on "La Familie," and starts the first verse of "The Cape of Good Hope" with "I'm coming straight outta Cape Town / A crazy motherfucker named Youngsta," referring Ice Cube's opening lines on NWA's "Straight Outta Compton."

3T is as much an autobiography as it is a political statement. It paints a nuanced picture of Cape Town's complex politics while ensuring to not over-explain itself to outsiders. As the man raps, "If you don't understand our slang keep your bek closed."
The album is as layered as the city its creator was born, raised and continues to live in. Religion crosses paths with tales of growing up a form of an outcast, the present is contextualized by history, YoungstaCPT's influences (East and West Coast rap) are used to drive the point home over pulverizing trap beats from the likes of Ganja Beatz, Psykobeats, J Beatz, Luc Vermeer (Christian Tiger School), and a few more, most of which the MC has worked with before.
In the song "Tik Generation," he raps about growing up witnessing people, some close to him, being involved in the drug trade. He interrogates why things are the way are, and doesn't always have the answers. Which is why the conversation with his grandfather, who's been in Cape Town for decades, are necessary. Some of the rapper and his grandfather's sentiments coincide, while others overlap.
3T, with all its many subplots, tells you that the wounds from our past will be cured. But it will take time. No one knows this better on a personal level better than YoungstaCPT. His career took a long time and a lot of hard work to build. 3T, which spans 20 songs and 102 minutes, will take you some time to digest and fully understand. Because, well, things take time.
Download 3T here, and/or stream it below: