Eleven candidates are running to be Zimbabwe's next president, but two men are the clear frontrunners: incumbent Emmerson Mnangagwa of Zimbabwe African National Union-Patriotic Front (Zanu-PF) and main opposition party leader Nelson Chamisa of the Citizens Coalition for Change (CCC). "This is a continuation of the political rivalry we have seen since 2000," political analyst Rashweat Mukundu tells OkayAfrica. "Of course, with new players – in Zanu-PF, Mnangagwa, who replaced Mugabe, and [in CCC] Chamisa, who replaced [Morgan] Tsvangirai."
Eighty-year-old Mnangagwa ascended to power through a military coup in November 2017 that ousted his mentor and long-time ruler President Robert Mugabe. Zanu-PF has been in power since 1980, when Zimbabwe gained independence from the British colonialists. While Mnangagwa has the support of his party behind him, detractors still want him to answer for the Gukurahundi massacres, which took place in the early 1980s, killing at least 20,000 people in predominantly ethnic Ndebele areas. At the time, Mnangagwa was in charge of the Fifth Brigade, believed to be responsible for the deaths, but he has long denied his role in this.
Almost half his age, 45-year-old Chamisa made history in 2018 by becoming Zimbabwe's youngest presidential candidate when he challenged Mnangagwa and lost in a disputed result. Chamisa will once again take on Mnangagwa, only this time under a new political party. He was forced to form the CCC last year, after his legislators in the MDC-T (Movement for Democratic Change-Tsvangirai) were recalled from Parliament when his rival Douglas Mwonzora took over the party name and headquarters. Since its founding leader's death in 2018, the original MDC (Movement for Democratic Change) has experienced a power struggle.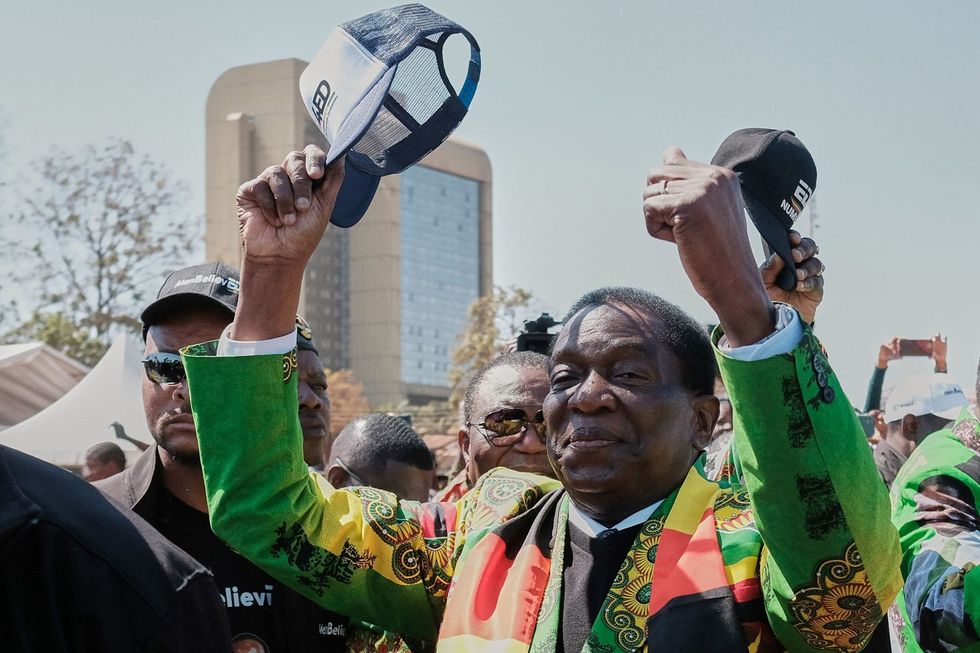 Zimbabwean President and Zanu-PF leader Emmerson Mnangagwa raises his cap in salute to the crowd gathered during a rally in Harare on August 9, 2023.Photo by JEKESAI NJIKIZANA/AFP via Getty Images.
Chamisa, who is tech savvy, served as Information and Communications Technology Minister from 2009 to 2013 under the Government of National Unity, a power-sharing deal brokered between Mugabe and Tsvangirai after a deadly and disputed election in 2008. Just like Peter Obi in Nigeria and Zambia's President Hakainde Hichilema, Chamisa is popular among the youth who are hopeful he will turn the economy around. His supporters have been known to chant the Shona language slogan "ngaapinde hake mukomana," meaning "let the boy in."

Role of the youth
Chamisa, a trained lawyer and pastor, is ambitious, and promises to turn around the country's economy. He is appealing to a younger demographic while Mnangagwa is supported mostly by older people from his Zanu-PF party. There is voter apathy amongst the youth because of misinformation being spread by various groups on social media.
As a result, CCC is targeting first-time voters by launching door-to-door and social media campaigns to encourage them to register to vote. Chamisa is also popular on social media including microblogging site X (formerly Twitter) and Facebook. But young people are not just cheerleaders in this election – several of them from Zanu-PF and CCC are vying for various parliamentary and local municipality seats around the country.
Significance of the polls
According to political analyst Maxwell Saungweme, this year's election is going to be a chaotic one, where there is a push for a power transition from the people, as a result of the hardship of life under decades of Zanu-PF rule. "This is a really high-stakes election," says Saungweme. Economic strife, currency crisis and a high unemployment rate are some of the major issues needing to be addressed in this year's general elections.
As Mukundu adds, "There is poor public service delivery, electricity challenges, infrastructure is collapsing, inflation is at its highest and [there is] corruption. Our country is essentially one that cannot meet the needs of its own people, including basic provisions of food on the table. Many people are struggling just to get basic health care."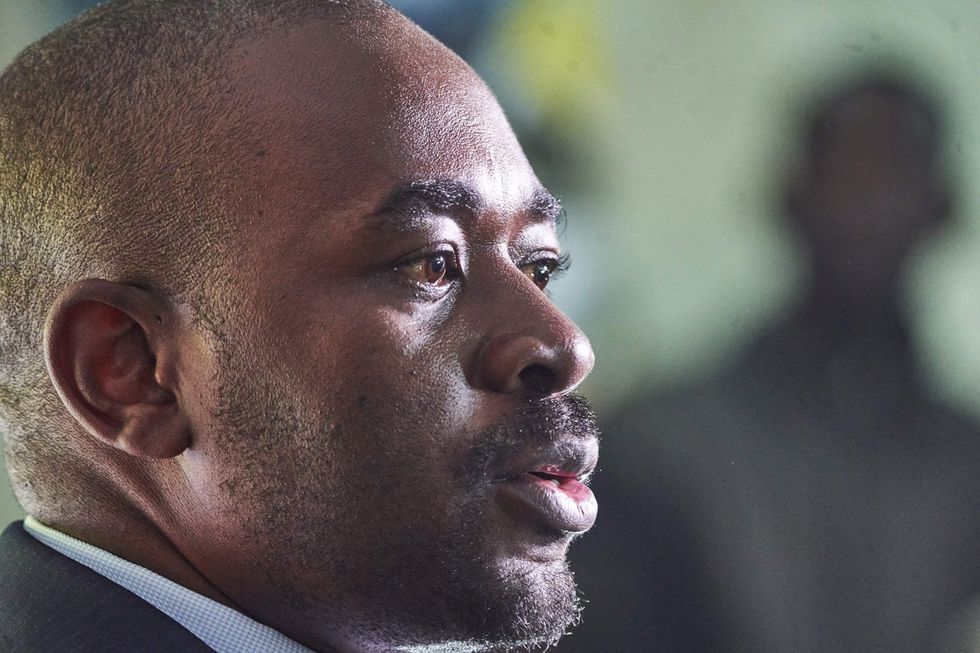 Nelson Chamisa, leader of the Zimbabwe main opposition party, Citizens Coalition for Change (CCC), addresses delegates during a manifesto launch in Bulawayo on August 8, 2023. Credit: Photo by ZINYANGE AUNTONY/AFP via Getty Images.
Over the past five years, Zimbabweans have been grappling with rising costs of basic commodities and power shortages that see load-shedding schedules lasting more than 18 hours, as well as hyperinflation amid stagnant salaries, together with poor conditions for government workers. There has been an exodus of professionals, including nurses and doctors, immigrating to countries such as South Africa, the United Kingdom, and the United States to seek greener pastures.

Nicknamed "crocodile," Mnangagwa's tenure has been marred by tyranny and authoritarianism. In a bid to appease voters, he has promised voters the elections will be free and fair. But civil society groups believe this will not be the case. Mnangagwa's ruling party has been accused of unleashing terror on Chamisa's supporters, blocking rallies and intimidating voters in rural areas, which are known to be Zanu-PF's stronghold. In the build-up to elections, there has been a rise in political violence perpetrated by Zanu-PF against CCC supporters. On August 4, a CCC supporter was allegedly stoned to death by a suspected Zanu-PF member in Glen View, one of the high-density suburbs in the capital, Harare.
A recent report by Human Rights Watch (HRW) indicates Zimbabwe is headed for unfair polls.
"Human Rights Watch's research found that rights critical for Zimbabwe's election, such as to freedom of expression, association, and assembly, are imperiled," reads part of the HRW report, titled "Crush Them Like Lice:" Repression of Civil and Political Rights Ahead of Zimbabwe's August 2023 Election.
Other presidential candidates
Mukundu believes the other candidates stand absolutely no chance in this upcoming election. "These are smaller parties. Some of them are appendages of Zanu-PF – these are parties that are being sponsored by Zanu-PF to sanitise a flawed electoral outcome," he says, adding, "These are candidates who are participating for the benefit of the political patronage by Mnangagwa."
Mwonzora of MDC-T and Lovemore Madhuku leader of the National Constituent Assembly are some of the presidential candidates who support Mnangagwa and Zanu-PF. There is only one woman candidate, Elizabeth Valerio, leader of the opposition party United Zimbabwe Alliance, whose nomination papers had been refused by the Zimbabwe Electoral Commission (ZEC) until the court intervened.
But apart from Chamisa and Mnangagwa, the rest are not looking to assume leadership of the country. "The serious candidates are Chamisa and Mnangagwa," says Saungweme. "The rest are there for their popularity and political capital; they just want to be influential. So, do not count on them."