On July 4, 1994, the Rwandan Patriotic Front (RPF), led by a 36-year-old Paul Kagame, stormed the streets of Kigali, effectually putting an end to 100 days of genocide against the country's Tutsi minority.
It's an unambiguous story of triumph after turmoil, and it's this precise narrative of radical reconstruction that the government sought to display to the group of artists, photographers, filmmakers and fellow journalists from across the continent who I traveled with for a week-long press tour of the country in observance of the 25th anniversary of that very day.
Kigali's physical beauty is unmistakable. The city's cleanliness is noteworthy, even for a capital city with a population of just under a million people—the litter, street hawkers and homeless population characteristic of most urban capitals were nowhere to be found. We began our week at an achingly early 5:30 am, embarking on a Liberation Tour of the northeastern part of the country via military helicopter, which took us to the various sites where the RPF carried out its various missions to transform the country—starting as a rebel group in 1990 with a mission of reinstating Rwandan Tutsis who had been forced into exile in neighboring countries, before becoming the genocide-ending rebel group it's known as today. It was the first time that I, and most of the group, had flown in a helicopter. Deemed "foreign influencers" by our hosts—a title we all found quite amusing—we held our phones up to the helicopter's circular windows to capture precious aerial footage of the lush, hilly scenery. The clips quickly and enthusiastically landed on my Instagram story.
---
Aerial view of northern Rwanda via helicopter.Photo by Victor Ehikhamenor
Later that day, we sat front row at a press conference with Kagame, deemed "A Conversation With the President." We rose as he strode in a few minutes after we took our seats—a punctuality that I imagined wasn't a characteristic of all African presidents. A striking presence, he charged along, calmly answering the mostly unchallenging, but still valid, questions about economic policy, and shared interests between Rwanda and other African states from attendees from Sierra Leone, Ghana, Nigeria, Kenya, Zimbabwe as well as India and China. Kagame answered them with a Pan-Africanist tilt, seeming distinctly aware of the status that Rwanda holds in the eyes of fellow Africans as an example of growth and development on a continent plagued by faulty reputations. The sentiment of most in the room, was that we needed a team captain, an example of what could be, and Rwanda—even with its faults—is perhaps the closest we have to that ideal.
"We are not where we want to be, but we are on a journey," said Kagame when speaking on the topic of African economic freedom and unity. "The best way to reconnect the [continent] and tap into this relevance, is not by doing away with the borders as they were drawn, but through social-economic and political integration, so that you make these divides irrelevant. There's one narrative about Africa. Africa was divided for ease of management by outsiders, but really it is one."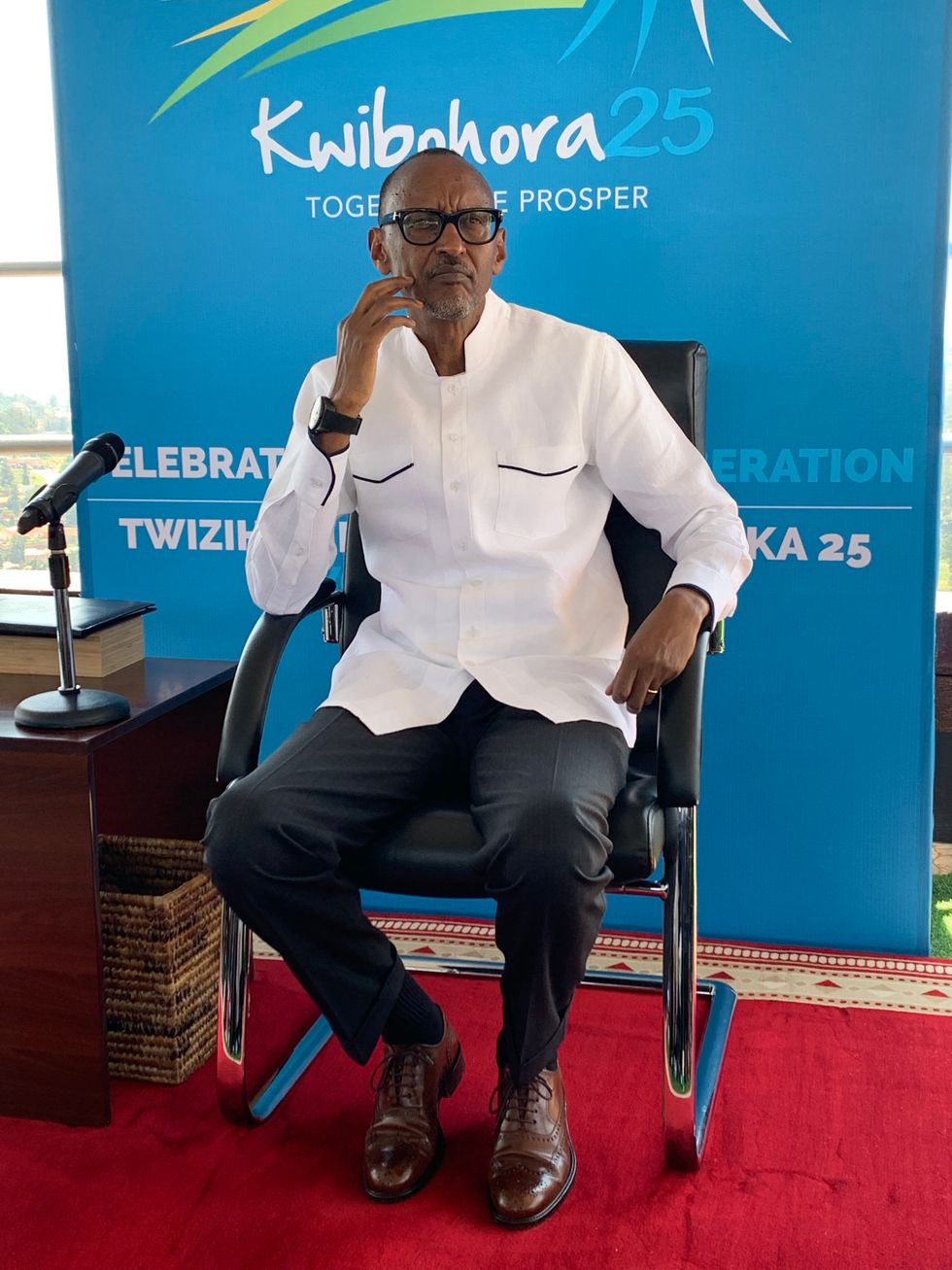 Paul Kagame Image by Victor Ehikhamenor
Rwanda is not perfect, of course. And topics such as human rights, and censorship—which Kagame has been grilled about by international media in the past, did not arise during the hour-long conversation. One Reuters journalist, however, asked about the president, who has been in office since 2000, about the passing of the proverbial baton to a successor, to which Kagame shared that he felt the position had to be 'earned" through hard work, and in his eyes, no one had earned it yet. As noted by my Rwandan colleague afterwards that journalist's question was considered more "forward" than normal.

The following day we attended the opening of a new government-funded housing development in Karama, an area just outside of the capital. It was complete with an optics-minded visit to a local school and early child development center, where students in lab coats—and on their best behavior—spoke to the president about their studies. Afterwards, we attended a local celebration of a few hundred people. It was a feel-good event with older men in kanzus strolling in unison, and women in mushanana waving both Rwandan flags and a blue and white one with the phrase "Kwibohora 25," on it—the weeks slogan which means to "liberate oneself."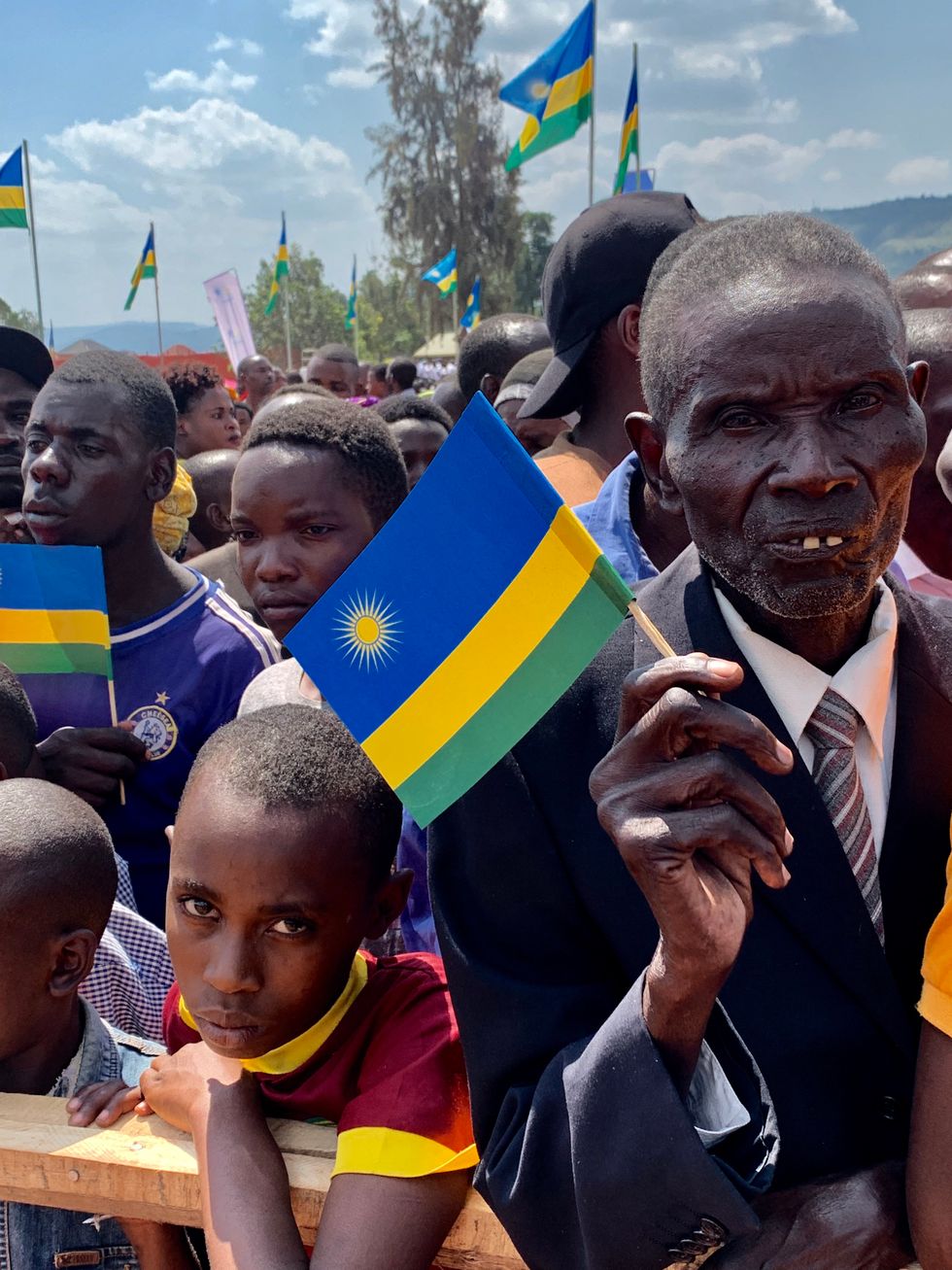 Kwibohora 25 Celebration Photo by Victor Ehikhamenor
Later, we attended the premiere of the film 600, which documented the 600 men in the RPF who led thousands to safety during the height of violence against Tutsis. It offered a glimpse into the source of Rwandan national pride through harrowing testimonies from genocide survivors and former soldiers. The contrast between the Rwanda we had seen during our travels and the one we saw on screen was stark. If we hadn't understood the level of transformation that had occurred in the country before that moment, we did then. The film did leave some questions unanswered, though, Namely around violent retaliation against the Hutu following the genocide. Rather, it presented a cleaner narrative of good versus evil. Things are never that simple, of course, even if the powerful documentary allowed us to forget that for a while.

"The sentiment was that we needed a team captain, an example of what could be, and Rwanda—even with its faults—is perhaps the closest we have to that ideal."
On July 4, the same day that the United States was celebrating its own Independence, we sat in the iconic Amahoro Stadium, which was once a refuge for Tutsis escaping violence. We sat as foreign dignitaries and African leaders arrived in luxury cars, ushered in by military officials. It felt like we were attending a college homecoming event, complete with a marching band, and traditional dance performers. I couldn't help but note that Liberation Day did indeed seem like a more worthy cause for celebration than America's own dubious "independence." Rwanda pushed a message of anti-tribalism, transformation and reconciliation for it citizens, which though not easily achieved by any means, is a hard mission not to get behind.
"As a Pan Africanist and a human rights defender, I felt particularly compelled to bear witness to the 25 year journey," says Nigerian human rights advocate Opal Tometi, the co-founder of Black Lives Matter and one of my fellow invitees. "I know it's fraught and not over, but what I witnessed was nothing short of awe-inspiring. The Rwandan people have really begun the deep and arduous work of transforming their society. And I was genuinely impressed by the incredible strides they've made in such a short period of time," she added, echoing the sentiments of many attending the week's events.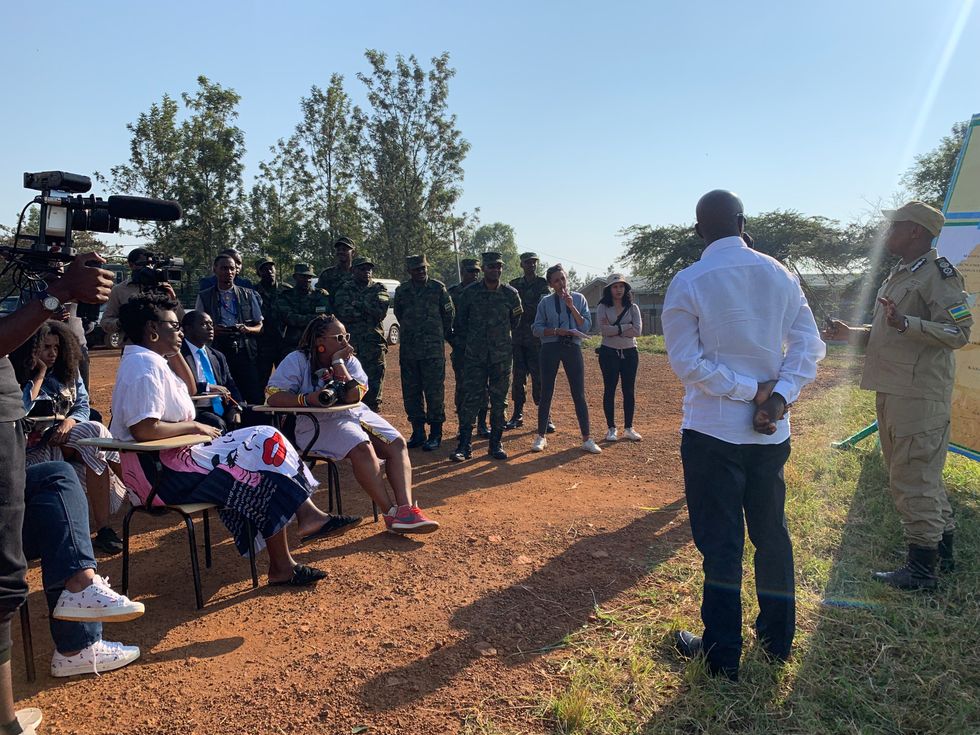 A visit to the site of Phase 1 of the liberation movement. Photo by Victor Ehikhamenor
On the last night we attended a party at the ultra-polished convention center, with select guests, some of whom were part of the 600. It was the first time I truly felt like a "foreign influencer" as we were the only group in the party with phone clearance. This access, was also a reminder that our 4-day trip was a rarefied one, meant to be documented as such. It was not enough time to fully grasp the realities of everyday life in the country. All we could truly understand and document was what we were being shown, and what our respective perspectives whether that be Nigerian or Kenyan or Ghanaian, allowed us to bring to the table. Even with this internal insight, the outlook, quite simply, was that Rwanda was doing the work to transform its image and secure a more peaceful country for the everyday citizens.
This party, which marked a close to the liberation events, was another event attended by the president, who at 62, showed up to the party close to midnight—even hitting the dance floor at one point—he announced that the next day would be a holiday, and urged his countrymen to simply take it easy. "Tomorrow, don't do what you don't want to do," he said. We laughed, cheered and applauded.
The next day as I headed to the market for souvenirs before my evening flight, I thought for a second that some of the stalls would be closed given the holiday week and the impromptu announcement from the president. They, of course, were not. Business-minded vendors, waited ready as ever to sell to tourists, presenting the best of what they had to offer—the same way the government had done for us for close to a week. It was a reminder that whether it be running a market stall or rebuilding a nation, the work of building and maintaining an image, never really stops.
***
See more photos from Liberation Week below, by Nigerian artist and writer Victor Ehikhamenor.