Amarachi Nwosu has shown her talent as a photographer, filmmaker and director over the years: strategically turning dreams into reality, pulling ads for companies like Nike and Adidas, founding her company Melanin Unscripted and earning herself a spot on Forbes Africa's 2021 30 Under 30.
Now, she's rounding off 2021 with her debut feature film titled The Ones Who Keep Walking. The film, which is deep-rooted in cultural identity, conveys the eccentricism of being an African creative and unites voices from more than ten countries on the continent whose creative reach spans from music to photography, skateboarding, fashion, art and dance. With talents like Ckay, Bose Ogulu, James Barnor, Lindiwe Mngxitama, Stephen Tayo, Loza Maleombho and Gouled Ahmed, the almost 50-minute-long film challenges the global creative scene and how it has shrunk and hidden the effort of African creatives for years. But now, a story told by Africans for Africans showcases the continent's renaissance. If it does one thing, the film lets Africans know that they are enough.

OkayAfrica caught up with Amarachi to speak about the film, it's inspiration, process and hopes.
---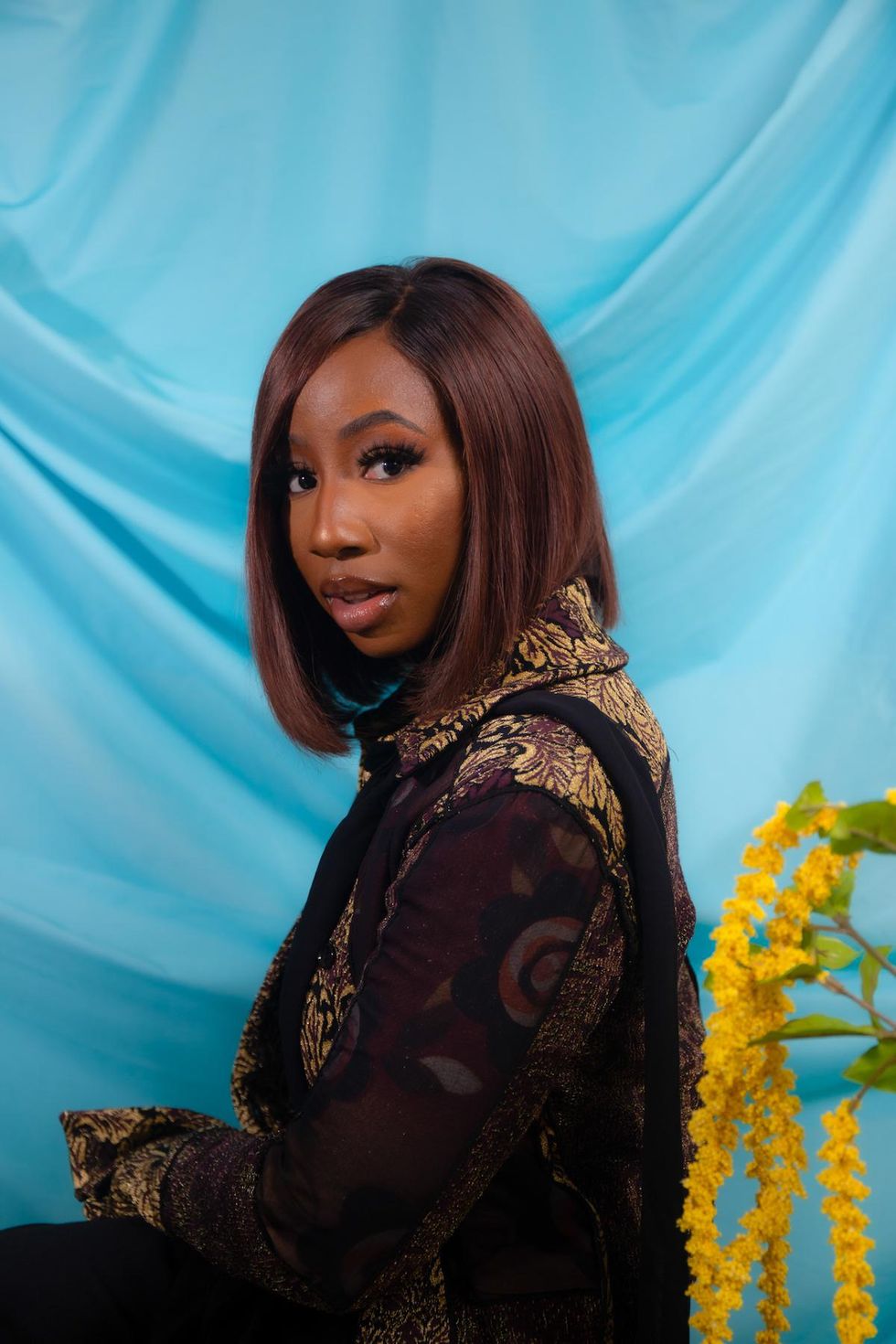 Amarachi Nwosu.Photo by Vanessa Dos Santos.
This is a very beautifully nuanced and authentic documentary, if I can I call it that? Tell me about the idea behind the film.
Yes, you can call it a documentary! The idea was to tell powerful stories on African creatives who are pushing boundaries but to also expose a collective narrative on past, present and future and how they are using this to build their creative practices. Africa has the youngest population in the world and while we wanted to present a future facing narrative, we also wanted to honor the people and stories that had come before and make sure those stories were not lost.
When creating this film we had no reference point of cinema that could guide us — but it forced us to think outside of the box and present an approach that would serve as reference in the future. We wanted to do this tastefully, creatively but also impactfully, which guided our approach.
In the film, we find Ckay, James Barnor, Stephen Tayo, Bose Ogulu and many others. What was it like getting all of these incredible talents onboard? Did you have them in mind before the film happened?
We had in mind most of the talent from the start of the production process — but considering how fast the timeline was we also had to develop this scope as we went along. We wanted talents who had powerful stories to tell but also people who have pioneered their own lane or a lane for others. We wanted to show the diversity of African creatives so we made sure to tap into people in different industries and approaches — beyond the way Africa has pre-perceived by western media in the past.
The Ones Who Keep Walking | Johnnie Walkerwww.youtube.com
It must have been so exhausting traveling for five months around the continent for this film. Can you tell me about that?
It was definitely one of the most challenging projects I have had to execute. It taught me a new level of patience and persistence because we were working 14 hour+ days multiple times a week and did 28 shoots within a period of 55 days.
Wow!
But what kept me going is knowing how important the narrative was to the African continent and how we had an opportunity to inspire and set a stage for the generation to come. I am fully aware of how powerful film is and how much of a collective push is required. However, a lot of the things I learned in the journey are things that only experience can teach you. As a self-taught filmmaker these long hours were my film school and taught me things that I will carry for the rest of my journey and career.
There is a unique versatility I noticed in the film. There is no limit to discussion. Each creative can talk about things outside their field as long as the question is thrown at them. Like Ckay can discuss photography and Stephen talks about books and archives. Did you have that in mind?
Yes, that was definitely intentional. I knew I had 20+ talents and 48 minutes to tell a collective story — what that challenge meant that we needed to find a way for the story to be compelling but also versatile. This came naturally because in many ways creativity is very interconnected and these different industries lean on one another to thrive.
It was my late mentor Chi Modu that taught me how visual storytelling plays an important role in archiving and documenting history. History and documentation is not limited to one space or time and I saw how powerful it would be for artists of different practices to be in conversation around similar themes, especially storytelling. Without images how do music artists get remembered? Music needs visuals just as visuals often need fashion and vice versa. Creative industries need one another just as a community does. In the spirit of collaboration, I wanted this to shine through in the film.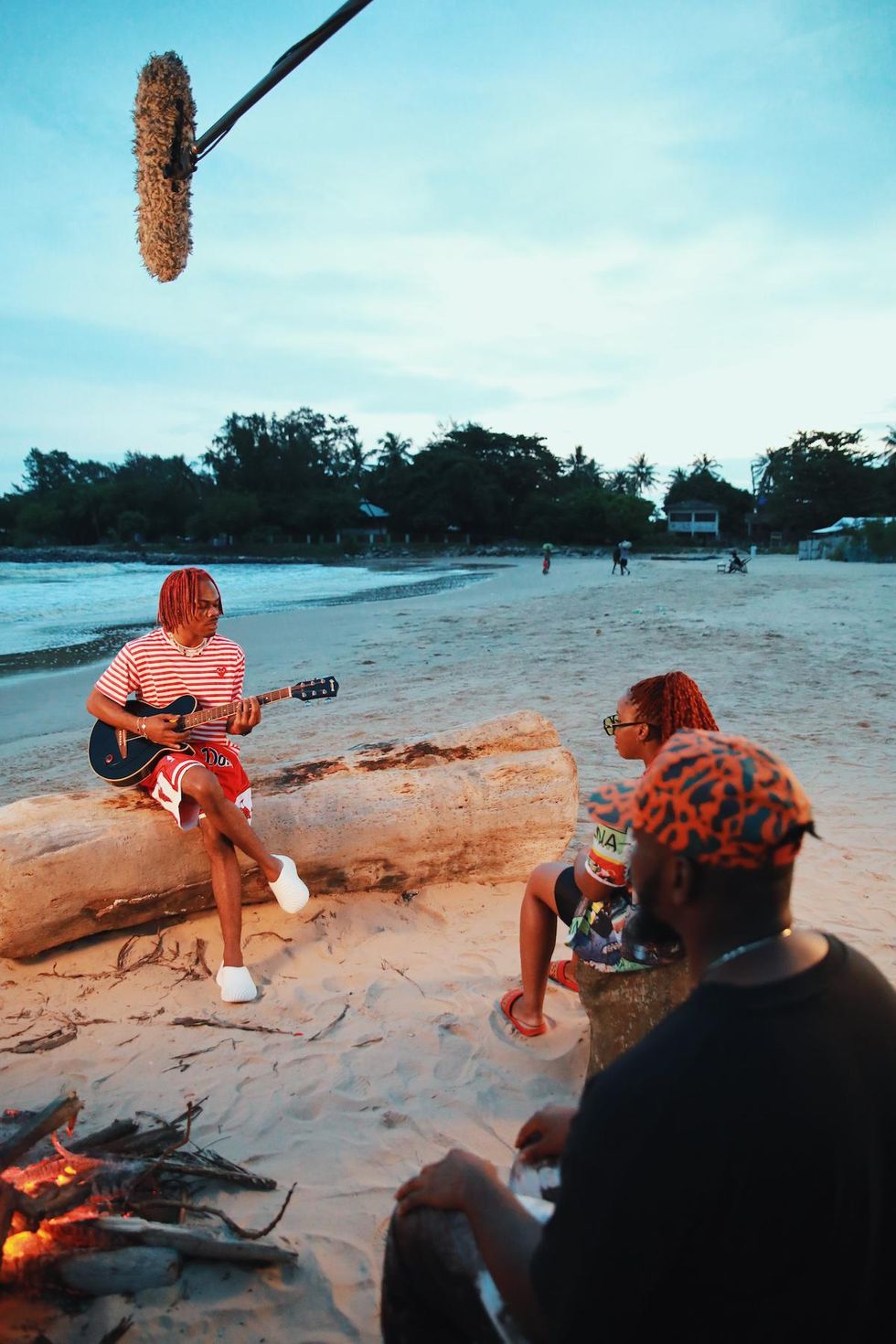 Ckay, Amarachi and Ademola Falomo.Photo by Roderick 'deeds art' Ejuetami.
You mention this being your debut film feature, tell me about your other projects?

I consider myself a renaissance woman because I do not limit my creativity to one space. I have worked in many industries from photography, fashion to music and now film. I've worked as a writer for magazines, styled shoots, art directed spaces, curated events and even done branding and marketing for some of the biggest African artists like Davido, Tems, Mr Eazi and Amaarae. My practice is not linear and it reflects in the kinds of films I make and how diverse the storytelling is.
My film work includes my documentary debut Black In Tokyo, which has over 1.5 million views, short films like Nike in Nigeria for the Women's World Cup and Rise in Light in which we used the piece to raise $11,000 for Covid-relief in Nigeria and also more commercial projects for brands like Adidas, Vogue and Off-White. Overall I love storytelling that allows me to explore an array of topics.
Did those projects pave a way or influence The Ones Who Keep Walking?
I think my previous projects prepared me for the challenge and gave me insight into working in different places with many people. It is definitely a big pivot though. I went from 50 people being my largest crew to 250. Overall my previous experiences showed me the power in storytelling especially from underrepresented spaces and taught me the value of research and understanding that is required to tell a good story.
Was this a partnership with Johnnie Walker?
Johnnie Walker funded the film and gave us the opportunity to tell this story in the many different markets we did. It was my company Melanin Unscripted who further developed the brief and created the narrative that would become The Ones Who Keep Walking and we worked with production companies both across Africa and Europe to bring it to life.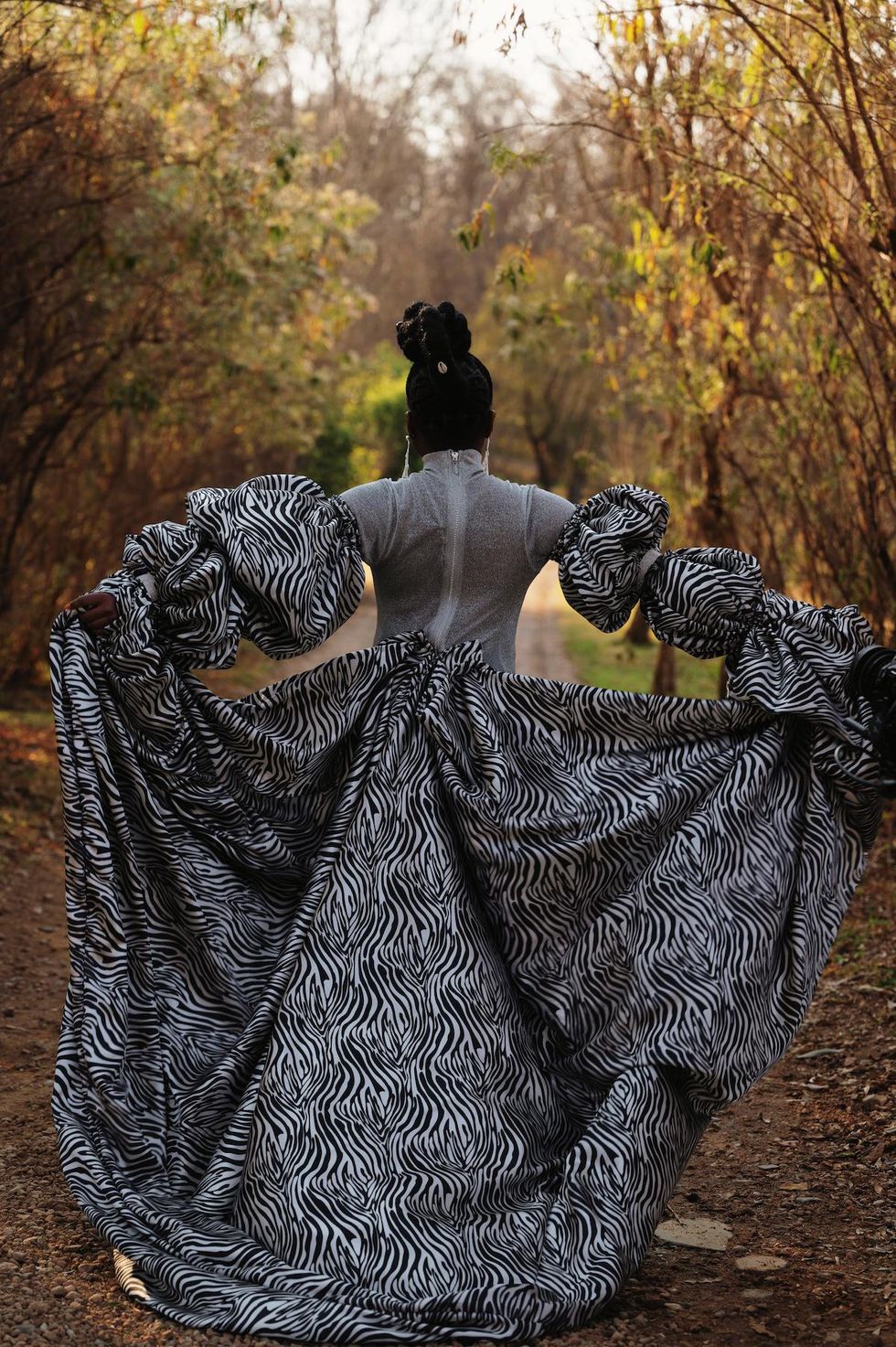 Sampa the Great.Photo by Austin Malema.
Tell me what was it like working with 200+ crew members for this film?
Being a leader is always challenging especially when operating in 10+ different locations and in a global pandemic. However, I met so many incredible people and learned so much on my journey about the opportunities and challenges creatives in Africa face when creating powerful stories. It has driven me to help develop infrastructural changes that ensure films like this can continue to be made at the highest level but also that the creators developing these have the necessary resources and tools to do so.
What do you think African viewers would grab from this film?
Africa is not a monolith and there are so many diverse intersections of creativity that are taking place on the continent. I want people to leave the film feeling inspired but also motivated to continue to elevate the narrative of the continent and create more spaces for people that will come after. I also want people to see the power of African stories being told from our own lens and not being told for us by people who don't understand our experiences; as that has been the way for decades. More African filmmakers and storytellers need to be empowered and I hope this film sets the tone and creates a sense of urgency because Africa is NOW and has been instrumental in shaping the world as we see it today.
What are your hopes for the film?
My hope is that this film reaches a billion people and that it is marked as a moment of African history forever. I also hope that a young person sees this film and realizes that it is possible to be African, and be an artist and make a global impact that transcends beyond the borders of their imagination.
Should we expect more projects from you?
Absolutely. I want to continue to build in the film and TV space. At Melanin Unscripted we have some shows and films in development that we want to get picked up by film studios. I want to continue to tell stories in the unscripted space but also begin to tell powerful stories in the scripted arena. Overall our hope is that film studios see the power of this narrative and continue to invest in untapped and untold stories.