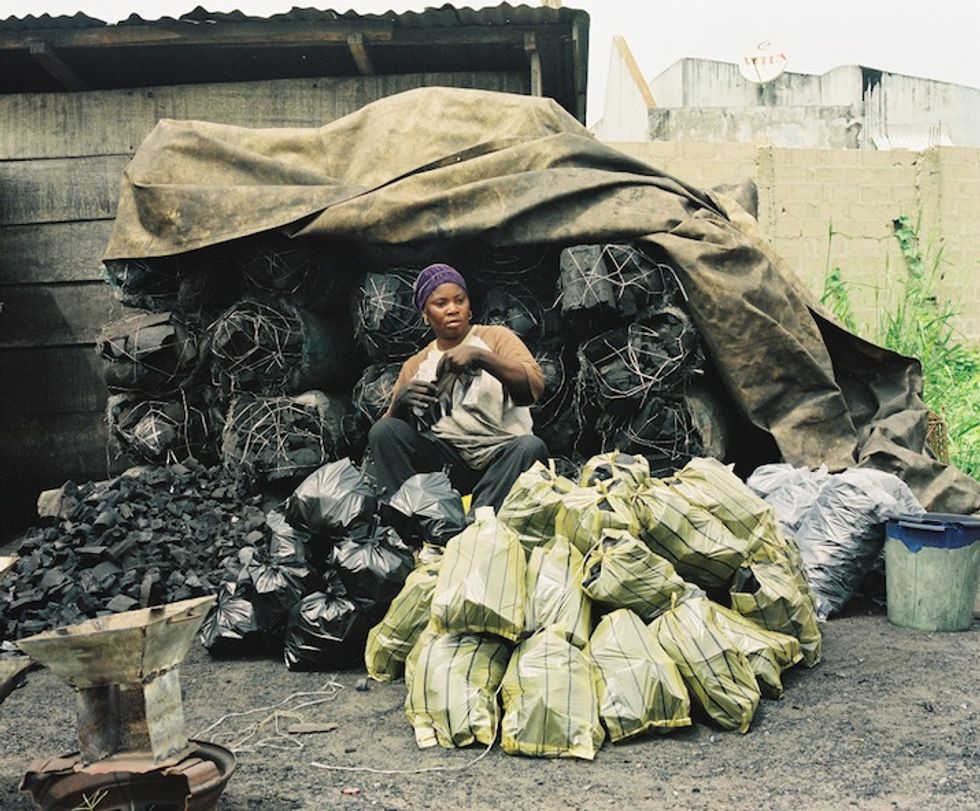 *Emeka Okereke, Portrait of a Trader II, 2008
---
Few people make daring statements then actually follow them up with action. Meet Emeka Okereke, Nigerian photographer and founder of Invisible Borders, a collaborative road-trip project that draws artists from various fields to engage with questions of photographic representation and image-making. Okayafrica contributor Unathi L. Sondiyazi caught up with Emeka to talk about the direction of Nigerian and African photography, the theory of photography behind his work, and his role in Aljazeera's Artscape series, A New African Photography.
Okayafrica: You've been called a 'New African photographer' which suggests that there is a new guard at the helm of African photography. Do you agree that the cultural centre in photography is shifting?
Emeka Okereke: Yes, I do agree. And basically, this has been most likely as a result of my understanding of the world that we are currently living in. Through all my travels and experiences, I try to piece things together to make sense out of it all. I have read and heard stories, and I basically try to decipher hidden lines, even though it is sometimes only a certain throbbing feeling that something is not right – it's enough to get me looking for answers.
OKA: Who in Nigeria would you say has paved the way for you as a photographer?
EO: Uche James-Iroha, Kelechi Amadi-Obi, Akinbode Akinbiyi; these are a few names that for me created a sort of a radical environment which I found myself tapping into even at an early stage of my career.
OKA: In the first episode of Artscape: The New African Photography documentary, you say that "a photograph is a window and not a view." Can you discuss what you meant by this?
EO: Well, that sentence suggests a sort of a mindset towards approaching imagery. It basically means that the image does not stop at the image. There is a picture in a picture. Rather than see an image as something static (as in fact it might lead one to feel, given that its always what it is when standing on the wall), it is a window to possibilities, different readings and myriad interpretations, lending itself to the flexibility of shifting contexts. It simply says "we live in the world of possibilities, rather than one of a static view."
*Emeka Okereke, Long Wait, Paris
OKA: What was your motivation for participating in the film and would you say the documentary was able to accomplish that goal?
EO: The intention to participate was first and foremost to share our story and point of view with the world via a platform or media that we were more at ease with. Other broadcasters had approached us, but I was much more at ease with Al Jazeera. But again we were very particular as regards our concerns of misrepresentation. At the end of the day, I will say I am happy for one thing: the feedback we are getting is that the film was able to speak to Nigerians and Africans across platforms (without alienating the rest of the world). Especially those points when the actual making of images was accompanied by the philosophical thinking around it — in simple and precise words. Also, the overall feel of the film is that of positivity, optimism despite limitations. So I am fine with the film.
OKA: The question of how Africa is represented in Western media has been topical for a long time now. How important was representation to you when you started out as a photojournalist?
EO: Invisible Borders is about the politics of representation. I think the best argument we can make for anything concerning Africa is to go in and do it yourself, and that "doing it yourself," does not necessarily guarantee success, but at least the intention and the willingness to act based on that intention is the first step towards a journey with usually original and unique outcomes. And this is what we Africans ought to do. Damn the assumed consequences from all the analyzers with big numbers and hyperbolic predictions, and just plunge in, experiment, do your thing, and let history articulate your journey. One more thing: nothing is as powerful as the power of optimism. If it is true that the way we make our bed, so we will lie on it, then it goes without saying that I would rather work at my own beautiful illusion until it becomes the vision.
*Emeka Okereke, Seven in Number, Invisible Borders roadtrip, 2012
OKA: What can we expect from you going forward, anything interesting in the pipeline?
EO: We have a lot lined up, especially the next road trip, which will make the last four road trips look like a rehearsal. We are putting everything into this one. You will get to hear of it, soon.
Then finally, I saw the already published writing related to the film. One thing I would like to clarify is that in no way do we propose that "Invisible Borders is an imaginary erasure of the 1884-5 Berlin Conference's imposed territorial boundaries." Our argument has come a long way and is much more complicated than that. And what we are doing is not imaginary, neither is the aim as simplistic as suggesting an erasure of the borders. We have come to recognise that it is irrelevant to the urgencies of our time, to get hinged on the borders created during the Berlin Conference as this is merely a political construct which in so many ways has outlived its usefulness. But on the other hand, it would be completely unrealistic to call for an erasure of these political demarcations (be they imaginary or whatever), as these lines have come to form a tangible structure that can never be undermined either. Therefore the way forward is to begin to treat those lines in accordance to what they are - merely a political construct, rather than a determinant for the modalities of human exchange. We leave these lines as they are, and where they are (unperturbed in history) while we look for ways to transcend them, and by so doing render them more and more secondary in relation to the main motive which propels Trans-border exchange and communication between people and tribes of this continent today.