A cursory Google search of the colonial city of Santo Domingo will lead you to the homesite of the United Nations, Education, Scientific and Cultural Organization (UNESCO) and World Heritage Convention (WHC) alliance. An elaborate description of what is considered to be not only the capital of the Dominican Republic, but of the West Indies historically, romanticizes the province as a touristic destination with its walls and architectural monumental structures "almost unaltered" from its previous colonial saga.

What goes flagrantly ignored is even a fleeting mention of slavery. Of the fact that present-day Santo Domingo is not only "the site of the first cathedral, hospital, customs house and university in the Americas," but the portal to the so-called New World. And as the recipient of the first ships of enslaved Africans by virtue of the Middle Passage, this also makes the Dominican Republic—indigenously referred to as Kiskeya or Quiskeya—the cradle of blackness in the Americas.
It is with this collective memory at the forefront that joins director Ivan Herrera and multidisciplinary writer Clarisse Albrecht in arms to tell a different kind of narrative concerning the metaphorical umbilical cord between the Caribbean and the continent of Africa. The pair's latest brainchild and labor of love culminates in a 75-minute piece of soul-stirring cinematography and tender ode to the Black diaspora, titled Bantú Mama.
"This story allows me to draw the universal portrait of hood folklore through a drama, without reinforcing the idea of chaos and misery but on the contrary, with poetry and cinematic elegance," says Herrera. "As Director Barry Jenkins said about his feature film Moonlight: ''instead of taking the hood to the arthouse, we're gonna bring the arthouse to the hood.'"
---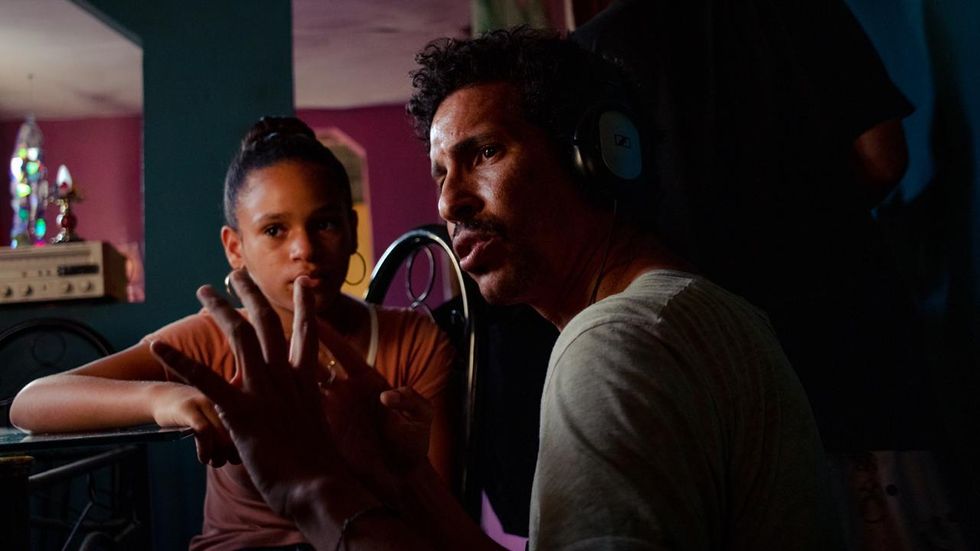 Ivan Herrera. Photo courtesy of Bantú Mama film.
Set in one of the more threatening districts of Santo Domingo, Bantú Mama follows a Cameroonian-French woman who is apprehended by Dominican law enforcement in a failed attempt to smuggle drugs to her final destination. Handcuffed on the drive over to the local holding cell, a near-death and head-on collision ultimately saves the life of Emma, the shining protagonist played by Albrecht herself.

With great effort, Emma manages to reach seawater eventually making her way to a different side of the shore in the dead of night. In a moment of debilitating desperation, Emma's muffled cry for help prompts two siblings riding by in a motoconcho to stop and safeguard her upon making the hasty decision of bringing her back to their house.
What develops next is an instantaneous bond between three parentless children and a stranger from the other side of the Atlantic, who emerges a beloved matriarchal figure and source of respite.
In the role of Emma, Albrecht is strikingly familiar. Almost as if Albrecht was Emma herself, whom we've come across once or twice before. In our mother's kitchen, maybe. Or the living rooms of our abuelas. In her time of hideout, Emma effortlessly slips into the role of a chief caregiver, offering cooking lessons and sharing traditional dinners; teaching history and every night cradling to sleep Cuki (Euris Javiel), the youngest of the three next to T.I.N.A. (Scarlet Reyes) and $hulo (Arturo Perez).
T.I.N.A. is the resourceful and headstrong sister who helps her scrappy older brother $hulo run the family drug enterprise, while Cuki is sweetly curious and forms a unique attachment to Emma. In one scene, Cuki asks Emma if Cameroon is in Haiti and Emma explains how it is in Central Africa. A doe-eyed Cuki springs up and in an attempt to test his limited knowledge on Africans, he begins to jump up and down, evoking the people of Maasai as Emma shares she herself is of Bantú descent. In that moment, the two are joined by T.I.N.A. and $hulo and all together leap into a celebratory Maasai ritual of sorts, edifying their shared negritude and diasporic heritage.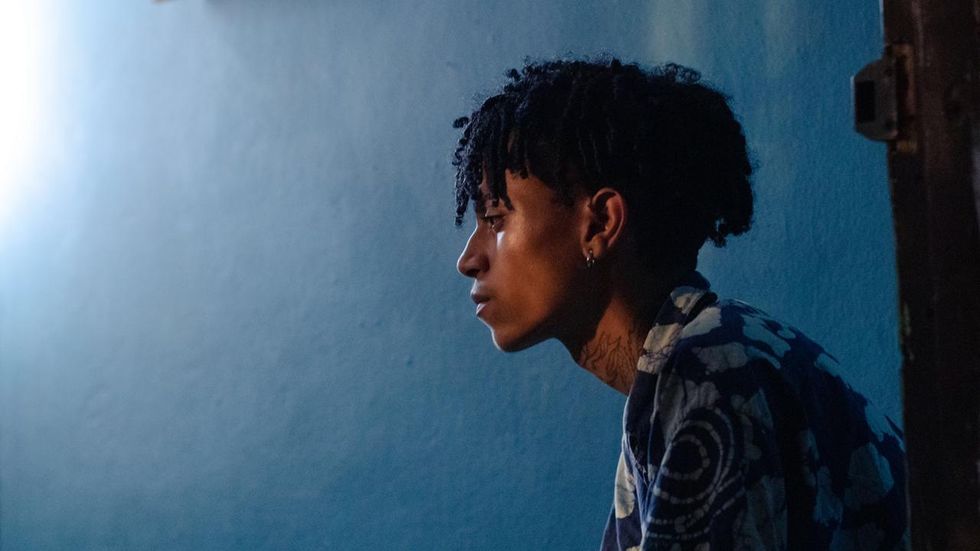 Arturo Perez.Photo courtesy of Bantú Mama film.
What we ultimately see unfold is an unconventional story of home-going, one that simultaneously aims to shatter a myth that perpetuates America (perhaps western society in general) as the north star of happiness and success. Here, we are encouraged to consider the gravity and mercy of putting down roots in the land of our predecessors, of reclaiming the soil from which we first were plucked.

"The other very important message we want to share with ending the film on [Island of Gorée] in Senegal, in front of the Atlantic with a pivot point of [the slave-trading quarters], is that we are resilient," explains Herrera emphatically over email. "We're [more] at ease with the past now that we have a voice to tell our story ourselves. We belong there, we can allow ourselves to feel at home as soon as we step into the African continent."

Bantú Mama world-premiered on March 16 and stars Clarisse Albrecht, Scarlet Reyes, Euris Javiel and Arturo Perez, with Herrera and Sebastian Cabrera Chelin at the helm of directing and photography, respectively.
Ahead of the big day, OkayAfrica spoke with Herrera and Albrecht on the making of Bantú Mama, the resistance behind children of the diaspora centering their blackness, living and creating in the present day Dominican Republic, and so much more. Get acquainted.
How did you all meet and where was the idea for Bantú Mama born?

Herrera: We met in Las Terrenas, where Clarisse was visiting her sister who was managing a hotel there and I was shooting a music video. Long story short, we've been together for over a decade. Clarisse has been the mother figure for my daughter and we also have one together. We've been writing together for a few years now. Our first script was about a Jewish settlement in the Dominican Republic during the Second World War. We couldn't find the proper partners to make a film out of it the way we wanted. So we decided to sell it and to write a story where our legitimacy will not be questioned. What we learned from each other, as an Afropean and an Afro-Caribbean, we wanted to make a film together in a sort of intimate way. Bantú Mama is in a certain way a metaphor of our own story. The crew of Bantú Mama was made of dear friends—collaborators who share the same passion for filmmaking, telling relevant stories, and who place their talent in projects they believe in.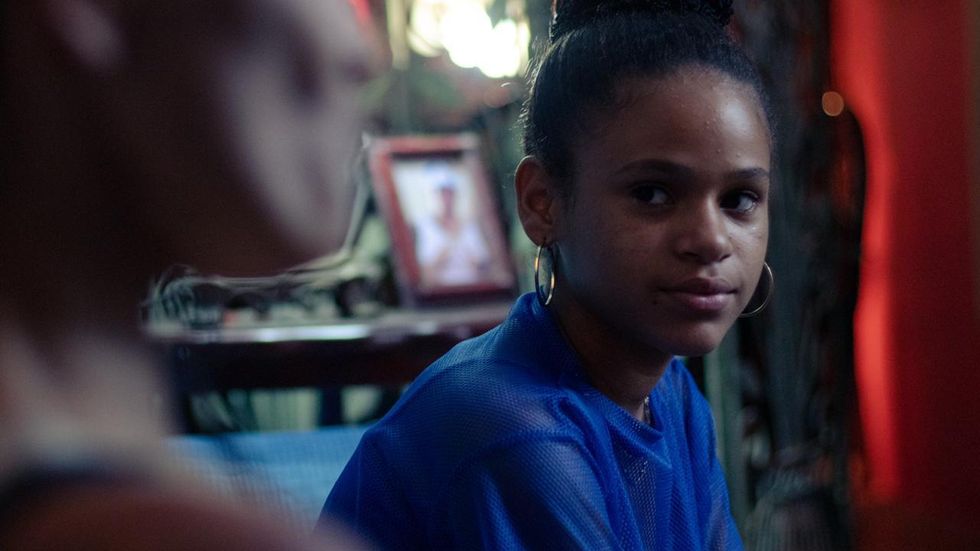 Scarlet Reyes.Photo courtesy of Bantú Mama film.
What connection are you trying to make with ending this story set in what was the largest slave-trading center on the African coast in Senegal?

Herrera: The main idea here is to honor our ancestors, those who came first, acknowledge their heritage, their History, their pain and suffering. Tell them that they haven't been forgotten.
Would you argue that there is a form of activism happening here? That by centering one's African heritage, as a Black woman and daughter of the diaspora, you are highlighting the value of your identity—`not as something marginal to an assumed dominant whiteness in western society, but something central and global?

Albrecht: Absolutely. It was important to show that Emma is not conflicted with being French, but she has in addition to it, her Cameroonian culture, her Afropean culture, urban culture and immigrant culture. That is very specific to belonging to the African and more widely immigrants community in France or the western world. At home, we live by our parent's culture but outside, we blend everything. We become Afropeans. It's real, it's rich. Emma has that and she longs for more, to be part of the new African narrative, as a French woman certainly, but a non-white one. I grew up in Guinea-Bissau and Mozambique, when I came back to France, I was very upset by how my life experience was discredited. Everybody seemed to know better than me how life is in Africa. Even though I'm a woman of African descent, who has lived in two different countries of Africa, traveled in others, been raised by a Cameroonian mother and a French father that has worked all around Africa for 40 years, despite that, still most people have a hard time trusting my experience of what is Africa because it doesn't fit what they've been told by the western society. Africa has a thousand faces that have never been promoted. With social networks, we're able to reclaim our vision through our very own lens. We definitely wanted to be part of this paradigm shift.

You seem to be a bit of a renaissance woman, with passions that run the gamut of performing arts. As the screenwriter for this film, how did you prepare for your lead role as Emma? In what ways do you relate to her in real life?

Albrecht: I'll say that, yes, I'm a bit of a multidisciplinary artist, oriented towards writing and performing arts. I like to explore. While writing Bantú Mama, I was not necessarily thinking about my acting, I focused on it once we were done with the script. Some aspects of Emma and what happens to her in the film were inspired by two friends of mine. Sensitive and strong women who had to take responsibility for mistakes made by themselves or by others. The way they handled it with resignation, courage and wisdom is what I kept in mind to design the character. I wanted Emma to have a quiet strength, always on the edge but managing to subtly overcome her vulnerability and fears because she just can't allow herself to break down. I relate to that as a woman, and particularly as a mother. I don't want to hide my vulnerability, but I can't let myself get beaten by it. You can't demonstrate strength if you have nothing to overcome.
Photo courtesy of Bantú Mama film.
What are your biggest takeaways as a French-Cameroonian woman living in the present-day Dominican Republic?
Albrecht: Dominicans are so easygoing. They take things as they come, which is very far from my Parisian culture but extremely valuable. I've been working on being more like that since I moved here. Concerning my negritude, it's very confusing here. People are Dominicans above all, they are not as attached to their roots as we are in France, and not only people of African descent. We all know the story of the grandparents that came from Italy, Poland, Vietnam, or Armenia. Here, they know vaguely about their European ancestors and they seem to be completely unaware and uninterested by their African ancestry when it's so present in the culture and daily life. Most of the Dominicans discover their blackness, or non-whiteness once they travel outside the country. That is very odd, but fascinating to me.

What is your relationship with the island today?
Herrera: I want to acknowledge that we are on the traditional territory of the Tainos. By recognizing this and by the constant search of our Caribbean history, I live in awareness, in the search for answers and understanding. By letting my imagination fly free and recreate episodes of the past, I look for a better comprehension of our present and collaborate with a new narrative of our Afro-Caribbean history.
What were some of the aspects or elements of growing up in Santo Domingo that informed your negritude?

Herrera: It was the contact with reggae music that has been an important insight to the acknowledging of my negritude. Specifically the song, "African" by Peter Tosh that says: "Don't care where you come from, as long as you're a Black man, you're an African, no mind your nationality, you have got the identity of an African." I thought, "My mother is Black. If she's Black, I'm Black. And if we are Black that means we are African… what does that mean?"

Why was it important to set this story in the particular barrio that you did?

Herrera: This barrio is a representation of the whole country. The people there are the less privileged. They are the ones that the government wants to maintain in their ignorance with a lack of access to education. This becomes a vicious circle; there's no escape. I also wanted to shoot in the most dangerous and poorest neighborhood of Santo Domingo to portray it from a different point of view, one with dignity and elegance. Putting aside chaos, poverty and violence.
What overall statement do you desire to make with this film?
Herrera: We want to break the pattern of the western world as the ultimate land of success, opening the door to the idea that it is possible to find happiness elsewhere. For example, by simply returning to the Motherland, Africa. We want to share this message with the world, especially with people from emerging countries. There was a brief, passing reference to Haitian identity, [but] Haitian history and Dominican history are not separated. They're the same. The liberation process and the most important battles against the colonizers were led and conquered [with] our brothers from the western side of the island, which is currently Haiti. It's been a long journey of misunderstanding, bad decisions, hatred and lack of education that has kept the island divided, not only within territorial borders but also mental ones.
Marjua is an Afro-Caribbean writer building on the legacy of her predecessors. Instagram Twitter