Back in July when Marvel released its Black Panther: Wakanda Forever Prologue EP, led by Tems' soul-stirring cover of Bob Marley's "No Woman, No Cry," the consensus among young, internet-savvy Africans was that the follow-up to 2018's record-breaking Black Panther was shaping up to be seminal moment for African culture after years of gestation and ascending visibility in the western world.

The arrival of the full soundtrack has proved that the optimism felt at that time was not unfounded. In a sharp contrast to the Kendrick Lamar-curated soundtrack for the first film, Black Panther: Wakanda Forever - Music From and Inspired By is a full-on deep-dive into the pulse of African and Mexican popular music as we know it. Taking influences from these sources makes sense as the movie is primarily inspired by both Nigerian and Meso-american cultures and we get to see acts like Burna Boy, Fireboy DML, DBN Gogo, and CKay line-up on the musical accompaniment to one of the eagerly-anticipated releases of the year.
To get some perspective on how the African arm of the soundtrack came together, we spoke to The NATIVE's Co-President, Seni Saraki, who served as the soundtrack album co-producer for the Lagos and London arms of production, touching on his involvement with the project, its reception, and what he hopes its legacy might be.
---
How did you get involved with the Black Panther soundtrack project?
I got a call from [Def Jam CEO] Tunji Balogun around Easter weekend this year just as we were working on Homecoming and print for The NATIVE. Tunji asked if I was in Lagos, and said he had a project for me. He said that it'd be crazy work but he thought I should do it. This was off the back of Native Records and Def Jam signing our joint venture even though we hadn't announced it then. Tunji told me that Ludwig Göransson was coming to Lagos to record music for the new Black Panther movie. They needed someone to help organize live sessions and artist sessions. I was already familiar with Ludwig's work because I listened to a lot of Childish Gambino in high school but the timeline was crazy because I was being told on a Thursday and they were due to arrive in a week or so, but we did a preliminary intro call where he told me the kind of stuff he was looking to do when he was in Lagos.
To start, we made Ludwig a playlist of 100 songs from African artists to listen to and he would come back with notes on who wrote what or who produced what. He's obviously a live music genius and had a clear idea of what he wanted on the live sessions so he'd also send us a video he found on YouTube of people playing certain instruments at a Senegalese wedding or something and ask if we could get someone that plays that instrument. I obviously grew up in the digital era of music listening to people like Lil Wayne, Jay Z and the Mo'Hits stuff so I didn't have a lot of grounding in live music until I grew older. So, I brought in Lady Donli seeing as I've worked with her previously and she's one of the best live musicians I've ever worked with and we just got started.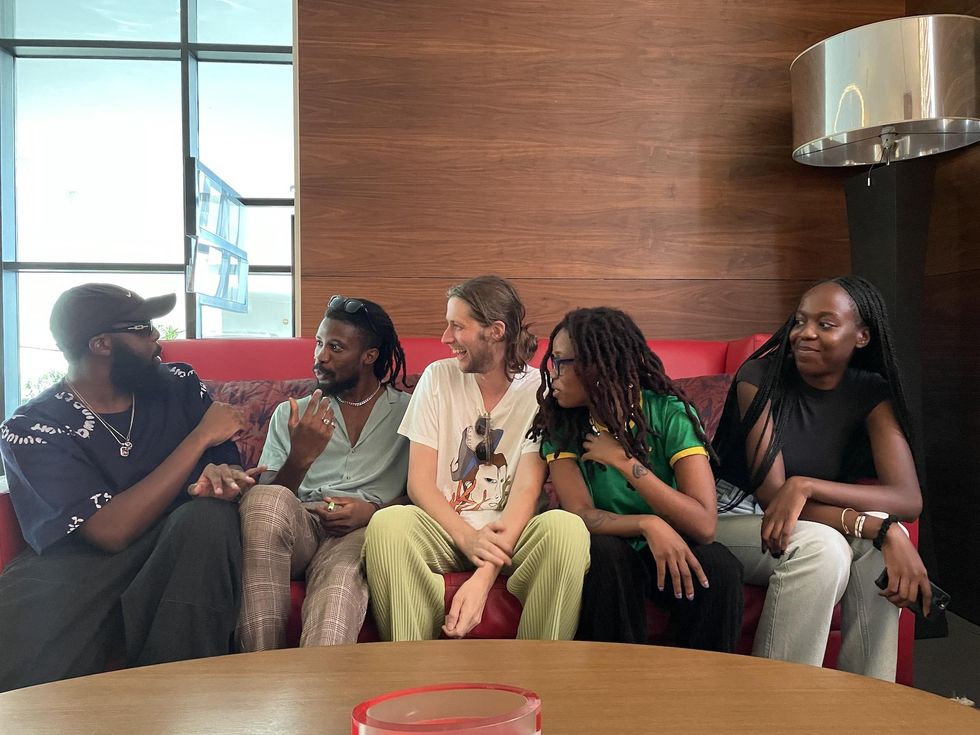 Black Panther soundtrack team. L:R Seni "Chubbz" Saraki, Osarumen "LMBSKN" Osamuyi, Ludwig Goransson, Zainab "Lady" Donli", Teniola Saraki. Missing Ines Adeogun-Phillips (NATIVE Records A&R) and SirBastien (engineer).Photo courtesy of Seni Saraki.
What was Ludwig looking for when he headed to Lagos to record music?
I think with the movie, he and Ryan [Coogler] had a vision of the type of sonic world they wanted to build around the movie. Before he came to Lagos, he had spent a couple of weeks in Mexico City recording music and you can hear some of that on the soundtrack too. The idea was building a bridge between Nigeria and Mexico and stopping at place in between. Nigerian pop music has been getting bigger in the States anyway, Ludwig had been listening to the Fireboy DML Apollo album already but he knew that coming to a new market there was a level of guidance needed. But with regards to the live stuff, we recorded a lot of stuff during the daytime that ended up contributing to what they made for the score. We recorded stuff with the instruments like the goje, kukuma, the oja flute, different percussion and female musicians. You can hear some of it on the Fireboy DML song at the end. We had people flying in from Jos and Abuja to work on certain live elements and Ludwig was very specific about things like that and as we went along, Lady Donli would be sending in clips of people she thought we should get in.
What was recording like?
The African part of the soundtrack was recorded between Lagos and London. The Lagos sessions were the primary sessions for this, that's where we started all the songs. That lasted ten days and we'd record every single day from 9 AM to 4 PM at Ogidi Studios, Lekki. That's where we recorded most of the live instrumental stuff then we'd take a one or two hour break for lunch or dinner and start recording from 6 PM to whenever for the artists' sessions at the penthouse suite at Eko Hotel.
How many artists were involved with the Lagos arm of the soundtrack?
For the daytime sessions, we had like 50 or 60 people across the ten days because one day you might have a percussion ensemble of 10 people and wind instruments of like 10 people and strings instruments of like five people. We had like four rooms at the studio and they were all going at it for the ten days we recorded. The night time was more focused because contemporary artists don't work like session musicians do, they prefer working alone. Every night, we'd have one musician come in. As we started working it was easier to have musicians come in because we had a foundation to work with. The first night we recorded, Tems was the only person that came in. On the second night, Fireboy DML came in and we just went with a schedule that we created with individual artists from there.
How was the selection made for the songs that made the final project?

It was very much led by Ludwig and Ryan. From what Ludwig explained to me, they wanted to go back to what it was like when a lot of us were younger and soundtracks were a part of the movie. These days, a lot of soundtracks are just albums to go with the movie but they wanted the songs to sound like they were coming from the movie. That was the first and foremost deciding factor for what songs made it. Obviously there were a lot of great songs that didn't make it not because they weren't good but because it didn't fit into the world that was built at this particular time.
How has the reaction to the project been?
It's been great, people have loved it. On Monday, Native Records, Def Jam, and Roc Nation did a partnership with Obi's House to premiere the soundtrack there after the movie premiere [in Lagos] on Sunday and people loved the songs.. Obviously, Nigerians are very proud and it's a very good experience. From "No Woman, No Cry" to "Lift Me Up" and the album, the reception has been great. I don't think it's an album that will go away after one week because people will keep revisiting it.
There's the inverse of a subset of Marvel franchise followers being critical of the soundtrack being populated by African and Mexican artists instead of tbe usual Western-focused soundtracks, what do you think of that?
The way music is now and fan culture is means that people want what they want. If people were expecting a Kendrick Lamar album, that's not what this is. That's what the last one was and it was amazing but this is a different kind of soundtrack. At the end of the day, this is Ryan and Ludwig's vision and they have stood by it because it would have been super-easy for them to make an album full of the biggest rappers in America.
What do you think the legacy of this project can be for African music and creatives like you?
I think the legacy is that this is one of the biggest moments of illumination and representation for African culture on one of the biggest franchises in the world. It's also an amazing step in the right direction because, even if some fans are upset, the music will speak for itself and stand the test of time. On a personal scale, I know the work that myself and NATIVE have been doing over the last five years and it's amazing to be trusted to bring voices on to a project like this. It's special to be able to connect people from the diaspora home via music especially on a song like "Anya Mmiri" with PinkPantheress. She's a Kenyan native, she doesn't go back as much but she loves afrobeats and being able to put her on that song was great. As was working with Ludwig to get Stormzy on it or putting Rema on a Mexican song like "Pantera." All of this is super-important for me because it's connecting different audiences and people back home.