The African Giant has done it. Musical heavyweightBurna Boy's brought his 'One Night in Space' tour to New York City's Madison Square Garden this Thursday, April 28th — and his performance was nothing short of greatness. The insatiable audience was treated to a high-energy cultural exchange that felt like a party from start to finish. The sold-out show kept fans on their feet as the Grammy-award winning singer reminded us why he is Africa's Giant.
---
Warm-up beats provided by Nigerian spinner DJ Lambo and Burna's DJ Prince put the crowd in motion and ready to match the incredible energy Burna would later deliver. Seriously, he is such a high-energy performer, I barely saw him take water or endurance breaks. The lively performance is understandable, though, as Burna's gratitude was felt, as a room of 20,000 sang his lyrics back to him. Fans too were in awe of the success and support that the "Pree Me" singer has accumulated over the years. Concertgoers, like Omoshalewa and her partner Gab who I spoke to, could not help but beam with the Nigerian pride they felt as the historical music venue filled up with more and more ready to experience the Afro-fusion singer's wonder.
As if the show itself wasn't exciting enough, Burna was introduced onto the stage by legendary US rapper Busta Rhymes. In a humbling display of support, Rhymes expressed his keenness for Burna and all of the incredible music African artists have been gifting global audiences with. "I've been to Nigeria three times so far," a chuffed Rhymes announced to the roaring crowd.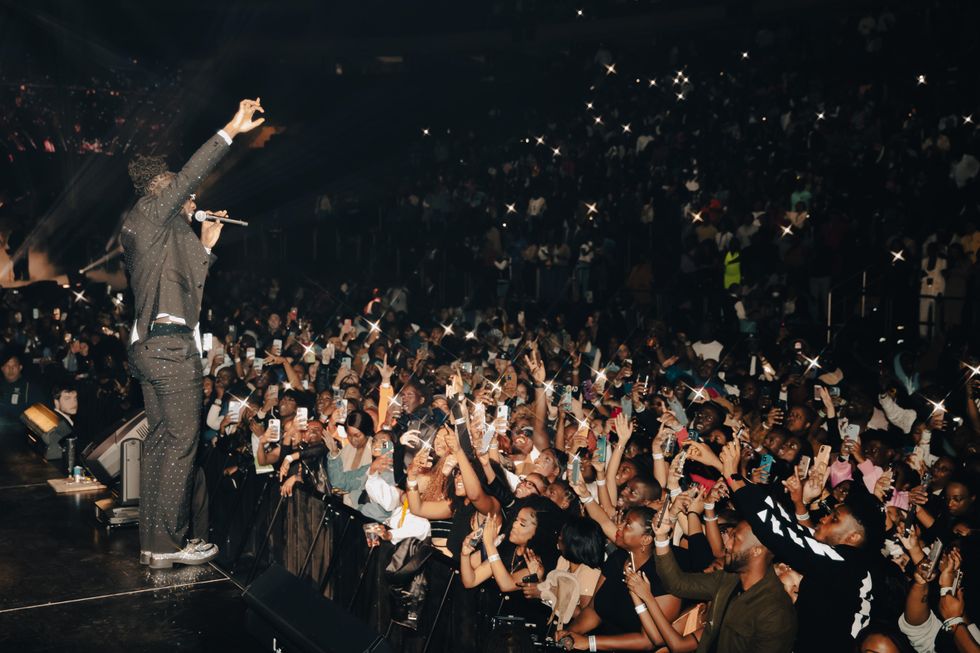 Grammy-award winning singer Burna Boy performs to a crown of 20,000 at New York City's Madison Square Garden this Thursday, April 28th
Photo courtesy of BukiHQ Media
Burna began the show with his classic "Level Up," with a tasteful, engaging, and simply beautiful appearance from legendary Senegalese singer Youssou N'Dour. It was made clear from the beginning that African pride was the evening's theme and N'Dour's spiritually inclined delivery was felt deep within the roots. Throughout the performance, Burna and his band couldn't get passed two notes without the fans erupting in excitement because they came ready to welcome Africa's Giant to New York City. Though the concert acted as an amazing opportunity to connect with Burna's hits over his decade-long career, the Afro-fusion crooner made sure to tease a song or two off of his upcoming album.

In a display both portraying the amazing development of technology and Burna's passion for his craft, the singer announced that the QR codes printed onto tickets gave fans access to pre-save his upcoming sixth studio album, Love, Damini. "That's my name, Damini," he says, "The album is out on 7 July, which is my birthday," an excited Burna shared with the community he created around his music.
The 'One Night In Space' tour is doing more than sharing Burna's music with the world. Throughout the performance, Burna made sure to educate his audiences on Nigeria's rich but gloomy history. In a segment, his team delivered the history of The Royal Niger Company and how they not only "sold" Nigeria to England, but how they have rebranded as the internationally recognized brand Unilever. Fans of the singer might have had an idea as Burna passionately sings about the matter in his hit single "Another Story."
Burna put on a stellar performance Thursday night, and it was evident in the rows of bodies moving in perfect sync. The entire experience felt like a party. The pride we feel for the success of Africa's Giant certainly made the experience that much more enjoyable.
If you couldn't make the show -- you're in luck! Burna's entire 'One Night In Space' show at Madison Square Garden was live-streamed on YouTube. Check it out here