---
Photo: Andiswa Mkosi
In the black townships they still call it crunk, the bass-heavy electronic and trap-influenced ratchet sound that's beginning to dominate Cape Town hip-hop. Heads sneer at it, they mock it. It's dumb, it's unoriginal. It's painfully loud and shamelessly happy. Cape Town has long been known for its "raw," laid-back and socially conscious approach to hip-hop, as championed by the front-runners of the city's scene – Godessa, Driemanskap, Ill Skillz, Brasse Vannie kaap, Jitsvinger, etc. It dates back to the pioneering years of Prophets of da City (POC) and Black Noise. Hip-hop in The Mother City has always been true to the art form of hip-hop through all its four elements. To this day, the city is still known and respected for that.
Recently, however, there has been a crop of young artists — Youngsta, E-Jay, FonZo, Sibah Anne, Miss Celaneous, PHFat and more — who are slowly changing the climate with a light-hearted approach to lyrics and beats. The sound isn't new per se, it just wasn't something one would expect from The Mother City. Johannesburg sort of makes the rules in South African hip-hop. What pops there becomes what pops in the country because most of the big television and radio stations are based there, so the influence is easily spread across the country. The sound used by the biggest South African hip-hop artists like Cassper Nyovest, AKA, K.O and more, is the formula for success. Cape Town artists took long to jump on the bandwagon.

One warm Sunday afternoon, my friend and photographer, Andiswa Mkosi and I attempt to gather some of these new age rappers at the Cape Town taxi station. They show up one by one. We bask in the sun like geckos, waiting for everyone to get there. After waiting for over an hour, we decide to start the shoot around the station with those who are already here. We had planned to do a group shoot, with everyone we have invited, but it plays differently, as some end up not showing up, others show up after others have left.
Youngsta, Leader Of The Pack
E-Jay & Youngsta. Photo: Andiswa Mkosi
Hip-hop in general has a tendency of being resistant to change. Youngsta, one of the leaders of the Cape Town new school has had a fair share of criticism for going against the grain, especially in his early days. "Now you have to go back and look at the guys like Ready D and POC. They have now planted the seed," he said in a 2012 documentary called Fede Fokol: 25 Years of SA Hip Hop. "And the seed is basically saying 'this is how you do it.' No one has tried another route yet but they're saying this is how it's done. So the minute someone goes and tries something else, the ones who're stuck here, are going to tell you 'we don't like that' because you're going out of the box." Youngsta stuck to his guns and has gone on to become one of the most notable names in Cape Town hip-hop with a skill and work ethic that compares to no one. You might know him for releasing 24 mixtapes in about two years. He's currently releasing a video every week, as part of his #VisualVrydag campaign. With collaborations with the likes of Tumi, Reason, DJ Ready D, DJ Hamma,DJ Switch and more on his portfolio, the emcee has proven that being new and current doesn't equate to being sublime and lacking skill.
Getting countrywide recognition hasn't been easy for Youngsta, he has expressed his frustrations on the impermeable South African music industry. Currently swinging between Jo'burg and Cape Town, the emcee is on the verge of becoming Cape Town's latest export into the larger South African music scene. His music is, however, different to that of Cape Town acts the country has been exposed to.
Dope Saint Jude, Method In The Madness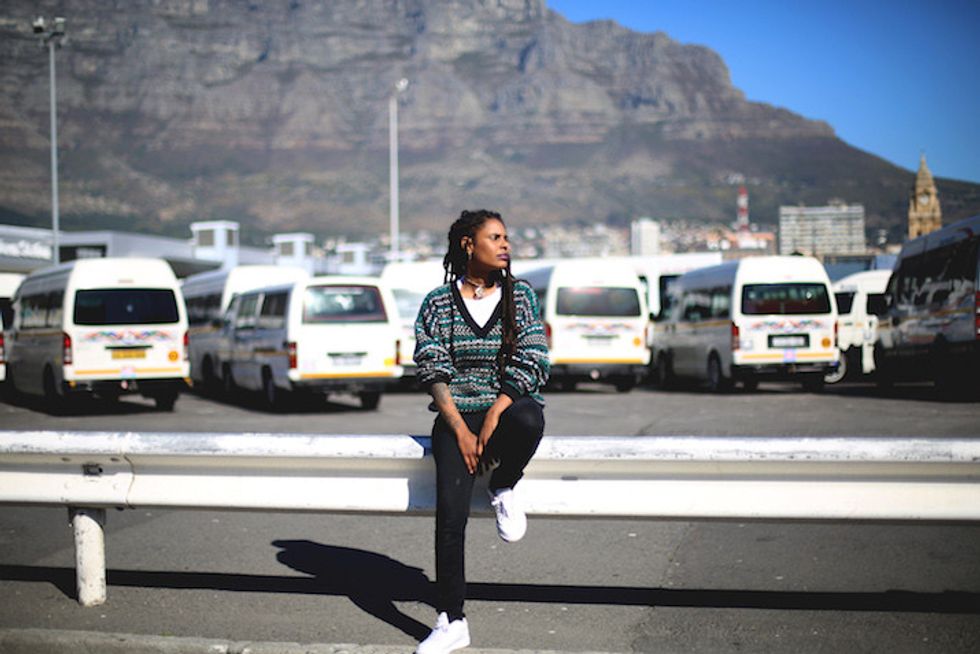 Dope Saint Jude. Photo: Andiswa Mkosi
The main criticism the new generation of rappers who choose to rap over synth-bass lines and 808s faces is mundane lyrical content. The subject matter stereotypically revolves around materialism, partying and bottle-poppin', an influence that can be attributed to the the Dirty South in the US. But according to rapper Dope Saint Jude, the hedonistic lyrics are part of a political statement. "Hip hop for me is a very political genre because it's music created by people who've been oppressed. Even the swaggy hip-hop – young black people enjoying themselves when they're being told to be sad and oppressed, that in itself is a political statement," says the eloquent rapper. "So the content of the music doesn't have to be political, the act can be political." Dope Saint Jude's music touches on issues like gender and sexuality in a witty and comical way as displayed on her catchy "Keep in Touch" song. She's a reluctant academic who has studied Xhosa, gender, philosophy and law among other humanities courses.

"I try studying a bit of everything," she says. "It allows me to be more eloquent in my raps and that allows me to reach into different kinds of ideas and audiences that I wouldn't normally reach."