Audio
Aug. 26, 2015 10:43AM EST
The New Era Of Cape Town Hip-Hop
A crop of young artists — including Youngsta, Dope Saint Jude, Blaq Slim, BoolZ & more — are changing the climate of Cape Town hip-hop.
---
Blaq Slim, In It To Eat!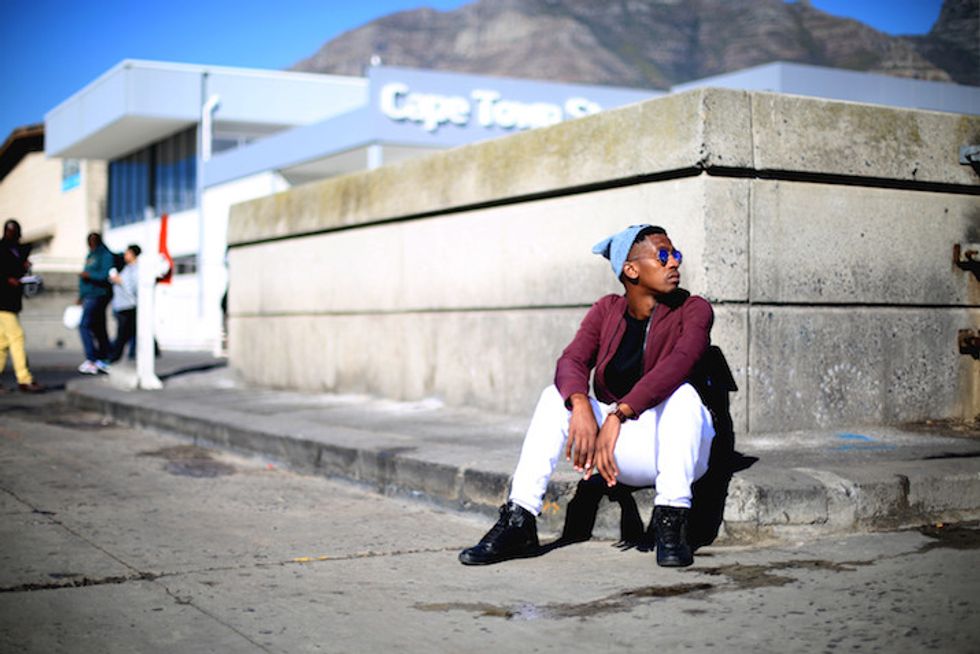 Blaq Slim. Photo: Andiswa Mkosi
Rapper Blaq Slim, a notable name in the Cape Town new school, claims he has done 45 gigs in seven months. He's not entirely happy about this feat. He says his target was to do 50 gigs in six months. The rapper's song "Hai Sho Bowzey" sends trendy teenagers (and some adults) in a frenzy when he renders it on stage at the Ikasi Experience – a series of events focusing on music, fashion and art based in the townships. He tells me he has opened for all the big name South African rappers – the likes of Cassper Nyovest, K.O, etc. – except AKA, who he is opening for at the Ipotsoyi bash in September. He bluntly reveals that he's in it to eat and not to "keep it real" – a concept common among hip-hop purists. Chatting to him, I feel like I'm talking to a Limo as my face is reflected in his shades, and I can't even tell if he's looking at me or not. He oozes cool through the pores. "To be honest with you, I'm for the economic side of this shit," he says. "I could lie to you and be like 'I'm tryna keep it real' [but] at the end of the day I'm trying to get my mama out that house, I'm trying to pay for my own tuition fees, and keeping it real won't pay for my tuition fees and I'll tell you straight up. On being criticized by purists, he wears a wide smile and says, "The criticism, I love it, because it means they're listening. I'd rather you criticize than not say anything about me."
A Spidans Called BoolZ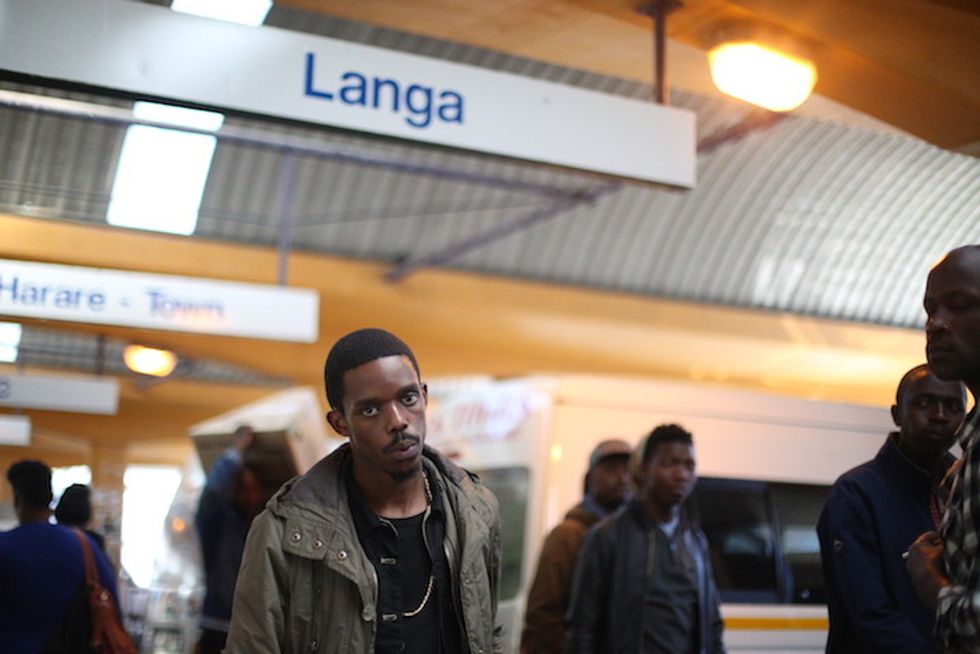 BoolZ. Photo: Andiswa Mkosi
Rapper BoolZ, who's signed to Cape Town indie label Rude World Records alongside Jimmy Nevis, Black Vulcanite and a couple more, has had a different experience. The response to his music has been mostly positive, he says. "Damian from Pioneer Unit [and Dookoom] shows me a lot of love. You know, a guy from the UK who has his own label, he's 40 years old and keeps telling me 'your music is insane, keep at it. This is why a lot of dudes aren't where you are because they make the same ol' stuff'." BoolZ, who also doubles as a producer, has had a good trek. His great video for his single "Aph'eKapa" is one of his greatest prides. He calls his music 'spidans' – it's characterized by lofty and playful lyrics and electronic/trap production. BoolZ has been a regular on show line-ups in The Mother City. The emcee's biggest challenge has been getting his music on major radio and TV stations. He's however sanguine about his future and just feels he needs to shoot more videos and collaborate with other artists from outside South Africa.
Miss Celaneous, "People Don't Care About Politics"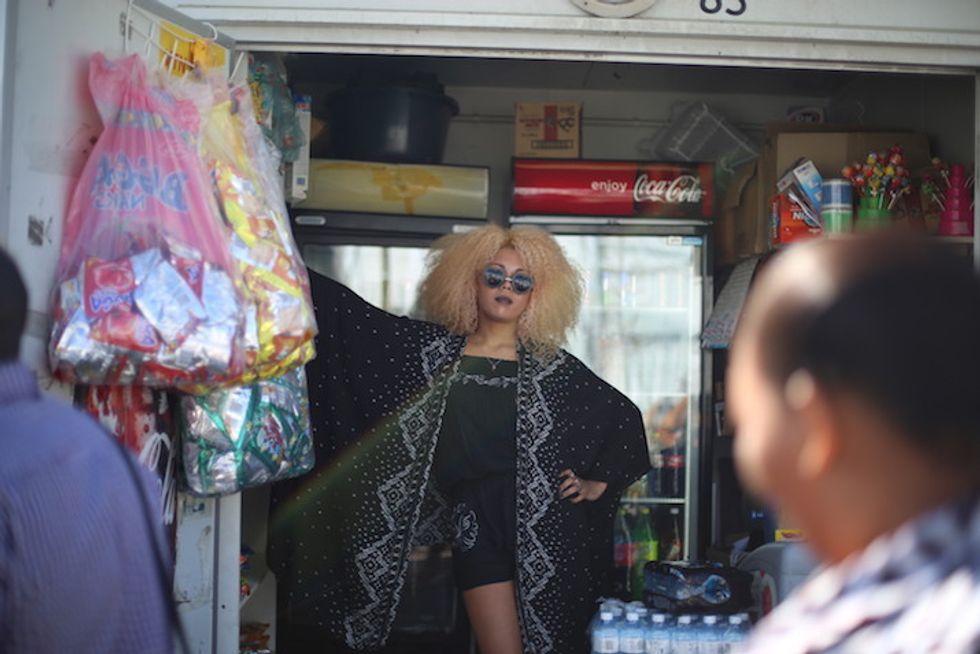 Miss Celanous. Photo: Andiswa Mkosi
Rapper Miss Celaneous stands sure-footedly in front of me, her black pencil heel shoes stabbing the grime of the taxi rank's greasy tarred surface. She resembles a superhero of some sort in a black kimono and a matching play suit which lays her thighs bare. Her big black shades, black lip stick and blonde curly hair ensure she stands out like a broken finger in the station full of ordinarily dressed people like you and I. Our conversation gets interrupted by taxi hoots and drivers' barbaric shouts of admiration. One driver leans out of his window and looks at the emcee and says, "I like your hair." He hoots before speeding off, out of the rank to his destination. "When I watch TV, I want to see something lekka," she says after I ask her about her appearance. "So wherever I am, I must stand out. This morning I knew we were going to do this shoot at the taxi rank, so I made sure I looked the opposite of 'taxi rank'." The emcee's music is confident, sexually-charged and replete with Cape Town slang, with her personality written all over it. She reveals to me that she used to be an angry and "conscious" rapper. But she gave up because she wanted to entertain more and have fun. She also feels that nobody wants to hear socially conscious music anymore. "People don't care about politics," she says. "It's sad because I'd like young people to care and know about our country's history and where they come from, and why they are free right now. So, yes, it would be really cool to rap about that but no one cares."