Audio
Aug. 26, 2015 10:43AM EST
The New Era Of Cape Town Hip-Hop
A crop of young artists — including Youngsta, Dope Saint Jude, Blaq Slim, BoolZ & more — are changing the climate of Cape Town hip-hop.
---
FonZo, The Best Of Both Worlds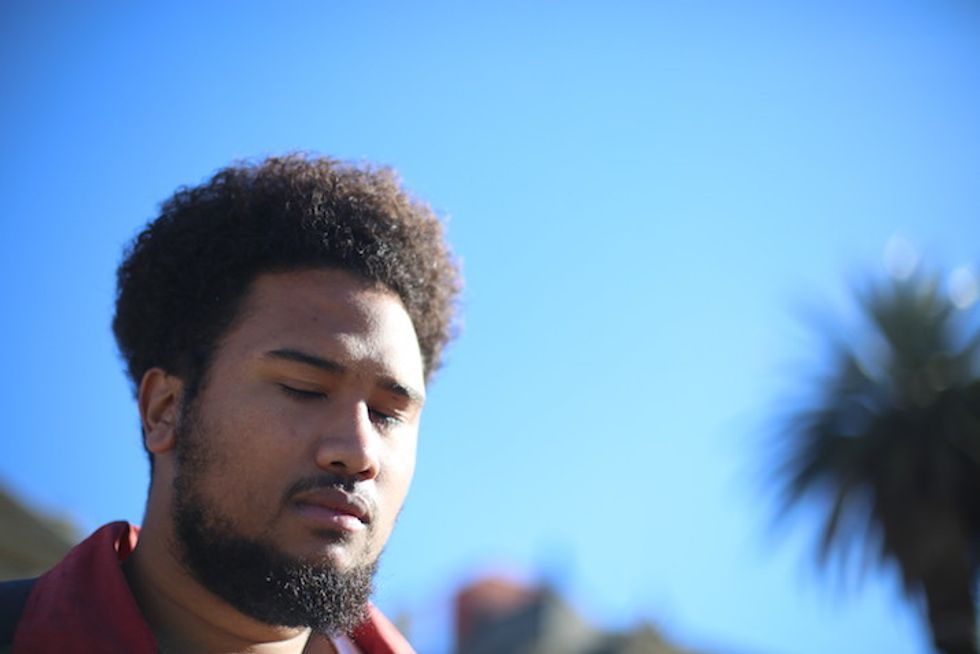 FonZo. Photo: Andiswa Mkosi
For storytelling rapper FonZo, however, it's not always about fun. He is about telling the middle-class kid's struggle, the way Kanye West did when he first came out. The rapper is the last to arrive on the day. He had a hectic night celebrating his brother's birthday and woke up to a family gathering he couldn't escape. FonZo came onto most heads' radar when he made an unofficial remix of AKA's 2012 hit song, "Jealousy". Off this hype, came an interview on DJ C- Live's now-defunct 5FM hip hop radio show, Hip Hop Power Nights, and he also had his mixtape theRAPY (2012) reviewed on Hype magazine — a great feat for an up-and-coming artist. FonZo followed theRAPY with another mixtape titled Lucid Dreaming (2012) and The Pocket Change EP (2014). You might also know him for his show-stealing verse on E-Jay's remix to his "Hosh" single. FonZo's music has always been autobiographical. His choice of production leans towards the bass-heavy 808 bangers but he has jumped on sultry and textured production on songs like, among others, "The Treatment" (theRAPY), "The Journey" (The Pocket Change) and "Blessed" (Lucid Dreaming). His next EP, which he's releasing soon, was recorded with live instrumentation, he says. "I have a love for both boom bap and those heavy 808s," says the emcee. "And I feel like that's kind of hindering my progress. Unless I choose a side and work on the craft and have a product that can completely portray which side I'm on, I will always be floating around." But he's not that perturbed by being stuck between the two, because his love for hip-hop comes first. "I have a love for [all the different sounds] but hip-hop evolves. It's not like I necessarily evolve with it but I will take from each niche that there is. I love hip-hop that much. It's saddening that you have to choose a side."
Phoenix, Moving With The Times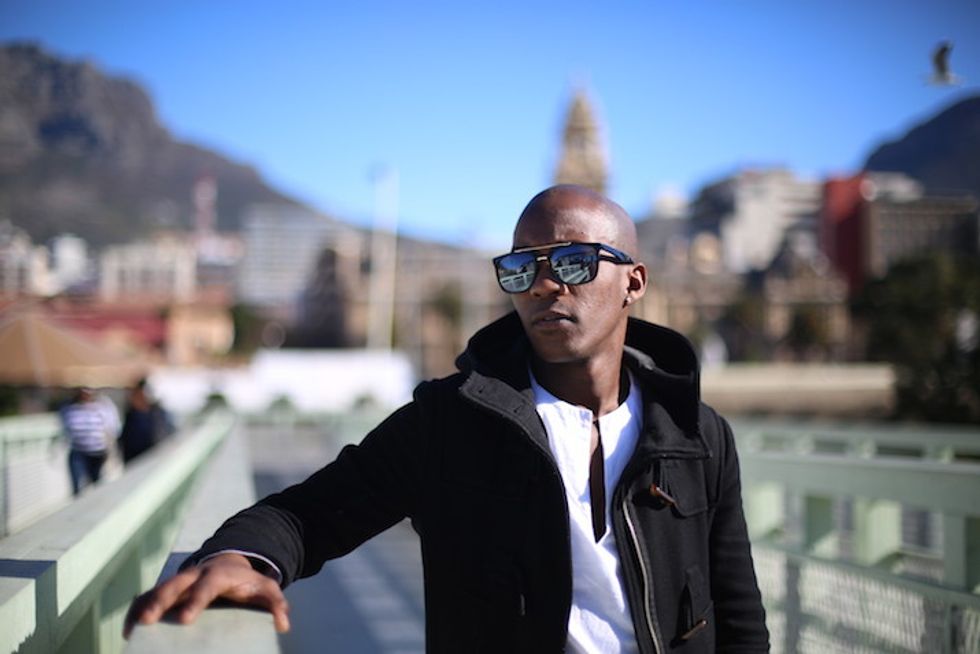 Phoenix. Photo: Andiswa Mkosi
A great number of long-serving Cape Town rappers have stuck to their guns in an industry that refuses to diversify its products by accepting a bit of everything. Only a few have moved with the times. To a majority of hip-hop heads, that is deemed selling out. Some have tried to update their sound but failed. The likes of Uno July from the duo Ill Skillz, and Phoenix from the respected spaza group Backyard are some of the few who have transitioned smoothly. Phoenix, who is also joining us at the taxi station today, has prior warned he will be arriving late. He shows up looking semi-dapper semi-street in black shades, a black knee-length blazer, washed blue slim fit jeans and white Nike high tops. "You have to evolve or evaporate," he says after I ask him about the kinds of beats he chooses to rap on these days on songs like his video single "Put'em Up" and "They Don't Know Your Name (Nae Nae)." To Phoenix, it's a matter of being able to exist within what's popping at that moment. If dance music were to become the new hip-hop sound, Phoenix wouldn't hesitate to jump on a dance beat and tell his story. "As much as we do it for the love, we are grown men, we need to provide. Which means we have to do what is done, of course without losing who are. We must fit who we are into what is." Being part of the conservative spaza scene, Phoenix hasn't faced as much backlash as one would expect during his transition. The rapper says it's because he remains himself even when jumps on "cheesy" beats.
Cash Popeye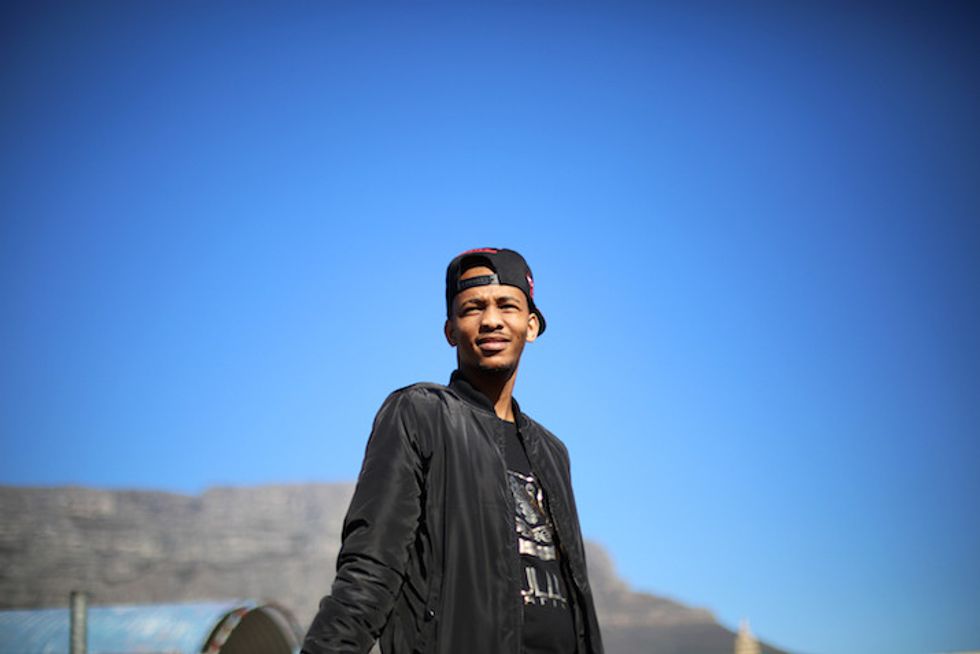 Cash Popeye. Photo: Andiswa Mkosi
A few years back, it was challenging for "crunk" artists to perform in hip-hop events. "They called us candy rappers," says rapper Cash Popeye, who at a point in time, was one of the few up-and-coming Cape Town rappers who were overtly crunk. His emcee name was a result of the mockery. "[The late emcee] Bonzaya used to call our music popeye (cartoon) music," recalls the rapper. "I said 'I'll make money from this popeye music hence the name Cash Popeye'." It was all love, though between his crew YBG and the emcee Bonzaya. Cash Popeye's crew YBG has released two mixtapes namely Stardom to Fame (2010) and Milla's Finest (2011), the latter had a feature from popular South African rapper iFani. Cash's music fuses township slang with the new sound. Says the rapper, "When I started rapping, I liked the Skwatta Kamp sound for the lyrics and the Lil' Jon sound for the beats. I thought what if I merge the two; lyricism and the party beats?"
On Cape Town, Unity and Jo'burg
Cape Town hip-hop has, in recent years, disappeared from the national scene. This is a result of many factors. Many artists and fans always point to one problem, that of the lack of unity among Cape Town artists. Cape Town, as a city, stays divided and this seeps into the hip-hop scene. According to FonZo, it's pointless to just rep Cape Town as this divorces the city from the whole country. "People are thinking really small. It pains us that Cape Town acts are competing against the country instead of the country competing against the world musically," he says. "However, Naija artists, I don't ever hear them shout any cities, they just make good music and good videos. And they ea'ing! It's a reality check when our South African stars sit next to Nigerian artists, in award shows, it's 'humbling.' They are focusing on making music instead of focusing on these imaginary boundaries." A majority of Cape Town artists feel the need to move to Jo'burg – the heart of the South African music industry – to "make it." Cape Town artists like Youngsta, E-Jay, Driemanskap, Ill Skillz and Snarks Ou have made many trips to the city to "make connections" and for television and radio appearances. "I rep Cape Town to the fullest but honestly, the mentality is kak here," Says Miss Celaneous. "People just don't give a shit, they are just lazy. They don't support each other, there's a kak mentality of entitlement. If we wanna push each other, let's share each other's shit [on social networks]. You expose me to my fanbase, I expose you to mine. But people in Cape Town don't wanna do that, they wanna eat from the pie alone. That's that mentality we need to change." It's amazing how the face of Cape Town hip-hop has changed. Welcome to the new school.