Caster Semenya always knew she was destined for greatness. She thought it would be as a soccer player, and dreamed, as a young girl growing up in the small village of Ga-Masehlong in South Africa's Limpopo Province, that she'd play for the national women's team, Banyana Banyana.
But at fifteen, a teacher, Mr Maseko, aka "Boss," (not quite a coach, since her school didn't have the money for those, but someone who acted like one, nonetheless) pulled her aside one day, and told her about a new sport starting at the school. Seeing how she ran during baseball games, he encouraged her to take up athletics. It was indeed the sport that would bring her the greatness she envisioned for herself – over the course of a decade, she'd earn over 30 victories, including two Olympic gold medals and three World Championship titles in the 800 meters.
The sport of running would also bring a whole lot of probing, scrutiny, and ridicule into her life.
Semenya captures it all in her new memoir, The Race to be Myself. With humor and gumption, she lays bare the discrimination she's felt over the years as a professional middle distance runner, the claims she's had to fend off, the intrusive questions that have been asked of her; the personal details about her life made public before she herself even knew them. She also reveals the path that led to her achievements; how moments like the one where Boss spoke to her about the future he saw she had in running changed the course of her life forever.
As the 32-year-old athlete tells OkayAfrica, over Zoom from Pretoria, where she lives, having someone like Boss see her strength at a young age, when she ran barefoot on dirt paths, was a vital part of setting her dreams into motion. "If you have people that believe in you from the village, it's easy for you to pursue your career," she says. "Because they guide you in the right direction."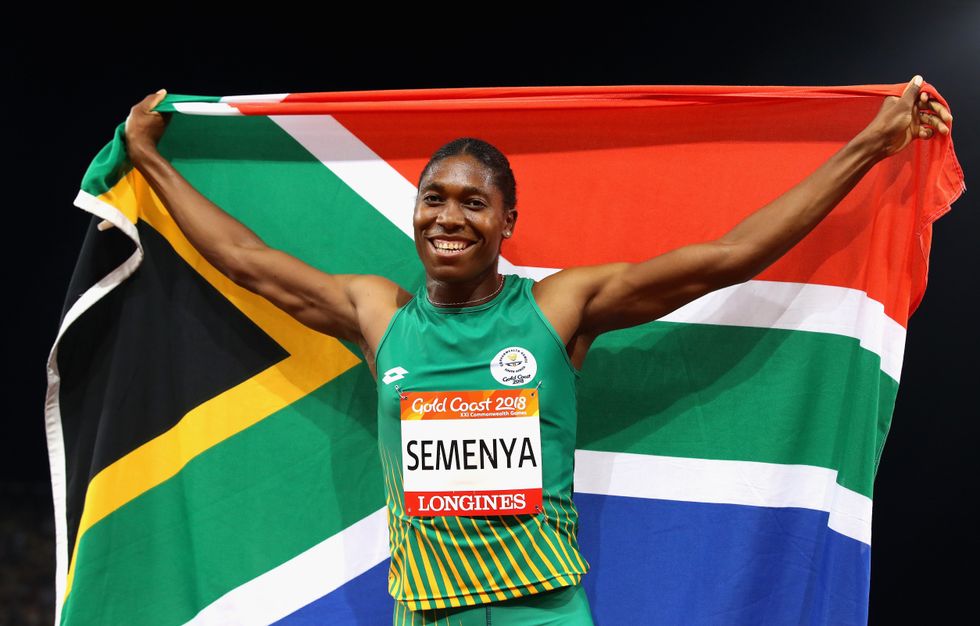 Caster Semenya celebrates her gold win in the Women's 800 meter final during the Gold Coast 2018 Commonwealth Games on April 13, 2018.
Photo by Mark Kolbe/Getty Images.
Heeding Boss' words to work hard and focus on improving her running, Semenya put her head down, doing everything she could to help fulfill her destiny. She spent her late teen years competing at the regional and national level, and then, made it to the Junior World Championships before the biggest stage of them all: the World Athletics Championships, where she won gold in the 800 meters at just 18.
Semenya's speed, coupled with her hard work ethic and the discipline she showed should have been enough to ensure a blazing career, filled with unparalleled success. And she has had enormous success. But it's been in spite of the barriers that have been put in her way. Since 2009, World Athletics (formerly known as the IAAF), the sport's governing body, has implemented regulations and rules that have constricted her racing abilities.
Testing, prodding, probing

Semenya grew up as a self-described tomboy, who once told a group of friends she was a boy – named Thabiso – just to be able to play soccer with them. In the book, she details her love of hunting, her physicality, and how she was always ready to put straight anyone who teased her for her masculine appearance, secure in the knowledge she was a girl. A girl who looked different from other girls, but a girl nonetheless.
The night before competing in 2009, at the World Championships in Berlin, she was subjected to invasive gender verification testing by World Athletics, who then leaked the results to reporters, ahead of the race. Semenya learned, at the same time the world did, that she is intersex, born without a uterus and produces more testosterone than the average woman. She may have won gold, but, as she writes, "the best day of my young life would turn into an international scandal," with whispers questioning her sex and gender turning to shouts in newspaper headlines and op-eds across the world.
From then on, Semenya has been the subject of intense efforts to block her from competing amongst her peers, and endured debate around her being a woman. World Athletics says her high testosterone level gives her an unfair advantage and that it needs rules to address this, even as there is research that shows testosterone is not always an indicator of performance.
To comply with the current rules and be able to compete, Semenya would have to take medication or undergo surgery. She continues to fight this in court, and recently, in July, the European Court of Human Rights decided there had been discrimination against her. She still, however, has not been able to compete in races.

It's become a complex issue, but Semenya sees it as simple: "Why are men so obsessed with regulating women's sports?" she wonders aloud. They should be uplifting them, she believes. "Regulating women's sports, for me, feels like it's a disrespect to women. It needs to stop because why regulate women? Women are the ones who bring you into this world, you need to treat them with respect." The book is Semenya's story, but she's written it for those who don't have a voice to share their own experiences, particularly other athletes from Asian and African countries who're subject to this kind of scrutiny by European organizing bodies. The likes of Namibian runner Christine Mboma and Burundian Francine Niyonsaba have also been impacted by the rules.
"What I'm doing is to educate each and every individual out there in the world, to say it's not wrong if you're different; it's okay to be different. You should embrace your differences, you should love yourself," Semenya says.

Healing through writing

Semenya credits self-love for her strength of character. That, and the acceptance she's always felt from her loved ones. "My family never made me feel like I'm a reject; they gave me love, they gave me full support," she says. "The respect that they gave to me and the freedom that they gave to me, to allow myself to be just me. That's what got me where I am."
But even still, having people debate her sex and spill her personal life details out into the public took a lot more to get through. "I needed to learn how to heal myself," she says. "I needed to learn how to avoid the noise outside, to pause and think. The pause is a very powerful component in life. You just pause, and then you let people talk." Through that, she says, she developed the ability to withstand whatever has come her way. "[People can] say whatever they want to say, I do not agree with that. If I, myself, agree with nonsense, that becomes a problem."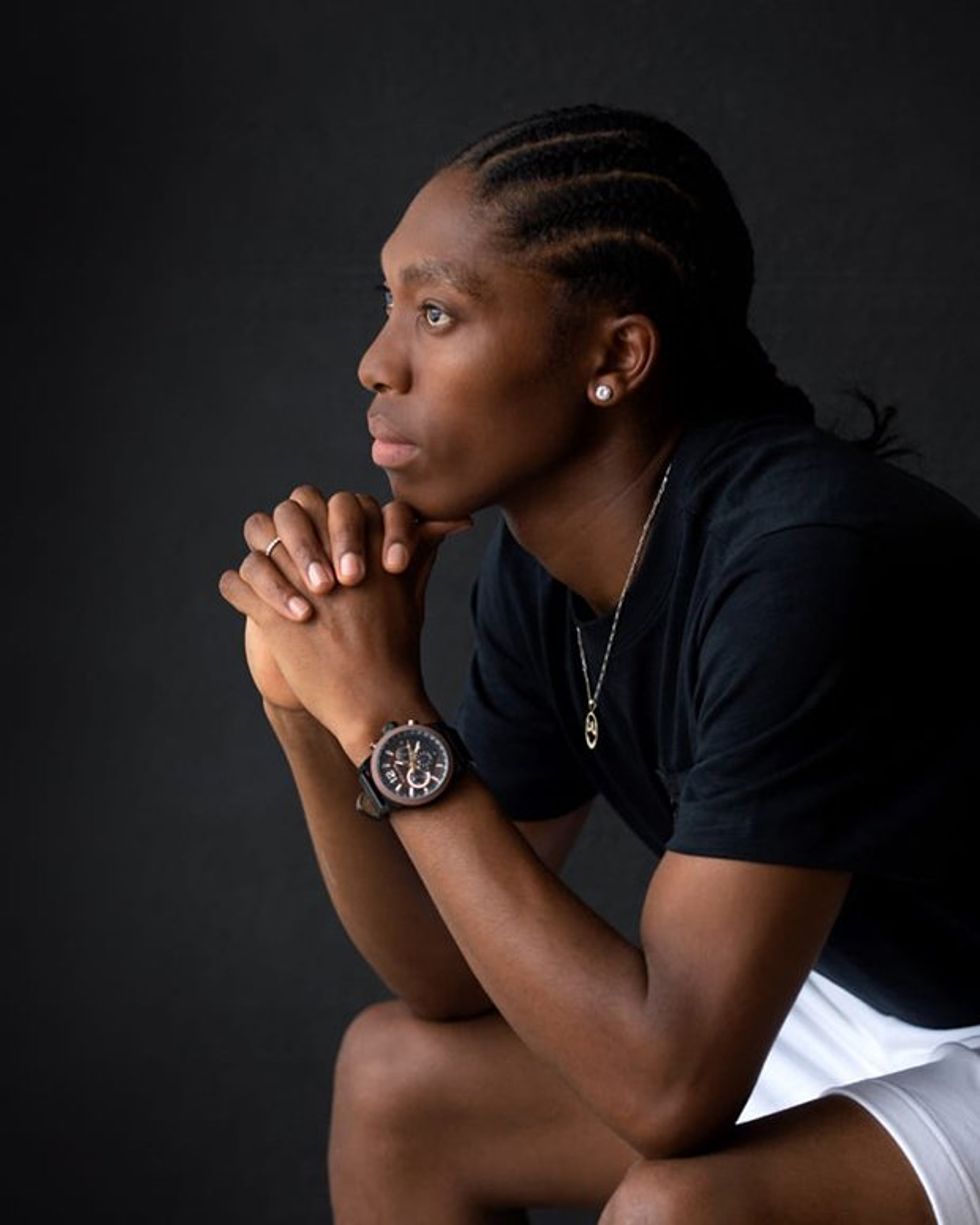 Caster Semenya believes she's in the best time of her life to tell her story.
Photo by Nadia Bezuidenhout.
Writing the memoir has been a big part of the healing process, she says. Over the course of a year, Semenya worked backwards through her life, noting and remembering the events that got her to where she is today. "It has always been my goal to tell my story how I want to tell it," she says. "Since 2009, I've been writing down notes, just to remind myself of what has transpired, what has happened, to just keep myself in the loop."

She feels like she reached a point where she was mature enough to tell her story from the beginning up until now. "That's why it's called The Race to be Myself, because it was all about self discovery, understanding how to own my space, and be happy. To say, 'Hey, enough is enough, this is wrong. You can't do that.'"
Semenya, who's married to Violet Raseboya, and has two daughters, believes she is in the best time of her life; that she's in the right frame of mind to tell her tale. "You can't tell the story if you're not happy because it will just be a flop," she says. "I think it was all about being ready to engage with the world." Through it, she's also sharing the principles that have guided her life, and ultimately, what she won't stand for. "I'm not going to allow people to judge me. I'm not going to allow people to tell me who I should be. I'm not going to allow people to tell me I do not belong," she says.
The next generation
Though she's currently not able to compete, and is awaiting further legal developments, Semenya's still looking to the future – for others, that is. She wants to change how those coming up after her are treated.

It's about human rights, Semenya says. Whatever may happen with her court case, she wants to see respect win the day: "Human rights must be considered first before any other thing. Humans should not be treated like animals. We are not animals here. We are human. We are all people. Respect comes first."
Through the Caster Semenya Foundation and the Masai Athletics Club that she runs with Raseboya, a former athlete, she's investing in uplifting women's sports the best way she knows how. "I've done everything I wanted to do, I've achieved everything I've ever wanted – under scrutiny and judgment and all those things – but for me now, I'm doing this to pave the way for the young, upcoming ones."

As the book goes out into the world, her message is the hope that "each and every individual, especially those who are different, that feel like they don't belong in this world, end up feeling like they do belong."