During winter in 2017, Sheila Daniel, a sixth grade pupil at St. Michael, Paderborn in Germany persuaded her Nigerian parents to attend a curling tournament where she and her friends were representing the school. It took a four-hour drive from their Paderborn base to Berlin, the country's capital, to witness Sheila lead her team to a medal.
"So I told my dad to bring [curling] to Nigeria and he spoke with my mom and they actually thought it would be a good idea," Sheila, now 16, told OkayAfrica.
Damola Daniel, her father was completely sold, seeing "his baby" play, and had started to consider fulfilling her request, however uphill it looked.
---
Curling is a winter game that originated in Scotland as early as the 16th century. It is played on ice and requires two teams of four players who take turns to slide stones made of granite weighing 38-42 pounds towards a target—known as a House.
Like other winter sports, it is Western-dominated. It can be a daunting task to adapt it to Nigeria and other African countries because of the sub-Saharan climate. However daunting it may seem, countries like Qatar and Saudi Arabia which have similar climatic conditions, also participate in the sporting event. This reality—coupled with his daughter's insistence—was enough to spark Daniel's optimism.
"Being a 'diasporan,' there are so many ice sports that we know. We used to watch them here because you know they are European sports, traditionally played here when it is cold," Daniel, who has quite the background in sport, told OkayAfrica.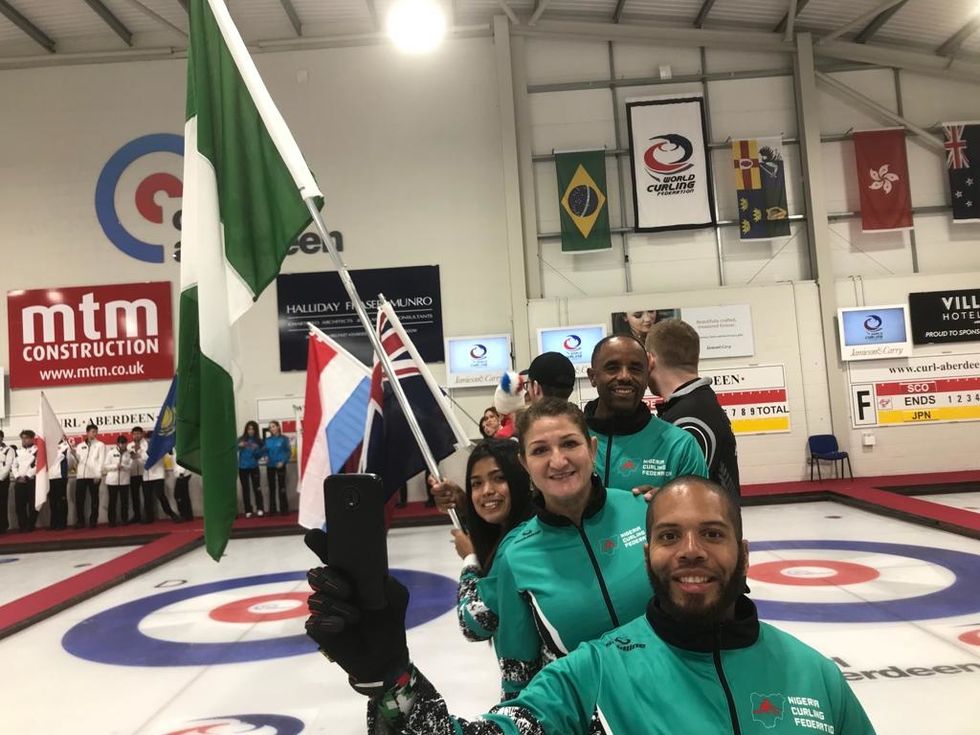 The Broomzilla team at an international competition. Photo courtesy of the Nigeria Curling Federation.
He started out as a footballer in Nigeria, and as early as 16, he left to ply his trade in European countries. When an injury abruptly ended his football career, his university degree in sports management came in handy. He founded SRHD Sports Management Limited with his wife, Henrietta in 2009.

Amongst the sports development projects they've undertaken is introducing the Strongman tournament to Nigeria in 2010 and eventually making it a federation. While they have experience introducing new sports to Nigeria, curling is different—it's a sub-zero game.
Nonetheless, they proceeded, setting up the Nigeria Curling Federation board and in September 2018, it became the first African member association of the World Curling Federation, and the hunt for talent in the diaspora began.
In came Tijani Cole and his wife, Susana. Cole is an Onitsha native who lives with his family in Denver, USA. For the past 26 years, he has been a Criminal Court Judge while his wife is an education administrator. They only began curling in 2016.
"We took up the sport mainly because we just love the strategy, we love the competitiveness, and it was something that my wife and I could do together," Cole says. The sport is regarded as 'chess on ice' because it requires analytical thinking, can be played by anybody regardless of their age, gender or physical status and is known to impact players' general lives positively.
He reminisced on how fate had led him to Daniel, whom he met as he felt a void in curling needed some filling. "We didn't know each other existed but we both reached out at the same time. So, it was a very nice meeting of the mind at the right time."
In April 2019, the couple made up Africa's first-ever curling team on the world stage when they participated at the World Mixed Doubles Curling Championship in Stavanger, Norway.
"We were losing all our matches until the final match. I told them, 'guys, you'll win,' and the final game, on the final day, we beat France 8-5 ends, becoming the first African country to win a match," Daniel recalls. He says the couple were the perfect face to launch Broomzilla – the team's moniker, a fusion of the fictional dinosaur-like character "Godzilla" and "broom", a curling equipment – team.
It was a fitting and rewarding moment for the couple, says Cole. "I can't tell you how excited [Susana] and I were to win at the Championships. It was so great." According to Harold Woods, who is Bromzilla's skip and captain, Cole has the "ultimate mixed doubles partner" in Susana.
Tijani and Susana Cole after their win over France at the World Mixed Doubles Curling Championship in Stavanger, NorwayPhoto courtesy of the Nigeria Curling Federation.
The Denver Curling Club was the meeting point for Woods and the couple in 2018. In what the former regards as an "interesting story," Cole asked him if he had Nigerian roots for a chance to be considered on the new Nigerian team. Although U.S-born, the 32-year-old's parents hail from Calabar, the country's tourism capital.

"I told him I did," Woods told OkayAfrica. "He monitored my progress, as I played and learned the sport and eventually invited me to be on the team."
Woods plays in the standard four-man team, and like Sheila, his role is the most important.
In curling, a team is made up of four players: lead, second, vice and skip. They throw stones in that order. Woods is basically the head of information and strategy. He steers the Broomzilla based on information he's equipped with regarding his other three players. He also concerns himself with the state of any ice surface they play on. The level of slope and how slippery it is, amongst others, matters.
Twice, each player slides, stylishly, with the stone from the arc [starting point] to the delivery line. It is then left at the mercy of two other teammates who sweep the ice surface intensely to influence how close it gets to the center of the house (a three-concentric ring usually distinguished by colors to form a bull's eye) all while the skip literally roars out orders. At the end of each round, the team with its stone closer to the center of the house scores a point, also it helps if they have more than a stone closer than the opposition, as every stone counts. This is repeated for six to 10 rounds, called ends.
Harold Woods, Nigeria's skip/captain.Photo courtesy of the Nigeria Curling Federation.
Since their debut in Norway, Nigeria has participated in four more events, twice in Scotland and then in China and Austria in 2020.

Before Broomzilla's international run in 2019, ice curling's impact had begun to be felt in Nigeria, via floor curling – a modified version of curling, with no ice.
Starting from March 2019, the NCF toured across the country to scout for curling talents of all ages regardless of their physical status. Cole was part of the crew, visiting the country twice. He is the technical director [and legal counsel] of the federation, having passed the Ice Technician course and the Level 1 World Championship Coaching, both first feats for an African man.
As well as ice curling, he helps to set up training regimes for floor curling, and one of the talents they scouted during the trials was Ibiso Warmate.
Warmate, 38, worked with para-athletes at the National Stadium, Lagos and only happened on the trials by chance. She recalls observing for a while during tryouts for secondary school students before having a go at the sport. Since then, she has not looked back.
"On floor curling there is no sweeping, that's just the difference. It's the same way you curl on the ice curling but you stay in a spot very close to the delivery point, and you deliver your stone," she explains.
The coronavirus pandemic has disrupted the calendar of curling worldwide, and put the progression of players like Ibiso on hold. The NCF has a number of athletes perfecting techniques and strategy in Lagos. According to Cole, in order to get them acclimatized to the ice, they'd planned to invite some of them to Canada, the base of Nigeria coach Ellery Robichaud, for clinics and camps to get them ready to compete.
Alongside three other home-based curlers, Ibiso has been scheduled for her international debut at the Pacific-Asia Curling Championships in Wakkanai, Japan in November and she continues to keep herself in good shape despite the uncertainty that trails the world.
NCF has a five-year plan to create 100 teams to breed competition in the country, while they set their gaze on bridging the gap between ice and floor curling.
Tijani ColePhoto courtesy of the Nigeria Curling Federation.
In preparation, the federation purchased land for the first ice rink in Nigeria at a strategic location in Calabar. It is one of the few locations in the country with favourable climate conditions. They partnered with ISS, a German firm renowned for making ice rinks across the world.

Estimated at €6 million [$6.9m], the facility would be the home of ice sports in the country, since it will consist of two ice rinks, where other ice sports can be played. Till date, Daniel insists all the projects carried out have been self-funded with other input from members of his team, however, the weight of this particular project has led them to open a GoFundMe page. Work has commenced and the target for completion is December 2021.
One of their goals is to represent Africa at the Beijing 2022 Winter Olympics, in the company of the remarkable Nigerian bobsled and skeleton athletes and other African trailblazers in winter sports who've made history. In order to do so, they have to continue with their tournaments, which double as qualifiers.
On their chances, an upbeat Daniel insists: "You don't underestimate any team. You could be the best team in the whole world, but the ice would mess you up. In a game of curling, you need to amass points to be able to qualify."
With 900 registered curlers, 55 of them professional, and a clear pathway for curling in Africa, their feats have helped pique the interests of a few other African countries like Kenya, the Gambia and Senegal. Despite its sub-zero origins, curling is slowly marking its presence across the continent.