With a portfolio that includes work for musicians like Beyoncé, Tiwa Savage, Amaarae, and Burna Boy, and publications like Vogue, New York Times, and i-D , Daniel Obasi has become a household name in the world of African fashion. A graduate in French Language from the University of Lagos, who began his career in 2012 as an intern and stylist, Obasi continues to prove what consistency, tenacity and patience can do.
---
Obasi comes across as a very chilled and private person, and his work could be described as quirky, experimental, Afrocentric, otherworldly, raw and, in essence, perfectly imperfect. The Nigerian art director and photographer made his first foray into the fashion industry by working in shows at Lagos Fashion Week, and with fashion brands like Adebayo Oke-Lawal 's Orange Culture Nigeria, and Papa Oyeyemi 's Maxivive. Through his blog, The Urban Coven , he began cultivating stories from interesting creatives on the continent, building a community of like minds. He continues to work on that unique brand of visual artistry, using photography, film and graphic design to bring his ideas to life.
His first editorial, 'Minstrel,' for Kaltblut Magazine in 2016, saw Obasi explore the softer sides of masculinity in Africa. It set before him the path he'd follow in the future, questioning societal norms around sexuality and gender roles. "I created this beautiful work, and I think that sort of helped redefine what I wanted to do moving forward," Obasi tells OkayAfrica . "I wanted the cultural relevance, I wanted the queerness, I wanted the Afrofuturism. I also wanted the things to feel very raw, but at the same time, I wanted it to feel very honest," he says.
A year later, Obasi created the more provocative editorial, 'Illegal,' which sought to explore the concepts of gender-fluidity and non-conformity in Nigeria, using film. "I first felt scared because it was a very queer-infused project, and I held myself back so much even when preparing the work," he says. "But I also made sure that it was honest, which made it blow on such a huge scale."
Since then, Obasi has created even more daring short films, worked on Beyoncé's
Black is King
visual album, styled music videos for Amaarae and Kali Uchis, and continued to raise the bar for African fashion. He spoke to
OkayAfrica
about his process.
Interview has been edited for length and clarity.
Your works are phenomenal, and mostly feel very personal to you. How do you infuse your personality into them?
I was talking with someone the other day, and I came to the realization that I am very critical of my work. I realized that I began to take much more time away from creating, to spend time with my feelings and understand what these feelings mean to me, and what they represent for me. If I'm in a place of love, I want to create work that exudes that. If I'm feeling depression or sadness, I want to create work that exudes that. The feeling was just for me to be more vocal and speak up about certain things we all felt a bit uncomfortable with, and certain things about our society that makes us a bit shuttered. I created a whole body of work around that feeling, and it's probably going to come out sometime this year.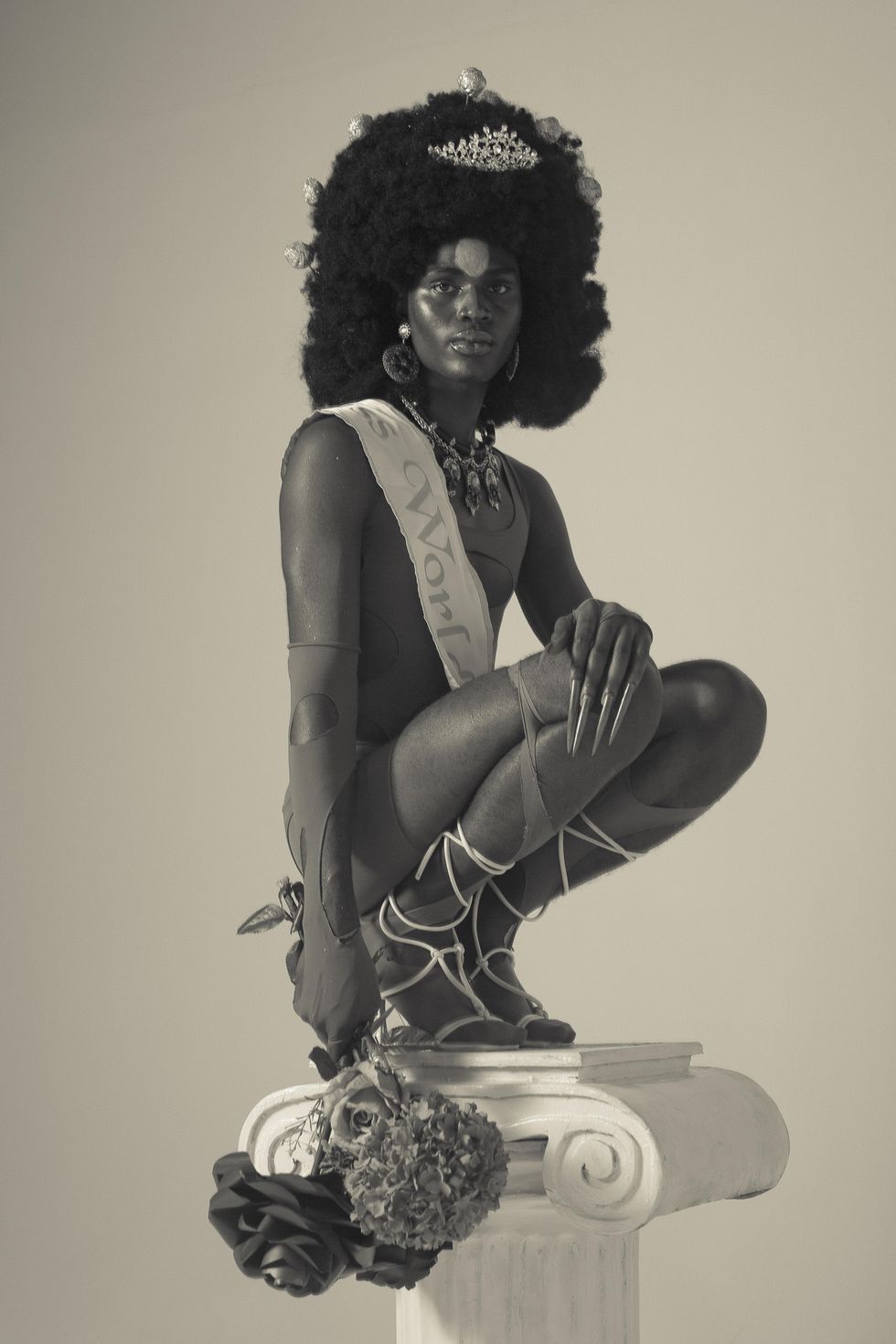 In images like the ones created for Corridors of Power, Daniel Obasi examines the idea of power structures within society and how they affect sexuality and masculinity.
Photo: Daniel Obasi
Who inspires you?
I am heavily inspired by people who write books a lot. People like Buchi Emecheta , who wrote The Joys of Motherhood . I'm also inspired by O usman Sembène , the African-French writer from Senegal, and he had a lot of films back in the days. I loved his films because there was this huge pull towards activism, as they tried to fight colonization. His works had that at the root of it, and it wasn't something I saw a lot in the industry we had here. I'm also by old cinemas a lot, surrealism, and alternate universes. Solangè inspires me a lot, because she has a very modern way of interpreting certain concepts that I think are very beautiful.
Can you give us any more insights about the things we should be expecting from you in the months to come?
Haha! Well, what I can tease is that I have a photo album coming out soon, and trust me, there's going to be a lot of conversation about it, whether I want there to be or not. Haha! I'm also trying to do more gallery work.
In your work, you've moved on from the continent into working with some A-listers across the world. How did that come about for you?
I think it happened, as it does happen for every art. Your work grows as you grow. The more people see your work, the more interest in it begins to rise. There are Nigerians everywhere, there are Africans everywhere. Once people understand that something is coming from home, they want to see home and be a part of it. The world is also now a global place, so it's kind of a no-brainer not to expect that.
You styled the music video for Amaarae's 'Sad Girlz Luv Money' remix with Kali Uchis - how did that come together?
With Amaarae's project, we had to do a lot of communication via zoom because of all that traveling restrictions. So, there was a team in London and a team in L.A., and they all just came together to help make it possible. London is big in fashion, and because people know her as well, they were interested in working with us. It's usually just a thing of interest.
And how would you define the most challenging parts of executing these projects?
I think right now, a real challenge I'm facing is traveling, in the sense that there are/were a lot of restrictions. Those political challenges sort of hinder the work sometimes.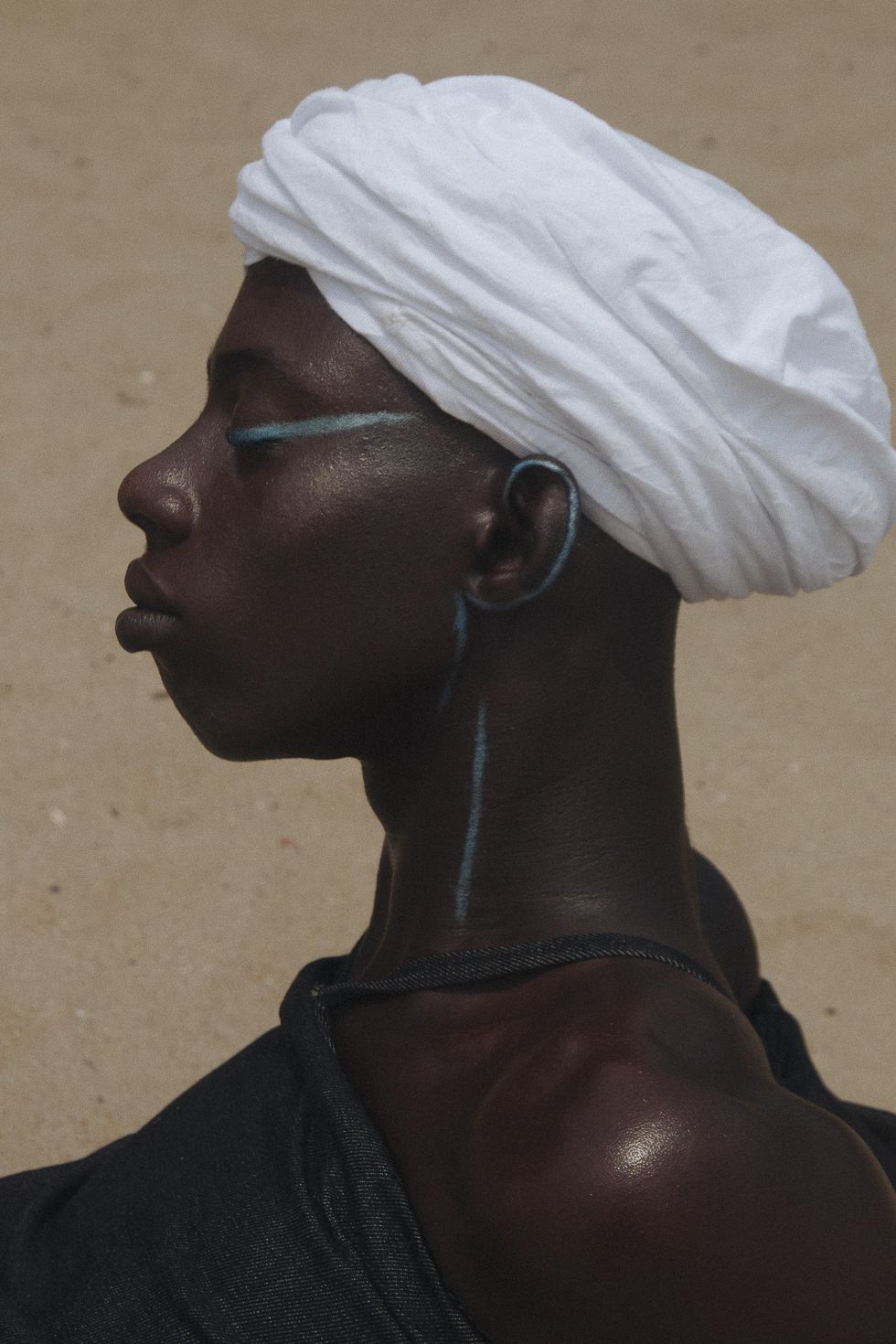 Daniel Obasi is heavily inspired by people who write books, and started his own blog, The Urban Coven , to build a community of like minds.
Photo: Daniel Obasi
Ar e there people you're looking forward to working with?
I would love to work with Beyoncé again, to be honest, on a very direct project. That would be amazing. I would love to work with Petite Noir , he's an amazing singer. I would love to work with Tim Walker , from a collaborative point of view, and talk to him about the way he creates images. I would definitely love to do a project with Adesua . She's my very good friend, but I'd like to do some really big projects with her someday soon.
Are there things about your work you'd like to set straight?
I know it may take a while for people to assimilate what I create, and to be honest, I think that it'll get more complicated. I'm very big on metaphors and symbolisms, so a lot of the work I would be creating would have them ingrained. I'm interested in creating this follower-ship of people who actually want to have conversations about the work; people who are curious. As an artist, we inspire new ideas and question the way we do things, and it's the next phase of my work. Now, I want to create my work, and have people look at it, engage with it, ask questions about it, and learn from it.