In January 2016, Netflix, the world's largest streaming video service, became available in Africa. Since then, from Nairobi to Abidjan, Maseru to Cairo, the company has been, to borrow from Shakira's 2010 World Cup theme song,' chorusing 'cause this is Africa,' as it crisscrosses the continent.
---
Netflix initially acquired the rights to a handful of local shows, while promoting their global catalogs, but announced that, starting 2019, they would commission original shows from Africa. In March 2019, award-winning Kenyan TV and film producer Dorothy Ghettuba was appointed as the manager for International Originals, to fulfill that aim, and add more African content to the Netflix service.
Ghettuba hit the ground running. In February 2020, Netflix debuted its first African original, Queen Sono. In May of the same year, it launched its 'Made in Africa' collection, featuring hundreds of titles shot within the continent. This was followed by the premiere of the second African Original series, Blood & Water.
With increasing smartphone and internet connection, and spurred by a young population consuming more video content, Africa is a booming market for streaming companies. According to Digital TV Research, a London-based industry forecaster, projected subscriptions in Africa will reach 15 million by 2026, and Netflix will have the highest subscribers of around 5.84 million by then.
Other foreign streaming platforms, including Amazon Prime Video, Canal+, Disney+, Apple TV, and Paramount are also eager to snap up video consumers for their services. To stay above the game, Netflix is going beyond licensing and commissioning African content. It's investing in screenwriting talent and new filmmakers through various partnerships with UNESCO, Realness Institute, and its own Netflix Creative Equity Scholarship Fund.
OkayAfrica spoke with Dorothy Ghettuba over Zoom, to find out more about their African Originals series and investments in the African market.
Interview has been edited for length and clarity.
You are the African Originals Series manager, leading the creative content team. What's the most exciting thing for you about your job profile?
After spending my time as a producer, I think what was exciting about joining Netflix was; I saw the opportunity to create huge change and innovate within the film and TV community in Africa. So for me, I'm energized by the endless opportunities; the opportunity to break down walls that local creators face, like language, borders, or format. The opportunity to help them tell their stories the way they want to, and bringing these stories to people across the world, over 222 million members- that, for me, is what's exciting. There's no other place that provides that level of opportunity and exposure for African stories. So besides having stimulating work, because my work is creative by nature, this role also has a huge human component that makes it very inspiring.
It's been two years now since Netflix Africa Originals debuted. What have been the significant successes and even the biggest misses?
I can tell you we are right on track, because for us, having the best content for our members is our number one priority as a company and team Africa. We want to be that home for African filmmakers, making sure that African stories are on the surface, and my job is ensuring that we do that. We have released so many amazing stories, like Dead Places, Jiva! Blood and Water, How to Ruin Christmas, A Naija Christmas, King of Boys, Kings of Jo'burg, I Am All Girls, Riding with Sugar, My Octopus Teacher, and much more. And so for me it is very exciting and a success that we have all these shows in the service.
Local content is consumed a lot. Even outside of Africa, shows from Nigeria and South Africa like Òlòturé, Citation, Merry Men, Mrs. Right Guy, Seriously Single -- these have made it to the top 10 lists in different countries across the world. That's a big success. We are on top 10 lists in Romania, in Canada, and other places worldwide. But also locally, we are making it on top ten lists. That's telling us that people truly enjoy our local content.
On the flip side, and I can't call it a failure per se, I think it's just the pressure we put on ourselves to keep on getting out there. Meeting creatives, telling stories, sometimes I feel that I'm not doing enough, but I know we are. It's not really a failure, we just have to keep on moving, because that's what we're about here at Netflix.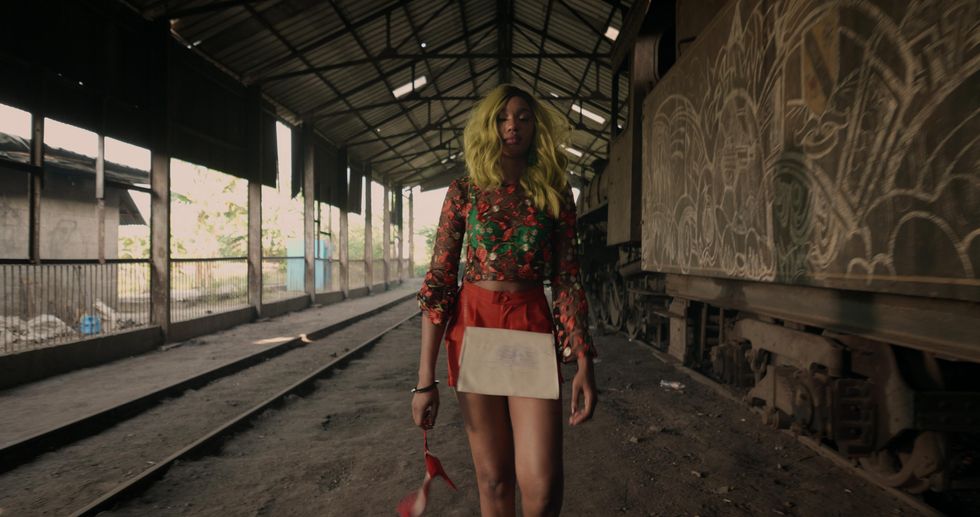 Outside of Africa, shows from Nigeria and South Africa like Òlòturé [pictured above],Citation, Merry Men, Mrs. Right Guy, Seriously Single have made it to the top 10 lists in different countries across the world.
Photo: Netflix
How vital has Africa Originals content been in attracting new subscribers for Netflix? And by extension, what's Africa's value for Netflix?
Africa is filled with skilled storytellers, both established and undiscovered. And what we are doing is giving them the deserved global recognition that they deserve to have. At Netflix, Inclusion is one of our core values and essential to our programming as we try to reach our 222 million members. We believe that the more people see themselves reflected on screen, the more they will come to our service, which is why we want to tell African stories to other Africans and to people around the world. So we don't talk about subscriber numbers and I can't share that, but what I can tell you is we have seen the value of our Africa content not only to our audiences across Africa, but around the world as well.
The company has also recently launched several initiatives to support and onboard screenwriters and filmmakers in Africa. Why are these investments important?
This is an area that's really key and critical for us. We recognize that being part of the local creative community in Africa also comes with responsibilities, and in particular, the need to develop the talent pipeline and to give fresh voices the chances to be heard. So far, we have been very fortunate to work with incredible women creators in stories that have strong female characters. We will continue to develop and work with the industry on initiatives such as the post production workshops, partnering with the Realness Institute, so that we can find new talent to work with.
We also focus on developing new talent and adding to the ecosystem where we have young writers and actors. Look at
Blood and Water
for example, these are young fresh faces. We also want to hire more women as writers, as directors, as producers, all to give folks the opportunity to have their voices heard. In the end, with investment into local content by international players like us, the local industry and the next generation of storytellers will flourish so that they can continue to produce great content for local and international audiences. So it's this virtuous cycle; we invest because we think it's important, and the stories keep on being told, and the circle keeps going round.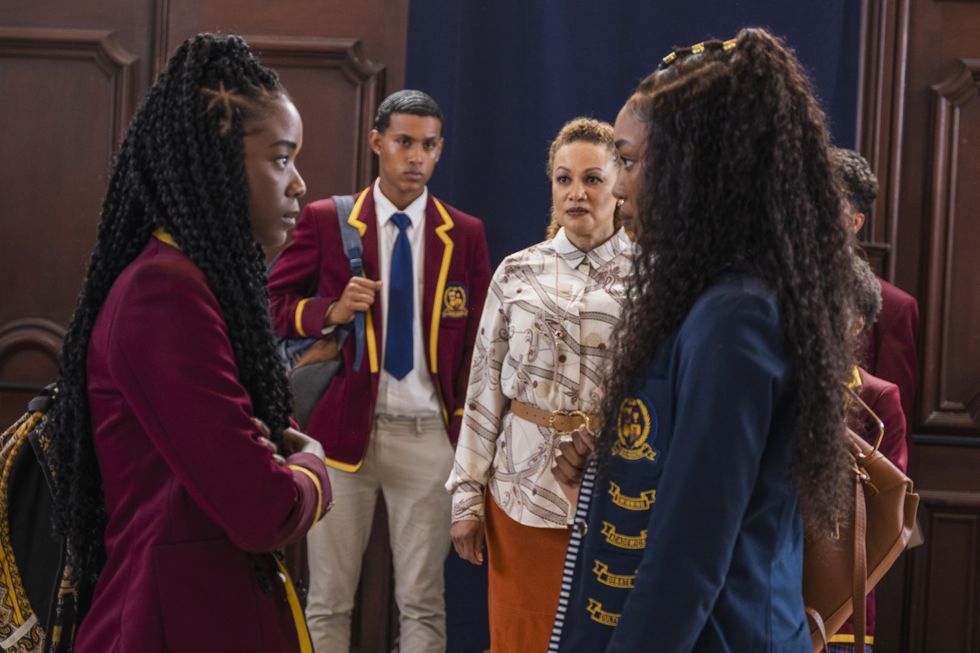 Dorothy Ghettuba says Netflix is also focussed on developing new talent and adding to the ecosystem with young writers and actors, like those in the South African series Blood and Water.
Photo: Netflix
The investment has currently centered in Nigeria, South Africa, and maybe trickled a little to Kenya, yet Africa is 54 countries. What's the plan for other countries, and especially for Francophone Africa?
We know that it's important to have a slate that offers and reflects the diverse cultures and experiences of our members, especially in the different African countries. So besides the wide variety of content distributors that we have, we have shows from South Africa, Nigeria, Ghana, Malawi, Senegal, Zimbabwe, Mozambique, Angola, Kenya, Ethiopia, Senegal, and so much more. And we have our UNESCO competition which also is going to create more opportunities. There's a lot that's going to come with that. Yes, we have originals from specific countries, but we are also buying shows, and co-producing shows from different parts of the continent. But I'll also say this: we are only beginning this journey across the African continent. Like you said earlier, it's been two years. We have plans to bring additional best-in-class talent and stories from Africa to the world. Slowly and surely, we will get there. We are working really hard to do that, but you know, they did not build Rome in a day.
Can African filmmakers approach you directly with unsolicited submissions or will you still be acquiring via your partners?
We work with different distributors across the continent and are constantly scouring Africa for the best-in-class African stories. We have deep relationships with the creative community and talent agencies who propose new ideas, shows, and movies to us. We travel a lot to various countries as we meet and build relationships with creators to find the best stories. What I can say to you is, balancing accessibility without being overwhelmed is always a challenge, and that's why we made sure that we work with filmmakers we have engaged with directly or via our networks.