Emmanuel Kelechi Nwosu, better known as justE Kelly, is a Nigerian record producer, songwriter, and A&R. It's highly likely than not that you've vibed to one of his songs. With twenty years as a producer and ten years active in the Nigerian music industry behind his belt, his contribution to Nigerian music and afrobeats as a whole is unquestionable.

E Kelly is the brain behind hits like "Omo Alhaji" by Ycee and the international smash "Leg Over" by Mr Eazi. He has a signature sound that has made him one of the most sought after afrobeats producers in the world over the years. Patoranking, Khuli Chana, Vanessa Mdee, Tekno, Wizkid, Naeto C, Ajebutter22, BOJ, Joeboy, and Major Lazer, are just a few of the names who have gone to E Kelly for a dose of his magic.
After a long and impressive run of producing afrobeats' best and brightest talents, E Kelly has finally come to terms with the idea that it's time to make some magic of his own. He's now presenting his debut project, a 5-track EP titled No Secrets.
No Secrets is an expression of vulnerability from E Kelly which sees him emerge from behind the scenes to present a carefully-curated set of songs from the producer's repertoire of unreleased music. From the featured acts, to the songwriting, to the production, everything about the project was selected and crafted under E Kelly's attentive watch.
All of his years in the industry have granted him the knowledge and experience of, not just how to make hits, but also how to make hitmakers. Because of that, he's the lead A&R for Mr Eazi's record label and distribution company emPawa Africa, where he's in charge of the artist development and creative direction of the label's artists.
E Kelly is afrobeats royalty, and we're excited to finally get a project of his own. Here, he speaks to OkayAfrica about the EP and we get an in-depth look into what No Secrets is about, how it was made, and some insight on his partnership and relationship with Nigerian singer Mr Eazi.
---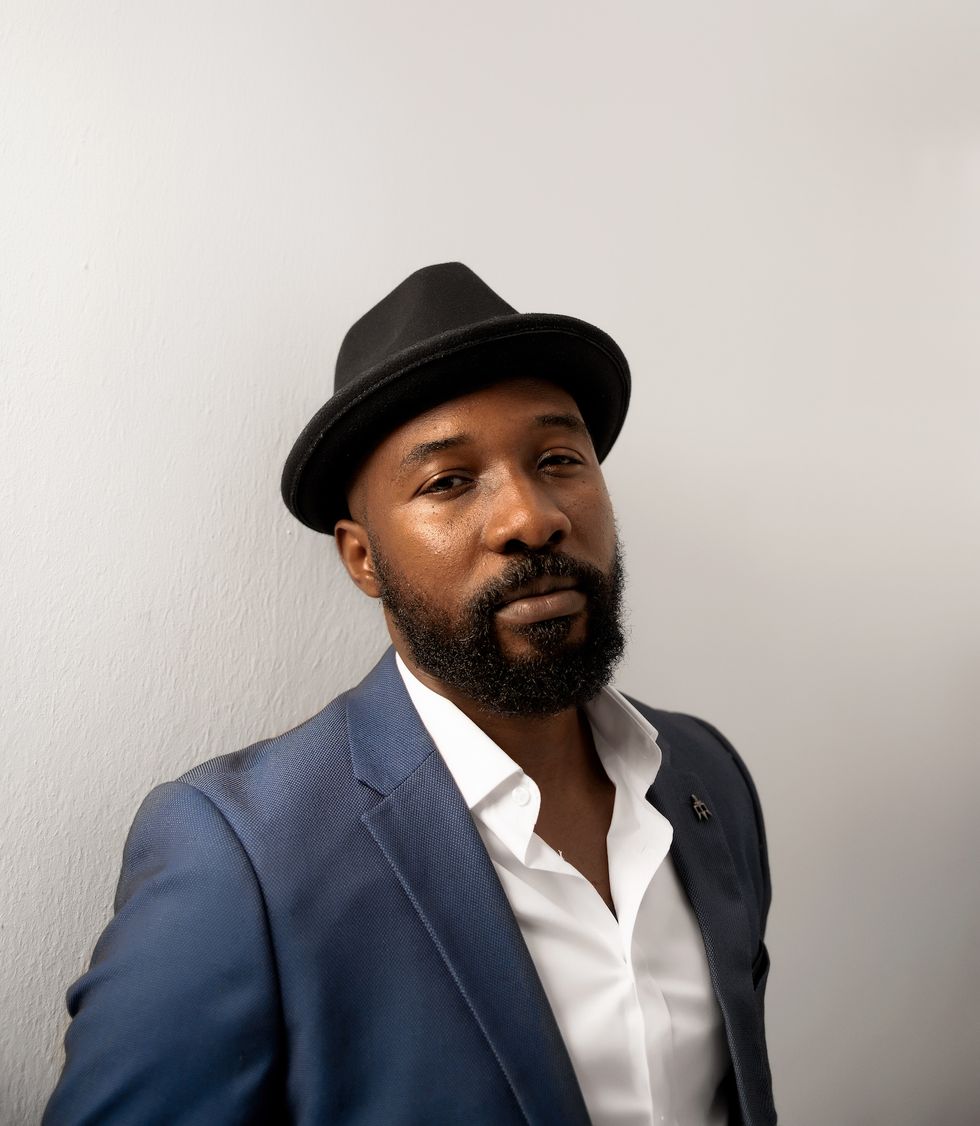 E Kelly.Photo: Majdel Images (via emPawa/LargeUp)
What's the project No Secrets about?

'No Secrets' is a project about me coming to that place and that point in my life where I'm no more afraid to be behind the scenes, I'm no more afraid to expose my vulnerability, I'm no more afraid to be that person and be vulnerable before people. I just have come to that point where... 'cause I love being behind the scenes, and I love to be so private but I feel like there's strength and there's power in vulnerability. So even though the record that talked about "No Secrets" wasn't speaking about that. It was speaking about a girl whose hiding stuff from a man she loved. But I just picked that topic because it was something personal to me.
What made you decide to release your first project now, after all your years in the music industry?
I had tried releasing my project years back, when I worked with a manager, his name was Michael. And I had put some songs together, but at that point I didn't really have the strong support system to kind of do my songs in the way I wanted to do it. And also I had hesitations about the promotion strategies, and I never wanted anything that would not succeed. I think one of the things that has held me back all these years has been the fear of failure. I always think like "I'm not an artist, I don't wanna sing," I didn't come to terms for a long time that I could actually collaborate with artists and the writers and make my own project. So, I had been nursing this idea since 2017. I was first to have an EP with Mr Eazi, an exclusive E Kelly/Mr Eazi EP. We had talked about it, we had recorded some certain songs, and some of the songs got taken away by Mr Eazi and released on his personal platform.
E Kelly - Need Somebody (feat. Mr Eazi) [Official Audio]www.youtube.com
How did you choose the featured artists on the EP?

Last year I had a situation where I had a client coming from the US, and we set up a production camp. So I brought this group of writers to work on that production camp. His name is Humbie, and in that camp I had BoyBreed, Syn-x, TUC, King Perryy, we had some people that were not even on my EP. But I just noticed this synergy that I had with this set of guys and I just figured that the songs we created were out of this world. I was like "guys what's up, let's put out an EP, let's do a joint project." and they were up for it. So we set up further camps and they would come together.
It was always a good vibe, I had two studios running, one studio in my room and the main studio. I was supervising production, I was supervising writing, I was letting the boys create and all that. So that kind of gave us some of the big songs we have on the record, like "No Secrets," "Confetti," and King Perryy's "My Girl." So when I had those songs I was like you know what, I think I'm ready for this project. I had a list of about seven other songs that I was trying to match with the project, but for one reason or another something would just not sit right and I would just knock the song out of the EP. These five just seemed to be the set that flowed. I remember there was a point Eazi wanted me to add new songs to the EP, but I was like I think I'm confident with this. So it was sealed since last year.
The EP was ready since August last year, but we had to wait for proper timing. Joeboy's EP was about to drop and that was big, so I actually had to push my release from October to February. And from February we now had all these issues in the country, so we had to push forward again, and now we have my EP coming out in May.
For me, working on this EP I really wanted to work with people that I had a good relationship with and good vibes with. So for me this first EP was not that EP where I was gonna make a wishlist and start going external. I think for my next EP I'll start having those collaborations. I wanted to release music with people that I had an easy working relationship with. One of the people I met when working on the EP was Minz. Minz was the later addition to the EP, because he came in on our second or third production camp. I was slightly hesitant at first because I didn't know him, but when I saw that he had a good synergy with BoyBreed, he had worked on several stuff, he knew King Perry, so I just took him in as family, and trust me I did not regret.
Of course we all know that I've done a lot of stuff with Mr Eazi, he had to be on this EP. By the way, I had about four songs I wanted to put on the tape from Mr Eazi but I just figured that because I knew that people know me with Mr Eazi, I didn't want to have too much content with an artist I'm known well with, so I just took the best of the records and that's why we have "Need Somebody" by Mr Eazi starting the EP.
E Kelly.Photo: Majdel Images (via emPawa/LargeUp)
Tell us about your partnership with Mr Eazi and emPawa Africa.

It's a really long story, but I want to say that Mr Eazi and I have had one of the best working relationships when it comes to artists. The bedrock of our relationship is that we have mutual respect for our craft, and we understand the roles that each artist has and what we bring to the table. We know what we all bring to the table, so we respect that and we maintain it. I met Mr Eazi in 2016 officially for work, but we had actually worked in 2013/2014 on a project with Yung6ix. In fact when Eazi became a big artist, I was finding it hard to reconcile if it was the same person that came into my studio in Surulere that was having all these hits songs, that's blowing up all over the UK and Nigeria and Ghana. So when I confirmed it was him I was like screaming, I was like "this guy, I hope he remembers me" and coincidentally he actually remembered me because we had also been chatting when he was running his business at Phonetrader Nigeria.
I remember I was trying to buy an iPhone 5 or so from him for several times, but we just never closed that deal. I never knew he was working on music and stuff. So in 2016 after he had released his singles "Dance For Me" and other songs, he came into Nigeria and I had released "Omo Alhaji" by Ycee, and he was in love with that sound. So he contacted me and was like "What's up E Kelly? I want to do a song with you." And he was like he's in Nigeria for a few days, he just needs to have a session. So I was like cool, I was building my studio at the time, so he came into my room and we created "Leg Over" in a very short time.
In less than two hours we were done with "Leg Over," production and recording. So I was expecting that we were gonna have other sessions and stuff, but we never had another session until like six or seven months later. "Leg Over" was released, became a global smash, my biggest song with Mr Eazi to date. I think from then we now knew that there was something special about our connection, so we kept working on stuff. Then at a point I now realized that I started moving more into an advisory role, I was that person that was always cross checking all his productions, and I think he was comfortable with it because I never showed any form of jealousy or rivalry with any producers that we was working with. I was always supportive and I am still supportive.
E Kelly - Confetti (feat. Boybreed & Minz) [Official Audio]www.youtube.com
And that's why when it was time for him to start emPawa Africa, I was one of the people he leaned on to build artists, to nurture the artists. Joeboy was with me for about three or four months in the studio, making music, learning how to write, learning how to record, learning how to make songs that had market value. From that, he was now able to work with other producers and we had the singles "Baby" and all that. So I think we built that healthy relationship and we have mutual respect, and right now I work with emPawa Africa as their A&R, and I also work in a lot of other capacities which are just based on our smooth working relationship we've built over the years.

BoyBreed stands out on the project, as they have two songs on it while other artists have one. Is there a particular reason for that?
BoyBreed are twins by the way, Nnamdi and Frank. And the reason why they stand out on my project is because they were the most available artist when it comes to being available for sessions, writing, co-writing. They are very open and very hard working. They're literally artists I can leave in the studio and say, please when you guys are done just shut down. They're actually that hardworking. It was just a coincidence that I had them on two records. In fact I have more records with them, but those were the most outstanding. I produced their official first single "Slowly" in 2013/2014, and it's been a blessing. We've built a brotherly kind of bond, and it's just normal to want to share this personal moment them, because they've been loyal, they've been steadfast, they've put in the work, and I really want to see them do way better than they are. They're so talented and I just know that the world is not ready for them. So I'm happy that my project is showcasing all the talent that they have and everything that is within them as artists and writers.
What's your favorite song on the project?
Sincerely, for a long time it used to be "Need Somebody" but it seems like with every day I play the project it keeps changing. Right now I'm actually in love with "My Girl" by King Perryy, I'm also in love with Joeboy's "Oreke." I also like "Confetti,"
it's like a smash, and I can't deny the synergy of when you hear the lead single of the EP "No Secrets." Everything is just amazing. I see all the songs as one record, because I put proper thought into how they flow into each other. So I can say that all the records are favorites, because at one time or the other I had each of these records on repeat.
E Kelly.Photo: Majdel Images (via emPawa/LargeUp)
Did the current pandemic influence your decision to drop a project right now?

Not at all, really. It didn't influence my decision in any way. The only thing I would say the pandemic did was give me more time to work on all the admin things. Like people have no idea the amount of administrative work that goes on in releasing project. At a point I was like "what?" I almost pulled out 'cause I wished I had a secretary or an assistant or just somebody who was going to be handling all that. I had someone who helped from emPawa, we had a lot of people on the team helping me out with a lot of stuff, but as the releasing artist there are just some information that are key with you, and you have to provide all those information. I had to provide mixes, I had to provide masters on time, lyrics, and all those kind of stuff. But there were a lot of other things that had to be sorted in the backend. But I'd say the pandemic gave me enough time to sort all these things out, so that the release would actually match the release date.
Are we going to get more projects from E Kelly in the future?
More projects, yeah. I'm definitely going to release more projects. I'm hoping that I may have a second project this year, if it's possible. But even if I don't have a full project coming out, I'm definitely going to release more singles. I have a lot of songs, I'm already working with artists that are not on this EP that I'm looking at as potential singles, when I feel it's time to put out new material. But definitely I'll have some new material this year, and it will definitely be a follow up from what this EP has done. I have loads and loads of songs on my hard drives, but I'm going to be working on fresh stuff to express my newfound love of making music, and I want to share with the fans what they respond to and how they respond to this project. There are other plans in the box, but we're just going to be letting things out little by little.