Song Queen: A Pidgin Opera is widely recognised as the world's first of its kind: a pidgin opera performance. This extraordinary opus, which first graced the stage in 2015, was brought to life by the visionary Nigerian-British singer-songwriter Helen Epega, also known by her creative alias 'The Venus Bushfires' (a name coined to mean 'a birth of possibilities').
Fueled by an ardent desire to bridge the gap between cultures, the opera blossomed from Epega's passionate mission to share the rich tapestry of Nigerian and African culture with the diaspora.
Epega boldly embodies her African identity and embraces her heritage with unwavering pride. When OkayAfrica speaks with Epega, via Zoom, she is calling in from her London home; she is beautifully dressed in bright-coloured attire made from Ankara fabric, reflecting her profound connection to her African roots. Her hairstyle mirrors the same connection.
She sports six self-made bantu knots, each a testament to her own skill and creativity. Nestled alongside these intricate knots, two opposite-lined cornrows gracefully weave their way from the centre parting of her hair, framing her face with elegance. And to accentuate her authentic African expression, she adorns them with beads, adding a touch of tradition and beauty.
As she sits before the camera, Epega explains that her appearance serves as a conduit to bring home African culture to her beloved children, aged five and seven. With her vibrant attire and intricately styled hair, which she reveals to be the same as her kids', she endeavours to infuse their lives with the essence of their ancestral heritage.
"I wanted to create a dialogue with people so I would wear these hairstyles and clothes."
At the age of seven, Epega moved from Nigeria with her family to London. Amidst the excitement of a new chapter, she was met with a bittersweet reality. She recalls being picked on simply because her African heritage set her apart.
"I was very confused when I was hit with my new reality in London. I thought it was fantastic to be African and I was proud to be one," Epega tells OkayAfrica. "I didn't understand why I was treated differently." This initial experience inspired her, many years later, to work towards creating an environment where Africa would come to be celebrated and Africans in the diaspora could feel proud of their heritage.
Epega's subsequent visit to Nigeria as an adult in 2008 opened her mind and filled her with new hope. She returned to London with an intense desire to share Nigerian culture with the people in the diaspora. "I wanted to create a dialogue with people so I would wear these hairstyles and clothes," she says. "In my house here, I have a lot of artifacts from Benin because I want that, when people visit, they can see Africa as bold and bright and love and respect her too." She says this as she shows off a view of her home and some of the traditional art pieces she uses for decor.
On one memorable occasion in 2013, Epega was invited to the Royal House Opera. It was her first time going to the opera and a defining moment in her journey. She showed up at the opera house in her colorful traditional attire topped with a massive gele driven by her passion to let people know she's African.
Her experience at the event with its attendees stimulated her imagination to create a classical-like movement that would promote African culture. "I just thought to myself, 'I'm gonna pidgin this up'," she said.
Creating work that's inspiring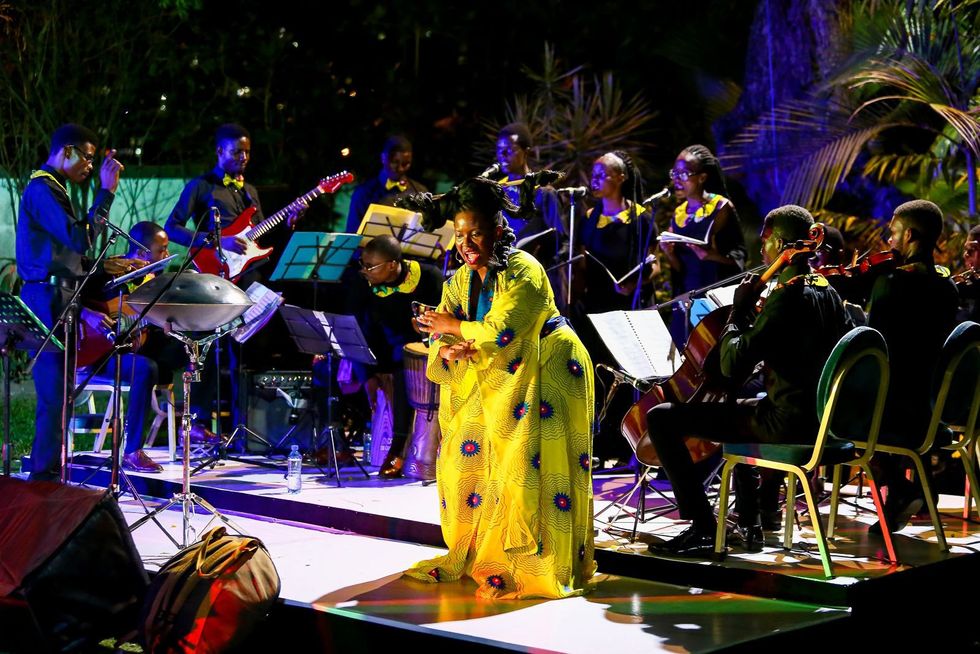 Photo by Claire Shovelton.
Written by Epega herself, Song Queen is about a biblical and nondescript ethereal singing tribe called Menemeh. The Menemeh tribe create a peaceful reality in all the world's realm through their songs. All is well until the "Vrugos," who live in the realm of the stars, become envious of the prosperity that the Menemeh tribe has created on Earth.

In their jealousy, they create temptations for the Menemeh tribe who become distracted and start to lose their ability to sing, resulting in chaos across the universe. To restore peace in the world, Kanate, the rising queen of the Menemeh tribe, must venture into the realm of the Venus Bushfires to find the peace song — a song in various tongues capable of uniting all the world's realms.
Epega plays Kanate, the rising queen of the Menemeh tribe in the opera alongside being the composer and librettist. "Through the opera, I'm talking about stories such as love, hope, failure, and the human desire to be greater," Epega says.
According to Epega, the aim of the opera is for people to come together to discover something they possess, which they were unaware of before and that is able to foster unity among everyone. She hopes for the people of African heritage in her audience to be inspired by the performance and become proud of their heritage. And for the continent's allies to embrace and love Africa. "The time has passed to keep asking," says Epega. "We have to build a world that we want to see."
Blending diverse cultural and linguistic elements
Since its first performance in 2015, the opera has grown and developed in many ways. For starters, the initial performance was composed only of Nigerian Pidgin English and the English language itself. But its recent performance includes a mix of colloquial languages like Patois, Creole, Cockney, Ebonics, and South London slang.
Epega also speaks to the advancement of the opera's musicianship and composition from its early days. "I feel like I've had the freedom to do what I want because the road hasn't been walked before," she says. "Being able to include languages that haven't been used in this space before allows me to celebrate the often unheard and excluded voices."
Blending these diverse cultural and linguistic elements requires an open mind, a lot of research, an understanding of the communities involved as well as respect for their traditions and experiences.
Though Epega claims to speak all the languages, she admits they don't come as naturally to her as Nigerian Pidgin English. (Jollof rice and wine play a major role in her research process, she says, jokingly, about inviting friends from within these communities to speak and interact with her). She acknowledges these dialogues enable her to gain a direct insight and understanding of these communities and how to better represent them in her performance.
Because pidgin and the colloquial languages needed to create a wholesome production are more dynamic and fluid than most other languages, interacting with its native speakers ensures the opera stays up-to-date and relevant in its cultural references.
Throughout the existence of classical music, the diversity of its performers is an ongoing debate with less than 10% being African American. With such statistics, Black women are not afforded enough opportunity to pose in an opera let alone lead one. Regardless, Epega frequently acknowledges her resolve to make her table if there's no seat for her and to invite others to sit with her.
Epega's performance is culturally important as it not only promotes visibility but also encourages diversity. By working with a team of diverse talented performers and instrumentalists, Epega skillfully spreads the message of inclusivity in the slim-picking world of opera.
Maintaining balance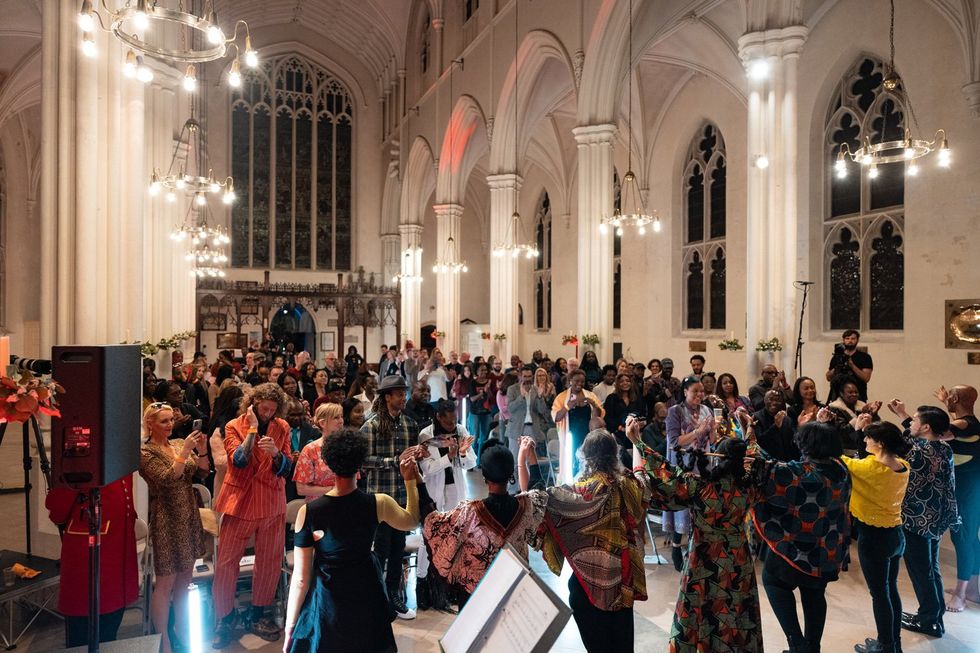 Photo by Joe Madden.
The key members of her production team include Epega's husband, Baba-Jallah Epega (Manager and Executive producer); Richard Olatunde Baker (African percussionist); Adam Coney (electric guitarist); Francis Angol (choreographer and movement artist); Abdul Williams (steelpan musician); Christopher Huntley (pianist and musical director), and more.

Additionally, the use of African percussion instruments like the steelpan, and the handpan in the opera celebrates multiculturalism and offers empowerment to underrepresented communities in a futuristic context.
Amongst the several roles Epega plays in this project, she takes particular care in designing her costume and styling her hair. Her stage costume and hairstyle which also follow an afrofuturistic theme spring from her creative prowess. With a background in visual art, Epega sketches the ideas for her costume while her cousin sources the fabrics.
Compartmentalizing her different creative natures is how the multi-potentialite is able to maintain balance. Although not an easy thing to do, Epega often suffers the brunt of her work. "Because the opera is like everything to me, it's hard to switch off," says Epega. "It's also difficult to make the space to do things that are not related to the opera. For instance, going for a walk just for the sake of it and not in the hope to be inspired by something."
Composing with shapes and colors
Epega mentions her journey to making music started at a young age. She remembers writing her first song at around the age of four with words that may have been made up. Her mum tells her she started singing before speaking as a toddler. At seven, she began nursing dreams of performing on stage. Her journey to where she is presently didn't take any usual track. Before finding her calling in African music, Epega explored punk, emo and R&B genres.
As a self-taught artist, Epega creates music differently. She doesn't read nor write music but composes with shapes and colors, a phenomenon known as synesthesia. She imagines the sounds for her music and transcribes it for different instruments using a computer program.
Although the pidgin opera is the multi-faceted artist's most renowned creation, Sounds of Us - UK is another project Epega devotes her time to developing. The project is centred around creating audio art snapshots. Its first production featured sounds from the pandemic and lockdown including background noise from the EndSARS protest in Lagos, Black Lives Matter parade in London and everyday sounds of hope, fear, love, and life. This came alongside visual arts presented at Her Dark Materials online exhibition in 2021.
The second release of the project is due to begin on September 28th and it would feature sounds from over the last two years. This would include audio from trending topics, themes, hashtags, and general public discussion. This includes the Queen's death; King Charles and his coronation; the war in Ukraine, the cost of living crisis in the U.K.; and so much more. The aim of this production is to capture what it means to be British and Nigerian surviving these times.
Curating Sounds of Us happened naturally for Epega. "I was paralyzed with fear during the pandemic and I had nothing to say at that moment. But I thought to instead capture other people's feelings and what they were saying," she says. She collaborated with her friends and family across Lagos and London to collect recordings of the different sounds they were experiencing during this time.
Leading an opera as a Black-British woman
For the future of the opera, Epega is working to release a live recorded album of the performance so as to reach a wider audience. Epega also has an ambition for the opera to be as successful as the Lion King and Hamilton and hopes to find a dedicated theater for the show to give it a longer runtime. She also dreams of the possibility of taking it on a global tour.
Leading an opera as a Black-Britih woman comes with its highs and lows. A major lesson Epega has taken from her work is believing that she's powerful in her spirit. "Every day, I come up against different narratives by being a woman of African heritage in this space," she says. "It affects my ability to achieve my dreams and goals. I constantly think, 'How do I interact with people who don't want me to succeed?' Regardless, I feel very powerful in what I do."
__
Epega's opera has been selected to be a part of the Tete a Tete 2023 Opera Festival as 'Song Queen: A Pidgin Opera Reimagined'. The event is scheduled to take place on Thursday September 7th by 8:45 p.m. at The Cockpit theatre, London. Tickets are available here.