Every other year, there is a breakout star raised by the streets, who greatly influences the Afrobeats sound within that time frame. "Street music" is what usually dominates the clubs, determines the mainstream soundscape and inspires viral dance routines that spread across Africa and sometimes globally. The sound embodies the madhouse that is Lagos—the acme of Nigeria's music industry. Towards the end of the last decade, a new genre of music weaved its way into prominence in Nigeria. It was tagged alté, a derivative of the word alternative. Between the intersection of street music and alté music is where you find Prettyboy D-O. The artist, born Donald Ofik, is a genre of his own which he calls "culté" a contraction of cult and alté, Prettyboy D-O's message is loud and clear: winning against all odds while spreading love in his own way.
---
The artist's sojourn in music is one of self-belief and resilience. It began eight years ago while he was an undergrad at St. John's University in New York. He started a label and released a couple tracks. While trying to establish a presence in Nigeria, D.O occasionally sent money to Nigeria to get his music played on the radio, but it did not yield any results. In 2014, D.O met producer, D'tunes, famed for his work with Nigerian artist Sean Tizzle who once dominated the airwaves in the country. A year after, while D.O. fiddled with the idea of dropping out of school during his masters—an act that would eventually put him at odds with his father—he got a call from D'Tunes and signed a record deal with him. Financial problems stifled the prosperity of the record deal. D.O's dream of returning to Nigeria and dominating the music scene like many others that preceded him slowly ebbed away. The reality sunk him into a deep depression.
D.O's epiphany occurred while he was at the Ikoyi Boat Club in Lagos. He spotted Africa's richest man, Aliko Dangote, dressed ever so casually in flip flops and wielding an old model of a Nokia phone. This sparked a renewed hunger in him. On a trip to California the next year, after playing his music for his cousins and a few friends, he found the validation he had been lacking. Through this trip, a new coloured-hair era began and Prettyboy D.O was born. Prettyboy D.O. has since emerged as an exciting new face of the alté scene alongside contemporaries like Santi, Odunsi The Engine and Lady Donli. He's also gained a reputation for his high-energy stage performances and prophetic self-affirmations either on social media or as intros to his music. He has amassed a cult-like following, sold out three installments of his yearly concerts and released two projects. His latest offering, Wildfire, is an eight-track album that earmarks his growth as an artist.
OkayAfrica caught up with Prettyboy D.O to discuss his latest project, his cult following, and what motivates his sound. Read our conversation below
Image via the artist's IG.
Tell us about Wildfire, why did you feel the need to drop such a themed project?

Wildfire is a project based on emotion, raw emotion. Everything I do musically is very thematic. My first project, Everything Pretty, was about self-belief. I call these projects mixtapes because I feel like my first album has to be monumental. With Everything Pretty, I had just moved back to Nigeria and I was becoming a man, the album just told the story of a young man that goes back to his country chasing his dream, becomes a man and grows confidence. I was preaching about that confidence.
With Wildfire, I was planning on dropping an album but I had to hold that plan back because I did not have a distributor to take the music worldwide. I was not going to announce that I was dropping a tape, I was just going to drop it. I did not want to talk, I just wanted the music to talk for me, because I felt I was saying a lot of truth on the project. For me, the kind of person that I am, I do not like bullies, I do not like things that are not equal, I don't like intimidation, I don't like oppression and that is the emotion that comes with Wildfire. I am tired of being oppressed, not just me, because I might not be oppressed because of who I am but my people are oppressed by my country, fake people, by my country most especially. The physicality of the country, the social climate, So I was going to call the project Wildfire because I did not want to talk but the project will and it would spread like wildfire.
"I am not in a cult, but the more controversial, the better."
You have sold out three instalments of your concert, why do you think you have garnered such a cult following, especially given the fact that your music is not as mainstream as many other artists?
I would say first of all God, the channels that give me access to these people: the blogs, the radio, and I think maybe just the connection, the realness of the message. My openness as well on social media. I speak my mind and people relate with it a lot. It's just relatability and God.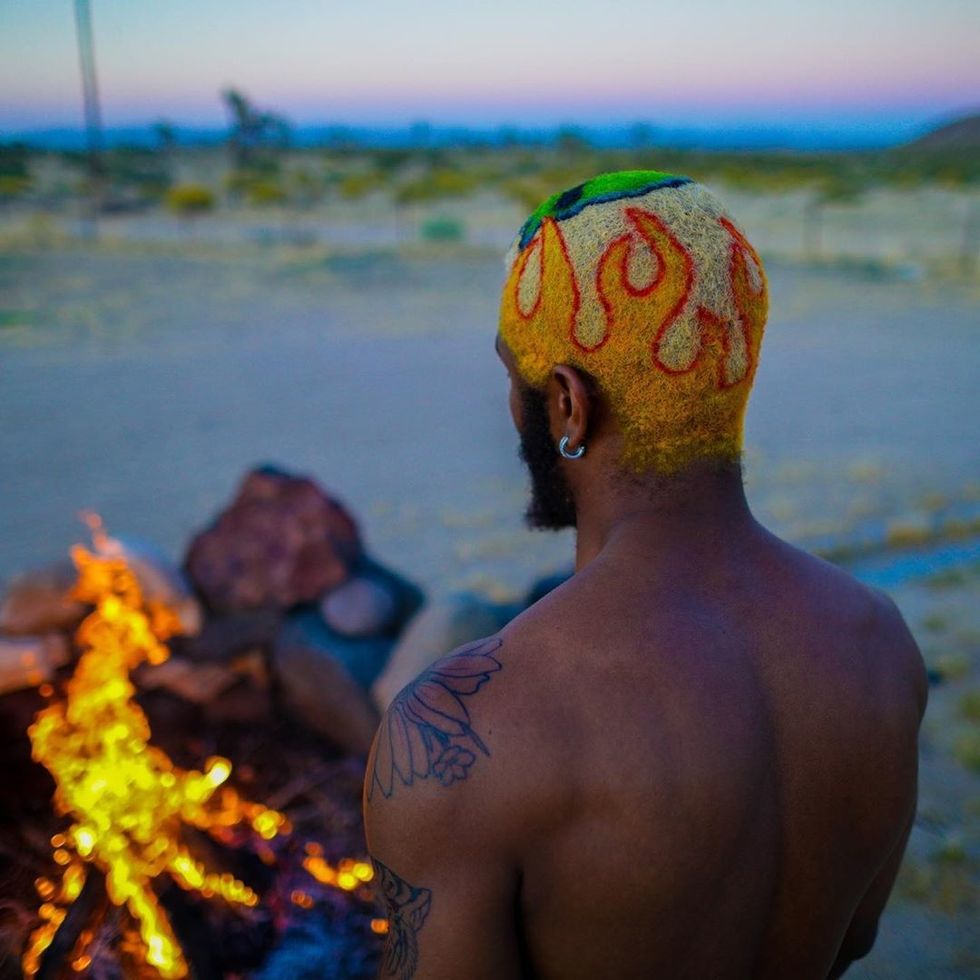 Image via the artist's IG.
You're known for being so energetic and always affirming yourself, where does that energy come from?

What sport do you like the most?
Basketball.
Okay. Imagine that you're in high school and you want to play basketball, but the coach puts you on the bench for five years. [Then] your last year, the coach says 'you're starting', how you go ball? If I succeeded from the jump, I probably wouldn't be like this, because I would already know everything. But when I started, I valued myself and I wasn't getting that value in terms of reward. I feel God gave me this opportunity, so every time I get a chance to showcase this opportunity, I have to show that energy. God has given me this chance to talk so I cannot waste any second. They must know what Prettyboy is here. Tinya, my manager, has seen me hype myself up many times, and I tell people to do that. I put it in the "Pull Up" video in front of the mirror, and in the song too. We have to chase out the spirit of doubt, the spirit of fear.
Your music is sometimes social commentary because you have songs like "Chop Elbow" where you address oppression and exploitation in the system. Do you intentionally set out to make statements about society?
A lot of my music is cause and effect. All my tracks are social commentary, even the love songs are social commentary. As an artist in Nigeria, you're starting at a disadvantage because people don't even respect art and me I have come to say fuck all that bullshit.
"I speak my mind and people relate with it a lot. It's just relatability and God."
Does your family support your music now because I understand they never used to support your music?
Yes, they are immensely proud. My mother started supporting me earlier than my dad. When she started supporting me, she was not even listening to my music, she was just like "this is what this boy is doing, and he is working hard, I support him." My dad took a little longer, I saw him last year, before last year I had not seen him in five years. When we saw [each other] last year, I could see it in his eyes that he was proud.
Most of the artists in Nigeria are just getting into merchandise and the merchandise culture in Nigeria is not really big. Why did you decide to bring out your cult merchandise and what does it represent to you?
I have always wanted to go into fashion. I chose the word cult because it means [having] a following, and they say my music is "culté." In fact, my music is "culté". People in Nigeria, they always have a negative thing with cults, I am not in a cult but the more controversial, the better. The main reason why I like the word "cult" is that it [implies] a following. Cult followings represent underground stuff going on that's heading somewhere, and that's where I believe my fans and I are right now. We are an army, we are rising. The culture in Nigeria is not that big, but I have a following outside of Nigeria as well.
Image via the artist's IG.
Through your behind-the-scenes videos online, it is clear you are heavily vested in the creative direction and outlook of your brand, who are the people that really inspire you?

A lot of military people. Thomas Sankara, Jerry Rawlings, 2Pac. I watch Fela sometimes. I like brave people. I feel like all these greats that we know, they were brave. On a musical level, I feel like for you to be a legend you must have stood for something. If you don't stand for anything, you will fall. I watch these people because I feel like I am fighting over here, I'm not even trying to be a leader, but I will speak the truth.
Wildfire peaked at number 2 on Nigeria's Apple music charts, has it surpassed the expectations you had for it?
It's number one I want. I am not stopping till I am number one.
After all is said and done, what does Prettyboy D.O want to be known for?
As a man that started from Osapa London in Lagos, Nigeria and made the whole world believe in themselves.