With his photography, South African photographer Kgomotso Neto aims to change the perception about black spaces such as townships and taxi ranks. The self-taught photographer's work has attracted lots of media attention—he has been profiled by most major media platforms in South Africa—and for a good reason. Neto recently became one of 160 photographers chosen out of 2800 applicants for the 2018 New York Portfolio Review.
---
Neto's journey as a photographer started with a camera he bought while still working a call center job after dropping out of the University of Johannesburg in 2011.
From then on, he took photos of the garbage collectors in the Joburg CBD. He learned that they weren't homeless, as they are normally perceived, and that they make decent money. This sparked the idea of telling stories of more black people who are negatively perceived, through photos. His photography took on, online, as a lot of black people could relate to them.
His collaboration with Nemakhavhani, a photographic series called The Honey went viral and saw the two artists participating at the 2016 Fresh Produce category at the Turbine Art Fair.
The NY Portfolio Review is an annual event sponsored by the New York Times Lens Section. It will take place in April, and is an opportunity for photographers from around the world to showcase their work and also get mentorship from more established photographers.

The event also offers an opportunity for photographers to meet potential buyers, curators and publications.
In the Q&A below, Neto talks about lacking confidence, turning his hobby into a business, the role played by the Internet in his success, and avoiding poverty porn with his work, among other things.
How did you find about the New York Portfolio Review?
I knew about it since last year. A friend of mine, Andile Buka had applied for it and he went there. He recommended it to me. I didn't put much thought into it. I applied only two days before the deadline.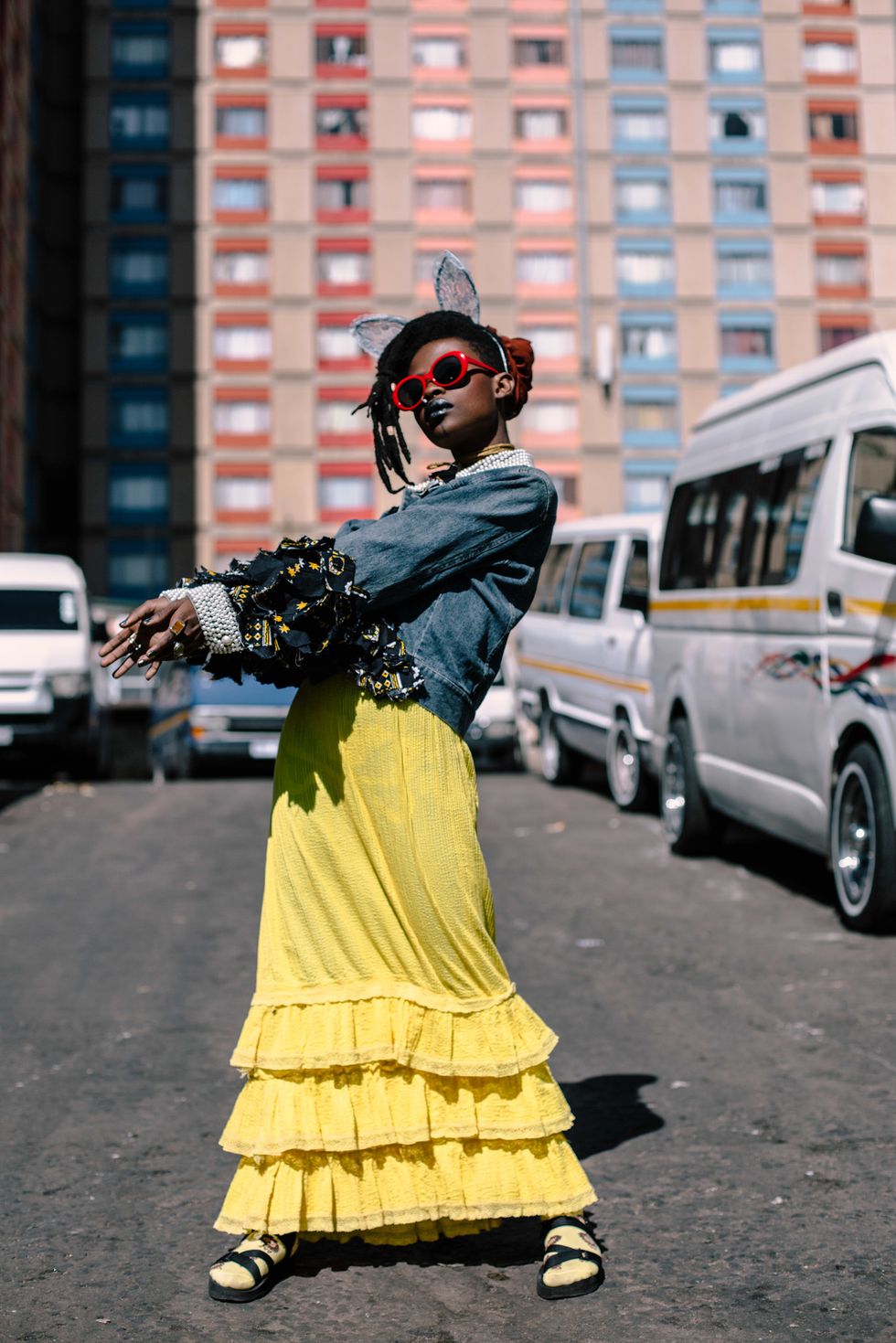 Jojo Abbot. Photo by Kgomotso Neto.
You said on social media that you hardly ever apply for competitions. Why is that?
It's a confidence thing; I always feel like I'm not gonna make it. Chances of me making it are slim; there are always many talented people entering. And it's also the requirements they have—you end up stuck somewhere and thinking you'll come back to finish applying, but you end up not coming back or when you do, the deadline has passed. But with this one, I was like let me just try it. When I received the email that I had made it, I wasn't even thinking about it anymore. I was happy, and I told Andile, he was also happy. Then I found out there was another South African who had made it, Reatile Moalusi, who I hadn't met before. But I've had him on social media and know of his work.
Speaking of things like those, has it also been difficult applying to secure residencies?
I'm self-taught, right—everything I know I learned on the Internet, the streets and from friends. So applying for residencies and competitions, you sort of get taught… if you went to school for photography, you are equipped with that information and what steps to follow. But I never had that knowledge, I never really thought of myself as someone who'd do a residency or win a photography competition. So I never had the confidence. My work has always been shared on social media, and my blog. It's always been that thing of 'I shoot and I post,' so it was a hobby. And you look at the people who apply for residences, they have bodies of work, and you compare yourself and think 'I'm not there yet.'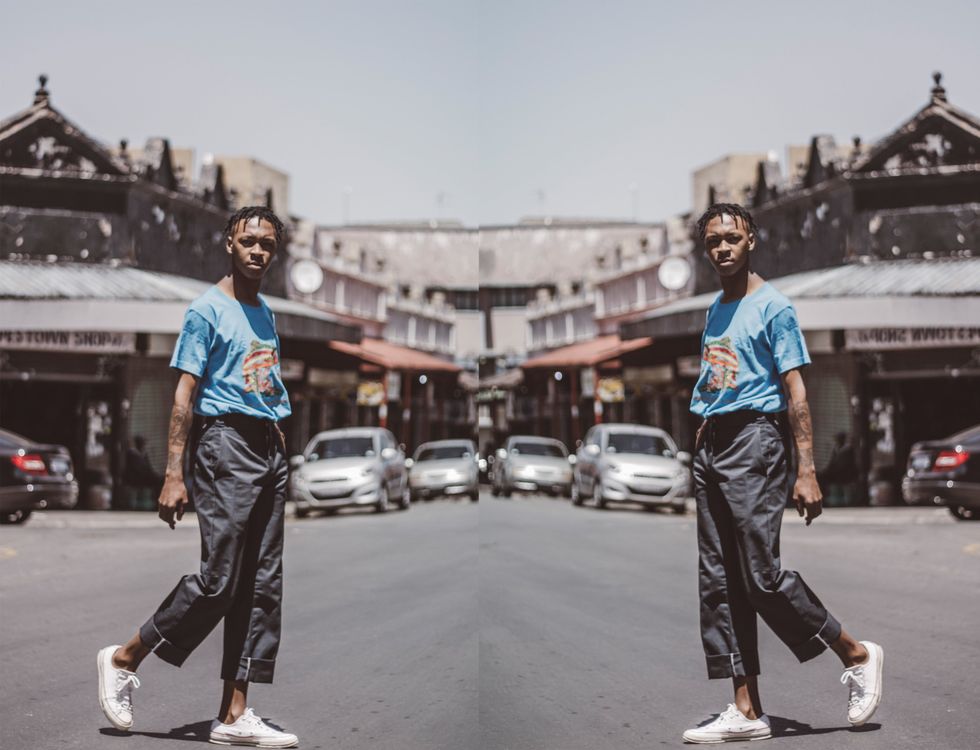 New Age Pantsula. Photo by Kgomotso Neto.
So you got to where you are today because of the Internet?

Partly yes, I could say that, because that's how people got to see my work. It didn't just blow up merely because of the Internet, it blew up because people could relate to some of the stuff. It's a fresh way of looking at Joburg, especially the townships. I don't really know what people saw, but they probably saw themselves in the work from a really different perspective. As much as I post my work online, I've found that it goes beyond the Internet. I've been part of art fairs where I've shown my work and got interviews from magazines—like Edgars Club—which are mostly read by people in the rural areas. Interviews from Thobela FM, which is mostly for people in rural areas. For me, that's the main point of doing this thing—reaching people who are beyond the Internet bubble. People who need this information, because I also come from a background where I never got to access this type of information.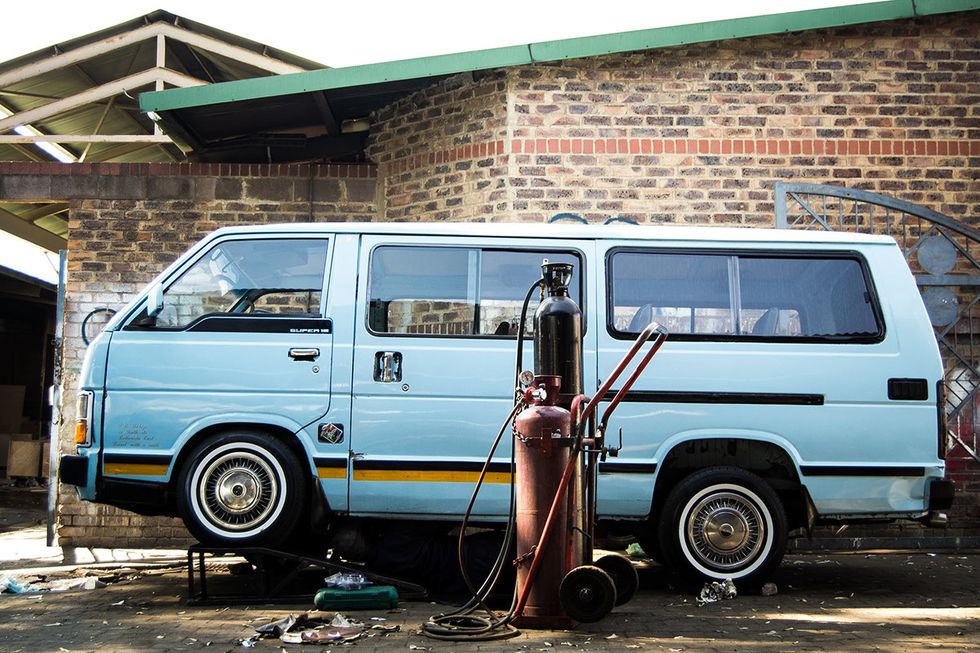 Photo by Kgomotso Neto.
I read an interview you did with the Mail & Guardian sometime ago, and you said something that has really stuck with me since. You spoke about photographing people in the hood beyond it being poverty porn. How do you ensure your images don't look like they were taken by an American or European tourist?

I think more than anything, we grew up in these places, man. I mainly shoot spaces that I'm mostly familiar with. Familiar in the sense I know the people who live there; we sort of go through the same struggles. So initially when I started shooting, it wasn't a conscious thing. Even till today, I don't even know how I do it. But I still follow the same of process when I shoot. Our spaces, mostly black spaces, we tend to think very negatively about them. For me, there was a point where I thought 'why not change our perception of those places?'—how we look at taxi drivers and the townships. It's not conscious, how I move away from the whole poverty porn thing. For someone who doesn't understand that space at all, it's very easy for them to take poverty porn pictures because aesthetically the stuff is pleasing but you don't understand the struggles the people go through—what it means to be someone who sells tomatoes at Bree, those sort of struggles. But we all have cousins and aunts and family members who go through this stuff. I can relate to them in that sense, so naturally it comes that I have to uplift this person.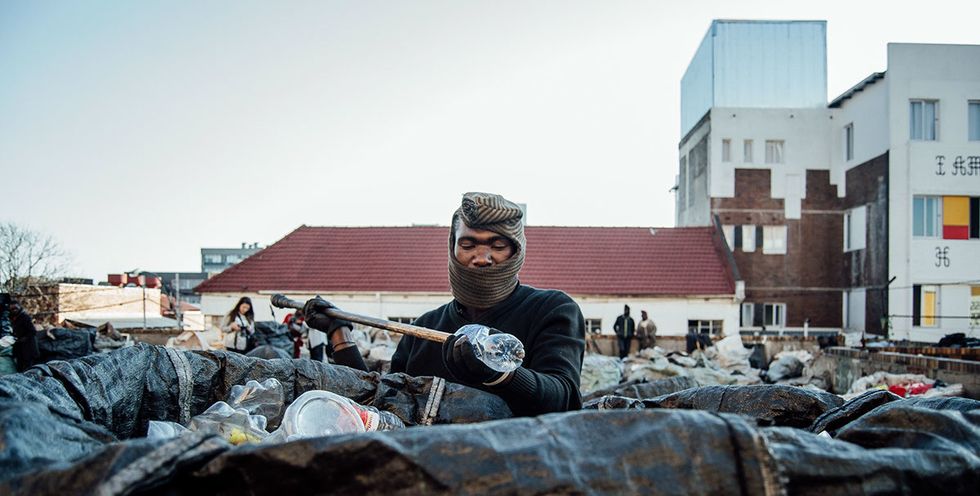 Photo by Kgomotso Neto.
Shooting in black spaces as a black person, I can imagine you face a lot of resistance. I'm trying to imagine you approaching a taxi driver, and he's just like "mfanam…."

It's funny because not really. I think we all have this perception about taxi drivers, which is true, they are quite rude, like really rude, but I get them asking me to take pictures of them. I think, with people, the moment you tell them that 'I'm here to actually tell your story,' they will welcome you. Because they aren't used to that. I remember I used to shoot at the Jeppes hostel, the nduna there used to be so pissed off at people who used to just come and shoot and go write really messed up things about the hostel, but they never wanted to hear their side of the story. So the moment you get there and you like 'yo, I'm actually here to tell your story,' that's when they actually get to open up. And they start getting familiar with you and just allow you to do whatever. Asking for permission is very important; don't just rock up and start shooting. Which is what a lot of photographers do.
There's always an element of storytelling in your work, for instance the The Honey series. Have you ever thought about adapting it to film?
The Honey is a collaborative project between me and Rendani Nemakhavhani, it's her baby actually, it's her project, she hit me up. We've done a video thing which never dropped, but it was supposed to. And we are actually in the process of creating a short film thing. Because people have been asking why we don't do a film. So it's happening.
When it comes to turning your hobby into a business, what have been the challenges?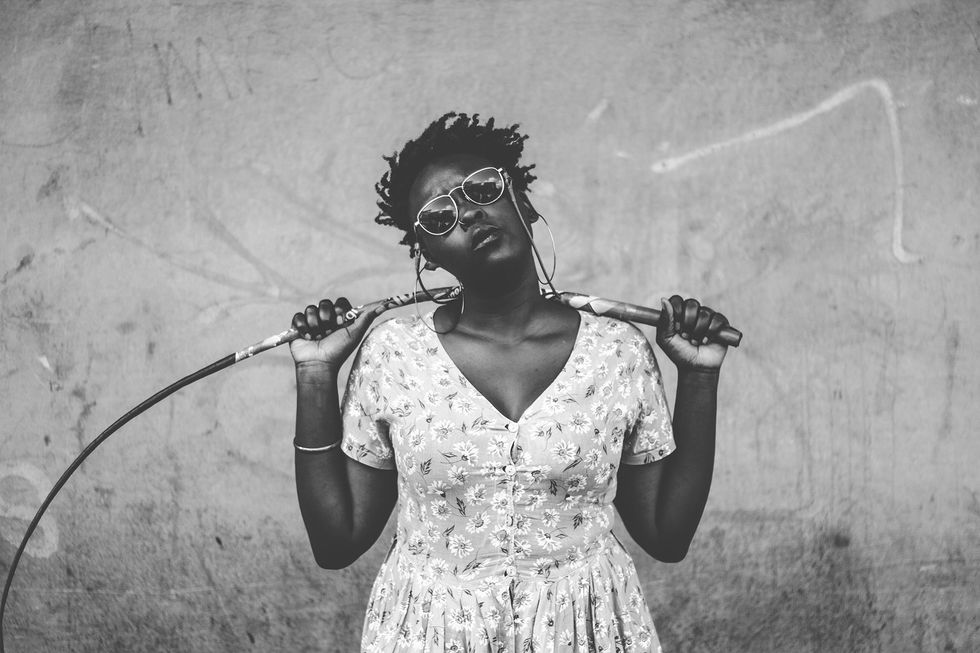 Photo by Kgomotso Neto.
What's your main clientele?
For the past year, it's been advertising. I've done work with a lot of advertising agencies. If you notice, there's a whole wave of brands trying this whole kasi [aesthetic]—being really South African about stuff. And for a very long time, people used to tell me, 'dude, do you know how many people are referencing your work in advertising?' And I used to get so pissed off because they never called me for these jobs, and if I was called for them, they would be like 'you don't have enough experience.' I've lost a few big jobs because I was told I don't have enough experience, but my work was taken as reference for some of the stuff that was created. But for the past year, it's been starting to happen that I'm actually called because they had referenced my stuff and they ask me to shoot too. So it's mostly been advertising jobs and also I'm a huge collaborator, so people who want to collaborate on an idea they feel I can bring to life, that also happens. A lot of profile stuff for artists, I also do that. I do a lot of creative magazines, like Between 10 and 5, I freelance for them, and now I'm getting into the commercial stuff like Elle. Stuff that I really do a lot of is behind the scenes stuff for ads, short movies and billboard work. So it's mostly around advertising.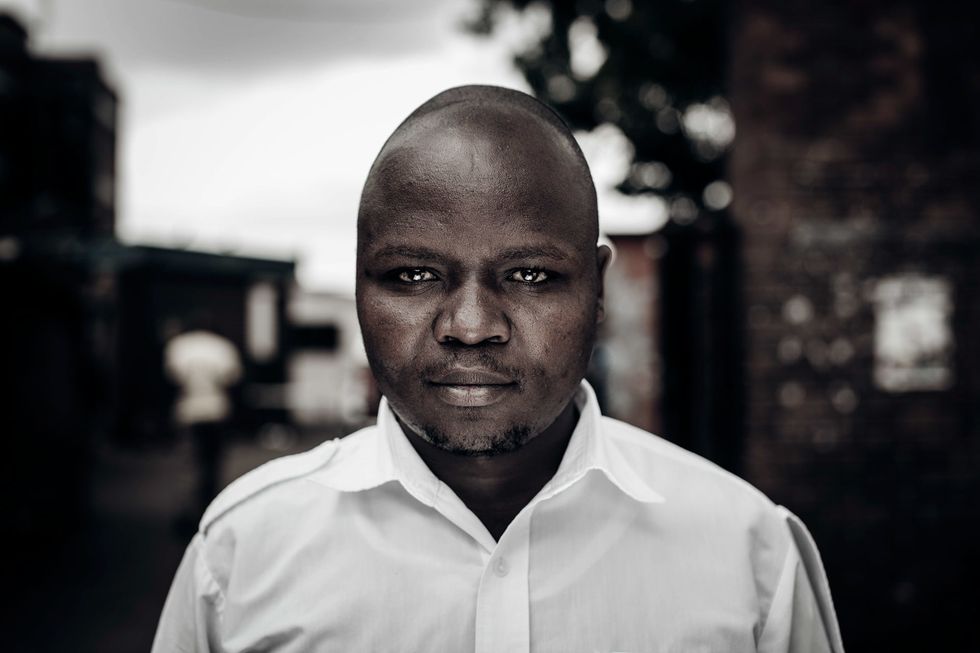 A resident of the Jeppes Men's Hostel. Photo by Kgomotso Neto.
So moving forward, you have any plans or aspirations?
(Chuckles) I don't know, man. Even where I am now, I've never planned for any of this stuff to happen. So it's like things have just been happening to me. I know that can be quite dangerous. But the main thing for me right now is to just grow my business and grow my craft. I need to stay true to my craft and make sure it remains what it's always been. I don't want to deviate from it. I've done a few commercial jobs now but they still follow the same thread of what I was doing when I started. So even if the work gets bigger, it should always have the same thread that I've always had when I started. So even if it goes global it should with the same agenda that I have of changing perceptions through photography, which I feel like is part of a whole movement that's happening right now, and I feel like I'm part of it.
You can assist Neto get to the New York Portfolio Review by buying prints of his work.
Contact him and view his work on Instagram, Facebook, Twitter, Behance and his website.