AKA's latest single "Fela In Versace" might just be his biggest song to date. The song spent the last five weeks sitting comfortably at the top of the charts on METRO FM, one of South Africa's most influential urban radio stations. The single features and is produced by Nigeria's Kiddominant, who also produced "Jika" on AKA's latest album Touch My Blood.
---
"Fela In Versace" was singled out by fans as the best song on the album upon release. AKA already foresaw this reaction, holding the song dear to his heart himself.
"Let me give you a bit of background about this song," AKA told attendees of the album's intimate listening party, a day before its release in June. "This portion of the album," he continued, "we realized we can't make the same type of music. I've never been the type to make the same type of music. I wanted to make something with a Naija type feel. I met this guy called Kiddominant, he's worked with Davido, WizKid and a whole lot of people. And I think this song is going to be one of the biggest songs in this album. I want to shoot a very corny Naija type video, with a big mansion, Phantoms, a gold cane… the Don Jazzy type vibe."
Well, the video isn't quite what he said on the night. Instead, AKA and Kiddominant hit the gully streets of Joburg and hung out with some izikhothane, rode in a Ferrari rocking Versace, Gucci and Balenciaga.

A few days before the "Fela In Versace" music video shoot, Kiddominant and a few friends are huddled in a spacious apartment in Sandton, in the north of Johannesburg. The artist is also doing a few interviews. "I'm South African by affiliation," he says laughing after explaining why he's here. "I love South Africa as a place, love the food, and the people. Cape Town is my favorite vacation place in the world. It's a combination of New York, Venice, Miami, LA… all of that together, but still sane and not crazy, you know."
Below, is our conversation with Kiddominant, edited and condensed for clarity. He discusses working with AKA, his favorite South African artists, and how Afrobeat will be as big as hip-hop in the US in the near future, among other topics.
---
How did you meet AKA?
I was in Cape Town on vacation last year. His management reached out to mine, saying they would like to work, they were working on the album in Sun City. So we went there and did "Jika." And after that we met in the States and did "Fela In Versace."
What was it like working with AKA?
He's a very fun person to be with. Always active. It was natural, very organic, good vibe and energy.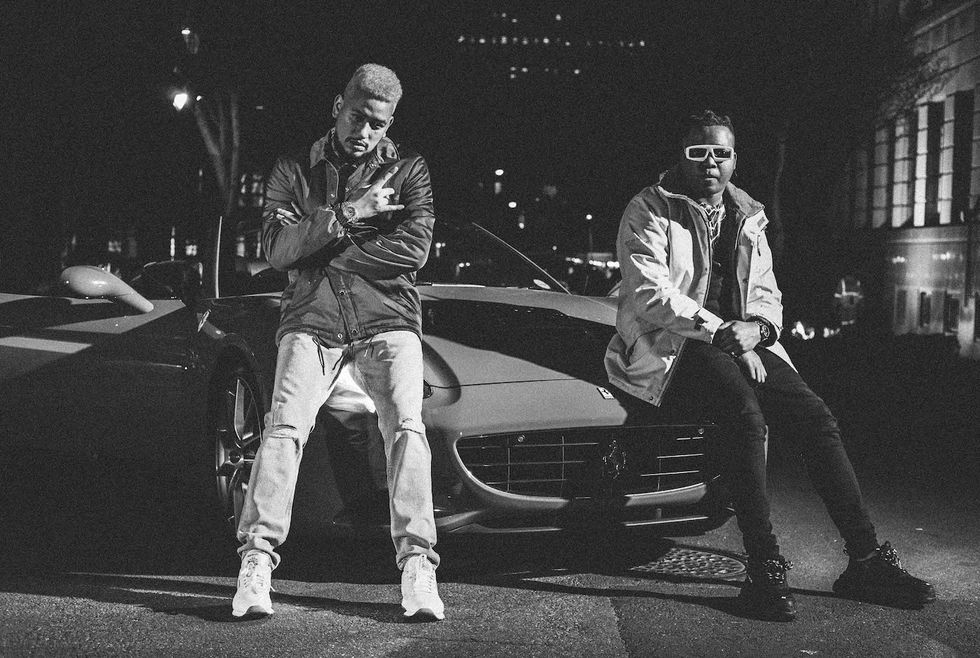 AKA and Kiddominant during the "Fela In Versace" video shoot. Photo by Sabelo Mkhabela.
Working on the song, was it just you playing him a couple of beats and him choosing from those or did he tell you exactly what he wanted?

For "Jika," it was like let's start something. I just played him something [I was working on] and we started working on that beat, and he just vibed with it like, 'ooh, this one, this one.' For "Fela In Versace," it was more like I already had the beat done, I knew he would like it. When he heard it, he was like, 'this is crazy bro.' it was fun.
Who came up with the "Fela In Versace" concept?
That was actually my idea. The whole hook was my idea. He came with the 'finisher, punisher' parts.
You have a versatile style. You even produce some reggae, and you started as a hip-hop producer, what's next for you? What are you currently exploring?
I love being introduced to new cultures; tomorrow I might make a Chinese track. There's beauty in creating new stuff and not repeating stuff like a lot of producers do. So I'm busy creating new sounds, something beautiful, something amazing for the audience? I can't predict what's next for me, because I don't know what will inspire the next record. It might be a Soweto guy singing in English, I don't know, it might be a Cape Town person, I don't know….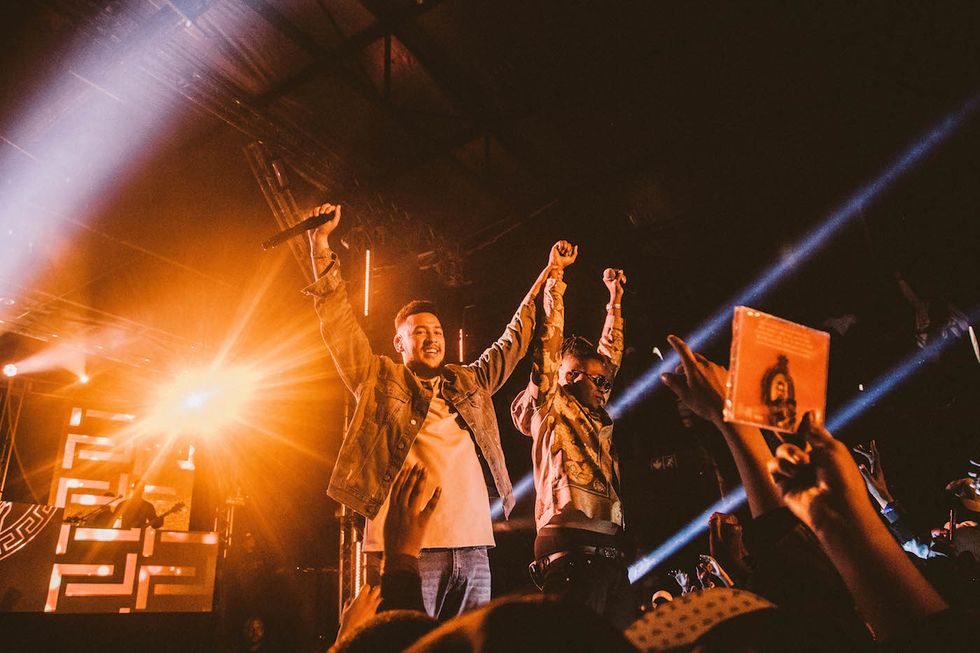 Photo by Sabelo Mkhabela.
Who are you currently feeling in SA, and who else would you like to work with?
I feel like SA has a lot of dope artists, from AKA to Cassper Nyovest, to Nasty C, to Nadia Nakai, Sho Madjozi, everybody… if there's anything I like about the south African market is the fact that there's a room for every genre of music to be successful. In West Africa, where I'm from, it's like you need a club song to succeed. When I was on the plane, I was listening to (starts singing) "Loliwe, Loliwe!" Amazing record. I'm sure that song was successful, see songs like that are still good. But in West Africa, at this point, it's kinda like difficult, you have to be on the shaku shaku, you know.
Nigerian music has been a very successful export, especially in the US, but not so much SA music, why do you think that's the case?
I think as Nigerians, we work 10 times harder than the average African. Trust me, it's in our DNA, we are hustlers, man. So it's the extra mile artists are going pushing their music. And also the fact that in places like the UK and the States, the population of Nigerians there is very high. So we share our music with people around us, eventually it spreads out.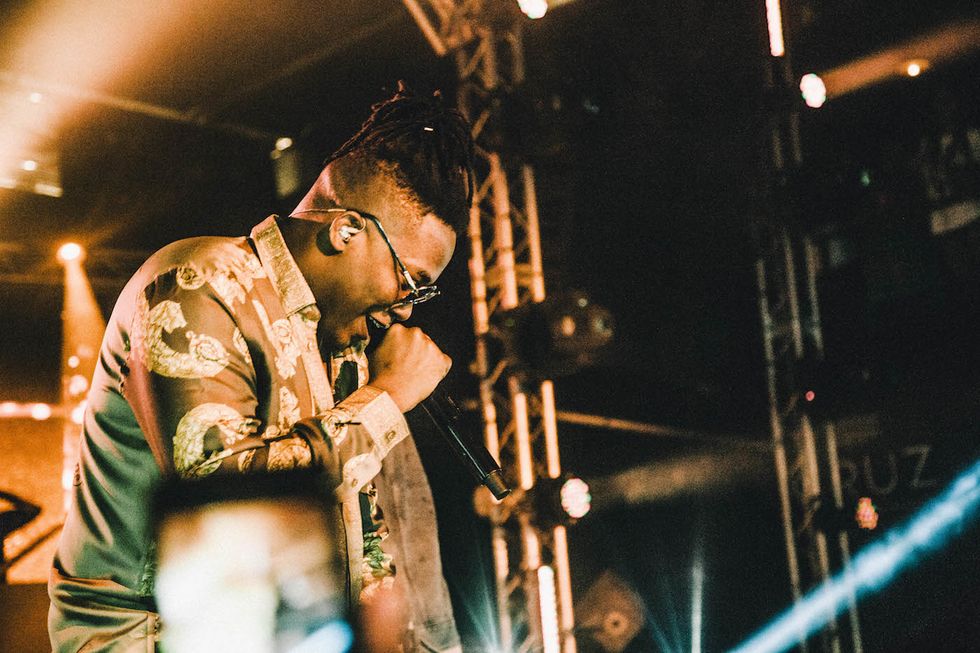 Photo by Sabelo Mkhabela.
Coming back to the Fela reference on your song with AKA. You grew on Fela Kuti?

Of course, I grew up on Fela Kuti, Sade, Lagbaja, Fela's Kuti protégé. A lot of Michael Jackson, Timbaland, 2pac, B.I.G…. I grew up on that.
You've kind of reached the ceiling so early in your career. You've already worked with the likes of Davido and Wizkid, what more aspirations do you have?
There's a whole lot of stuff in my head. But in the short-term future… I did a US tour, a DJ tour, and Mauritius earlier this year. Next month, I'm doing the UK and [other parts of] Europe. Also, I will be dropping my video for my official single featuring Wizkid.
Are you working on a project currently?
Not necessarily. I'm not rushing. I want everybody to ask me for it. I've seen a lot of people drop and it doesn't fly, I don't want to make that mistake. I feel like I'm enjoying the space with "Fela In Versace," the way people have accepted it.
What do you think is the future of afrobeats?
In a lot of American clubs, it's normal to play afrobeats now, especially Davido and Wizkid, they're playing a lot of their music. I feel like it's only a start. Ciara just featured Tekno, all those things, in like the next three years, afrobeats will be almost as mainstream as hip-hop.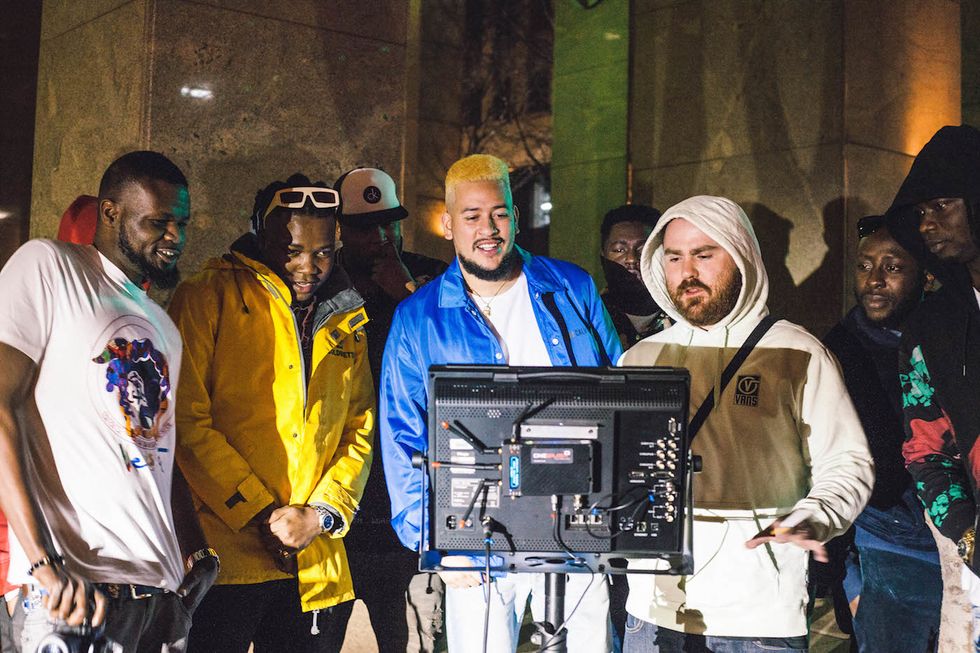 Kiddominant, AKA and director Nate Thomas during the filming of the "Fela In Versace" video. Photo by Sabelo Mkhabela.
I read somewhere that you made the beat for "The Money" by Davido and Olamide in SA because it's calmer here. Do you get a culture shock when you come to SA?

Joburg to me is almost like Lagos. But a place like Cape Town… I made the "Fela In Versace" beat in Cape Town. Cape Town has that peaceful vibe, it's calm, looking at the sea, the trees… it's always a good vibe.
The "Fela In Versace" beat, did AKA tweak it?
All the sounds are mine. He only tempered with the arrangement, but the sounds, he didn't tweak any of them.
Your equipment, are you a software kinda guy or you play actual instruments?
Yeah, I play instruments, I like everything organic, natural stuff. When it comes to food… I like it natural. On "Fela In Versace," the guitar is like live. I like natural sounds, but at the same time I incorporate the synth sounds to make pop music, but the presence of real sounds is very important to me.
Below, Kiddominant decodes the hook for "Fela In Versace."
Video by Tseliso Monaheng.

Follow Kiddominant on Twitter.