Two days before the release of his third studio album, AKA makes a grand entrance at one of the many enclaves of Moyo Restaurant in Melrose Arch at Johannesburg's posh north. This particular enclave, which is filled to the brim with journalists, family and friends of AKA's, media personalities and artists, boasts decoration that doesn't tell you there's a listening session for a hip-hop album being held here—it looks upmarket with helium balloons floating all over.
"I didn't want it to be some small event with a bunch of journalists in some studio somewhere," says AKA when he eventually gets to speak. This is after he has sent salutations to those close to him present at the event—he hugs his mother, dances with her for a few seconds, hugs and shouts out some of his goons. Later, he will recognize Tibz, his first ever manager, in the audience and pay respect to him.
---
This event is fitting for an album of Touch My Blood's stature—one of the most anticipated albums of the year in South African music, not just hip-hop. AKA, since 2016, has been reluctant to consider himself a rapper, or hip-hop artist. He prefers to be called a pop artist. "Yes, I'm a hip-hop artist," he will say later just before playing "Fela In Versace," a song in which he features Nigerian artist Kiddominant, and appropriates the afrobeats sound of Nigeria. He jokes that he will make a corny Naija style video for the song. "With a mansion," he says, "The Don Jazzy style of videos."
Explaining why he made a song of this kind, he says, "I'm a pop artist in my own mind, so I wanted to make different types of music."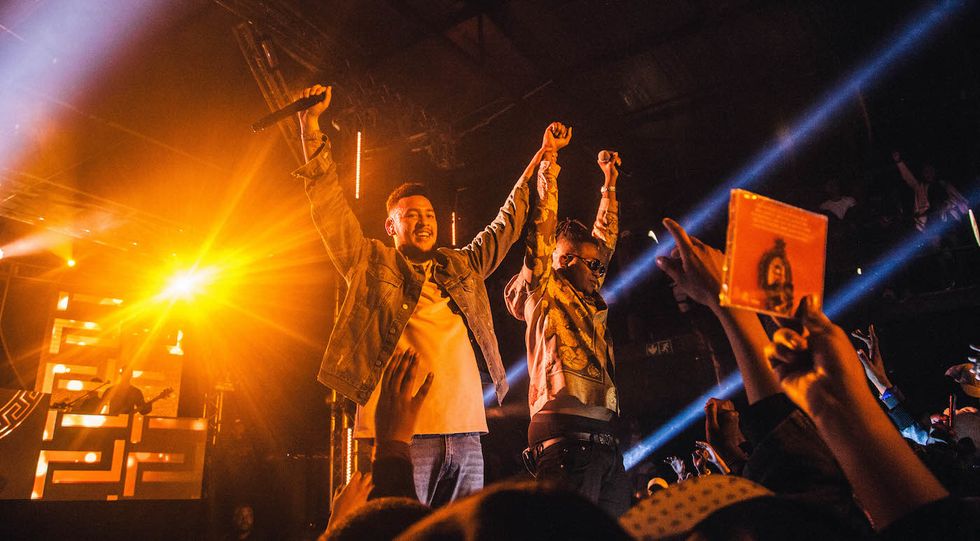 AKA and Kiddominant perfrom "Fela In Versace" at the Touch My Blood release party at Zone 6 Venue in Diepkloof, Soweto. Photo by Sabelo MKhabela.
A pop artist he is. His song "Baddest" was one of the most played songs in South African radio in 2016. The Burna Boy and Da L.E.S-assisted "All Eyez on Me" from his sophomore album Levels (2014), has been streamed more than 3.8 million times on Spotify South Africa, according to the website.

AKA didn't just go against the odds by being one of the first rappers who use mostly English in their lyrics to properly blow up in South Africa, paving the way for the likes of Nasty C, A-Reece, Rouge, and more. He also went on to have the longest reign in the mainstream, having been the top dawg since 2011 when he dropped the single "Victoty Lap." What then happens when he wants more?
Just like with most of his moves, it starts with the music—AKA is one artist who lets his music do the talking. Touch My Blood, even though it features a reasonable amount of rapping, isn't a straight rap album. No one expected it to be, anyway.
"Touch My Blood," the album's opening song, which is the first one to play tonight, is reminiscent of "Bryanston Drive," the opening song of Be Careful What You Wish For, his collaborative album with Anatii. On both songs, he raps as if to prove that he still can. He displays comfort, a facile tongue, impeccable breath control, and combines bravado and vulnerability effectively. "When he raps, you can tell he spends a lot of time with Tumi," a friend of mine at the listening party whispers in my ear as our faces contort to how in control AKA is on the song. He raps in lines of varying lengths, using pauses to fit his lines in the beat's pockets.
Shouting Out Legends and His Coloured Identity
A few things strike me about the lyrics on "Touch My Blood." One is him name-dropping legendary South African hip-hop crew, Brasse Vannie Kaap. On the song "Me and You," he also shouts the legacy of Grandmaster Ready D, who is a member of Prophets of da City, one of the first South African hip-hop crews. In general, South African hip-hop is ahistorical—so AKA mentioning these legends is refreshing.
Secondly, on "Touch My Blood," he mentions his coloured identity, which he hardly ever did in his previous albums. He raps:
"They tell me to relax/ I massage my own ego/ Started me a band, and cloaked guitar hero/ Brasse Vannie Kaap, we not from Mondeor/ People of the south, they bump me, not Migos."
Here, AKA, is subtly calling out the wholesale grouping of a race. "Identity is definitely linked to where you're from," he said in an interview with Slikour On Life, "I was born in Cape Town, my family is from Cape Town. I identify as a coloured from Cape Town. But at the same time, I think in 2018, not all coloured people are one way; we don't all wear Dickies, I wear Reebok."
On Touch My Blood, AKA uses more coloured slang than he has before. He has mostly been using Joburg slang from the black townships throughout his career. But on Touch My Blood, AKA reaches out to the coloured community. In the video for the album's lead single "Fully In," which he will screen for the first time tonight, he's in a coloured neighborhood, interacting with young people. It reminds me of YoungstaCPT's videos. It makes me ask myself what the existence of YoungstaCPT means for South African hip-hop.
Since YoungstaCPT emerged, he has always been about being shamelessly coloured. He gave coloured kids something to look up to in an industry and a country where they are seemingly not allowed to be themselves. Mainstream TV mostly shows coloured people in a negative light—as gangsters and drug addicts. YoungstaCPT counters this negative narrative with videos that show coloured people for who they are from a lens of a person who looks like them.
Politics
The third thing that strikes me about "Touch My Blood" is the mention of the leader of South Africa's official opposition party Democratic Alliance. On the first verse, AKA raps:
"Pre-94, I was a larney/ Post-94, kwenzekalani?/ Grand folks voted for the party that threw us in the garbage/ Mmusi Maimane say that we the next Zimbabwe/ All I see is Zimbali, for my suite in Dubani"
Save for the likes of Reason, YoungstaCPT and Stogie T, South African mainstream rap is disturbingly apolitical, in a country that is, to put it mildly, imploding. AKA has been one of the few mainstream rappers who have been vocal about politics—mostly by showing his support for the leading party ANC on Twitter and in their election campaigns. But this is the first time he makes a directly political statement on a song.
In the lines quoted above, the rapper dismisses Maimane's claims that South Africa's economy will eventually crash, like Zimbabwe's did. AKA doesn't see that happening. Why? Because he checks in at the exorbitant Zimbali Resort. This stance is ripe for analysis by the scholars, and not by this writer at this moment.

On the song "Amen," AKA proves he's not all far removed from the realities of everyday-South Africa. Him and the rapper L-Tido trade some bars over a loop of Hollis P Monroe's "This Is Goodbye." AKA expresses his willingness to uplift young South Africans growing up in the hood. He raps:
"If I was a president like Thabo/ I would pull up all the kids from Eldos/ And I put on them up on the couch with Thato/ That's the bro bro, something like Bakos/ Ten years been the king of the castle/ Break' em all lil cheese like nachos"
"I'm not a politician, or a freedom fighter or anything like that," says AKA before he plays "Mame," the second last song on Touch My Blood during the listening event. "But I do feel on touching on these subjects, kind of providing inspiration to people." "Mame" is that mandatory "political" song on TMB. But, even though catchy, AKA's sentiments on issues of that kind sound more convincing when they slip through the cracks in other songs. "Mame" is, however, anthemic, and is one of the songs, alongside most of the album, in which AKA's pop vision makes sense.
Relationships and Too Much Information
On "Beyoncé," which is obviously about his relationship with ex-girlfriend Bonang Matheba, AKA is not shy to be vulnerable. He gives some make-up to break-up anecdotes of the relationship. On the second verse, he misguidedly attributes him cheating on his baby mama to a flaw in his girlfriend's character. He sings, "Waited two years just to see you without your weave on/ Tell me what does that say about your character?/ You was fucking me when I was busy paying damages." Like, what?
What's admirable about the songs on Touch My Blood, though, is how AKA seeks to tell his story and express his feelings more than political correctness. Which is why he will mourn a break-up, like he does on "Sweet Fire," and reflect on "Daddy Issues II," a song in which he sings, "My nigga, never love a woman more than she loves you." It sounds visceral and honest—break-ups tend to get messy, and even Supa Mega can get out of his element when the feels take over.
Touch My Blood lives up to its title. Apart from boasting the man's most ambitious and experimental songs, it's a body of work that introduces you to the man behind one of the biggest names in South African music. While on his previous albums, Altar Ego (2011) and Levels, he still told personal stories, his life wasn't as public, so it wasn't always clear if the songs, especially those about relationships, were fact or fiction.

But this time around, a lot of lines and songs can be decoded and pointed to a specific person and event—and he gives vivid vignettes about his life, sometimes getting a bit TMI. Like when he sings on "Beyoncé," "Remember in London when I took you to see Miguel?/ Remember when I kicked you out the hotel?/ 50 minutes later I was blowing up on your cell?/ We was crazy since the pool on some TMZ shit."
Hip-Hop Roots
Even with this transition to pop, AKA, however doesn't abandon his hip-hop roots. As mentioned earlier, he raps impressively on the album opener, trades some bars with Stogie T on "StarSigns," and with Kwesta on "Magriza." "Fully In" is the closest he gets to trap, he raps and renders a chant hook. "Reset," which features OkMalumKoolKat, also has some raps, but the melodic hook dominates.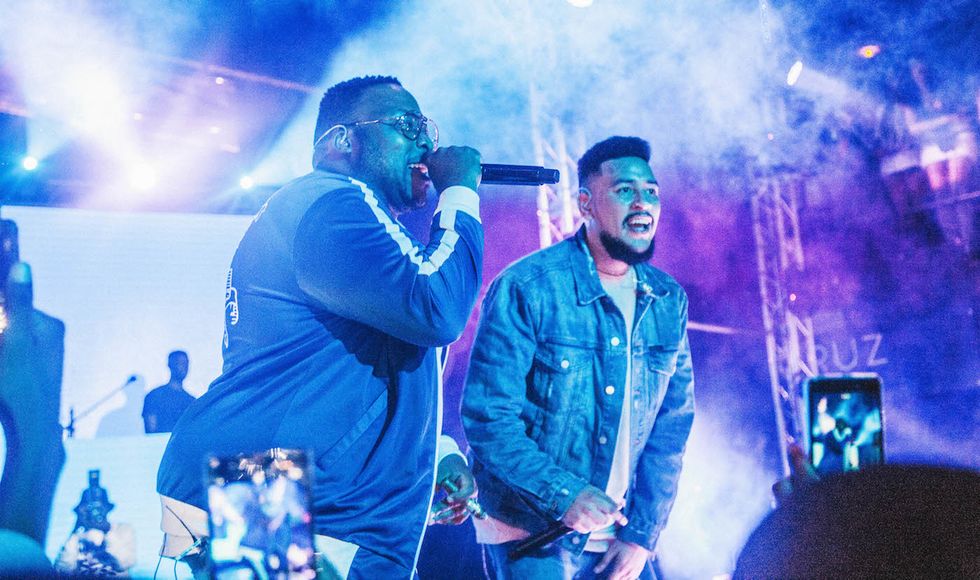 Stogie T and AKA. Photo by Sabelo Mkhabela.
"Magriza," which features Kwesta, is one of the most definitive songs on TMB. It's produced by Buks, who, alongside AKA and Kamza, used to be part of the production trio IV League, which was formidable in the early 2010s, producing hits for the likes of Khuli Chana, Pro, ProVerb, among others. AKA and Kwesta came up around the same time, in the late 2000s.
"We had to do some rap records, you know," says AKA. "If you listen to ['Magriza'], it has that whole IV League kind of AKA before AKA laughed in auto-tune type of vibe." He laughs, but not in auto-tune this time around, and repeats the statement, "Laughs in auto-tune," trolling those who troll him about his heavy use of the pitch-altering software in his music.
"I believe that besides me, Kwesta is the guy," he says explaining why he chose to collaborate with the K1 MC. "In some days, he might even be more of it than me. Jokes. No ways (laughs). But he's my brother, I love him. And this is the song that me and him did. It's also produced by Buks. Buks from IV League, who started out with me. I thought it would be cool to come full circle and do a song with him, the first person that I started making music with."
With Touch My Blood, AKA delivered a great pop-rap album with strong songs that also sound great together. He gathered songwriters such as JR and Yanga Chief, and producers like Tweezy, Makwa Beats and Kiddorminant to see his vision through. Touch My Blood puts those who were skeptical about his pop forays (myself included) into shame. I listen to songs like "Reset," "Zone," "Fela In Versace," "Jika," "Mame," and picture myself doing a sloppy Madiba Dance to them in my old age.

TMB combines pop and hip-hop seamlessly. It's a combination of the AKA who released Altar Ego and the one we encountered on Levels, who incorporated dance music into his hip-hop. TMB is like AKA's thesis, in which he applies the tricks that gave us his first two masterpieces. While a lot of rappers, especially in South Africa, fail to have a signature sound, AKA has found it. It meshes AKA's influences—hip-hop, kwaito, '90s R&B, 80s pop, old school South African house, among others—into a colourful and tasty monolithic sound.
If this is indeed his last album, as he announced earlier this year, then AKA boasts one of the most solid discographies in South African hip-hop. Short, but rock-solid.
This piece is part of Sabelo Mkhabela's South African hip-hop column. He's happy to debate you on Twitter: @sabzamk