---
This week we continue to bring you the latest news on Africa with selections from different media outlets around the globe. Be sure to check back each Thursday for pieces that dig deeper than the headlines on the latest news on Africa!
1. We Remember Differently: A Tribute to Chinua Achebe at 82
By: Chimamanda Ngozi Adichie
In a personal tribute to Chinua Achebe, Chimamanda Adichie addresses Achebe's most recent book There was A Country, Achebe looks back on the Nigerian-Biafra War, and comes to some conclusions that have been quite controversial. In this op-ed piece Adichie addresses her "literary hero" and admits that in many ways she has been running away from him in most of her career. Throughout the piece Adichie provides an objective critique of Achebe's novel, and illuminates that while a great piece of work, she disagrees with his remembrance of Biafra, and subsequent ideas of the current state of the nation. A great read from the forever-eloquent Adichie- this article provides necessary context to how Nigerians continue to struggle with a remembrance of Biafra. 
2. Think Africa Press Series on The International Day for the Elimination of Violence Against Women.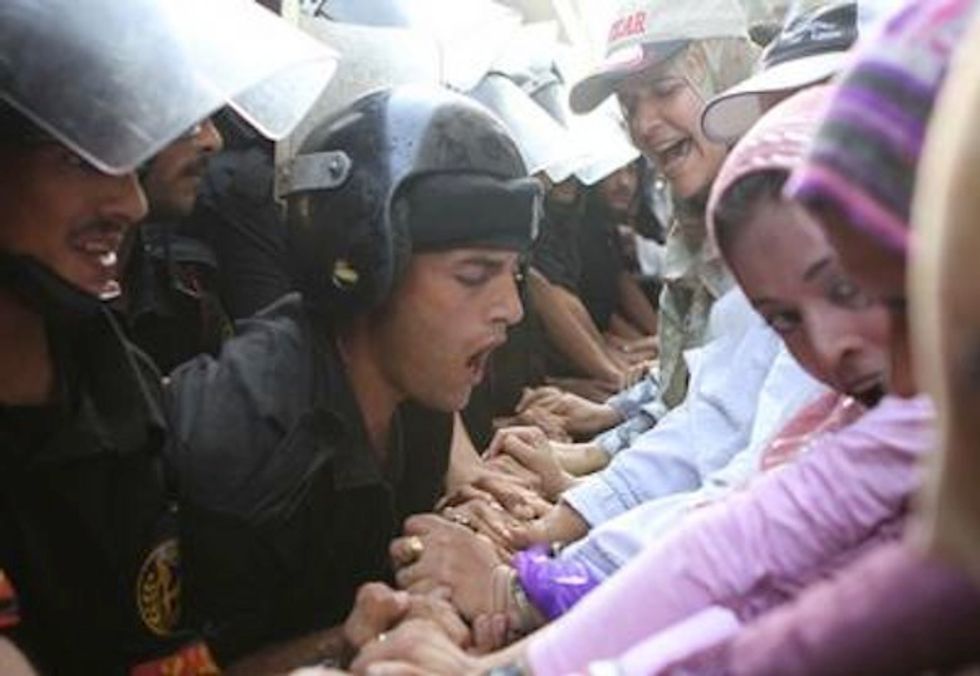 In case you missed it, Sunday commenced the annual "16 Days of Activism Against Gender Violence" Campaign. Think Africa Press has published thoughtful and critical articles the past week so we recommend you stop by and read any articles of interest. Topics range from the persistence of domestic violence in Nigeria, the violation of women's rights law in Sudan, and a personal account of sexual violence in Egypt.
3. Africa's Hackers Are Today's World-Class Tech Innovators
By: Ethan Zuckerman
This week in Wired.Co.UK, Ethan Zuckerman underscores the significance of technology on the continent. He notes the discrepancies in terms of infrastructure highlighting that "on much of the African continent, telecoms infrastructure is world class, whereas transport, power and other infrastructures lag far behind." Some of the vocabulary is slightly tricky for some of us non-techies, but the overall message of the article is worth noting; technological innovation is often associated with the West, and Zuckerman is emphasizing that African techies can certainly hold their own. Zuckerman closes by suggesting that acknowledging these innovations is just as, if not more important than discussing the need for external aid.
By: Jeremy Weate & Many other faithful twitter users.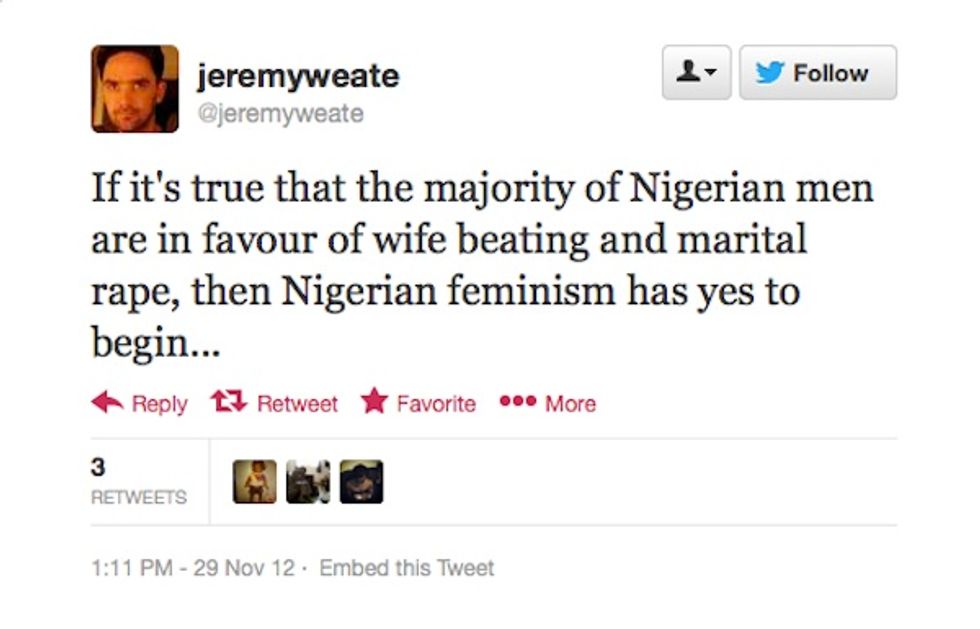 Meet Jeremy Weate, an expert in the extractive industries currently living in Nigeria. We've featured some of his articles before, and this week he's been in quite the debate on twitter discussing the British Council's report on gender in Nigeria. We've linked to one of the many threads on his twitter page in which he tries to discuss the disturbing results from a number of polls conducted and featured in the report, but be sure to check out his general twitter page for the different conversations surrounding the UKAID report. This debate is very interesting to say the least- we're not taking sides here, but it's worth checking out the report, and the twitter discussion.
5. From Gaza to Congo: Whose Blood Is More Worthy of Attention?
By: Khadija Patel
In this article for the Daily Maverick Khadija Patel poses the question: Why does Gaza get more attention than the Congo? Patel is referring to the consistent violence and unrest in the DRC and the lack of interest from media outlets globally on African news and human rights abuses. To be fair, over the past week there has been coverage of the violence in Africa, featured in publications such as The New York Times, but Patel is critical of Africans themselves, particularly South African media outlets: "South Africans, humble as we are, routinely refer to our country as the gateway to Africa. In the sanitised halls of conferences and other such gabfests we're told that South Africa's economic prosperity depends on extending outwards to the rest of Africa. For every one dollar invested in South Africa, 40 cents makes its way across our border. Africa, we like to think, begins here. Yet as the purported doorway to a whole continent, the conflict in the Democratic Republic of Congo has hardly registered a blip on our radar." Check out the article for an overview of the conflict, and a critical assessment of how Africans either engage, or fail to acknowledge atrocities that occur throughout the continent.
The archive:
11/15/12 - "Infiltrators" in Israel, Southern Arab Spring, Bono's African Expertise
11/8/12 - Africa's 1%, Mau Mau, and a Polemic against NGOs
11/1/12 - Biafra, Football, Victoire Ingabire + More!
10/25/12 - Aluu 4, Herero Genocide, EU Nobel Prize + More!
10/18/12 - Die Antwoord, Mo Ibrahim, Thomas Sankara + More!