Music is up there with one of the most impactful forms of creativity, with the power to touch the depths of our souls and move boundaries. It's a form of art that speaks a universal language connecting us to something greater than ourselves, through melodies, harmonies, and lyrics. Music becomes a conduit for raw emotions that resonate with us through our lives, and provides solace, inspiration, and healing in times of need.
For Cameroonian-American music sensation Libianca, music is all and more. The 22-year-old rose to fame when she released "People," a song that was created while she was going through a dark time and became popular on TikTok. "I was going through [it] because I had quit my job, I was tired of working like a slave and getting small money that I couldn't use to do anything." The hit addressed the complexities of human relationships and resonated with millions around the world with its uplifting message, propelling Libianca into the global spotlight.
Born and raised in Cameroon, Libianca's journey to musical success began at a young age. Growing up, she was heavily influenced by the vibrant sounds of African music, which inspired her to pursue a career in the industry. She took her music career a step further when she relocated to the United States, going as far as appearing on a season of American hit music show The Voice in 2021. More recently, Libianca performed at Coachella and just won Best New International Act at the 2023 BET Awards, winning over the likes of Asake.
We talked to Libianca on getting her start in music early on, her influences, how she's doing with the newfound fame and what it means to be representing Cameroonians on the global stage.
Libianca - People (Official Video)www.youtube.com
This interview below has been edited for length and clarity.
What was your childhood like, where did you grow up and how did that affect your career?
Libianca: I was born in Minnesota and at age four I went back to Cameroon with my mom and my brother. I was there for 10 years, so that was a big part of my upbringing. I spent a lot of time with my grandma, she taught me a lot of things. I've been into music since I was between the age of five or six, I was singing at church, singing in the chapel at boarding school. I spent time writing songs in class when I wasn't supposed to.
As time went on my passion for music just kept growing, it was sort of an escape from anything that was going on in my life. For some reason, during that time I was shy, so I didn't want people to know that I could sing, I just wrote my songs in my diary. But eventually, what happens in the dark comes to light, so my family found out I could sing and they started giving me their support and I came over to America. Everything I learned in Cameroon is part of who I am today and the other half of my upbringing was in America so it's 50/50 and I just chose what values I want to carry with me. That's what shaped me as Libianca today.
What were the early experiences that drove you towards music, being a shy kid, was music a way of finding yourself?
Writing songs and singing has always been a way for me to find more of myself, in the way that when I write I learn something new about myself or I gain new perspective on something else, there's always something new that comes from every song that I write. As time went on, I'd say most of my personal and mental growth has been from music, because it's a form of therapy for me. Especially since coming to America, I started recording in studios and it just broadened my perspective on a lot of things and helped me understand that I can get anything I want, anywhere I want to go, I can go there I just have to be consistent.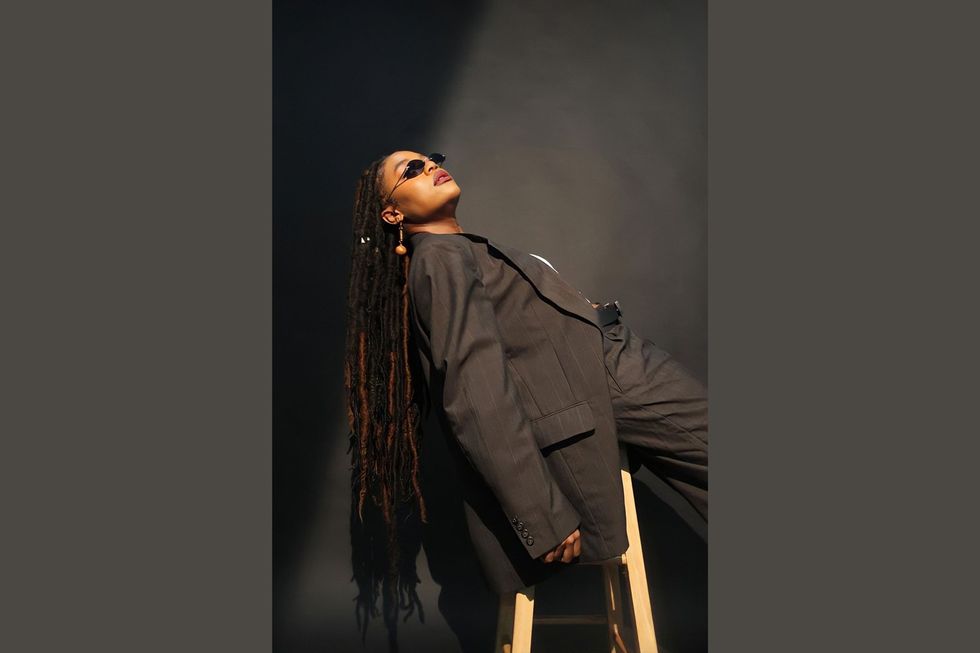 Images courtesy of Libianca.
What do you want your music to mean to your audience, how would you describe your sound?

My music is for the people, it's for human beings, my music talks about things that people don't really talk about with their friends. Like, when you're partying or smoking or just having a good time, there are certain things you don't talk about, but those things are there. And when you go back home and you're wiping your makeup off and getting undressed to go to bed, there are things that you don't talk to your friends about or don't even talk to yourself about. That's what my music is. My music is to help people heal and help people love themselves and be confident in themselves, to the point that they don't care what people say about them and they just feel inspired to do what they want. That's where I want people to reach, I'm their mental growth when they listen to my music.
What was the process behind "People," from the inception of the song to the big break and everything that's happening right now?
Honestly, I've been working really hard my whole life to the point where, even when I felt discouraged, I have still put in the work, because I've known where I wanted to be. I wasn't expecting "People'' to be as big as it is. I've gone from sending my songs to all my Snapchat friends — just hoping that somebody would repost to their timeline — to where almost everywhere I go somebody recognizes my face. What happened with "People" was very unexpected but I trusted God and just let things flow in his direction. And he's not gonna give me anything if I'm not ready for it. It was stressful but as time went on I adjusted, because when your dreams come true you can't complain that "oh my dreams didn't come true at the time that I wanted it to come true." It happens when God wants it to happen and you either take it or leave it. I decided to take it.
What inspired "People"?
Everybody that knows me knows that I'm a very emotional person but I'm not very vulnerable. Even with my friends, there are certain things that I just won't tell people. During the writing of "People," I was going through a shitty time because I had quit my job, I was tired of working like a slave and getting small money that I coudn't use to do anything, so I started selling food from my kitchen. But there was still an empty part in me that was just like "things are not going the way that I want to go and if it was up to me I wouldn't be here."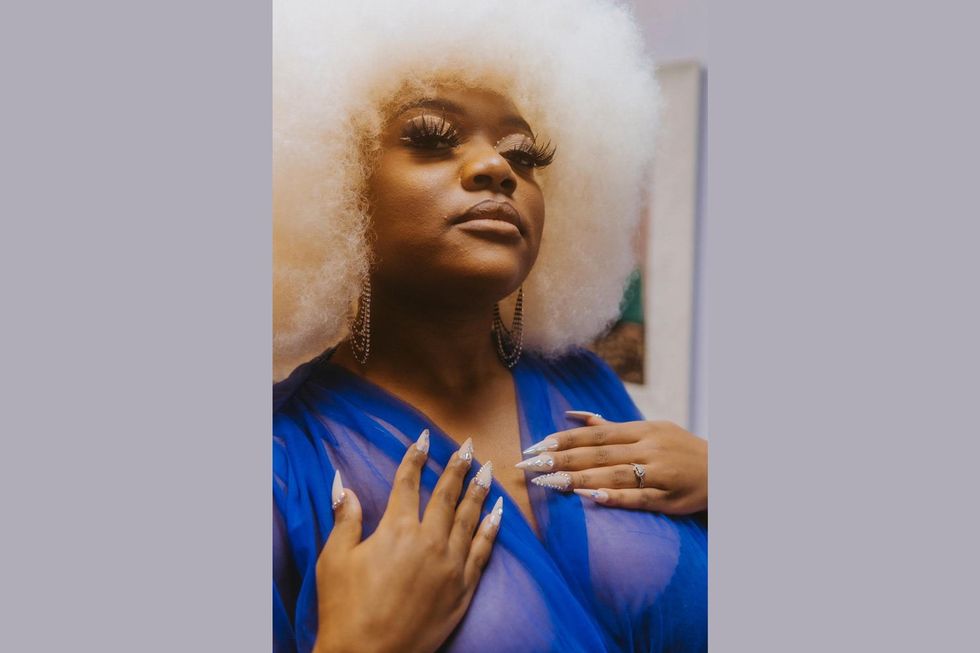 Images courtesy of Libianca.
I have a mood disorder called cyclothymia where there are high times in which you feel like nobody can touch you, you're on top of the world, and there are lows where you're depressed and have suicidal thoughts and the world doesn't have any colour. I was in that low at that time, and it took a while to come out of it. During that period I had some friends over and we were drinking and having a good time and it just felt like I was just faking things. I went to the bathroom and had a complete breakdown, I cried, I let it out and after that I cleaned myself up and told myself I was going to try and have fun and forget about this. I went back downstairs and my friends were telling me to drink, I said no and left to go back to my home studio. I told myself I need to make something, cause usually when I create something I feel better, and I knew I needed to do that. I went on YouTube and was looking for beats and I found the beat by Mage the Producer. Five seconds into listening to it, I said "this is it" and I just put it into Logic and started recording. I was like, "whatever comes out comes out," I didn't write anything down, I didn't do anything because that's exactly how I felt and that's exactly what I was going through at the time. Every single sentence in that whole song is just brutally honest and just me being vulnerable. The inspiration came from my life and my experiences and I recorded the song in real-time
What has been your biggest moment so far?
My biggest moment so far is Coachella, there were over 50,000 people there — that's the biggest crowd I've ever performed in front of and it felt like a literal interpretation of my dreams coming true. I sang, I had a great time and that was a very important moment for me.
You're one of the biggest female voices from Cameroon, do you feel a certain pressure to make African or Cameroonian music?
My country and the whole of Africa are very important to me. I want to try and shine as much of a light on not only how diverse we are, but how resilient we are and how when we put our minds on something, we're going to do it. In my opinion, the best talent can be found here in Africa. The way I relate my music is not that I must write Cameroonian music, I'm influenced by every type of music that I've ever listen to and my job is to bring it all together and help heal the world with all I have learned. It's inevitable that when you listen to my songs you'll hear my Cameroonian accent, sometimes you'll hear French, sometimes you'll hear pidgin, sometimes you'll hear English and sometimes you'll hear all of them in one song, but the message is going to bring people together. There are so many things I've seen in the past few years, people didn't know where Cameroon was and I used to be frustrated about it but now my country is getting more recognition for its talents. Not just my country, but other African countries as well.
Images courtesy of Libianca.
Growing up I saw how my parents were treated as less, just going to the store and they'd be ordering something in they're regular accents and the cashier would behave like they couldn't hear them. I would get frustrated, microaggressions, people have spat in my parents' faces and told them to go back to where they came from. Those types of things helped push me even further because my career is not just about me, it's to shine a light and bring more people up.
What are you most excited for moving forward?

I'm going to be discovering more of myself, I'm going to drop two singles this year and an EP, whenever people listen to a person's first song they usually paint a picture or have some form of expectation of what your next songs will sound like and I'm just going to say what you're expecting is nothing like what you're gonna get. But you can be sure that every song of mine you listen to is either going to make you feel or make you think, you're gonna either reflect on your life, or make better decisions or just have a good time. I just create, I don't put myself in a box but everything sounds amazing, you can expect more music, more performances, I'm going on tour with Alicia Keys so I'm going to be experiencing the road life and meeting a lot of fans I've never met before.