In 2001, Nigeria's Agbani Darego was crowned Miss World in South Africa. Sitting regally in front of a live audience that had just erupted, Darego was overwhelmed with joy and disbelief. She looked radiant — almost transcendent — with her eyes catching camera flashes as she ceremoniously took a walk as the new queen. Back home, people were jubilant. News broadcasts were chiming with a long, triumphant chorus: for the first time, Nigeria had won. It was also a breakthrough for Africa, producing the continent's first indigenous winner.

Nigeria hadn't seen coverage of this magnitude since hosting FIFA's U-20 World Cup in 1999. The turn from military rule put the country under the illusion of democracy. The new millennium was intoxicating and the internet was ready to take over. Fashion was taking sartorial cues from the digital bubble, pumped with the futuristic glee of tiny sunglasses, bright colors, and other kitschy accessories.
At the time of the beauty contest, Darego who was only 19, was majoring in computer science at the University of Port Harcourt, Nigeria. Adhering to pageant formality, the sheath evening dress she wore was olive green with a train at the back, the V-neckline embellished with small Swarovski stones. Her hairstyle, a bun updo, was the meticulous work of Bobby Eke of Bobby's Signature. Many women and girls in Nigeria were inspired to recreate the look for themselves, as a cultural keepsake.
November 16th was the 20 year anniversary of Darego's big win. Inducing nostalgia and a long-lost patriotism, two decades is worth looking back on. "I don't see us having that moment again in a long time," Frank Oshodi , the designer of the dress, said while chuckling. His fashion label House of Bunor is still operational, and when I spoke with him, we were in his studio in Surulere, Lagos. Before I walked in, he had been busy sketching a dress. "It's a moment to cherish and is one that I can't forget, especially with my history in fashion. I'm used to seeing my name in Nigeria but after she won, my name was on the world stage. Twenty years now, it's really iconic.''
A notion that exists is that Darego's green dress was because of her Nigerian nationality. While this is true, other things were important to Oshodi. Darego was young and promising, and for the designer, green represented newness and youth. It informed how the young model should be seen to the world. To stand out, simplicity was prioritized over excess. The dress was without complicated construction. Her slender neck and arms were left bare. It's also why her hair was drawn up, to bring attention to the angles of her face.
"Darego has a great physique and I didn't want to overwhelm it," Oshodi added.
Belonging to a rank of elite, legacy designers that started out in the early '90s, Oshodi's design philosophy of minimalism has remained the same till today. Unlike his peers with online visibility, he's comfortable with the scale of clients he has retained. When asked if Darego's dress could replicate such virality if worn today, Oshodi's response is an enthusiastic "Yes."
At the moment, the ideas of beauty in Nigeria have shifted drastically. The uptake of technology since the early aughts has been rapid. Social media has produced a static algorithm of what it means to be beautiful, selfie culture yoking with capitalism to create filter apps for mass consumption. It has projected a false image, one that has gone beyond digital boundaries to altering the physical body. This segued into Nigeria's developing visual media, heavily curated from the music and film industry. Especially with the inflection point of Afrobeats' crossover into international markets and Nollywood morphing into a powerhouse.
This put a new discipline on the body, a demand for it to be refined, pristine, immaculate in relationship with upward mobility. The intertwining of colonization, patriarchy, and capitalism has fostered an archetype of Nigerian women in celebrity spaces, rearing up as skin bleaching and cosmetic surgery. These enhancements and procedures have impacted desirability for poor/working-class women also, who, due to their low income, can only seek these services in black markets. Consequently, horror stories have emerged from cosmetic pitfalls, including botched surgeries .
"That's one of the issues with social media, it puts a lot of pressure on people," Oshodi said. "No one can be corrected these days because people are determined to do what they want to do, especially with what they see."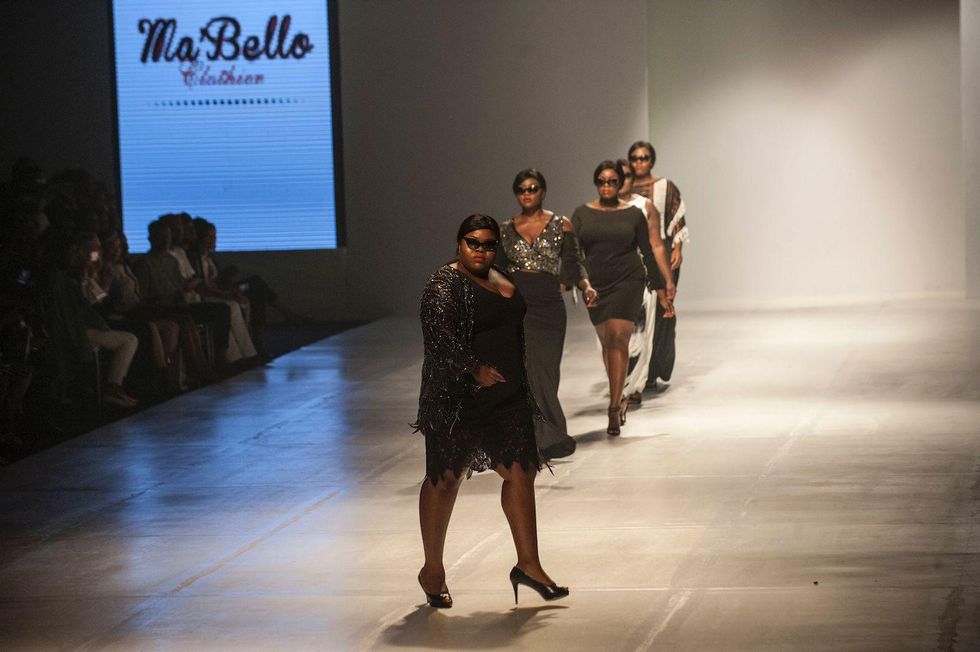 Models walking the catwalk for MaBello Clothier, a Nigerian brand that caters to women with curves, during Lagos Fashion Week in 2016. Photo by Stefan Heunis /AFP via Getty Images
The state of beauty in Nigeria hasn't always been a grim picture, though. The messaging of feminist body-positivity is an ongoing counter-culture, intentional about uplifting women of plus-size frames. This showed up soundly with the debut of the AboutThatCurvyLife Collective at 2016's Lagos Fashion Week, showcasing four womenswear brands and one menswear brand. To a large degree, anti-fatness is still a pervasive reality, evidenced by sentiments on social media. On the other side, current beauty tropes have embraced a masculine perspective . Online beauty influencers include men these days, who are challenging ideas around masculinity through makeup or fashion.
"I think beauty is a social construct,'' Coco Anetor-Sokei , a new media consultant and a People-With-Albinism activist, told me over email. "I'm often referred to as 'special,' 'unique,' 'fine for an albino,' but never beautiful. My 'beauty' is an abstract concept, something considered out of the ordinary. But who decided that people with albinism cannot be beautiful? More so, that when you see a person with albinism you believe meets your adopted standard of beauty, that person has to be 'beautiful for an albino' and not simply beautiful?"
As a Nigerian, Coco was featured in a Dove global campaign in 2019 to shatter beauty stereotypes. Beauty as a hierarchy (colorism, featurism, and thinness) also manifests with those that are considered socially undesirable. To be seen differently, respectability politics from the undesired individuals become a strategy. They can be fat, but the fatness has to meet an "acceptable" benchmark of fatness. Further, is beauty empowering only when it benefits those who can participate and benefit from the concept? Beauty is nothing and something at the same time. Maybe it's time to dismantle it altogether.