Heading into the general polls on Saturday, Nigerians will determine the next president to succeed Muhammadu Buhari after his underwhelming eight years in office. Out of 93.5 million registered voters, the youths (aged 18 -34) makeup 48 million and thus hold the largest electoral power.
It's believed that their actions could sway the outcome of the 2023 elections. This is a democratic linchpin that political candidates are keenly aware of. Amongst that youth voting bloc are first-time voters. Armed with their Permanent Voters Card (PVC), the elections are interesting for having presidential hopefuls (Atiku Abubakar, Bola Tinubu, Peter Obi) who come from the major ethnic groups (Hausa/Fulani, Yoruba, Igbo).
But this is meaningless for 23-year-old Silas Adepoju, a copywriter who obtained his Permanent Voters Card at the start of the year after enduring a long sequence of hitches. Although Yoruba by ethnicity and born in Lagos, his top choice for president is Peter Obi. "It's the only right answer," Adepoju said. "I'm not moved by where a candidate is from and if they can speak my language. I am more interested in their track record and their plan to lift this country out of its misery. Even though all of [the candidates] have campaign promises, I have judged Obi by how articulate and intelligent he is and what he plans to offer. This is why he has my vote."
Likewise for Favour Ibe, who is excited to be voting for the first time. A pastry chef, she turned 22 in the first week of the year and since had her mind made up about who to vote for. "We are all for Peter Obi in my house," she said. "My mum, dad, and two older brothers have been his supporters since he declared his presidential ambitions and we are coming out in full force."
Ibe is making arrangements for lunch to take to her polling unit on Saturday to be shared with voters. Of all the presidential aspirants, Peter Obi (61) of the Labour Party (LP) has resonated more with the country's youth. He's locked in a three-horse race with septuagenarians Atiku Abubakar (PDP) and Bola Tinubu (APC). The All People's Congress is the ruling party, hoping to keep out the People's Democratic Party from returning to power.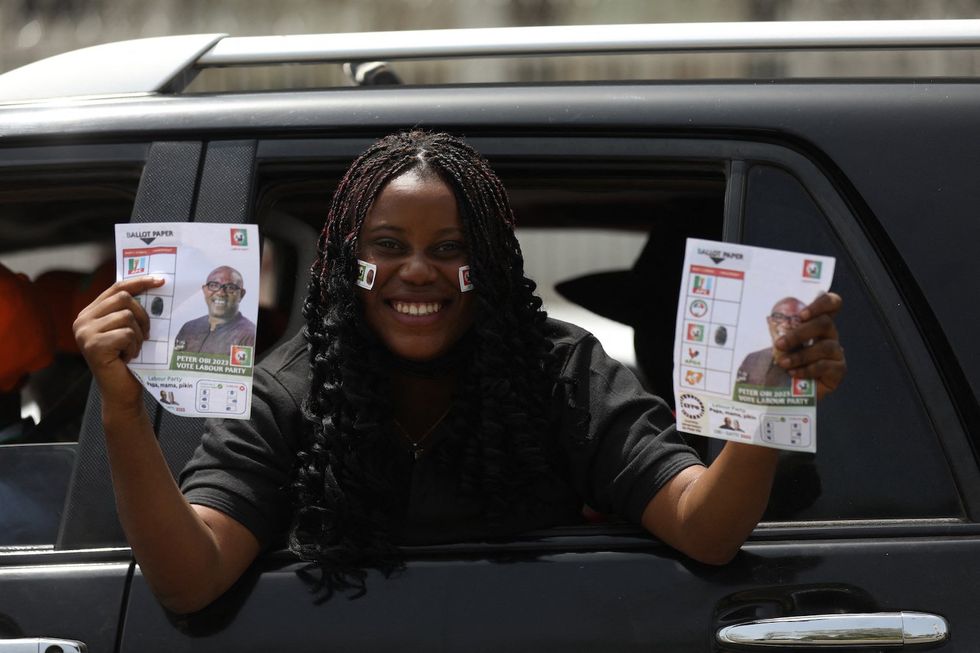 Photo by Kola Sulaimon/AFP via Getty Images
Though they have all held political offices before—Obi and Tinubu are past state governors of Anambra and Lagos, respectively, and Atiku was vice president under Olusegun Obasanjo's tenure—Obi is pushing past the others as he continues to ride on a social media momentum engineered by a Gen Z and millennial solidarity.
The ongoing socio-economic hardship that plague the country is also not lost on the youths who played a pivotal role during the #ENDSARS movement in 2020. The unprecedented #ENDSARS campaign was powered by Nigeria's Gen-Z and millennials who have refused to shy away from political issues despite the safety threats their activism can cause.
Despite many Nigerians' pessimism toward the Nigerian government and its voting system—which many citizens have found distrustful—first-time voters believe their votes can make a difference. For 20-year-old Vanessa Ojoh, voting for the first time is a moral duty, which she believes will pay off in the long run, despite a voting system riddled with corruption.
"I'm voting for the first time this year because it's the first time that I'm legally allowed to do so," Ojoh said. "I've been politically involved since 2019, and this time I'll be voting. I'm excited to vote because, one way or another, my vote counts. Although several political candidates have been canvassing for votes and performing shady activities, no matter what people think, our votes really count."
While many Nigerians are skeptical about the competency of the Nigerian government on a broad scale, Ojoh is holding out hope for a brighter future.
"I'm voting this year with faith for a better Nigeria. Over the past few years, the country has turned upside down," Ojoh said. "Nigerians that aren't privileged have gone through a lot of hardship, with many struggling to feed and get by. I pray that the person majority of Nigerians have so much faith in doesn't fail us."
Lina Molta, a 29-year-old banking official who lives in Jos, Nigeria, echoes Ojoh's sentiments about a better Nigeria. Although Molta couldn't vote in the past because of the complexities of getting a Permanent Voters Card, she is voting this year and is optimistic about the outcome.
"Obtaining a voter's card in Nigeria is quite an arduous process," Molta, who has keenly observed the consequences of an ailing Nigerian society, said. "I feel like Nigerians have suffered enough, and even though my candidate doesn't win, I feel like I would be happy knowing that I took one step towards a better Nigeria."
Another focal reason that is motivating Nigeria's youth to vote is the yearning for a country that affords them better opportunities, without the throes of economic and political strife.
Gift Ogar-Okune, 19, came to the realization that she had to walk the talk if she wanted a hopeful outcome for Nigeria.
"This country really needs change, and I used to be apathetic towards politics, but I learned that I had no right to complain about anything if I didn't actually vote," Okune said. "Getting my PVC was so frustrating but I did it anyway because now I know that if every vote didn't count they wouldn't be stealing ballot boxes or rigging the elections."
Okune is casting her vote for the Labour Party's Obi, who many Nigerians believe will be the first president from the Igbo tribe since Nnamdi Azikiwe, who ruled the country from 1963 to 1966.
"I think he might just be our best shot in terms of finding a solution to Nigeria's problems," Okune said. "Realistically speaking, he is not perfect, but from what I've seen, read, and heard, he's the best and I might just trust him more than Tinubu and Atiku."
Like most of the Gen-Z population, Okune began to become aware of political issues when she began university, and the cash shortage, as well as the crippling economy, has added to her need to be politically involved.
"Initially, all the damage wasn't affecting me because I was in high school and I didn't really have political knowledge. I'm now in my fourth year of university, and I am affected by all of the changes. The prices of things have gone up, and the naira is slowly losing its worth. We currently don't have cash in Nigeria, and I've had to buy money at a ridiculous price to buy food to eat or just spend," Okune said. "A few days ago, I only ate once because there's no money."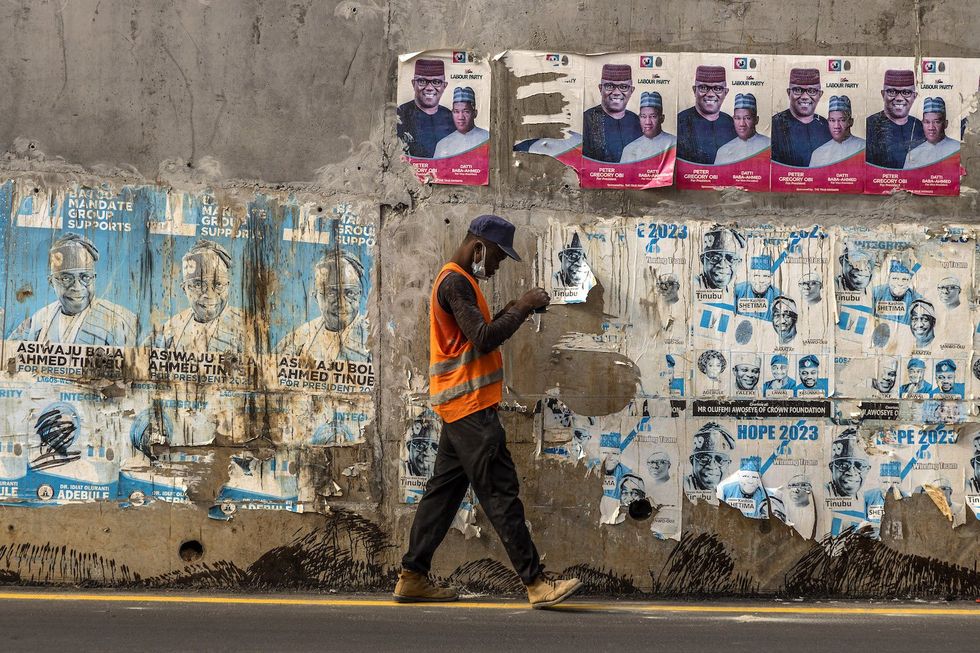 Photo By Andrew Esiebo/For The Washington Post via Getty Images
Nigeria is a society that is heavily dependent on cash. And the lack of access to cash has reached a fever pitch, affecting the daily lives of millions of Nigerian citizens. On the other hand, people who have access to online banking systems in Nigeria are experiencing little relief.
"The banking systems are so terrible," Okune said. "I made a transfer to a Bolt driver twice and he keeps calling to say he hasn't seen the money. When I call the customer care line, I can hardly connect with a representative even though they keep debiting me. To make matters worse, the mobile network fails randomly. It's so bad right now."
Oluwatobi Ogunbisi, an 18-year-old first-time voter who is also voting for Obi, says that coming-of-age has inspired her decision to vote this year.
"I've always wanted to vote. When I was younger, my mother did not allow me to leave the house on election days. She would lock me inside the home for safety while she went out to vote," Ogunbisi said. "Being able to leave the house this year on election day and see how things are done is one of the reasons I am voting. I am also inspired me to vote because of the situation that our country is in, and although my vote is just one vote, that one vote can do something."
"I am confident with Peter Obi because he is literate, educated, and knows what he wants for the country. He wants to see the country develop and move forward, and he is someone who has credibility who carries himself well."
Many Nigerians OkayAfrica talked to expressed dissatisfaction with Buhari's eight-year tenure—one inundated with political strife, tribal clashes, and incessant insecurity.

Adam Awwal, a 20-year-old first-time voter, is also wary of the current government who has led the country for the past eight years.
"Some of the most hard times my family members and I faced have been as a result of the actions or inactions of the current administration," Awwal said. "It is not given that things will get better, but I sure hope they do. Over the years, I've observed my family members vote, and it would be nice to know I participated in an election."
Awwal is voting for PDP's Atiku, and in the past, he had held out hope for the one-time former Vice President, who had ultimately lost at the time.
"Out of all the candidates that have emerged, I resonate with his [Atiku's] ideology more. He has what it takes to run the presidential office because he was once close to the powerful seat under Obasanjo's regime and I believe he's the one for Nigeria," Awwal said. "This is the first time I'm legally able to participate in something of this magnitude, and it is my time to exercise my voting right."

Over the years, young Nigerians have been increasing their electoral participation, making their voice heard and leading movements. And while it's true that they could turn the tide on Saturday, their political leanings aren't monolithic. Twenty-five year-old UX designer, who prefers to go by just Sodiq, has been in mild to serious contentions with friends for lionizing APC's Tinubu. "He laid the blueprint for the transformation of Lagos to a city and although it's not perfect yet, I prefer the old guard in terms of a politician that is tested and we can look back on what they have done."
As most elections go, voters are often divided on their opinions about leading contenders. 22-year-old Harrison Obinna Munachimso is also voting for APC's Tinubu. And for Munachimso, voting is a patriotic obligation.
"Voting for me is not inspirational, rather it is fundamental to my course as a citizen of the federation," Munachimso said. "A lot of people might see it as an inspiration for them because of the up-shoot of the new wave of political restructuring and change of the government, but I am choosing to vote because I am obliged to do so."
Munachimso has a strong belief that Tinubu will be the candidate to tide Nigeria over.
"Bola Ahmed Tinubu is the one I'm choosing to vote for. He is a man of ideology and records, and he stands out amongst candidates," said Munachimso. "I believe one of the major problems of Nigeria is the lack of ideological foundations in our social, political and economic systems. The tenets of our structures are dynamic and that is not what we as Nigerians need. Sometimes I think we need to adopt the system of illiberalism for a functioning system in Nigeria."
Munachimso is less than impressed with Obi, though, because he believes that the Labour Party front runner is not seasoned enough, and has tribal undertones working against him.
"Nigerians are not ready for a president from the eastern extraction and Peter Obi is not ready for the task ahead," Munachimso continued. "He is a good man, but he is not aware of the underpinning principles of Nigeria's sovereignty, and that is what is aligned to the structure and ideology of Tinubu. Atiku, on the other hand is not a vibrant candidate to emerge from this race. His principles are aligned to what I call political fallacy. I acknowledge the principles and manifestos of all other parties and candidates but for this election i will vote for Bola Ahmed Tinubu."
For many Gen-Zers, an overarching coming-of-age theme has powered their decision to vote. And this is an indication that most of them were looking forward to the moment they, too, could be on the civic front lines in a way that could elicit Nigeria's transformation.