As opposition parties in the country contest the election results, many young Nigerians say they're worried about their future and are considering opportunities to live and study abroad. "Inquiries have maximally increased," Lagos-based serial entrepreneur, Goodluck Raphael tells OkayAfrica. Raphael runs an agency, Eddykurrent, that specializes in study abroad and international travel. "The inquiries have definitely increased by over 200% since the announcement of the president-elect. We have [people] who now want to leave." In the past week and a half, Nigerians — young ones, especially — have goneon social media to express their displeasure at the recent announcement of Bola Ahmed Tinubu as president-elect and Kashim Shettima Mustapha, as his vice president, by what was seen as a very slim margin.
---
While there are concerns over the lingering allegations of drug dealing and money laundering against Tinubu, and the claims of alleged terrorism and banditry against Mustapha, the main reason why many Nigerians are disturbed by the announcement of the country's new leader is because of how it was delivered.
At four in the morning, three days after the elections, Tinubu of the ruling party, the All Progressives Congress (APC), was declared the winner, against his prime running mates, Atiku Abubakar of the People's Democratic Party (PDP) and Peter Obi of the Labour Party (LP). Some have gone on to tweet about the differences in results shown by the INEC on its dashboard, and what they had recorded in their polling units during voting. Others have shared videos of alleged thug attacks aimed at discouraging voting in favor of Obi, who'd become the people's choice among young voters. All of this has forced a spotlight onto the fraught process of Nigeria's electoral system, and it's driving young Nigerians to want to seek better prospects outside of its borders.
"When I heard the candidate that was announced as the president-elect, I was scared for my future," Esther Udeme tells OkayAfrica. Udeme, who shuffles between Benin City and Lagos, spent between six and seven years in college for a five-year course, due to one governmental lapse or another. For example, the Academic Staff Union of Universities (ASUU), the body put together to serve students of federal and state universities in Nigeria, has just called off an eight-month strike over the government's failure to pay salaries. In the last five years, they have gone on over three strikes, with one lasting almost a year.
Nigeria's President-elect Bola Tinubu sits at the International Centre waiting to receive his certificate of return by the Independent National Electoral Commission (INEC) in Abuja on March 1, 2023.
Photo by Olukayode Jaiyeola/NurPhoto via Getty Images.
According to Raphael, a client studying medicine and surgery at a Nigerian university had to travel to the UK after almost eight years at a Nigerian university. Due to the eight-month ASUU strike, and the uncertainty of when it would be called off, he had to start all over again.
The uncertainty of what's to come if the ruling party, APC, remains in power – and these kinds of problems continue – is what's prompting the impulse to leave the country. "Imagine going through hell for eight years," Udeme says. "I don't want to know if [Tinubu] has good plans, but the fact that it's this person, is what makes me scared and want to japa." Japa, the Yoruba slang that's gained mainstream attention in recent years, describes a situation where Nigerians migrate to other parts of the world, particularly to America, Europe, and North America, seeking greener pastures, and to escape the country's governance. Already reports have shown that the population of Nigerian students in the UK rose by 64% in just one year.
Although countries like the UK are constantly tightening their immigration policies, a number of young Nigerians are riding against the odds. This is also considering the negative impacts of migrating to another man's land. Think racial discrimination and profiling, for example. To them, anywhere but here, they feel. "Facing government-induced violence feels really worse for me," Udeme says. "We're all familiar with the massacre that happened during the EndSARS protests. It's kind of the standard that the government has set in place, in response to us speaking up and trying to live." Raphael shares the same sentiments. "The economy is crazy, the government is nonchalant; they keep on making worse policies and very bad decisions," he says.
Udeme, like others, has begun to put measures into place that'll aid an easy transition from here to the country where they'd like to continue their studies. This, however, isn't the case for most young Nigerians. The economy continues to crumble, and the dollar-to-naira exchange rate has become prohibitive. To them, voting for someone like Obi, who'd promised to help stabilize the economy, meant not needing to raise funds to japa. Now, it's difficult to find the money to travel. Raphael mentions the problems of electricity supply and failing health care system as further aggravations that cause young Nigerians to want to leave.
The potential to create a better country that Obi represented for the younger generation meant many were willing to put any plans they may have had to travel on hold. "Last year, I realized Peter Obi was running for presidency, so I decided to [cancel] all my travel plans because I believed that things would get better," says Wana, a student who didn't want to give his surname, tells OkayAfrica. "If I don't pull through with this plan, it'll be because I can't afford it, or Peter Obi becomes president, [both of] which [are] still a valid concern right now."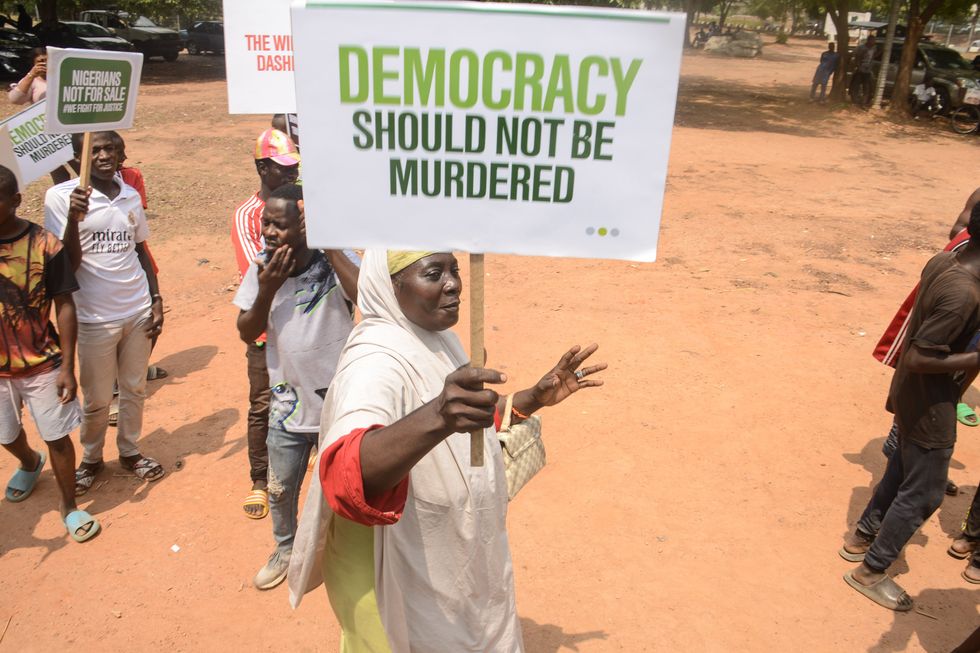 A protest against the outcome of the 2023 Presidential election in Abuja, on March 1, 2023.
Photo by Olukayode Jaiyeola/NurPhoto via Getty Images.
On social media, too, the deep disappointment about Obi not becoming president continues to gain traction. Many feel he was robbed of the chance to be president. Although he's made an official statement that he's taking the matter to court, some Obidients, as his followers are popularly called, are asking that there be a protest. "If Peter Obi would come out today for a peaceful protest. We're going to have National Shutdown. Because we know our president," one tweet reads.
And while there have already been protests from supporters of Abubakar's PDP, younger Nigerians are hesitant. The memory of EndSARS is still too fresh, and so some Obidients are asking that there be none. "We had so much hope, and they took that from us. I am so angry," Wana says. "We tried to do this for ourselves, and they wouldn't let us. We can't fight, we can't do nothing 'cause they're going to kill us. We can't protest, 'cause they'll kill us if we do. I really do not want to die," she says.
Still, hope pervades. "The only thing I'm banking on right now is that we're Nigerians, and we really get through things," Edisana Stephen, a student and freelance writer based in Abuja, Nigeria, tells OkayAfrica. "We always find a way to get through the hardest of moments. I think this period has been a trying time, and left a lot of impact for the youths."
Stephen has no plans of traveling and moving abroad, unlike some of her peers. For her, the plan is to go on trips, but to still return to Nigeria. "I feel like this is home, and that I am most comfortable here," she says.