Danielle Mbonu is a 21-year-old Nigerian-born multi-disciplinary artist. She focuses on photography and has very recently delved into the world of film after doing the creative direction on Naira Marley's music video for "Aye." Danielle has a record of documenting the creative essence of her city: Lagos. Her photos, without failure, display a rich sense of youthful freedom.
On her latest, titled Isi mEbube (which translates to On my Head Glory), Danielle and her all-Nigerian team send a message to Nigerian girls and women suggesting a new take on braiding styles. With this series, modeled by four stunning ladies in extraordinary hairstyles and, she wants more girls her age to be open to trying new styles regardless of public opinion.
We spoke with Danielle Mbonu about her new series below.
---
Photo: Danielle Mbonu
What influenced you to do a hair series?

I've just never really liked the criticism around black women with braids and black women with wigs. It's like we can't win. Personally, I've always been a braids person and I just feel like we have to embrace our culture. In this particular series it's showing how with Nigerian culture, braids are synonymous with royalty. In rural areas, the people with the most glamorous braids are seen as the royal ones and i just wonder how come with more present generations we don't dignify the art.
How has hair affected you personally?
In so many ways. Currently I have bantu knots on my hair and everyone is just like Danielle what's on your hair and, it's just like, hair is not that deep. Since I was younger my mom has always done this on my hair and obviously people did always make fun of me but I just never cared. And at the end of the day, it's important to not let what others say get to you, because I feel like a lot of girls get weaves because boys have always said girls with weaves look much better than girls with braids. So for me, braids is me sticking to my culture and embracing it.
What was the creative process for achieving this series?
So we partnered with Darling Nigeria which is an extension company that is fairly new for the hair and styling. The backdrops were all hand painted by Dricky, we were emulating our local salons that we would go to when we were younger and the models are all from different tribes and the hairstyles were made according to where they're from.
Photo: Danielle Mbonu
How long have you been working on this?

I've been working on this for a while actually. About a year or two ago, on Independence Day I met this girl at Tarkwa Bay that had green-white-green braids and I was so fascinated. I saw that a lot of people in Nigeria, regardless of status, use their hair to express themselves in a way and ever since I've been documenting hair and taking pictures of people interesting hair.
A lot of your work relates to different aspects of Nigerian culture.
Being born and raised in Lagos and then being Igbo and having to go to the village every Christmas I've just always been surrounded by culture and I've always just loved being Nigerian and I just really showed that in my photos because this is who I am and I can't help it.
What was the transition like moving from photography to film directing?
The thing is it's not a transition. I understand people look at directing as a more profitable career as opposed to photography so they expect that once I start directing I won't do photography anymore but no, photography is my main thing, it's what I love to do.
Photo: Danielle Mbonu
Photo: Danielle Mbonu
Photo: Danielle Mbonu
Photo: Danielle Mbonu
Photo: Danielle Mbonu
Photo: Danielle Mbonu
Photo: Danielle Mbonu
Photo: Danielle Mbonu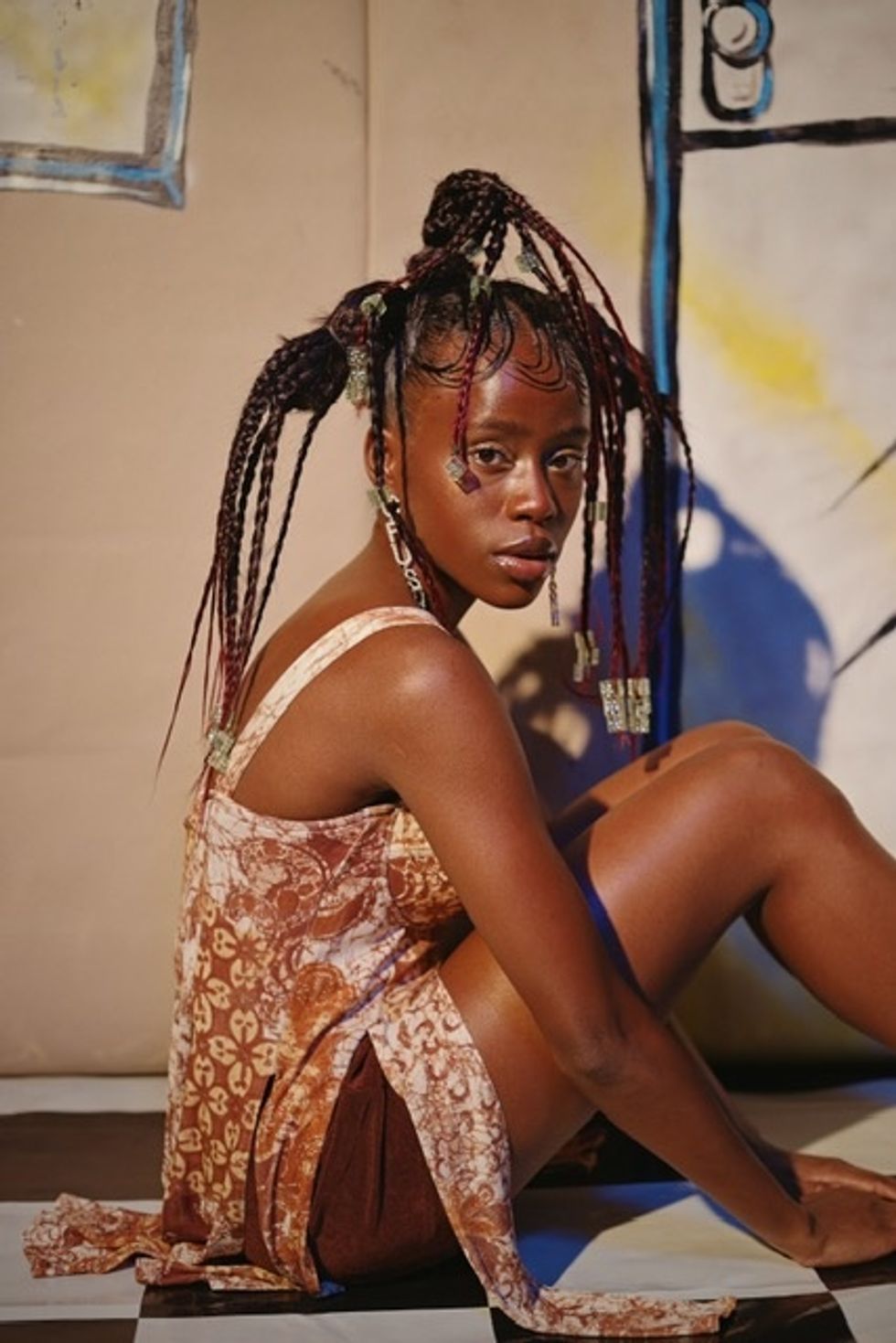 Photo: Danielle Mbonu
CREDITS

Backdrop art: Dricky Stickman
Styling: Momo Lagos
Models: Anya Ekung, Annabella Godwin, Jessica Duru, Momo Mho
Hair Stylist: Kehinde Are (25th Fairy Hair)
Photographer: Danielle Mbonu (Danmbo)