The place of producers in Nigerian music, and its recognition as a global phenomenon, is becoming a focal point of discourse. Like artists, Nigerian producers depict the creative ingenuity that abounds in the country. Amongst new generation talents like P.Priime, Telz and London is Ransom Beatz, who's staking his claim to the evolution of Nigerian music through unconventional means. The producer, born John Iyinbor, is wielding tech to carve a niche that'll hatch a breed of new generation talents.

Without enough tutelage to kickstart a career in music production, Ransom Beatz latched onto a YouTube-led approach, a path less treaded by Nigerian producers. Through this approach, he bases his beat production on user demand rather than mere intuition. To put it simply, he makes the type of beats people are searching for on YouTube. His rendition of "Beat My Meat" by Ugly God was a turnaround in his channel, garnering over 7 million views. "I didn't understand how well it performed until I checked my AdSense," he said. His YouTube channel, now known for afrobeats, trap and drill has since garnered almost 70,000 subscribers and over 10 million views.
Through YouTube, Ransom Beatz is collaborating with heavyweights across the world. In 2019, he produced "Goosebumps" from the comeback project of Nigeria's Runtown. In 2020, he alongside his crony Ramoon, also a [Moroccan] YouTube producer, made the beat for "Yaya" by US rapper 6ix9ine. He also produced "Smoke" by British rappers Big Tobz and Dizzee Rascal. Recently, he produced four tracks off Runtown's new project, Sound God Fest Reloaded, including "Mama Told Me" featuring Made Kuti.
The Abuja-based producer is earning his wings far away from Lagos, Nigeria's music hotspot. He debates the highly-perceived importance of the city in a producer's trajectory. "I strongly believe it's not about being in Lagos. I make music and get my sales from my room." In February, Ransom Beatz became the only Nigerian producer with over a million streams on Beatstars, a feat he says "validates the efforts I put into producing and driving traffic to my store".
Here, the producer delves into the burgeoning succession of Abuja as a buzzing city for music and infusing his tech and accounting knowledge with being a producer.
This interview has been edited and condensed for clarity.
---
Photo courtesy of Ransom Beatz.
How did you dabble into music production?

I learned how to play a little piano in high school because I had a love for following sounds. When someone hummed anything, I could follow it. Later, a friend introduced me to a software for music production, taught me a little and left me to figure out the rest. The first beat I made was so badly laughed at in class, that I was advised to stop producing. I stopped for some time and returned after an encounter with another friend years later. I opened YouTube and started searching how to make beats. I started with trap then afrobeats, with a focus on Burna Boy 'type beats' because I'm a huge fan. I'd introduce my spin on them because I don't fancy following trends when creating. My favourite thing is infusing futuristic elements to my beats.
What inspires your creative process?
First, my state of mind. The quality of my work depends on whether I'm in a good or bad state. Interestingly, you can tell from my beats the kind of day I'm having. I'm typically an introvert, so I don't do anything extraordinary to stir my mojo. It comes once I touch the key and can make 4-5 beats daily when I want to.
What makes your work unique?
Oh, it's the way I like to bounce with my piano; everybody knows when my beat comes up. I like to keep my compositions simple and I don't add too many drums. My chords are always jazzy and soft with some hip-hop bounce mixed with afrobeats drums. Sometimes, I combine afrobeats with trap elements. I like to tread uncharted territories.
So far, your career trajectory seemingly leans towards technology. How did your affinity for YouTube and tech come about?
It's just serendipity. I used to produce more trap beats and that market is very saturated. As I couldn't stand out, I researched a tool where I got insights that Burna Boy type beats were high volume with relatively low competition. I started pumping beats on Burna Boy type beats. There was a time I uploaded beats daily, without missing a day on YouTube. The aim was to flood the YouTube market, which was how I started getting attention and people were curious about who I was.
What inspired the YouTube-led strategy?
I started posting passively on YouTube and wasn't even consistent because of school. Eventually, I did an afrobeats-esque spin to the production of "Beat My Meat" by Ugly God and it blew up. The video amassed over 7 million views and when I saw the huge amount of money it had made via AdSense, that told me something.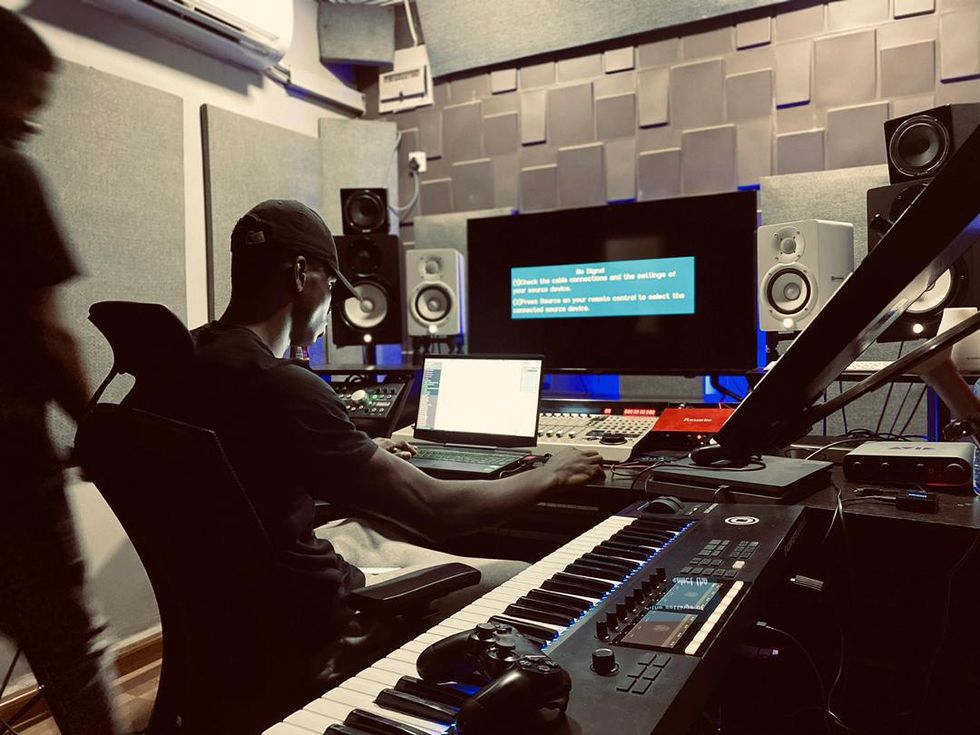 Photo courtesy of Ransom Beatz.
Do you consider this an edge over your contemporaries?

Not quite, because I believe what works for one person might not work for another. It's honestly about trying; I tried and it worked, others can try and see if it works for them. It's also about consistency. Some people upload for one year and give up when the result isn't forthcoming. You never know when your stuff will blow up.
Right, but you agree it's an uncharted territory for more Nigerian producers.
It is. Though a key issue is payment gateway, if not I believe there would've been more producers there. However, platforms like Beatstars will be coming up with ideas to help producers in the community market and sell beats on their platform.
How did the collaboration with Runtown come about?
In my final year, we connected via YouTube and he invited me for a session in London where I also met Tiwa Savage. We exchanged ideas and I worked on what became "Goosebumps" off his 2019 comeback project, Tradition. It was a great experience and he gave me nuggets about navigating the music business.
And 6ix9ine?
Also via YouTube. It started with meeting Ramoon, a Moroccan YouTube producer who taught me branding, how to make artwork, sound engineering and improving my composition. We made several beats together and one of the first three is what became "Yaya" by 6ix9ine.
[FREE] Burna boy x Runtown x J hus x Afrobeat Type beat 2020 - Styleyoutu.be
It's interesting how you're staking a claim in the Nigerian music scene all the way from Abuja, further disproving the notion that creatives must be in Lagos to have a successful career in music.

I strongly believe it's not about being in Lagos. I make music and get my sales from my room. Lagos is already oversaturated and music creatives can think about coming to places like Abuja to expand. There's a need to consider your geographical location per time because Abuja has an opportunity to grow and it'll be of anyone's best interest to utilise it before its late.
How do you feel being the first Nigerian to amass over a million streams on a platform like Beatstars?
I've spent sleepless nights producing and trying to make my sound appealing to a larger crowd. Hitting that milestone is validating the efforts I put into driving traffic to my store. I'd use the funds that I should lavish to build my brand by promoting my store on YouTube and Instagram weekly. So, it feels rewarding and encouraging.
Is there a Nigerian producer you'd like to collaborate with?
I'm currently working with Fiokee; BenJamz who produced Burna Boy's "African Giant," "Gum Body" and Masterkraft.
Which Nigerian artist are you eager to work with?
Wizkid and Burna Boy. I'm very confident we'd make magic because my beats are based on their kind of vibes so I'm sure the chemistry will be strong.