On the morning of June 5, activist and student Freddie Jacobs woke up to a shocking realisation. She opened her Twitter account, as part of her morning ritual, only to discover that tweets were not loading. However, what overwhelmed Freddie was a strange fatigue, the type that gripped her entire body. "I felt helpless and frightened at the state Nigeria was in. I know we all expect this tyranny but watching them ban Twitter, as well as remembering what went down during the October 2020 #EndSARS protests convinced me that the Nigerian government was really out to punish and harm Nigerians in whichever way they could. We do not have the freedom to protest or tweet our opinions about the government," she shared.
A week prior to the ban, Nigerian President Muhammadu Buharipublished a tweet that reeked of genocide, and also made threatening allegations to the IPOB secessionist group in the south-eastern part of the country, accusing them of leading attacks on political office holders. Twitter immediately took down the tweet, saying it had violated its 'abusive behaviour' policy.
---
Brief Background
On June 4, the Nigerian government officially announced the Twitter ban in a thread published via the account of the Federal Ministry of Information and Culture. On June 5, The Association of Licensed Telecommunications Operators of Nigeria (ALTON) issued a statement informing Nigerian Twitter users that it had received government orders to suspend the social media app in the country.
What shocked most Nigerians was how quick a government that describes itself as democratic could make a decision that sought to control the activities of its citizens, with no court hearing or Senate regulations to back them up. As one Twitter user @adetolaovdescribed it, "The real news is not the government suspension of Twitter's operations in Nigeria, it's that the government wants to start licensing social media and OTT operations in Nigeria. The regulation of social media is the real aim of all of this…"
Student *Ijeoma Okafor is also baffled by how quickly Nigeria threw its supposedly democratic stance out the window when it took the decision to ban Twitter. "This country's ruling class is just sad. For a country which operates democratically, it's quite absurd of the federal government to ban an app just because they feel threatened by the activism the young generation has weaponised through this platform," explains Okafor, adding that Twitter belongs to all.
A Democracy In Tatters?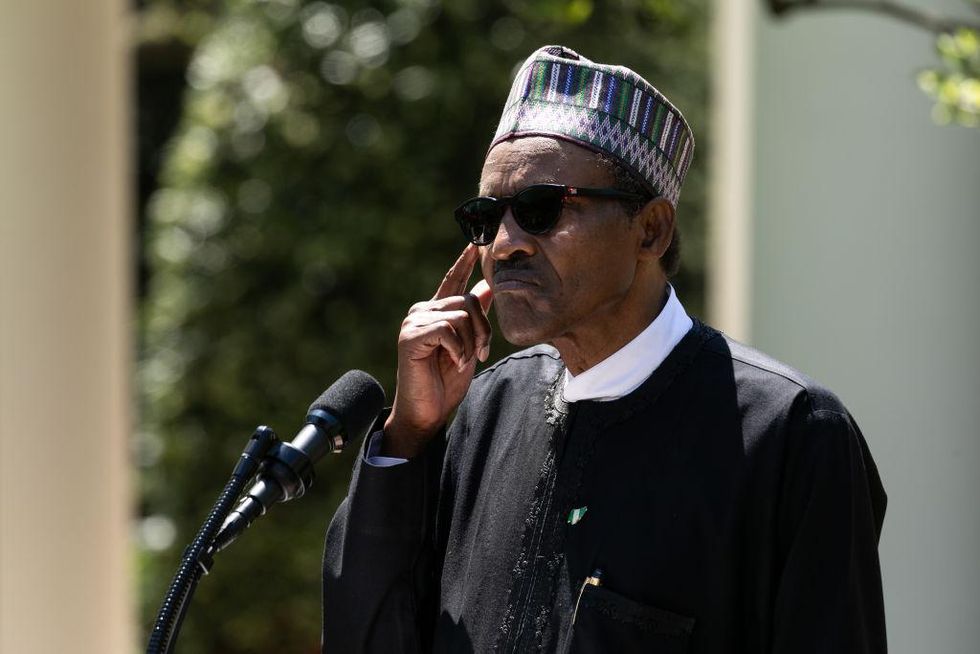 President Muhammadu Buhari of the Federal Republic of Nigeria. Photo by Cheriss May/NurPhoto via Getty Images.
This, however, wasn't the federal government's first attempt at disrupting the power of Twitter in the country. In 2019, an anti-social media billofficially titled the Protection from Internet Falsehood and Manipulation Bill 2019 was intended to grant the government the power to disrupt or halt internet access and specific social media platforms as and when they saw fit. In the end, a widespread petition helped thwart the Nigerian government's plans.

One of the main triggers of the#EndSARS protest was the Police Billsigned into law by President Buhari just three weeks before the nationwide protest. The law basically gave police and other military personnel the power to demand citizens' phones or gadgets for tense searching. Owing to the tyrannic reputation accumulated by SARS over the years, Nigerian youth (who were their predominant prey) were deeply frightened by this unit's abuse of power and lame means to commercialise this process.
Therefore, Twitter hasn't just been a social media app. It has been a platform for more than 39 million Nigerian users to express their thoughts, as well as learn and unlearn where necessary. For us Nigerians, Twitter has been our go-to platform when we need our grievances and the government's injustices aired. Prior to the #EndSARS protest in October 2020, Twitter witnessed a lot of activism campaigns facilitated by Nigerians — from #BringBackOurGirls to #SayNoToRape and #SexForGrades, among others. Most of these campaigns united us in our fight against oppression.
The #BringBackOurGirls was one such Twitter hashtag that created awareness around the more than 276 Chibok girls captured in Northern Nigeria in April 2014. The movement garnered international attention, leading to some of the girls being successfully reunited with their parents. With more than 2 million women witnessing sexual violation annually, rape is one of Nigeria's biggest scourges. According to human rights lawyer Caroline Ajie, only a disappointing 28 percent of these rape cases are reported. #SayNoToRape was created to combat rape as well as cast a spotlight on victim-shaming, a toxic culture masquerading as the norm. Sadly, it was the brutal murder of 22-year-old Nigerian student Uwaila Vera Omuzuwa that popularised #SayNoToRape in Nigeria.
Not only did Twitter give #EndSARS the necessary wings it needed to trend worldwide, but it also made donations possible — which helped with organising nationwide protests. Twitter has been able to do all of the above, in addition to exposing the different regimes of bad governance Nigeria has witnessed and creating an antithetical balance between the military and civilian regimes.
The app has also been a refuge for Nigeria's LGBTIQ+ community to express themselves and shake off the trauma of the daily oppressions they witness. Through #QueerNigerianLivesMatter, queer persons are able to express how they, too, deserve human rights. Through #RepealSSMPA, we were able to win the battle against the 10-year jail term handed down to same-sex unions in Nigeria.
Twitter, The Home of Hope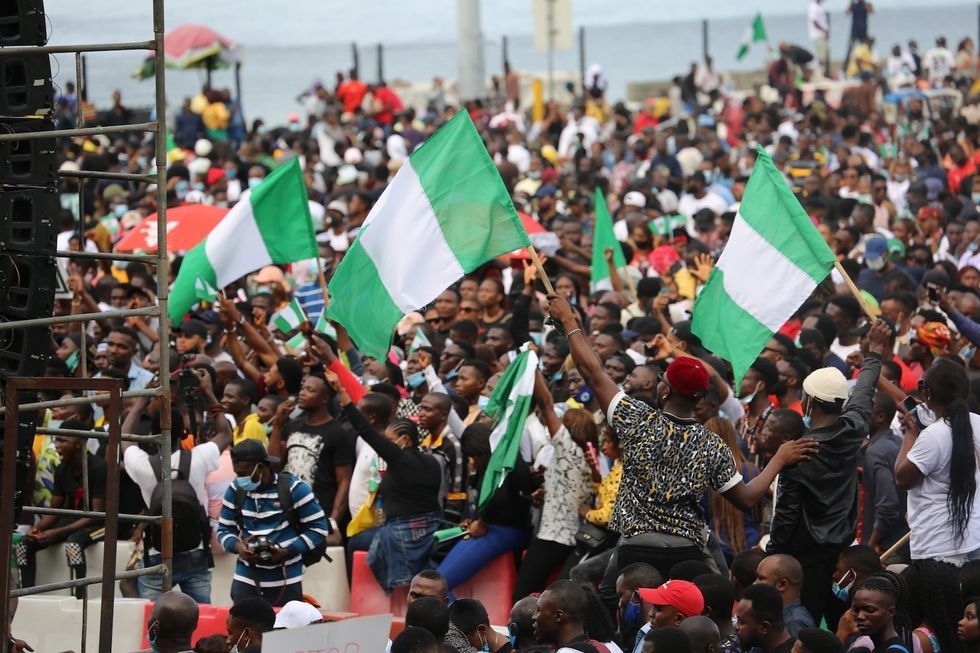 The Year Is 2020 & the Future of Nigeria Is the Youthwww.okayafrica.com
Asked whether the Twitter ban will water down the spirit of activism in the country, Jacobs says she's mostly concerned by how the rights of marginalised groups in Nigeria have a tendency of fading and the community, yet again, left in the dark. "With Twitter inaccessible, my activism feels limited. I'm more worried about marginalised groups and individuals who found community and safety online. They can't raise awareness on issues, crowdfund for themselves or connect with like-minded individuals frequently."

While the ban is in place, some citizens are opting to access Twitter through the Virtual Private Network (VPN). However, VPN isn't without its own messy admin and politics. It's certainly not something everyone can afford, and secondly it isn't easy to navigate. There is a fervent battle with VPN adverts which tire users before they can get to enjoy what VPN promises. Also, VPN drains phone batteries quickly and, as it is, Nigeria struggles with reliable power supply.
Secondary school teacher Umoren Inyang has strong sentiments about VPN. "Prior to the ban, I wasn't as active on the app like I used to be. I visited Twitter just before the ban but got bored. It wasn't until a week after the ban that I went back. Scouting for free VPN was hard since I couldn't afford any," she shares. "On the Twitter trends list, all that appeared was foreign content like football and international politics — nothing about what was happening in Nigeria. It then hit me that not even the trusted VPN could save Nigeria from the Twitter ban as I'd initially hoped." Despite civil organisations such as the Human Right Organizations denouncing Nigeria's Twitter ban, US former President Donald Trumpapplauded the Nigerian government's decision, adding that his greatest mistake was not banning the social media app during his tenure.
For now, only the Nigerian government knows how long it plans to drag out the ban. This, despite being asked countless times for a timeline by Nigerian media houses, journalists and civil society organisations. The only saving grace was the Court of Justice of the Economic Community of West African Statesbarring the Nigerian government from prosecuting those found to still be using Twitter during this period.
What happens to revolutions when their primal medium of communication is decentred — they die a slow death, right? In closing, here's to hoping that an app that has been at the centre of revolution will soon be back in our midst.