In Babatunde Apalowo's debut feature film, All the Colours of the World Are Between Black and White, Bambino (Tope Tedela) and Bawa (Riyo David) are both queer men with dreams, desires, and internal conflicts who happen to fall for each other. How they tackle these feelings, and what it means for their masculinity and safety in a country like Nigeria – where severe sanctions for same-sex relations of any kind, ranging from 10-14 years are written into the law – is a whole other ball game. In All the Colours of the World Are Between Black and White, the queer characters are the ones driving the narrative and the film allows its audience to empathize with their struggle to express themselves freely but this hasn't always been the case for queer characters in Nollywood.
To look to the future, it's imperative we look at the past. Nollywood hasn't fared well with regard to depicting the reality of queerness since it began to be portrayed in the early 2000s. While societal norms are slowly shifting to accommodate the depth of queerness in storytelling, Nollywood as an industry has always reinforced conservative notions of sexuality and marriage, and its films have been an avenue to reflect the norms, moods, beliefs, and values of Nigerian society. Reminiscent of the Hays Code era of Hollywood wherein LGBT characters were often stereotypes, depicted as morally bankrupt individuals destined for a gruesome ending, queer characters in Nollywood are often villainized and rarely allowed to exist freely or enjoy a happy ending.
Nollywood's hostile portrayal of queer people
Take for instance the 2003 Nollywood melodrama, Emotional Crack (think 1987's Fatal Attraction with a queer spin). A marriage rife with domestic violence is taken apart further when Camilla (Dakore Akande) is thrown in the mix and is portrayed as a Machiavellian seductress sleeping with both parties in the marriage – abusive husband, Chudi (Ramsey Noah) and Crystal (Stephanie Okereke) – but eventually falls in love with Crystal. Camilla is a morally corrupt jezebel with little texture or purpose besides "turning" a supposedly straight woman into a cheating sex fiend. In the end, stripped of all humanity and suddenly mentally unstable, Camilla unceremoniously commits suicide after satisfying her role as a tool to reunite Crystal with her abusive husband.
In the similarly nonsensical but infinitely more horrifying Men in Love (2003), Alex (Muna Obiekwe) is a gay man who also poses a threat to a marriage on the brink. He openly pines after his old university mate, Charles (John Dumelo), and after his advances are rejected, "indoctrinates" Charles into homosexuality by drugging and raping him. At the end, Charles returns back to his default heterosexuality and is reunited with his wife after she prays away the "gay spell," while Alex gets arrested.
Straying not too far from the theme, Women Affair (2003) portrays an affluent, older (you can tell by the synthetic wigs) queer woman, Esther (Rita Nzelu) as a sexual predator luring teen girls into sexual relationships with gifts. Esther homes in on Brenda (Genevieve Nnaji), a young student with a puritanical, controlling mother who urges her to avoid premarital sex with men. Two of Brenda's friends suffer botched abortions so it's only right she considers a kind of sex unencumbered by procreation. This fear of premarital pregnancy is what pushes Brenda to consider relationships with women, and Esther eventually succeeds in coercing her into a relationship. In this film, sexual attraction between women exists only as an antithesis to heterosexuality; homosexuality is incidental. Esther ends up arrested for her deviance and Brenda ends up hospitalized after she gets beaten during a botched attempt at raping her sleeping roommate. Notice a pattern here? It's not exactly trying to hide itself.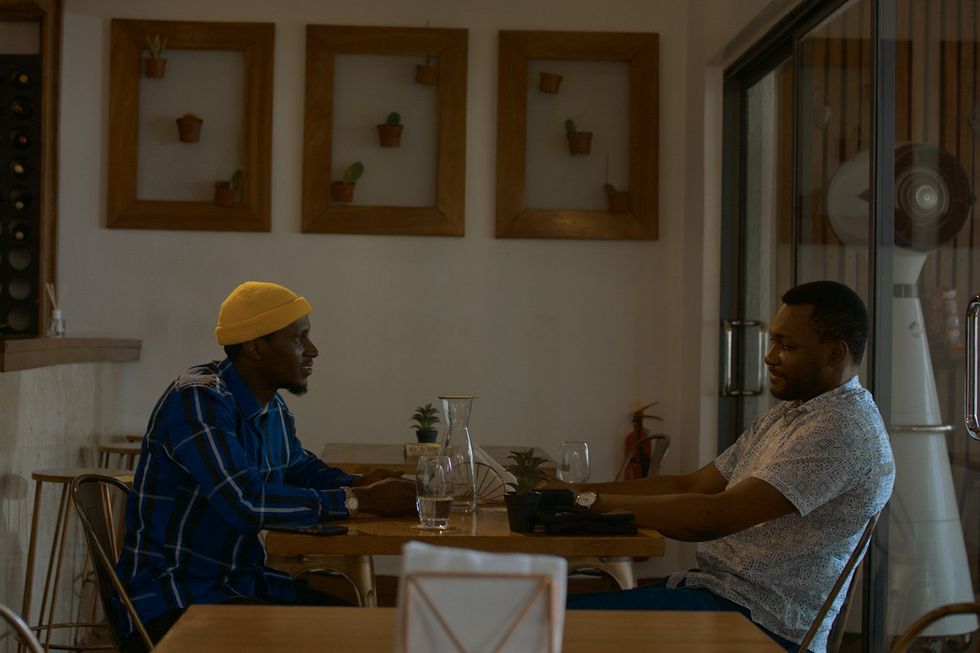 Babtunde Apalowo's 'All the Colours of the World Are Between Black and White' debuted at the Berlin Film Festival earlier this year to positive reviews.Photo courtesy of Noise Film and TV.
There's a direct line between Nollywood's hostile, skeevy portrayal of queer people as immoral sexual deviants in need of conversion through spiritual, psychological means and Nigeria's unabashed embrace of homophobia. The Same Sex Marriage Prohibition Act (SSMPA), which was signed into law in 2014, is still widely supported by the majority of Nigerians (a 2017 survey commissioned by The Initiative for Equal Rightssurvey commissioned by The Initiative for Equal Rights (TIERS) showed that 90% of Nigerians supported the SSMPA). But films have the power to shape the exclusion or acceptance of marginalized groups.

Bucking the queerphobic trend
All TheColours of the World Are Between Black and White, which premiered at the Berlin Film Festival earlier this year, turns these outdated principles of sexuality on their head. It joins the canon of select films by valiant Nollywood filmmakers, queer and otherwise, bucking against the queerphobic stereotypes rife in older Nollywood flicks. In doing so, it gives audiences a film imbued with the far-reaching value of human empathy.
Almost immediately when the film starts, we're informed of Bambino's desire to become a manager for the logistics company he works for, and we see Bawa working at a local betting shop with larger dreams of becoming a successful photographer. We watch them go home, eat, explore landmarks in Lagos, steal glances at one another, touch, and learn. They are fully realized human beings which means they're also capable of reprehensible behavior – Bawa sets Bambino up for a homophobic mob attack in one of the film's final scenes.
We learn that both Bawa and Bambino's childhoods are mired in violence and trauma. We know they have feelings for one another but the film never shows them having sex; although Bambino attempts to renege on his feelings for Bawa by awkwardly attempting to sleep with his neighbor Ifeyinwa, a chaste, bookish girl who harbors feelings for him. The tension lies in their apprehension to consummate, and Apalowo exploits this tension effectively, trusting the audience to celebrate their affection while sympathizing with their dilemma. Their sexualities aren't lampooned, and the characters feel lived-in and three-dimensional.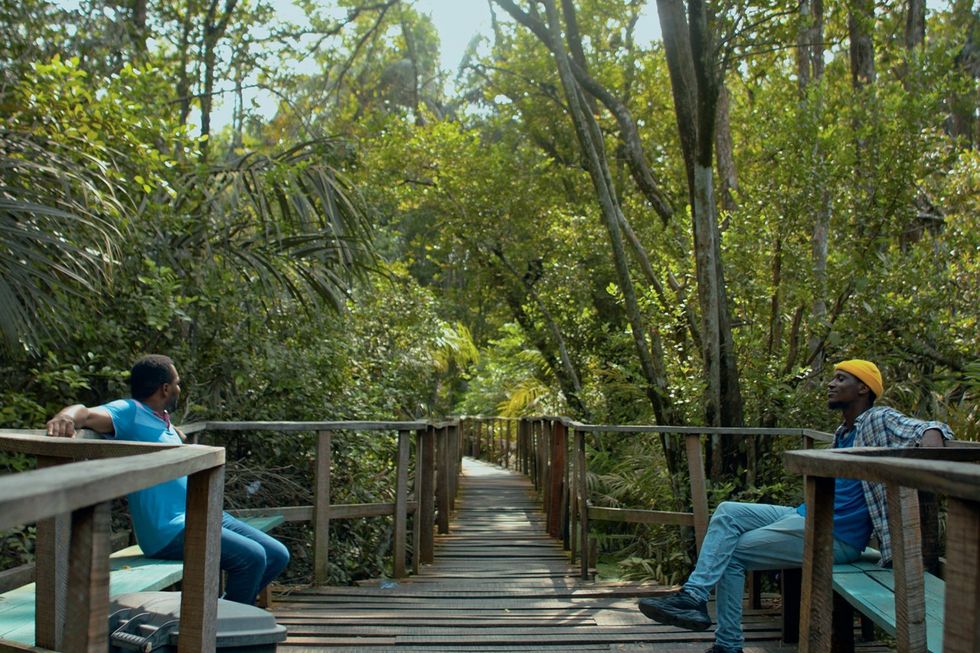 Tope Tedela and Riyo David play queer men with dreams, desires, and internal conflicts who happen to fall for each other in 'All the Colours of the World Are Between Black and White.' Photo courtesy of Noise Film and TV.
It's rare for Nollywood to portray queer characters with relatable textures, which would audiences understand them better. "I was just very invested in creating everyday people," Apalowo tells OkayAfrica about his aim to give depth to the queer characters. "I also avoided using queer characters simply as plot devices to move a story forward, which I think is extremely harmful."
He also tried to focus on universal themes, such as unrequited love and class struggles, to elicit empathy for his queer characters. "The core idea of the film isn't sex," he says. "It's a story about love. I've loved people that didn't love me back, and vice versa, and everyone can relate to that. That was one of my main drives for making the film."
Uyaiedu Ikpe-Etim, Nigerian writer and director of the queer domestic drama, Ìfé, tries to depict the reality of queerness by avoiding damaging stereotypes about queer people: "For example, a lot of Nigerians think homosexuality is a response to some form of trauma," she tells OkayAfrica. "They can't divorce straightness from a person's existence. With Ìfé, I wanted to change the way people think about homosexuality – to think of gay people as complex human beings who break hearts and also get their hearts broken. Many Nigerians only experience queer people via film and TV, and when these characters are demonized on screen, it validates their own homophobia and ignorance."
The challenges queer filmmakers face
For filmmakers going against the grain of Nollywood, making these films isn't a walk in the park. Queer films are usually met with significant pushback. In one high-profile instance, the National Film and Video Censors Board threatened the producers of Ìfé for not presenting the film to them before showing it publicly, with the board seemingly livid about the audacity of the film's existence.
Additionally, financial difficulties also arise. "Many queer films aren't made to be commercial hits because they're social-change driven and in an industry where profit making is usually the goal, that's a problem," says Ikpe-Etim. Nollywood industry gatekeepers, she adds, simply aren't going to stick their necks out to fund a queer film.
With the existing anti-gay laws, casting also poses an issue due to the fact that actors don't want to be ostracized for playing queer characters. "It was extremely difficult to cast All the Colours of the World Are Between Black and White," says Apalowo. "We spoke to so many young actors for the film who turned the roles down simply because of the film's subject matter, which is understandable considering Nigeria's values. You can't really blame them." He adds that an actor who they'd wanted for the film suddenly stepped back from the role he was offered a week before shooting, "most likely due to pressure of some sort."
14 YEARS and a day - official Traileryoutu.be
Evidently, progress is slow but it's even slower when it comes to Nollywood's representation of trans people, with practically no portrayal of them in films. Fola Francis, an emerging trans actor and entrepreneur who plays a trans woman named Divine in the upcoming 14 Years and a Day, says about the paucity of trans characters in Nollywood, "As one of the smallest minority groups, trans people probably consist of less than 0.5% of the population so it's trickier to be visible, and a lot of people would rather just avoid the potential harm and scrutiny that comes with being an out trans person or playing a trans character."
Francis tells OkayAfrica: "Amplifying yourself on screen will make you a target and it's not going to be worth it because even the existing depictions of trans people on screen are caricatures and no one is trying to be the butt of the joke." In spite of this, she decided to play one of the first trans characters in Nollywood because she always wanted to act. "After reading the script for the film, I knew the writers and directors would do right by my character," she adds.
Francis still has hope for the future of LGBTQ storytelling in Nollywood: "People are getting more comfortable with coming out and identifying as who they are – damn the consequences. Especially among the younger generation of LGBTQ identifying people. I'm also going to keep doing the work to make myself a symbol for that kind of freedom." Her hope is unyielding, and with savant filmmakers like Apalowo, Ikpe-Etim, and a host more taking LGBTQ storytelling in Nollywood by the helm, she's not alone.