Photo courtesy of Little Havana
OkayAfrica's Guide to December Parties in Lagos and Accra
Where to find the hottest parties in Ghana and Nigeria in December 2018
---
I arrived at the Little Havana party, just after midnight. We were a short drive in the hills outside Accra, and it was still hot. I walk through the the gardens of the Little Acre Lodge set up with cabanas while coloured lights bounced off the palm trees. Music from the best Afrobeat DJs echoes through the hills. The harmattan haze creates a beautiful ambience and make the cold drinks go down a lot better. And the people! The dancing, the compliments, the great conversations with random strangers; What makes December in Accra truly wonderful is the energy we bring to it.

---
During December in Accra—or as some affectionately refer to it "Dezember"—parties end when day breaks, and as soon as night falls you get right back to it. If you are about the party life and love travelling, welcome to "Dezember." First of all, to get this straightened out, it's not a physical location or a month exactly. "Dezember" is a period in time—a series of thrilling experiences and moments locked within the tight traffic and unfiltered heat of Accra's streets.
Lagos and Accra have become famously popular during December for the best African parties. In Accra, there are back to back parties for two weeks straight. From night clubs, day parties, house parties, parties in the hills, concerts, themed events and more. International performers and DJs are flown in from all over the world, to play and perform at multiple events.
The Rise of Global Afrobeats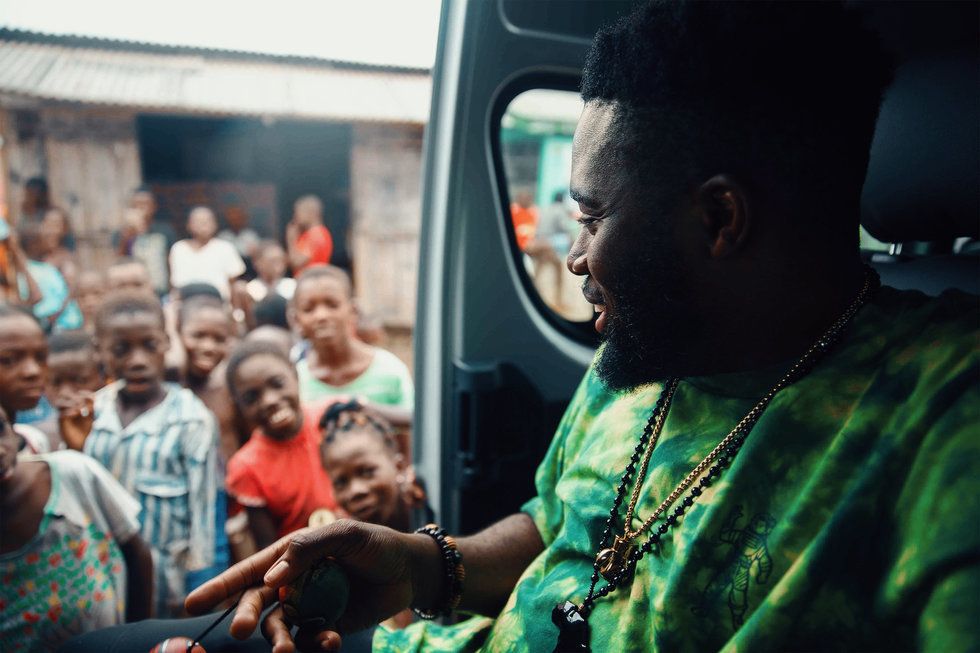 Dj Juls—Photo courtesy of the artist
The spike in interest in December, be it in Lagos or Accra, can't be pinpointed. However, one can identify a general symbiosis between the growth of Afrobeats and the growth in diaspora relations. "'Dezember' has significantly contributed to the growth of afrobeats internationally," says Ghanaian Afrobeats superstar, Kidi.
He explains, "People come and hear these fresh jams and take it with them when they leave".
Kidi who was booked for over twenty shows last December , has added a similar number of shows to his calendar this December.
DJ Juls, a UK producer and DJ by way of Ghana, also relates the boom of Afrobeats to December festivities.
"I think the artists really work on dropping riddims around Christmas time," the award winning DJ says, "There's always one song that everyone loves, and people who travel down get to experience the hype of that song. When everyone goes back home the DJs just run with it. It gets more popular and in the long run boosts local artists' chances of going on tour or doing little gigs here and there. It's then up to the artists to build on that hype."
Africa Taking Hold of its Narrative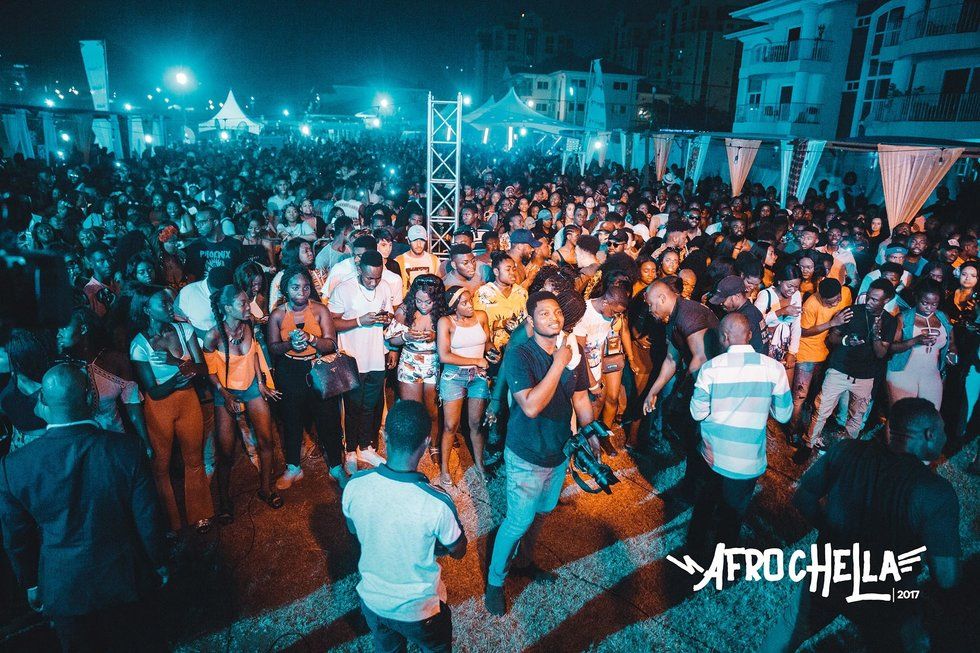 Afrochella—Photo courtesy of Edward Adjaye
The trigger for the number of flights being booked for December can be attributed to a number of things. The internet and the ways we document our day to day lives could be one. Africa taking a hold of its narrative has done more good for the continent than most international publications. University students spot their friends balling in clubs in Lagos or Accra, having the time of their lives on Snapchat or Instagram stories, and want the same experience.
Edward Adjaye, one of the organizers of Afrochella, an afrobeats centered festival in Accra, believes it's all about the experience.
"People used to come (to Accra) and do nothing, but clubbing," he says "but now there are festivals and parties in the hills and day parties. So many options outside of just clubbing."
The annual festival, Afrochella which Adjaye hosts has its date scheduled within the depths of the season for a reason.
"Throwing Afrochella in 'Dezember' helps, because the festival is mainly about the promotion and celebration of Afrobeats and the culture as a whole," he reveals, "'Dezember' is the season where everyone; from diaspora to first timers, most likely visit Ghana and are ready to party".
OK, now what's next?
The conversation, however, must go beyond leaving the club at 8am and sipping coconut juice on private beaches. "Dezember" creates an amazing bond between Africa and the rest of the world; one based on relationships. How can the opportunity be fully realized?
"Event organizers need to stop looking at each other as competition and help each other with everything; from sharing information and promotion," says Adjaye, "Everyone eats when everyone succeeds. Also, the big brands need to put up more, in terms of sponsorships and collaborations with event organizers. Everyone wins only when everyone works together, pretty much."
Kidi shared a different perspective, focusing more on the national benefits of this blossoming relationship.
"If 'Dezember' is properly marketed, it'll generate a lot of revenue for our tourists sites and event organizers," he says. "Carefully planned activities, shows, exhibitions and markets can be organized, because these people are here to have a good time."
DJ Juls believes "Dezember" has formed a brain of its own. The only way to benefit from it, is to capture the opportunities it presents.
"A lot more people flock to Ghana over the Christmas and the summer. An estimated 75,000 people are expected in Ghana this year," DJ Juls says. "That means business opportunities and networking."
He however lays bare a pressing negativity to Dezember, "Only negative I guess is traffic and over capacity venues. Kills the vibe sometimes." Pack your bags! We're going for Dezember!
If you're heading to Dezember, here are some events and places you shouldn't miss:

December Events in Accra, Ghana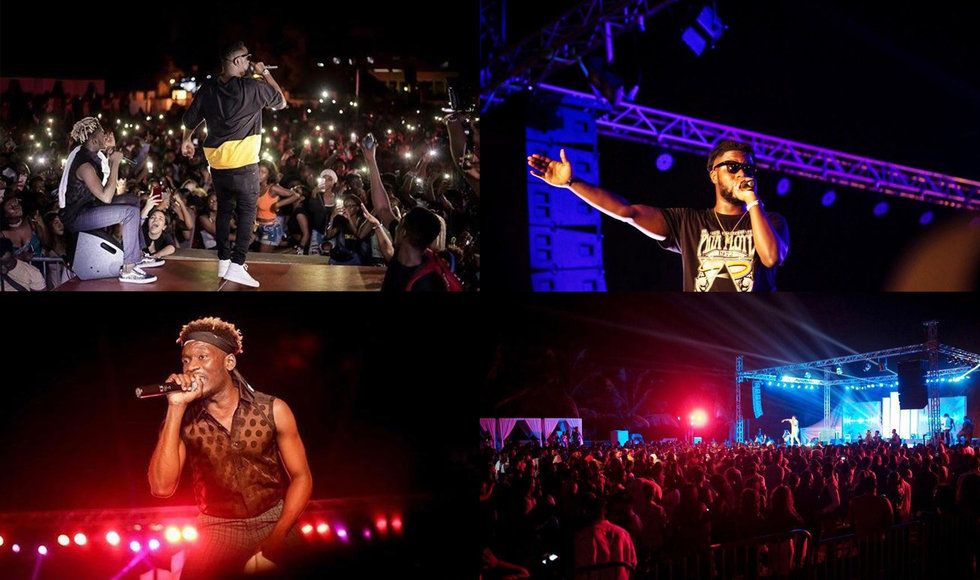 Mr Eazi's Detty Rave 2017—Photos courtesy of Detty Rave
Afrochella—The day festival on the 29th of December, celebrates afrobeats and the culture surrounding it through music concert, art installations and exhibitions and fashion. Buy tickets at afrochella.com/tickets

Detty Rave—The annual Mr Eazi-curated concert hosts international musicians from around the world in a rave like no other. Get tickets for the 28th December concert at dettyrave.com
Little Havanna—A party thrown in the hills on the outskirts of Accra, Little Havanna lives up to its name. Endless drinks, amazing people and back to back music from the best DJs.
The Day Party—Think Gossip Girl parties, but with Ankara designs and champagne flutes.
The Throwback Party—Hosted by DJ Juls and DJ Neptizzle, the throwback party is back to back hip hop bangers that rocked the 2000s on New Year's Day. Buy tickets at ayatickets.com/events/throwback-new-years
Manifestivities—Rapper Manifest hosts some of his favourite Musicians at the Bukom Boxing Arena for an exciting experience. Rap battles, DJ battles, performances and more are the highlight of this 23th December event. Get tickets at ayatickets.com/events/manifestivities
BHIM Concert—Dancehall musician Stonebwoy takes up the challenge to fill the 15,000 capacity Fantasy Dome on the 28th of December. With performances from Morgan Heritage and other musicians, this event promises to be one for the books. Find tickets at ayatickets.com/events/bhim-concert
Rappaholic Concert—Get drunk off back to back hits from the rap maestro Sarkodie at his annual Rappaholic concert on Christmas Day at the Conference Centre.
Liquid Gold—Private club Front/Back opens its doors on 31st December for Liquid Gold party. A night of opulence, wealth and unhinged partying.
M.A.D. Fest—The burgeoning rapper, Ayat, hosts the annual Music of African Descent (MAD) festival at Madina Number 1 Park, on the 22nd of December. For the third time the show will host top rappers like Medikal, Edem, Teephlow, Akan, Kwesi Arthur, Worlasi and Manifest.
Crusade 3—The thriving Ghanaian collective La Meme Gang host their 3rd concert at Crystal Park. Performing songs off their just released album "Linksters", along with artists featured on the tape.
The Magna Carter—Villa Grace chef hosts guests to a Hip hop themed lunch on December 22. Endless chutes of champagne will be available.
December 2 Remember—The annual music concerts hosted at the International Conference Centre comes back again this year. Enjoy hits from your favourite Ghanaian musicians back to back. Dress code is blue denims and a white top.
The Loud Concert—The annual girls only concert takes place on the 21st of December at the National Theatre. With award winning singer Efya headlining, it promises to be remarkable.
Lokkofied—Concept store and art hub Lokko 08 celebrates its 10 year anniversary with an insane party. Accra's best DJs, drinks food and music in abundance, it definitely sounds like the type of party to look forward to. Happening at Lokko House on 22nd December.
Sabolai Radio Music Festival—The annual music festival celebrating indie and alternative musicians from across Africa returns this year at an unusual new location. Catch teh crew at the Kwame Nkrumah Interchange on the 12th to 15th of December. Tickets available at accradotaltradio.com
Ghana Rocks—The popular annual show makes a comeback after a hiatus with an impressive lineup. Local artists like Kuami Eugene, Kidi and more with be joined by international acts like Jidenna, Burna boy and more. Happening at the Fantasy Dome on 29th December 2018.
Accra Gidi Cookout—Grab a barbeque and enjoy the sounds from around the world spun by DJs like Juls, Vision DJ Loft and more.
Promiseland—Rising afropop star King Promise, headlines his own show on December 15th at Crystal Park.
Pine x Ginja—Enjoy dancehall, reggae and full blown jamaican and island vibes at the PinexGinja party, at Crystal Park. Tickets available at Eventbrite.
Nostalgia—A celebration of the best hits of the 2000's in one night! Happening on the 15th of December at Bosphorous Rooftop, this party looks like the perfect start for the Dezember activities.
T.I.N.A Festival—Fuse ODG hosts the first ever This is New Africa (T.I.N.A) festival to celebrate the unique African culture through music, fashion and food. Happening on the 4th of January at the Fantasy Dome. Get tickets at ayatickets.com/events/tina-festival
Fast Food Festival—Accra Fast Food Festival is calling out all foodies for the ultimate cheat day. Enjoy an assortment of Accra's favourite fast food joints and the best tunes at this all day event on the 22nd of December at the Accra Fast food festival.
A Taste of Christmas—Accra's nomadic Chef, Biishville invites all to a culinary experience on Christmas Eve. Fine wining and dining, complete with a dinner party and endless proseccos. Limited seats available to grab one by making a reservation at biishville@gmail.com
Brunch at the Palm—Food blog Taste Tales hosts guests to a food and mimosa filled brunch on the 30th of December. Enjoy live jazz and DJ sets at this foodie haven. Tickets available at Eventbrite.
#BeCurious—Hosted by the afrocentric movement Tribvl, #BeCurious is the last of the groups monthly parties. With strictly afrobeats music and an afro-inspired theme, #BeCurious is the party to be at if you want to party. Happening at Cleaver House on the 30th of December. Buy tickets on Eventbrite.
Twist—Start your night right inside the coveted Accra club. The bouncer may not let you in for absolutely no reason at all, but it's always amazing once you're inside.
Bloom Bar—Pre-game at Accra's open air bar. Split their signature drinks with friends and enjoy fine selection of chill music.
The Woods—A chill, relaxed bar perfect for just hanging out with friends and getting away from all the Accra city mess. The perfect hideout within the heart of Accra.
Sky Bar—A rooftop bar on top Accra's Villagio apartments. It's perfect for quiet drinks and cool vibes.
December Events in Lagos, Nigeria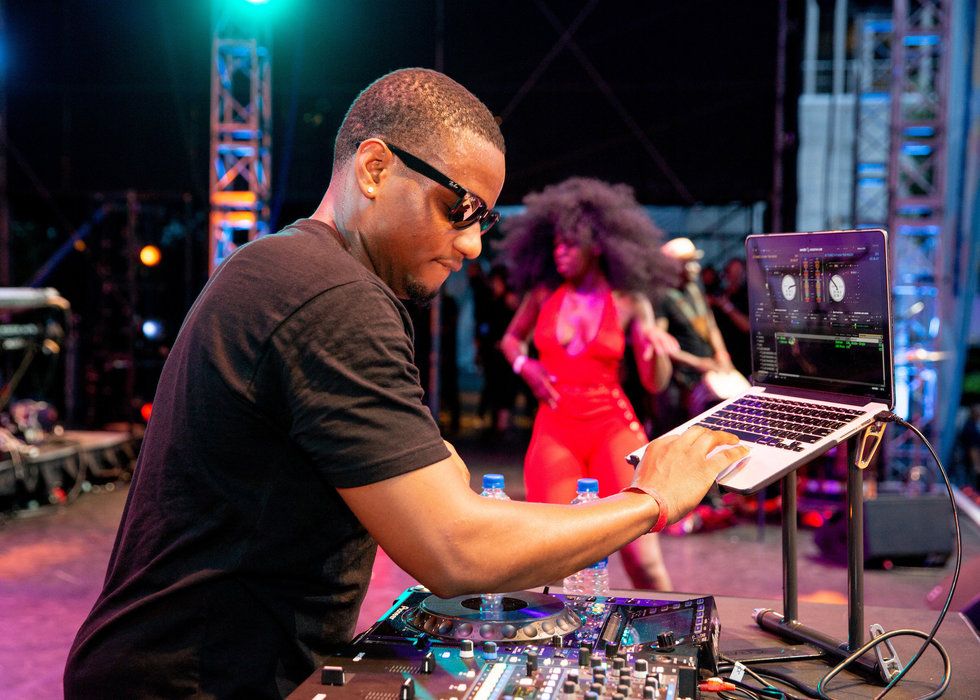 Catch DJ Tunez in Lagos—Photo: OkayAfrica
‪Simi Live in Lagos—The songstress sets December off with her silky voice at the Eko Hotels in Lagos on the 9th of December.‬
AG Live—Adekunle Gold promises a golden experience at his 3 day show. Catch him on the 13th, 14th or 15th of December at Terra Kulture in Lagos. Buy tickets at nairabox.com
‪King Coal live in Concert‬—The Afrobeats king made a comeback this year with some amazing music. Now you get to watch him live perform his music with some favourites at Eko Hotels. Check out Wande Coal's show on the 14th of December in Lagos. Buy tickets at nairabox.com
‪Mayor of Lagos Concert—Mayorkun‬ takes over the Federal Palace Hotel in Victoria Island for his Mayor of Lagos concert. 14th of December is one for music lovers.
Pretty World—‪New school Nigerian musician Pretty Boy D-O‬ headlines his first show on the 17th of December at Artisan, Victoria Island. Get tickets at pluggrecords.ng/prettyworld/
‪Wizkid VIP Experience Night—Afrobeats king Wizkid brings all the heat home to Lagos, Nigeria for his Wizkid VIP Experience Night. Seats available for only 5000 VIP guests at the Eko Hotels, Lagos.
‪The Beat FM Christmas Party—Top Nigerian radio station The Beat FM hosts a myriad of musicians at this years Christmas concert. Featuring performances from musicians such as Lil Baby, Kojo Fundz, Lotto Boys, Kizz Daniel, Mr. Eazi, Peruzzi, Teni The Entertainer and more. Federal palace is the place to be on December 19th for this once in a lifetime event.
Blackout Lagos—DJ Tunez hosts the popular New York party, Blackout in Lagos on the 20th of December at Hard Rock Cafe. Featuring artists such as Sarz, Wizkid, Reekado Banks and more.
‪Urban Music Fest—Nigeria's premiere music festival ‬brings in the best from the city of Lagos on to one stage. Join Wande Coal, Niniola, Tiwa Savage, DBanj and more at the Eko Atlantic. Tickets available for the 2st December to 23rd December event at: Naijaticketshop.com
Flytime Music Festival‬—Flytime Music Festival‬ kicks off on the 21st of December with the annual Rhythm Unplugged Concert featuring Burna Boy, Tiwa Savage, Davido and more. It is followed by a Bobby Brown and Bell Biv Devoe headlined concert on the 22nd of December, and climaxes with an Olamide Live event on the 23rd of December. Get tickets at flytimetv.com
Afrobeat Fest—Celebrate the best of Afrobeats at the Afrobeat Fest with Patoranking, Timaya, Runtown, Tekno, Mr Eazi, Femi and Seun Kuti, on the 22nd of December at the Eko Suites Hotel. Tickets available at naijaticketshop.com
Made in Lagos—Wizkid ‬headlines his second event this December in Lagos on the 23rd with the Made in Lagos concert. Performing artists include Tiwa Savage, Mr Eazi and more. Tickets available at naijaticketshop.com
Olamide Live in Concert—The Motigbana hit maker Olamide‬ headlines his own show at the Eko Atlantic Hotel on the 23rd of December with a host of other amazing performers.
‪Rare. Live—The Nigerian alternative sweetheart Odunsi‬ the Engine is set to thrill audience to music from his newly released album Rare. at the Hardrock Cafe. This event will take place on the 24th of December.
All Black Everything—Celebrating ten years of this phenomenal annual Christmas party on the 25th of December at the landmark event centre. Don't forget to come dressed in all black.
Island Block Party‬—The organizers of Mainland Block party bring the all day rave to the Island on Christmas eve. Buy tickets for the premiere event at mainlandblockparty.com
Eat Drink ‬Festival—As if all the Christmas meals are not enough, Sterling Bank fills up Lekki Coliseum with food vendors for the two day food festival. Join other foodies on the ‪26th and 27th of December at the Eat Drink Festival.
Burna Live—The king of vibes, Burna Boy‬, headlines his show Burna Live at the Eko Hotels on ‪26th of December. Performing his classics as well as songs from his 2018 album 'Outside', Burna Live promises to be unmissable.
Copacabana—Copacabana promises an endless summer with this sunny rave at Tickle Bay on the ‪26th of December.
Positive Vibes Only—If you love Champagne showers, the PVO party in Lagos on the 27th of December assures you of endless bubbly and of course, positive vibes.
Native Land—Music and Pop culture magazine Native Mag hosts their annual Native Land concert at the Muri Okunola Park on December 28th. ‬Last year's event hosted UK musician Skepta, Not3s, Mayorkun, and more. Excited to see this year's lineup.
‪Palm Wine Music Fest—The boys of Showdem Camp round up an amazing musical year with the alternative music festival of the year. Happening at the Muri Okunola Park on December 29th, Palm wine Fest looks like alternative music haven.
Mainland Block Party—The monthly mainland rave ends the year with a bang on the 31st of December with one last throwdown. Get tickets at mainlandblockparty.com