Growing up in the '80s and early '90s you'd be accustomed to the sounds of galala, a more uptempo version of reggae music with African drums and arrangements. It was a sound that took not just the form of reggae but also its fighting spirit, rising from the streets and taking Nigeria by storm with probably the first genre-inspired-street music.

"Galala is the first true dance trend of the streets in the new millennium. The dance originated from the pseudo-reggae sound made popular by artists like Ras Kimono and Blacky," explains Pulse NG.
Years later, Patoranking is Nigeria's modern day Afro-reggae superstar and has gone on the be the face for a sound that's evolved and fused with afrobeats, giving birth to a new form that takes its inspirations from reggae, as well past stars that pioneered the galala sound like Daddy Showkey.
Patoranking's distinct sound sets him apart from all other artists in Nigeria and presents a beacon of hope in the possibility of elevated originality. Breaking out with his hit song "Alubarika" featuring Timaya, he's used his music just like galala to speak for the streets and tackle the struggles of the average Nigerian. Three albums down the line, and a multitude of smash singles in his bag, Patoranking has continued in the vain of an inspiration to people on the fringes who are counted out every day.
We talk to Patoranking about his love for Ghana and reggae, choosing between football and his music career, and what he's been working on.
This interview has been lightly edited and condensed for clarity.
---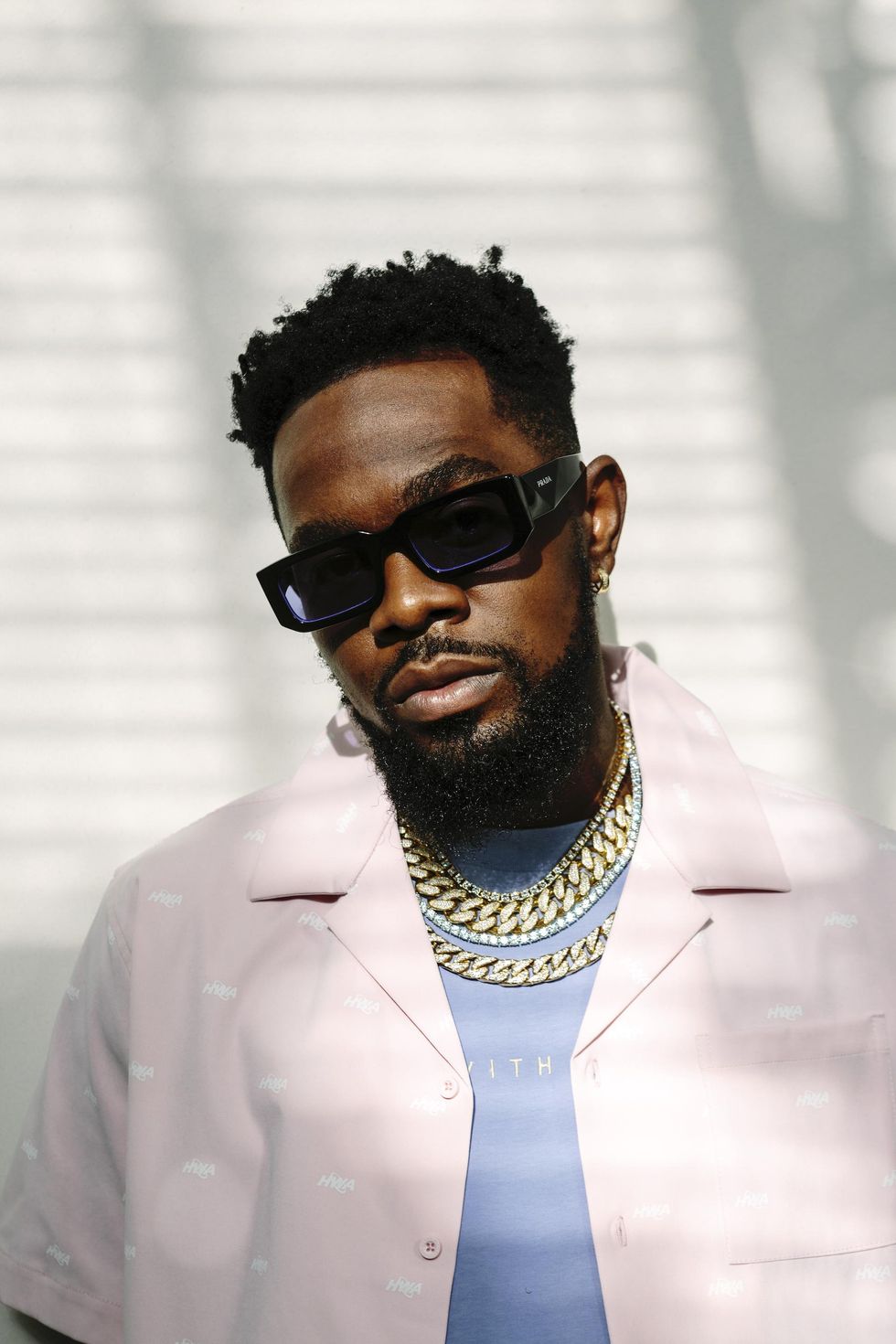 Patoranking,Photo: Guilllaume Laundry.
How much of an impact did your childhood have on how you see the world and music?
Patoranking: I was born in Lagos and grew up in a ghetto called Ilaje Ebute Metta. You know what the ghetto looks like over here and what it feels like, we're used to what makes us happy, and the two biggest things that make us happy are music and football. I was doing both perfectly, I was playing football at that time when I was doing music. In terms of music, I started as a dancer, dancing in carnivals, street jams and stuff like that, before I started singing. The ghetto actually shaped me and prepared me for who I am today.
What were your musical inspirations when you were growing up, what type of music did you listen to?
Galala was big, it was a big part of the culture,. It's like the stepchild of dancehall music and something that is part of our life there. The scene is huge, it's literally the ghetto genre, coupled with reggae music. Bob Marley was an influence, as well as many Galala artists, Daddy Showkey.
Like you said you were both good at football and music, what steered you towards music?
I had a dilemma where I had to pick what I wanted to do, football or music. I prayed about it and I found myself doing music, so for me that's been it.
I read somewhere that you schooled in Ghana, which is a big influence on your love for reggae music.
I went to school in Ghana but I didn't school in Ghana, I got admitted into the University of Cape Coast but I couldn't go because at that point things were not really good financially for my parents. It was then I decided I wanted to venture into music fully. Before I got to Ghana I was already listening to reggae music. Galala is like reggae, it's like dancehall and reggae. So when I got to Ghana I fell in love with the scene there because the dancehall and reggae culture there is huge. It was a step further of how I see the scene back home, so there was lot of learning, listening to different sounds and attending different events just to get ready for what the future held.
How did you come up with the name Patoranking?
My name is Patrick and my nickname used to be Pato. Then, wgeb I was playing football a certain Jamaican I met at the beach added "Ranking" to my name. I remember I used to be called "Pato Rico" cause I needed a name that sound nice, a football name, and the guy saw me and said "Are you from Puerto Rico" and he was just playing his guitar and we were vibing then he said "I like RANKING, I respect you and I'm gonna add Ranking to your name." Ranking meaning highly respected, like people that are respected, there's Shabba Ranks.
One of your first hits was the socio-political "Alubarika." Do you feel it's important to speak out in music and always represent where you're from, something Galala music was fond of doing as well.
"Alubarika" was that song that put me out there, it was me praying and hoping for things, it was me putting faith into music. I was at a point in my life when I needed that change and the only way I could get that change was to see that change and be that change. I needed things to be fine, I needed to be Patoranking, I needed to move from nothing to something and the only way it could have happened is me prophesying over it and that was what I did through that record and from when it dropped everything changed.
You're one of the people that has championed the reggae sound to the forefronts of Nigerian, and since you broke out we've seen more influences and fusion of the sound, even in mainstream Nigeria. How does that make you feel and what do you feel it will grow into moving forward?
It's growing, one thing about life is everything that will grow has to be of substance, not hype. If it's something that is of quality it will grow. It's growing already, you can see different numbers of people fusing in dancehall to their music in Nigeria. There's Afro-dancehall which a number of people are doing but they didn't know that's what it's called, it's growing and it's going to be big, the future is bright for it.
What would you say is your standout memory so far from your career?
I can't say I have one because there are so many highlights. I see it like football, it's like saying there's a goal you scored last week and there's another goal you scored this week, there's something spectacular about that goal, but you also like this goal. So I just think the fact that afrobeats is the conversation right now and I'm part of that story, and the fact that I'm telling that story too is a major highlight in my career.
You've not dropped a project in two years, but you released a single this year, is there any reason you took a hiatus?
No, I've just been working. I like for my demand to be more than my supply, I always love to get it right. We're working on something big, but I can't say more because I like the idea of people not seeing me coming.