Apart from being a collection of fresh tunes from nine unheard women voices in music, Prince Kaybee's latest release, Project Hope (Season 1), exists to address a problem that has existed for years.
"There's a very, very big gap we need to cover. The project is about women, we're trying to get them in there as much as possible so that we have level ground in the music industry," says the accomplished house deejay and producer, speaking during the launch of Project Hope in a cosy venue in the north-side of Joburg.
On the night, every artist who appears on Project Hope is given a chance to perform their song during the event. The songs vary from R&B to Afro-house and, of course, amapiano. Artists such as Thembi Q, RedRo8se, Thalitha, Rinay and Proud among others take to the stage for a showcase of their individual songs which appear on Project Hope.
---
Project Hope started taking shape on Twitter. Prince Kaybee asked women vocalists to share videos of themselves singing under the hashtag #ProjectHope. "I looked for a willing heart in the videos," says Prince Kaybee. "I went through every singer's profile; I checked their background, some of them had been following me before, I noticed they can sing, and with that intel, I could tell some of them are very hungry to do this."
Thembi Q and her dancers on stage. Photo by Sabelo Mkhabela.
One such artist is Thembi Qwabe (stage name Thembi Q). Her lively performance moves the audience which comprises artists, music industry insiders and members of the media. Born in Mount Frere in the Eastern Cape, Thembi came to Joburg in 2005. "I tried getting into the industry, but I found it hard to navigate myself through it, so I ended up losing that focus and passion," says Thembisile a few minutes after her performance.

Buying a phone with superior camera and sound quality reignited her passion to sing. She started recording videos of herself singing and posted them on social media. "My little brother would encourage me to take house beats and add vocals on them," she explains. "So, I just started doing that and people liked it, and would ask me, 'when is the next video?'"
As a result, Prince Kaybee's callout found Thembisile ready. "I posted three videos under the hashtag," she says.

The process of making Project Hope gave Thembisile and the other artists who were chosen a glimpse of the music industry. It was her first time in a professional recording studio and taking part in a professional photo shoot. "All these professionals in the industry," she says, "them telling us about how this works, it was just a great experience."
The recording of Project Hope happened across a short period of five days due to logistical constraints. Prince Kaybee's peers and collaborators such as Msaki, Dr Tools, Ngasii, Sir Trill, Nompumelelo and MK Productions, among others lent their hands in the making of the project.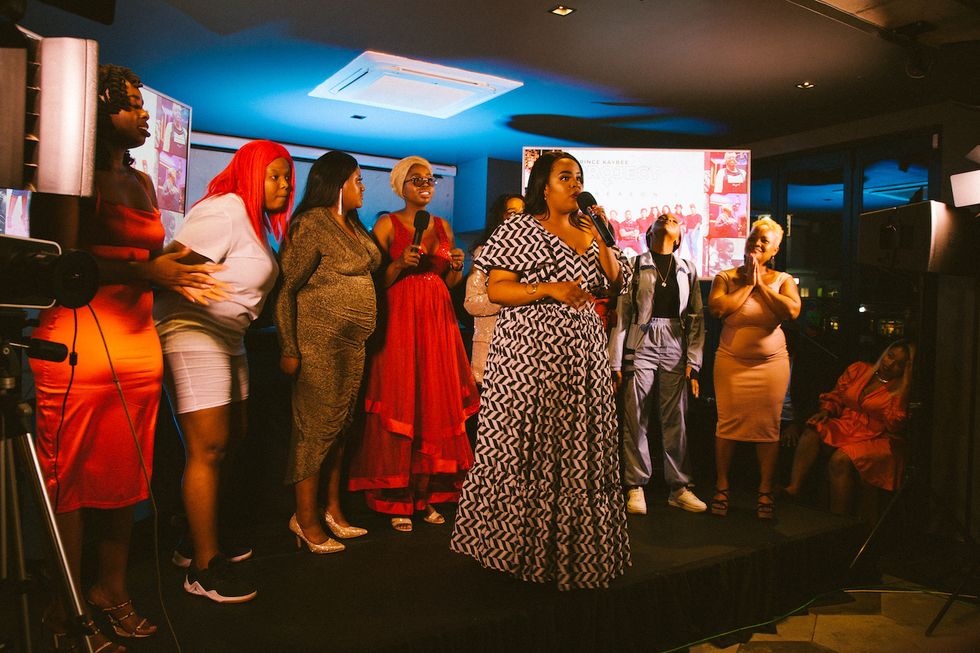 The artists featured on Project Hope pose for the camera. Photo by Sabelo Mkhabela.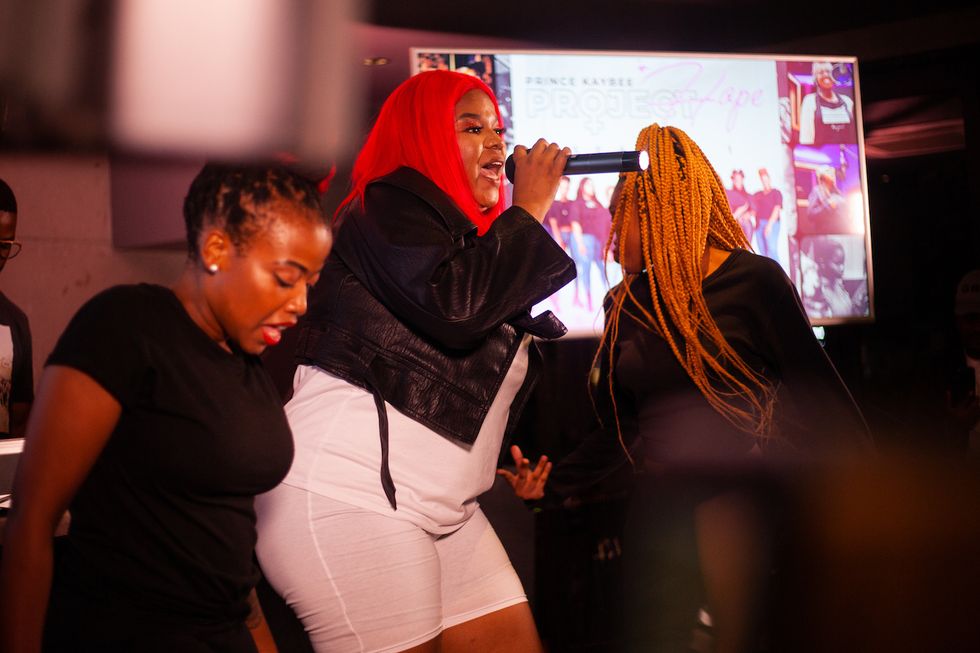 RedRo8se on stage. Photo by Sabelo Mkhabela.
Maski, whose collaboration with Prince Kaybee "Fetch Your Life" was one of the biggest South African hits of 2019, volunteered to assist in the project. "I told Prince Kaybee, 'this idea is important and it's big.' I could see his heart, so I was like, 'let me support you.'"

Msaki's biggest role was "just balancing the energy and checking on everything," she says. "I work a lot with young people as well, so I understand that they need encouragement, and I'm a natural cheerleader."
The process of making the songs varied. "Sometimes we wrote together, we tag-teamed some girls, and sometimes the production led the song, but it was all about making sure that the person that had the song that fits their personality, as he said, the character of it," says Msaki. "There's an incredible writer called Sir Trill. He's the guy that [Prince Kaybee] featured on [his single] 'Hosh'. He wrote so many of the songs."
Sir Trill came to Thembisile's rescue when she struggled with the first song she worked on. "I was just sitting thinking I failed Prince Kaybee and Msaki; at the end of the studio session there was no song," recalls the singer. After the session, Sir Trill told Thembisile he had the perfect beat for her. Being an amapiano beat, which wasn't necessarily a sound she was into, she was skeptical. Trill came up with the hook, and Thembisile was excited to sing it. The cheeky song's hook which goes, "Indoda engenamali iyasinda embhedeni" ("a broke man is heavy in bed"), plays to the current narrative that men must be financially secure before expecting women to get involved with them romantically.
Photo by Sabelo Mkhabela.
The process taught Thembisile that not all song ideas will sound the way they do in one's head. But Thembisile reveals she felt like her ideas mattered during the recording sessions even though she was a rookie working with professionals. "The most important thing," says Msaki, "the ladies led. We were listening to them, what do they want to say? What is it that is inside of them that needs to come out? That was the most important thing, and I think everybody tried to stay sensitive to that."

Both Msaki and Prince Kaybee didn't just teach the artists the ways of the trade and the song-making process, but they also took lessons themselves from them. "I learned new vocal ranges," says Prince Kaybee, "I learned that some artists can't do certain things. Some people are performing artists, others are just recording artists. I learned that I want people to understand what they are. If you are a recording artist, perfect that."
Photo by Sabelo Mkhabela.
Project Hope is a platform for emerging artists to not only showcase talent, but helps them get their foot in the door of the near-impermeable music industry. Prince Kaybee assures there will be subsequent iterations of the project in the future, He, however, makes it clear that he's not committed to any of the artists beyond the project. "Unfortunately, I cannot dictate or be sure of what's to come in each and everyone's future," he says, "They were picked from Twitter, and it happened over a day, so I don't expect them to be complete artists. They must still work hard and move forward. But as far as the foundation and the business, music contracts go, we've made sure that they understand what they're doing."
Photo by Sabelo Mkhabela.
For RedRo8se, whose song "Tlogela Piano", is another amapiano number, feels she owes a lot to Prince Kaybee and his collaborators for her inclusion.

"The first day didn't go well [for me]," she says, "but I really want to applaud Prince KayBee. The reason I call him my father is because he gave birth to this music career that's taking off. As much as he was hard on me, he was understanding that I'm new this process."
The singer works in the television industry, which has granted her access onto some media platforms for her music. Her song "Propaganda" whose snippet won her the competition, has gained some traction online and she is planning to release it mid-November.
Who knows? One or more of the artists featured on Project Hope could become the country's next star(s). After all, what most black artists, especially women, struggle with is access and resources.
Stream Project Hope on Apple Music and Spotify.