Prxject Mayhemis South African hip-hop's answer to that seemingly lost hip-hop tradition of pairing an emcee and a producer to form a duo. Producer 5mute(dB)teamed up with emcee Melly Melto deliver in the tail end of the year one of 2020's best SA hip-hop projects, their debut album Textured.
A cohesive and focused project espousing the tenets of boom-bap yet not sounding dated, thanks to Melly Mel's timely lyrics and 5mute's timeless beats that capture that nostalgic essence while retaining a modern feel.
Before Textured, the duo released their debut EP in 2018 called Introducing Mayhem—another traditional boom-bap project. The following year, they released an EP titled Intermission, which was experimental as the production was electro-centric.
---
Textured is therefore a succinct return to their boom bap roots. The project does a good job of showcasing the specific prowess of both individuals making up the duo.
Serendipity
It couldn't be more clear than a meeting through happenstance that the two hip-hop aficionados were meant to band together and become something special. Over the phone, 5mute tells the story of them meeting at Tuerk Music, a music store in Randburg, Joburg 10 years ago. "I was in the store testing out a pair of monitors, playing some of my beats on there, and here comes this guy I didn't know, out of nowhere, and starts freestyling to them," he recalls. "I had gone there to buy a guitar that day," says Mel.
Through this serendipitous 2013 meeting, 5mute whose real name is Mongameli Msibi, based in Nelspruit, Mpumalanga and Melly Mel, real name Melvin Biza, based in Johannesburg, would go on to strike up a friendship whose organic beginnings would culminate in them forming Prxject Mayhem.
5mute(dB): hip-hop production royalty
5mute approaches his production with dexterous detail, allowing him to draw off different schools of music. Talking about "I'm Hxme", one of the songs on the project, he says, "When I made the beat to 'I'm Hxme', I was listening to a lot of Pete Rock and wanted to do something similar to 'Shut 'Em Down'. I wanted something with an undeniable bounce, a whiplash-inducing head-nod factor with some horns peppered in. So, I did some record digging to find the right sounds, chopped them up and voila! It took me a few weeks to find all the pieces I needed." He does achieve this in that both "I'm Hxme" and Public Enemy's "Shut 'Em Down (Pe-te Rock's Mixx)" have a similar recurring triumphant horn progression embedded, although the latter's tempo is a bit slower and less of an onslaught than the former.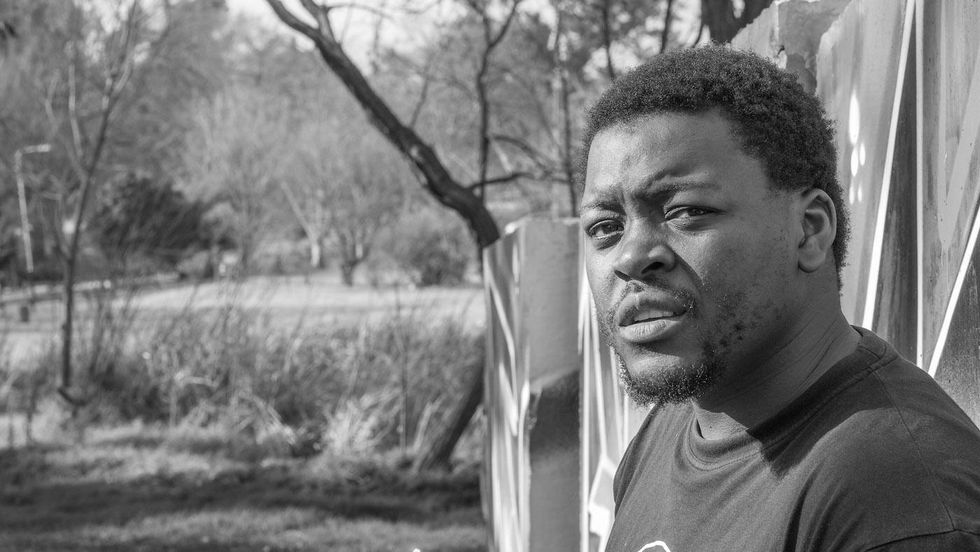 5mute(dB) approaches his production with dexterous detail, allowing him to draw off different schools of music. Image supplied.
A true scholar of the game, it's befitting to say 5mute is of the same cloth as celebrated SA hip-hop golden era producers such as Nyambz, Hipe and Battlekat. He cites them as inspiration, along with hip-hop production royalty in the form of Madlib, J Dilla and, of course, Pete Rock. This all makes sense because one doesn't have to think long and hard to ascertain his creed of beat-making when they hear how he flips obscure soul and jazz samples, just like the aforementioned.

He layers sparse kicks and crunchy snare samples over the melodic parts of his soundscapes. With over 15 years of experience as a producer, he admits that he has remained in the fringes of the underground scene, mainly producing and releasing obscure beat tapes and collaborating with lesser-known emcees across southern Africa.
Mel: a veteran in the making
Mel is on his way to becoming a veteran in the game, having plied his emceeing trade in multiple capacities for a period spanning over a decade. He is best known as one-third of the hip-hop supergroup, The Assembly—one of the flagship crews of lyrical boom-bap in South African hip-hop—alongside Captain_FS and Lebo Mochudi. He is also a serial collaborator who released a memorable joint project with producer extraordinaire, Beat Mochini in 2019, called Every Friday. The song "Replay" from the project received the coveted Stogie T Verse of The Month nod for the second verse.
On Textured, Mel raps with a panache that is a rarity. His writing transverses from virtuous self-awareness and noble spirituality, to cool and timely in just a matter of flows and a few rhyme schemes.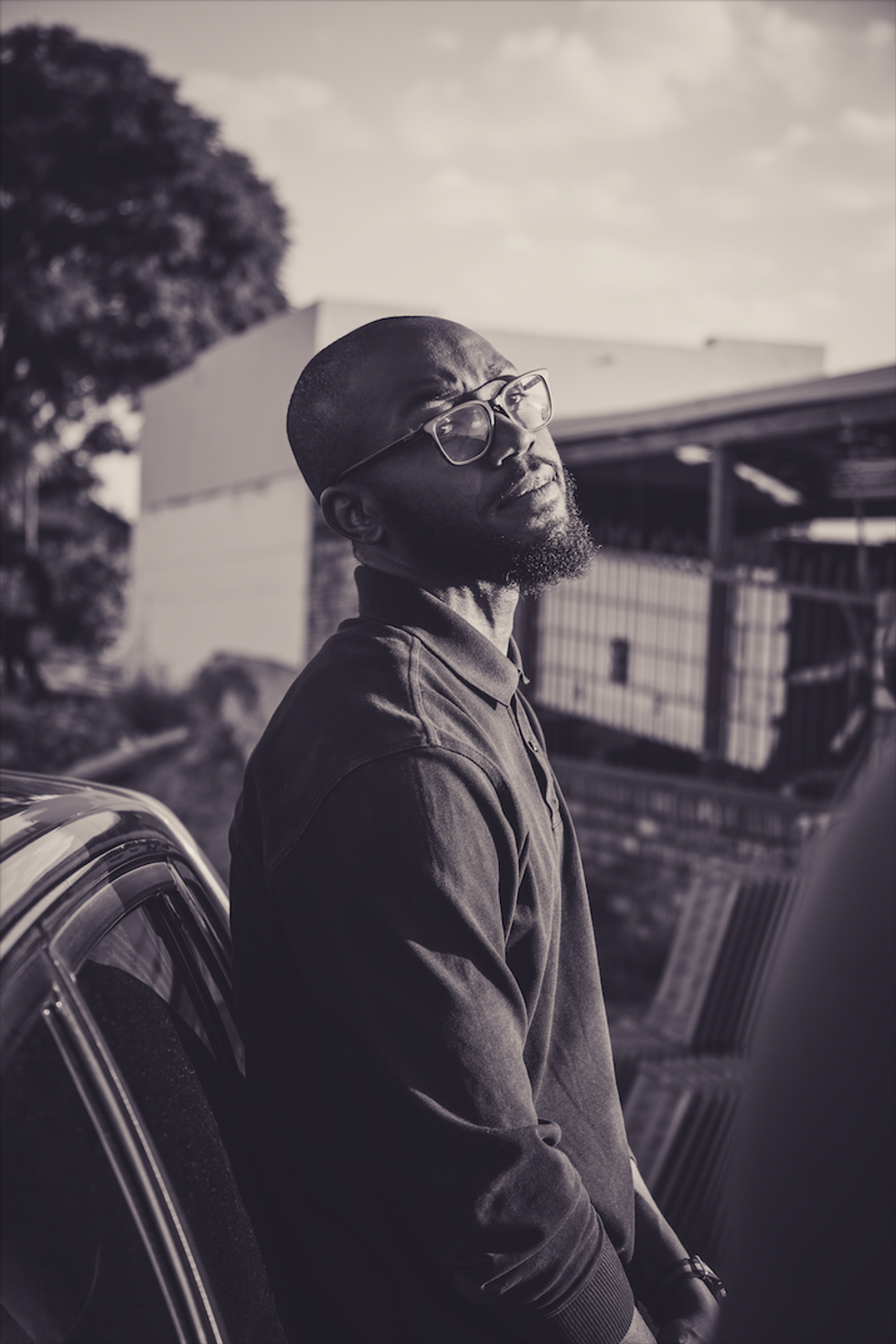 Mel is on his way to becoming a veteran in the game, having plied his emceeing trade in multiple capacities for a period spanning over a decade. Image supplied.
As precisely sharp as his flow is, there are pockets of melodic undertones in most of his delivery. Citing the likes of Yasiin Bey, Blu, Lauryn Hill,Stogie Tand Black Thought as some of his favourite emcees, one can go as far as saying he amalgamates specific attributes from each of those emcees while maintaining his own distinct voice.

He sounds self-assured, but not distastefully boastful. He dishes out advice but is in no way preachy. An example of this is on "Gxxd Things Take Time" from Textured, where he raps;
"Style keeps elevating, I seek excellence, bringing y'all an exodus, through my speech/ I try reach 'em, speak some life, sneak some free advice, give them Jesus Christ/ 'cause that's the mission that's real, blue-collar workin' hurtin' them/ People need a word that will heal/ So I got you with the gospel, reggae in the car still/ Junior Gong, baby move your bum, till your rum spill..."
Talking about the spiritual connotations in his writing, Mel says: "My spiritual values aren't a reach. I live that way so I guess it has become a part of my speech. I attribute everything good I have to God's involvement and presence in my life. I grew up aware of Christ, going to church because of my mom and aunt. But I really got to know and understand God, seeing real positive life changes, when I chose Him and invited Him in by myself. I'm about sharing what works for me, and I guess it translates through my music."
With a catalogue consisting of three projects already, Mel and 5mute reveal they have never been in the same studio together when crafting music. Instead, they fully embrace technology, even prior to the pandemic, relying simply on file-sharing. "All our projects have been done via email," 5mute(dB) says. "I will either send Mel beats for him to lace or he'll send me vocals for me to build the beats around. We have developed a really cool system. Mel records and mixes his vocals, sends me the two-track acapella vocals with the bpm, I listen to his verses and construct music that fits."
Adult contemporary rap
Thematically, Prxject Mayhem's music is adult contemporary rap that doesn't alienate the youth, in that some of the subject matter is geared towards a younger demographic. Mel shares part of his thought process for the song "That's Nxt Gangsta", off Textured, saying: "The grid 5mute captured in that instrumental embodies a West Coast gangsta boogie. So I decided to swing in the opposite direction of the type of content one would expect to hear on that beat. I'm passionate about the youth and how they need to take control of their destinies. I'm not a fan of anything that manipulates or misleads the youth for profit or any sort of gain."
The song finds Mel with his big-brother cap on, lamenting on the dangers that threaten the youth who are likely to be enticed to a path of destructions, rapping:
"These are our kids that you're teaching how to act rude/ when we need them in the classroom, sip lean, take green, sixteen, no dreams? Don't tell me to 'relax, dude'/ Crippling their legacies, feeding them amphetamines/ dull the men and get young women on ketamine/ there better be another way, 'cause if not, we're losing young men & women to a perilous plot… that's not gangsta"
5mute(dB)'s reverence for Mel is evident when he talks about a performance of his that impressed him as they were making Textured. "Man, Mel is a beast on the entire project, but the one track that really set things off for me is 'Chxpper'," says 5mute(dB). "It was the first song to be recorded on the album, and it completely blew my mind. Matter of fact, it created the album. He also amazed me on 'That's Nxt Gangsta' and 'Time Lapse', more especially on the latter. I love how he managed to find a pocket on my off-kilter drum programming."
Mel shares the same reverence for the producer. When talking about 5mute's bright idea to use a clip of Yasiin Bey's interview as part of their intro for Textured, he says, "It was Mongz's idea. It speaks to our relationship and where we're at currently; skoon! If we were in the same room when we'd heard that snippet of Yasiin's speech, we probably would have looked at each other like, 'you thinking what I'm thinking?'"

A two-man team consisting not only of good friends but consummate professionals, Prxject Mayhem is certainly one of the most exciting hip-hop groups in the game today. With an already impressive catalogue and the extensive experience between the members, there's no denying that they are a group that's guaranteed to be a mainstay in the game.
Stream Prxject Mayhem's Textured on Apple Music and Spotify.