Video
Red Hot + FELA On Late Night With Jimmy Fallon W/ My Morning Jacket, Brittany Howard, tUnE-yArDs, Antibalas, & The Roots
A special Late Night With Jimmy Fallon featured My Morning Jacket, tUnE-yArDs, and Brittany Howard of Alabama Shakes performing Red Hot + Fela.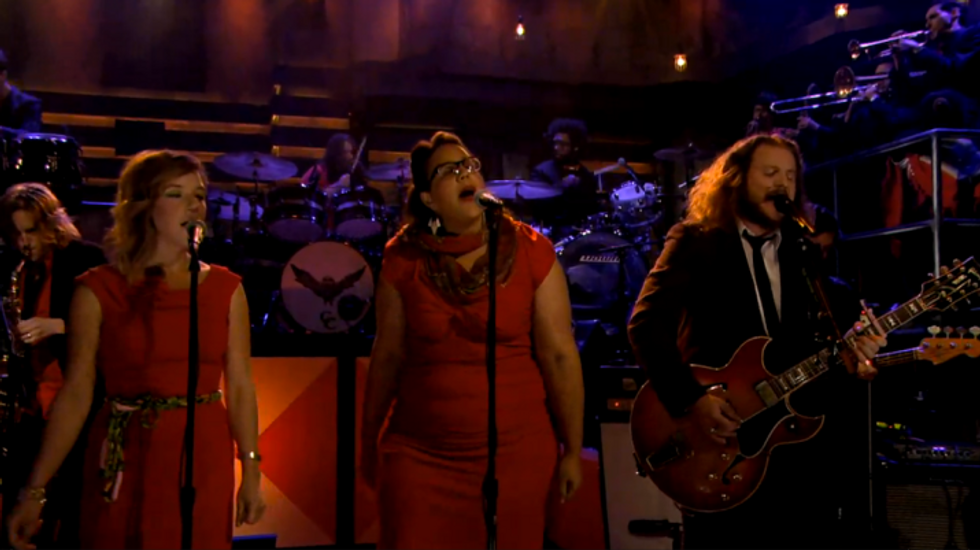 ---
And so it came to be that last night a gathering of beloved names in music convened on a late night alter to pay respects to the MOST beloved. An ultra special Felabratory edition of Late Night With Jimmy Fallon saw My Morning Jacket joined by the magnificent Brittany Howard of Alabama Shakes, Merrill Garbus (aka AIYE alum tUnEyArDs), the Antibalas horns, and our Roots fam in paying tribute to the late and greatest, performing the first ever live television rendition of Fela Anikulapo Kuti's "Trouble Sleep Yanga Wake Am," off the just released RED HOT + FELA album. Watch the late night jol below, which is just a start to afrobeat-centric happenings to come for October.
The Felabration continues with a birthday get-down of our own Thursday, Oct. 17th, at the Brooklyn Bowl. Join us, the FELA! Band (led by Sahr Ngaujah), Bajah + the Dry Eye Crew, and the one and only ?uestlove for Red Hot + Felabration during CMJ.