Music
Spellz Is the Producer Behind Your Favorite Nigerian Hit Songs
Photo courtesy of Spellz.
We talk to the hitmaking producer behind "Iskaba," "Ma Lo," and many more massive tracks.
Ben'Jamin Obadje aka Spellz' career as a music producer reached new heights last year when he made hit songs for the likes of Tiwa Savage, Wizkid and Wande Coal.

His contributions to Savage's Sugarcane EP include the titular "Sugarcane" and "Ma Lo," before which he crafted three songs for Wizkid's long-awaited album Sound From The Otherside—"One For Me," "Picture Perfect," and "Sexy." The most popular of the lot, though, is "Iskaba" by Wande Coal, which has revitalised the singer's career and returned him to levels of fame he last found as a member of Mo' Hits (later Mavins) in 2013.
Currently signed to Sony as a producer and songwriter, Spellz is also responsible for two of Burna Boy's earliest hits in "Don Gorgon" and "Check and Balance" from 2014. He's got a long list of credits that spans the rapidly changing soundscape of current Nigerian pop, which by turns absorbs ideas from its many indigenous traditions, as well as those from Ghana, Francophone African countries and, increasingly, from South Africa.
House music, a mainstay in southern Africa, is what Spellz drew on to make "Iskaba," which though released in November of 2016 gained popularity when the video was published in April of the following year, just in time for the summer markets.

"I love house music," Spellz tells OkayAfrica. "It's one of the very few sounds that cuts across continents. After I made 'Iskaba' I thought it was the way to go." That path led to the delights that are "Sugarcane" and "Ma Lo," two of the standout songs on Tiwa Savage's most recent EP. That release, a surprise drop that came out last September, was hastily assembled says the producer: "I think it's a solid piece of work and to think we didn't have all the time in the world to put it together says a lot. I feel blessed that the fans love it."
Growing up in Lagos, Spellz began making music on a Yamaha PRS keyboard after which, at 15, a friend in university introduced him to beat-making softwares such as Digital Audio Workstation and FL Studio. "I got hooked from that moment on," he recalls.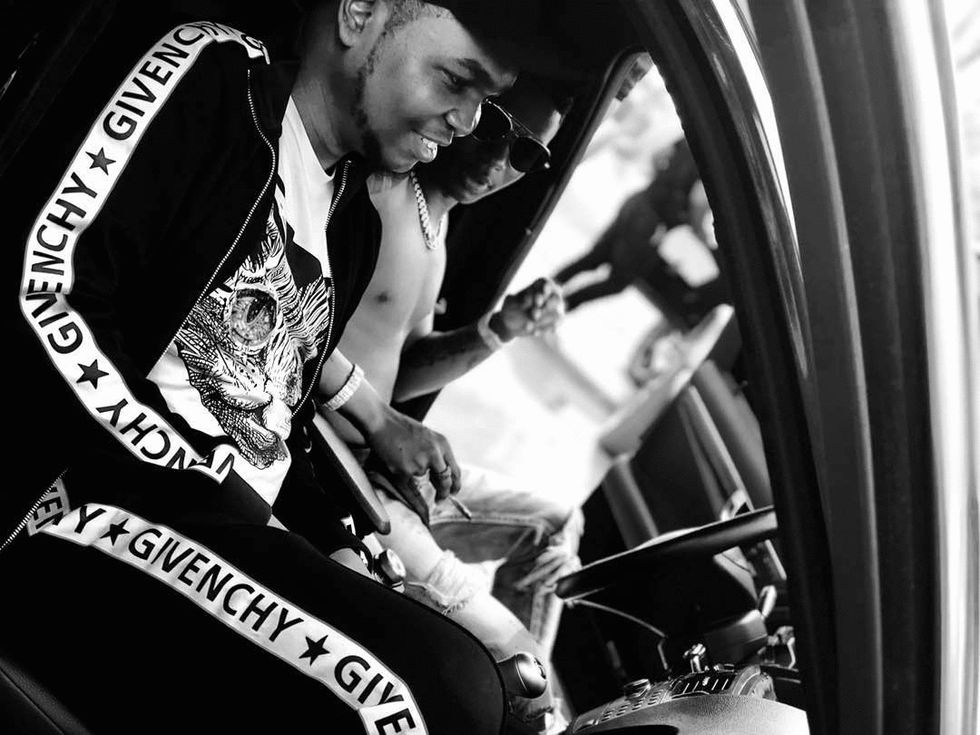 Photo courtesy of Spellz.
Some of these apprentice productions are stored on an old computer he still owns, while others are in the care of F Shaw, the rapper whose single "Lagos City Lights" Spellz produced, but who made news headlines in the country when he was revealed to be the fingers behind a succession of wittytweetsabout bureaucracy which excited Nigerian twitter, from the account of Nigeria's Economic and Financial Crimes Committee (EFCC).

Another enduring producer-artist relationship the married father-of-one has is with Dammy Krane, for whom he made "Amin," his most famous hit before his arrest in June last year on fraud charges that were then thrown out by a Miami court. In an exclusive interview with OkayAfrica after his release, Krane spoke proudly of their long relationship and how once out on bail, Spellz was the one person he would send vocal samples for "Prayer," a song about his travails with the law.
As for the current crop of producers in afropop, Spellz is full of praise for Young John (who crafted Olamide's "Wo!!"), Kiddominant ("Fall" for Davido) and Tekno ("If" for Davido), but he makes sure to add: "there's a whole lot of great guys out there pushing the culture. The sound is not with any one producer in particular."