In our 'Spotlight' series, we highlight the work of photographers, visual artists, multimedia artists, and more who are producing vibrant, original work.
In our latest piece, we spotlight Nigerian music producer Bolatito Obisanya aka BolaBMH. Producers, in general, operate as the unsung heroes of the music world, but BMH's irresistible engineering on some of the most popular music to come out of the continent in recent years makes his journey one to pay attention to.
The Lagos-based multi-faceted creative has his fingers in composing, songwriting, and music production. BolaBMH's special melodic flavor can be heard within Nigerian singer Ckay's global hit single Emiliana, which is certified Diamond in France, and eligible for gold and platinum across Europe – one of the few Afrobeats songs to achieve it. His first taste of the Billboard Charts came in 2019, via his risque single "DTF" with Ckay. While their collaborative hits "Felony," and "Star Life" landed a spot on Nigeria's list of top ten singles, making their local ascension just as admirable.
Recently honored by Africa's Global Music Awards Afrima with a nomination for Producer of the Year, the musician is quickly and surely securing his spot amongst the greats. The aficionado's unmistakable affinity for a solid drumbeat and a spellbinding melody has him heading straight to the frontlines of the best that Afrobeats has to offer the world. BMH, his producer tag and a pseudonym short for 'Burst My Head", has worked with stars like Moroccan rapper El grande Toto, Nigerian rapper Blaqbonez, Empawa's WhoisAkin, and Nu Tribe's Tar1q, amongst many others, to shake out all of the different rhythms and beats that each individual and their experience offers.
BMH's ability to interlock traditional African rhythms with contemporary sounds makes for an undeniably good dance record, as is seen in what the 22-year-old has created so far.
We spoke with the musician about being drawn to music through faith, and letting the world inspire you.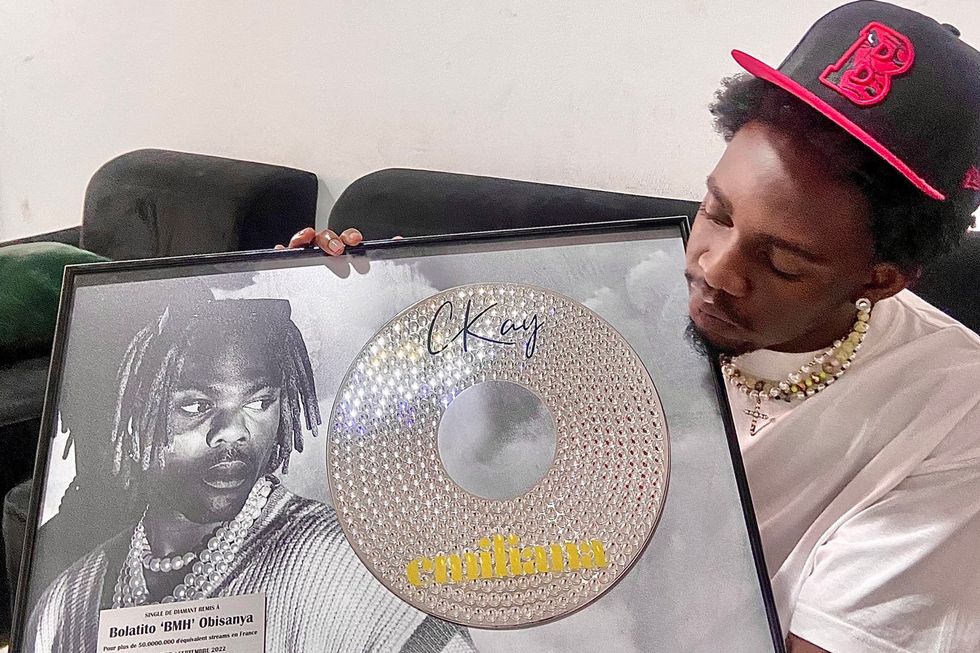 Nigerian music producer, writer, and composer BolaBMH.Images courtesy of the artist.
The interview below has been edited for length and clarity.
What inspired you to start creating music?
I've always been inclined towards music. I had a friend in church that introduced me to FL studio and I was intrigued by how music could be made on just my laptop. So, from there I just started making music. When I got my first check from music and saw that I could make a living with it, I told myself the real business was about to start.
Where do you seek inspiration and how does it find you?
I seek inspiration from everywhere really, anything can give me inspiration one thing I do is listen to a lot of music, not specific to one genre and draw ideas from them. My creative process is basically my way of life. I don't have one particular creative process – my mind is always open to trying new ways. The most important part of creating for me is that I'm in the right frame mentally and physically to receive the ideas and vibe I'm trying to create. I just try to have fun with it. Exercising and playing video games are a couple of things that get me in that state.
What do you believe sets African artists apart from the rest of the world?
There's the collective African experience that makes us deeply connected to our roots and it shows in our work ethics which just sets us apart.
Do you see your growth from the first song you produced to the latest?
Yeah, sometimes, I go back and listen to some of my old stuff to remind myself that I'm doing something right and can still take it further. It is natural to grow, growth is necessary and for me it boils down to the experiences, changes in environment, learning and getting ideas from people I encounter. Seeing things in new ways and even newer ways of doing things.
If you could start over, what would you do differently and why?
I wouldn't do anything different. It's meant to be this and that's what it is.
Are there any African producers that you have your eye on?
Sarz, Kiddominant, Shizzi cus they were big inspirations when I was starting out.