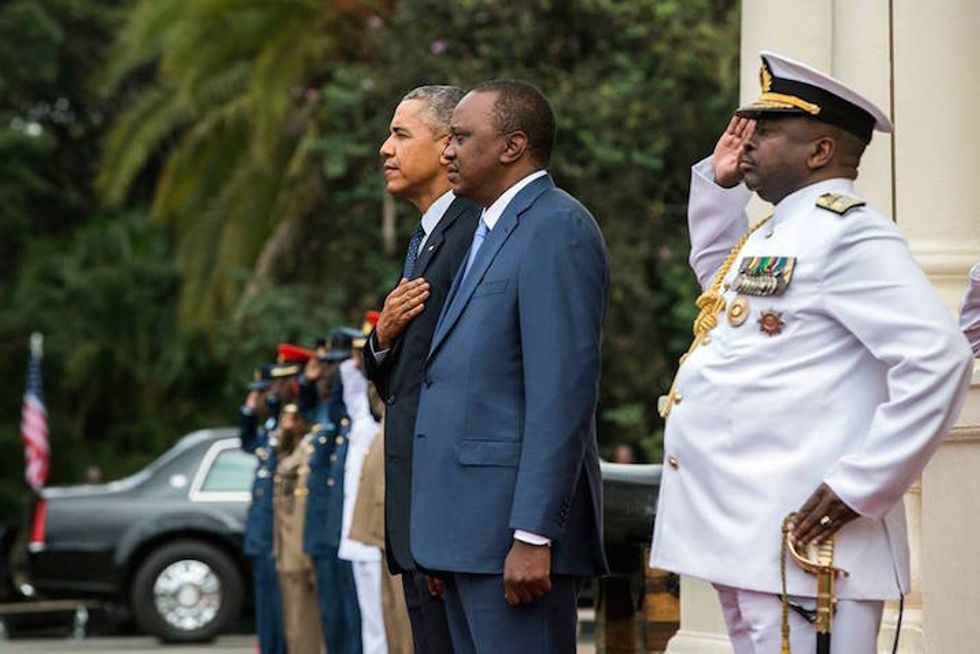 ---
President Barack Obama & President Uhuru Kenyatta at the State House in Nairobi, July 25, 2015. (Official White House Photo by Pete Souza)
Okayafrica is teaming up with the Program for African Thought at the World Policy Institute to present a series of stories at the intersection of politics, policy and culture in Africa. In the first installment, WPI's Patrick Kurth speaks with Kenya's first openly gay political candidate, David Kuria, during President Obama's recent visit to Nairobi.
Ahead of Barack Obama's recent trip to Nairobi, a number of Kenyan politicians publicly attacked the president's position on LGBTI rights. Once in Nairobi, President Obama spoke directly to the issue, stating in a press conference at the Kenyan State House in Nairobi, "with respect to the rights of gays and lesbians… I believe in the principle of treating people equally under the law, and that they are deserving of equal protection under the law and that the state should not discriminate against people based on their sexual orientation." Kenya's president, Uhuru Kenyatta, responded that "[gay rights] is not an issue on the foremost minds of Kenyans."
To understand how the issue of LGBTI rights fits into Kenyan politics, and how people view President Obama's support, I spoke with David Kuria, the former chairman of the Gay and Lesbian Coalition of Kenya (GALCK) who, at the age of 40, became the nation's first openly gay candidate for public office. The interview was conducted via e-mail on July 25th while President Obama was in Nairobi.
Social media has been abuzz in recent days with commentary from Kenyan nationals anticipating Barack Obama's arrival in Nairobi. Based on what you've seen and heard how would you assess the Kenyan public's current attitude toward the American president? What, personally, are you expecting from his visit?
There is great expectation especially since President Obama's visit comes within the context of an international trade fair [where] Kenya would reap economic benefits of closer relationship with America. The issue of security, especially in the context of terrorism, is one that worries Kenyans a lot and so there is hope America will offer Kenya support to deal with this problem – both technical and material. So on the whole, people are very hopeful.
Personally, I think the visit by the American president gives opportunity for any country, especially one in Africa to tell its story - to market itself to the world. I can only hope Kenyan leaders can use this 'few minutes of fame' to show what the country has to offer in terms of tourism, investment opportunities and the like.
In the run-up to President Obama's trip, dozens of Kenya's politicians and religious leaders have disparaged the President's advocacy of LGBTI rights and refused to discuss the nation's increasingly visible queer community. Why do you think that they so adamantly resist engaging in dialogue with a prominent supporter of universal civil equality?
It is hard to say why they refuse to engage even in dialogue at the very least. But it will be much to their shame because President Obama (through the American Embassy in Nairobi) invited prominent gay leaders in Kenya both for a closed door meeting (17 civil society organizations – including GALCK and NGLHRC) and the public address to the Kenyan people – something none of the Kenyan leaders have ever done. The Kenyan president and his deputy should be thoroughly embarrassed that President Obama has beaten them to meeting with their LGBT citizens.
Of course their personal opposition to a prominent supporter of universal civil equality is because they do not believe in civil rights or democracy. Remember both the President and his deputy are former members of KANU [the party of] former president Moi that ruled Kenya with autocratic hand for 24 years.
American LGBTI activists, allies, and commentators have frequently remarked upon changes in President Obama's attitude towards LGBTI rights - from being firmly 'undecided' as an Illinois state senator, to endorsing same-sex marriage in his second presidential term. Do you believe that any of Kenya's contemporary politicians could do the same? Are there any parliamentarians or cabinet ministers who have shown themselves to be open to rethinking their positions regarding the domestic LGBTI community?
For now there is no political leader who has shown enough courage to even be equivocal or appear 'undecided' on the issue of LGBTI rights. It pays for them to hold an extremist position on this issue. We have however had retired politicians/high ranking civil servants such as the former powerful Attorney General and minister for Constitutional affairs write very progressive op-eds. For now though, there is not a single soul.
Kenya's elected officials have frequently rejected homosexuality as 'un-African'; with non-hetero sexual orientations considered part of the colonial legacy of the white, Western world. However, Kenya's anti-gay laws themselves came from the British government, derived from the colonial legal code in occupied India. How do opponents of the LGBTI rights movement respond to this evident incongruity?
That is certainly an interesting angle to look at it and I hope President Obama can raise it – especially the fact that the provisions in the penal code are in fact lingering evidence of what African writers have called 'colonization of the mind.' Unfortunately this argument is hardly ever raised in prominent enough circles – but I can tell you when activists raise this angle, the strategy by the opponents is often to ignore them.
Do you believe that it is appropriate for the west to condition support for Kenyan development programs (USAID provided ~$150 million in aid for disease prevention, treatment, and support in 2013) on the decriminalization of homosexuality, the implementation of affirmative action programs, etc.? Or would you prefer that the Kenyan LGBTI movement continue to grow of its own accord, considering the momentum that the community has already built?
The language of "conditionalities" is thoroughly humiliating to aid-recipient countries, which then makes the intention of supporting LGBTI rights counterproductive. For us at our foundation, we believe that development aid can actually get governments in Africa to move to decriminalize homosexuality by creating an opportunity cost to these laws. What if the US said, we do not think people should be criminalized on account of their sexual orientation or gender identity BUT we also cannot dictate to you whether you (Kenya or any other country), should engage in legal reform. What we will do however is of the $150 million that we are donating to you, $2 (0r 20) million will go towards providing legal aid to gay and lesbian people in your country who are hauled into courts and criminal justice systems.
This creates a cost to the country – the $2 million is being reallocated on account of criminalization, and should the country decriminalize the funding would go to education, health or other sectors – this is an opportunity cost for the government, and they soon enough realize they really do not care for criminalization after-all.
That is the strategy we have been advocating, by calling for a fund to cover for legal liability on account of criminalization. This we believe would have domino effect on all criminalizing countries in a matter of years if not months.
Is there anything that we've missed? Are there any comments that you'd like to conclude with?
I think you have covered everything (and quite comprehensively too). The only thing I would personally request if you can is to highlight this innovative approach – because I believe it has potential to be a real game-changer.
Patrick Kurth is a research associate at the World Policy Institute. He completed a Bachelors degree in Fordham University's International Studies Program, with concentrations in human rights and humanitarianism. You can reach him for more info at ptkurth@gmail.com.