Ommy Dimpoz, real name Omary Faraji Nyembo, is a new-generation Bongo Flava artist from Tanzania. Bongo flava is a unique style of Tanzanian hip-hop and R&B which originated from the streets of Dar es Salaam and is undeniably the most popular genre among Tanzanian youth.

With almost a decade in the music industry now, Ommy Dimpoz continues to meticulously carve out his own path while making some serious career moves. Initially signed with Rockstar Africa Record Label, the artist recently signed a major deal with Sony Music Africa ahead of his debut album which is set to be released at the beginning of next year.
The Tanzanian artist started out his music career by writing songs which were inspired by his favorite bongo flava artists and performed them at graduation ceremonies shortly after he had completed high school.
Encouraged by those around him to continue with music, Ommy Dimpoz first broke into the industry as a vocalist for veteran bongo flava artist TID and then went on to release his chart-topping debut single "Nai Nai" featuring Ali Kiba in 2012, cementing his place on the music scene. The artist followed up his debut with several other numbers including "Mama" featuring Christian Bella, "Me and You" in collaboration with Tanzanian songstress Vanessa Mdee and "Hello baby" featuring Avril.
We caught up with the Tanzanian artist who is currently based in his home country and spoke to him about his music journey, artists who inspire him, recent collaborations and what the future holds for him as a musician.
This interview has been edited for length and clarity.
---
You've recently joined Sony Music Africa. What informed that career move and why now?
I've been working with Rockstar, and I'm still working with them but we need to go far from here. I've been in this industry officially since 2012 and the way forward is that you need to get across the big level and grow as an artist. To be in partnership with Sony is a big privilege. And as you can see, all these big artists in Africa and in the world work with the big labels. Working with Sony is a big opportunity for me and I think it will change something in my career.
How did your journey with music begin?
It just happened when I was in high school and I was attending a graduation ceremony and I think I just fell in love with the music. Then, I decided to start writing some songs. I used the beat from different Bongo Flava artists to write my own lyrics on those beats and instruments. I started performing at graduation ceremonies and everybody was like, "I think you can be a good artist." That's how it all started. After high school, I went to college and did a certificate in business administration. I then decided to go straight to the music and joined the music band, Top Band. From that moment, that was how my journey started.
READ: 14 Bongo Flava Classics You Need In Your Life
Are there any bigger projects that you're currently working on, whether it's an album or an EP?
Yeah, I'm working on my album and that will be my first album. Most of the album is complete and now it's just the final touches but it will be dropped early next year. I'm also still working in the studio on some other projects. It's still a secret but there will be a South African element, a Nigerian side and a Francophone country. There are some vocals I'm still waiting on but it's almost done.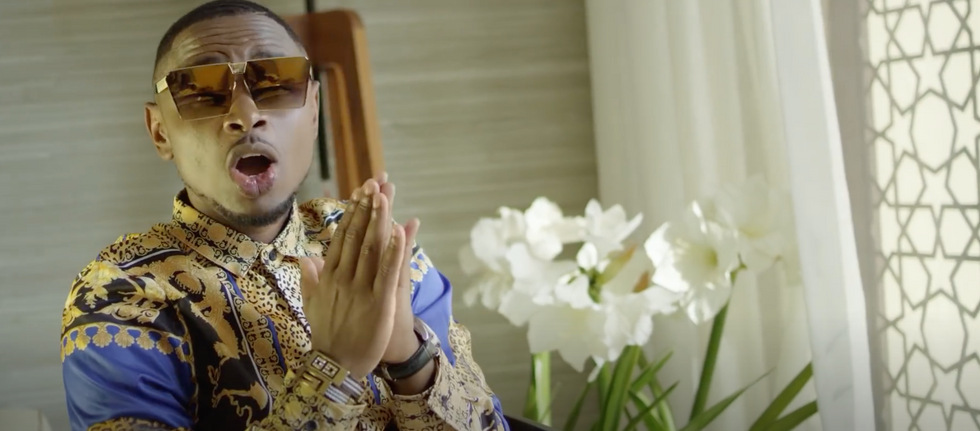 Ommy Dimpoz stars in "You Are the Best" Music VideoStill taken from YouTube.
What are some of the veteran bongo flava artists that have personally inspired your own music?
There's a couple of bongo flava artists, because here, we have a lot of legends here. One of them is TID. TID is one of the biggest bongo flava artists in the country. And then there is also A.Y. as well. I mean, there are a lot to be honest but I love all kinds of music. Aside from bongo blava, there is a traditional music called taarab. So I just listen to different types of music and there are a lot of people who have inspired me to do music as a result.
Recently, you released your single "Dede" featuring DJ Tira, Dladla and Prince Bulo. Walk me through how that collaboration actually came about?
I was in South Africa for my medical check-up following a surgery and was just sitting in my apartment. I was watching some of the local and international television channels. I found out DJ Tira got a lot of air time because of course, he's a legend. I decided to DM him on Instagram and I said, "Bro, I'm interested in doing music with you." He then said, "Yeah, no problem." So, I had this song "Dede" that I recorded here in Tanzania by using local bongo flava instruments and sent it to him. That is how we connected and the rest was history.
We were sending each other the music, then later on, we met and we started talking, and now, we're like friends. I remember also we met for the video. That time, I think the first time we met, it was for the music video shoot.
The music video is as vibrant and upbeat as the song itself. What was your vision for that music video?
You know, with the music video, I just arranged with the video director and told him that I need to have a great vibe between Durban music and Jo'burg music, especially with the dancing styles. I told him that I needed some dancing from Jo'burg and some dancing from Durban. The music is largely based in Durban but I wanted a good mix between the two which is why we used those pantsula boys in the video as well. I also told him I needed the video to look really colourful.
Ommy Dimpoz - Dede (Official Music Video) ft. DJ Tira, Dladla, Prince Bulowww.youtube.com
Many artists have obviously been affected by the COVID-19 pandemic. How have you been navigating making music and connecting with your fans during this pandemic?

First of all, it's weird to say this but everybody believes there's the coronavirus everywhere but in my country. There was even a day our president just made a statement and said that we need a national prayer and after that prayer, it will all be good. And now, we are living like the country is coronavirus-free. When you come here, there are no masks, people are doing chores and their normal activities. It's like we are back to normal. For me, I can tell the truth, it was hard for me to even travel within Kenya last week. There are so many restrictions and I felt like, "Oh my God, I'm not free. Let me go back home."
Are there any anxieties or fears on your part that Tanzania, compared to the continent and the rest of the world, doesn't have as many restrictions in place?
Of course. For almost two years, I was very sick and going up and down to the hospital and everything. And so for my health, I can say it has been hard for me, you know? I'm still looking for my health but there has been a little bit of anxiety. You see how things go here compared to other countries out there and how they're taking these things seriously.
What would you say the representation of Tanzanian artists on the international stage looks like right now?
They recently announced nominees for the MAMAs for next year. I mean, you can see there are maybe four to five Tanzanian musicians on the list and we used to get maybe just one nomination in the past. I think we are growing and we are trying to find our own sound. You see how I did this collaboration with DJ Tira? We used a South African sound but I still remained me. I didn't change completely to sounding like the South African sound. I always tell my fellow artists that when they collaborate, they can try out any sound but must still remain themselves. I think we are getting there.
What does success look like for you as an artist?
Wow. It's a hard question. But what I can say is successful, apart from maybe getting money, opportunities or material things, is how I connect with people at different levels. It's about how to make a connection and how to use your platform and image to help society. That is success for me. If you do something and that thing can help or change something in society by using your name, that is success. For me as a musician or public figure, success is how you connect with people and do something positive for society and the people who are around you.
Listen to Ommy Dimpoz on Apple Music and Spotify.